Like this post? Help us by sharing it!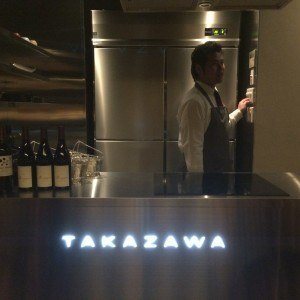 If you're a foodie there's a good chance that you've already hear of Takazawa. The restaurant, named after it's owner and chef, was ranked in the top 50 restaurant in Asia in both 2014 and 2015. Takazawa is loved by critics and patronized daily by Tokyo's elite. In newspapers and magazines there has been more buzz about the fact that Takazawa is yet to receive it's handful of Michelin stars than most restaurants garner when they get 3 Michelin stars. Perhaps the folks at Michelin couldn't get a reservation at one of the coveted 10 seats?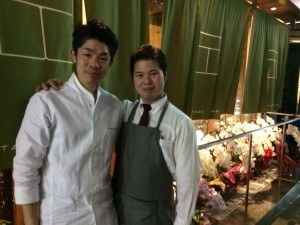 So when Takazawa decided to open a small eating bar adjacent to the restaurant, it's not surprising that it made a splash with the Tokyo dining scene. Finally, locals and foreigners alike were able to pop into a bar on relatively short notice, enjoy drinks from a world class sommelier and cocktail artist and eat food from the very kitchen that is rightly considered one of the best in the world.
On a recent visit to the newly opened restaurant I was shown around the VIP room and treated to a fantastic journey through the food and drink menu. As is often the case in Japan, rather than choosing for oneself an omakase style of ordering is the preferred style here; whereby you simply explain how much you'd like and give a sense of your budget and then sit back and enjoy! Sakurai-san (pictured) is a well-known bartender who worked at prestigious venues throughout the city before being picked up by Mr. Takazawa himself.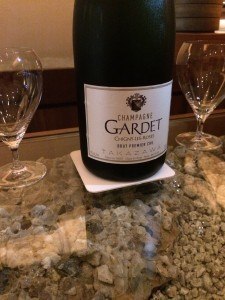 We started off in style with Takazawa's preferred and personally labeled Champagne, a crisp and ever so slightly pretentious way to wash down the oysters with lemon foam. These touches of molecular gastronomy keep the menu interesting and innovative but there's also a farm to table concept which underlies everything and keeps the restaurant thoroughly rooted in Japan. Ask where an ingredient is from and you'll invariably be given an answer that could be tracked down to a single farm let alone a particular region. For instance our second course, which consisted of mozzarella topped with sorbet (shown below) had come straight from Hokkaido that very day – though that was simply lucky timing as much as anything. Moving along, our bartender brought out a bottle of 'Koshihikari' beer from Niigata that was made of rice and proved to be the perfect thing to wash down the most beautiful course of the night, vegetable tempura with three kinds of salt delicately patterned along the side of the plate. We found the sakura salt to be our personal favorite and it certainly suited the spring season; the anticipation of cherry blossom is tangible throughout Japan right now.
This slideshow requires JavaScript.
Moving along, we found our way to something that could never be served in Takazawa's restaurant but made for a tasty bar snack. Venison finger sandwiches had been made out of the literal and nominal spare ribs from the restaurant. Though the picture above most assuredly doesn't do it justice, the minced meat was so soft and delicate that chewing was only necessary for devouring the bread and cabbage; the juicy venison melted. When paired with a truly top quality sake (nihonshu) this course was a nice reminder that the bar is more than merely another outlet for the restaurant, it stands on it's own with or without the name on the front door.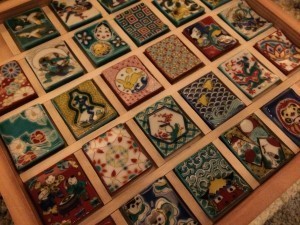 Throughout the meal we were served on Kutani Pottery and enjoyed our drinks out of Edokiriko, a wonderful nod to Takazawa's love of traditional Japan and it's unparalleled artistry. For every top tier restaurant there is a potter, lacquerware maker, glass blower, carver and artist that is perfecting their craft to make vessels that increase one's culinary experience beyond the credit they're often given.
The bar manager at Takazawa Bar regularly competes in bar tending contests and he still considers it his main craft and skill despite the fact that he now spends more time choosing pairings then shaking mixers. If the bar is crowded there's no chance of getting such a complicated drink but if you arrive early and the bar isn't too crowded, be sure to ask Sakurai-san to mix you a cocktail – you won't be disappointed. The slideshow below shows him whisking up (literally!) a matcha cocktail with Japanese liqueur for us. It went down far too easy.
This slideshow requires JavaScript.
There's no shortage of places to eat in Tokyo and there are plenty that are cheaper than Takazawa Bar but if you are looking for a special experience and culinary excellence without the stuffiness of most Michelin-starred restaurants this one should stay on your "must eat at" list!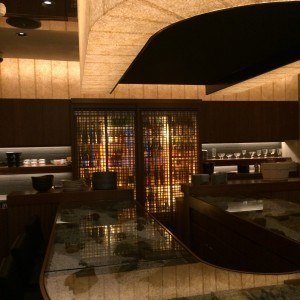 Like this post? Help us by sharing it!