Like this post? Help us by sharing it!
Between them, our staff have well over a century's experience living and working in Japan, and have travelled every inch of this wonderful country – from the snowswept plains of northern Hokkaido to remote Yonaguni Island in the far southwest.
As you might expect, our band of intrepid explorers have picked up all kinds of invaluable hints, tips and advice along the way. From getting hopelessly lost in the backstreets of Tokyo to making all kinds of cultural faux pas – we've made all the mistakes there are to make in Japan and lived to tell the tale. It'd be a shame not to pass on our insider knowledge so that you don't have to do the same!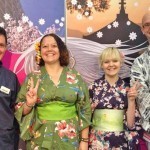 After surveying all 64 current members of the InsideJapan staff and plumbing the depths of their Japan knowledge, I came up with this list of top tips and recommendations to help you get the most out of your Japan holiday. Here's our top 10 tips for travel in Japan:
Keep an open mind and an open schedule
When speaking to the InsideJapan team, this piece of advice came up more than any other tip.
Whilst it's definitely useful to do your research and have an itinerary planned before you travel (see point eight), don't get so caught up in your plans that you don't have a chance to enjoy the unexpected things that make travelling in Japan so exciting. Japan is a country where even the most mundane tasks (going to the loo, getting a drink from a vending machine) can be exciting to the uninitiated – and everyone on our team will agree that the most fascinating and memorable moments from their time in Japan could never have been planned.
With this in mind, don't be afraid of having 'gaps' or 'empty spaces' in your holiday plans. Take it slowly and throw yourself into every new situation and you'll find that this is when you have the chance encounters and experiences that you'll always remember.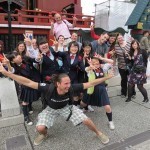 Forget about the 'language barrier' 
Learn a few words in Japanese. Now, we're not suggesting that you become an expert in the language – in fact, you don't even need to learn a complete sentence. Simply learning the words for 'hello', 'goodbye' and 'thank you' will really go a long way. The Japanese are generally so impressed and pleased that you have made any effort at all to master their language that you don't need any more!
On a similar note, don't be put off travelling to Japan because of the perceived 'language barrier'. Though you may well find that not that many Japanese people can speak English – that doesn't mean that people won't go a thousand miles out of their way to help you, even if it is through gestures and pointing.
Good advice when trying to communicate with someone who doesn't speak much English is to speak in short sentences (or even one-word sentences). "Ginza", for example, is much more likely to get you to where you want to be than "excuse me kind sir, but could I trouble you to direct me to Ginza subway station, if you'd be so very kind?" – not that you'd say that, but you know what I mean.
Oh – and talk to people, even if they don't speak good English. Don't be shy. Anyone on the InsideJapan team will tell you that you don't need a common language to make a friend!
Don't worry about 'doing the wrong thing'
Japan has become famous as a place of obscure cultural rules and impenetrable social codes – so much so that some travellers are put off visiting for fear that they will accidentally make a boob of themselves by trampling insensitively over the cherished customs of their hosts.
It's true that Japan's etiquette can be somewhat confusing – and you are almost inevitably going to 'do the wrong thing' at some point – but the key thing to remember is this: no-one cares. Nobody is going to be offended if you forget to take off your shoes in the right place, or if you're not aware of the intricacies of chopstick etiquette. As a foreigner, you're not expected to know everything (and actually, some Japanese people will be surprised that you know anything). As long as you're not being deliberately culturally insensitive, you'll be fine.
As a rule, the Japanese take great pleasure in teaching others about their culture, so in making a faux pas you could even be making a new friend.
Have an onsen experience 
We asked all our staff what they loved most about living in Japan, and we got some interesting answers. Possibly the most popular response (after the delicious cuisine, which took the top spot without a fight) was onsen culture.
Onsen are Japanese hot spring baths, and thanks to the high level of volcanic activity in Japan they can be found up and down the country. From steamy baths in the snow in Hokkaido and the Japanese Alps to rustic onsen villages deep in the forest; from onsen on the beach to time-honoured bathhouses like Matsuyama's Dogo Onsen – hot spring bathing is an integral (and extremely enjoyable) aspect of Japanese culture that should not be missed.
What's not to love about a hot bath? Well, there is one catch: you have to do it in your birthday suit. In front of complete strangers. This is the part that puts most people off – and quite understandably. But if there's anything InsideJapan staff could say to prospective onsen-goers it's this: just do it! It's only strange to start with – before long you'll have forgotten your reservations and will wonder why you ever hesitated.
Stay at a ryokan inn
Like bathing in an onsen, staying at a traditional ryokan inn is one of those intrinsically Japanese experiences that no visitor to the country should miss out on. Japan is famous for its hospitality, and at a ryokan you really experience this at its best.
Sleep on comfortable futon laid out by a kimono-wearing attendant on a tatami mat floor, look out over exquisite Japanese gardens, tiptoe through shoji sliding paper doors on geta sandals, wrap yourself in a traditional yukata bathrobe to visit the in-house onsen baths, and sample delicious regional food at breakfast and dinner.
You simply haven't been to Japan until you've stayed at a ryokan – trust us. You won't regret it.
Get off the beaten track
It's one of those hackneyed travel phrases that you'll find lurking in every Lonely Planet guide and travel blog, used to describe every broken-down shack and one-horse town across the globe. And yet – loath as we are to peddle clichés – it is only by 'getting off the beaten track' that you can really get a rounded impression of Japan.
The big cities and famous sights are 'on the beaten track' for a reason. They're the iconic views, the celebrated historical monuments and the locations that you've always dreamed of visiting. But it is by heading away from these destinations – into the countryside, the mountains, and the remote islands – that you'll discover a side of Japan you never expected.

Here's a nice little video from one of our customers who spent a couple of weeks in Japan seeing some incredible places and meeting wonderful people in some of the more famous places and the lesser known places….a good taste of Japan.
Visit an izakaya
One of the pieces of advice that cropped up time and time again in conversation with the InsideJapan team was to visit an izakaya. It's hard to explain just what an izakaya is if you've never been to one, but they are most often described as the Japanese version of a British pub – a description that doesn't quite do them justice.
Izakaya are where the Japanese go to eat, drink and be merry. They range from the cheap and cheerful (every dish 240 yen/£1.30) to the super-duper top-end cuisine, but what they all have in common is that they serve a wide range of small, tapas-style dishes to be shared amongst your group, and plenty of beer and sake.
It can be daunting to walk into an izakaya straight off the street – especially if it's a tiny local establishment with no English menu or English-speaking staff – but if you're brave enough, this is the best way to get chatting to the locals and try some delicious regional foods.
But don't worry – if you're too chicken to go it alone, InsideJapan can arrange an izakaya experience where one of our tour leaders can show you the ropes.
Do your research 
In our experience, the more you know about Japan the more it will intrigue you. Before you travel, have a look into the history of the areas you're planning to visit and find out a bit about the culture – both contemporary and traditional. Doing things like watching a sumo match, meeting a geisha, visiting a Zen temple or exploring a shogun's mausoleum will be that much more fascinating if you know a little about the background.
Hire a bike. Or a car. Or a motorbike.
We have nothing but excellent things to say about the clean, efficient, convenient and downright wonderful public transport system in Japan. There's nothing quite like taking a ride on the bullet train, or navigating by the Tokyo subway.
But if you want to see a bit more and really get out of the main tourist traps, sometimes it's best to go under your own steam. Hiring a bicycle will really allow you to explore bits of Japanese cities and countryside that you'd never have discovered otherwise, whilst renting a car or a motorbike will allow you to be even more adventurous and really get out into the unknown.
10.  Bring plenty of cash (but not because Japan is expensive!)
Surprising as it may seem for a country that is world-famous for being technologically advanced, Japan is still very much a cash-based society and many places will still not accept plastic. It can even be difficult to withdraw cash from an ATM at the weekend or after 5pm – so instead of wasting time exchanging travellers' cheques or hunting for a cash machine that accepts foreign cards, be sure to bring plenty of yen! Japan has one of the lowest crime rates in the world, so there's no need to fret about having pockets bulging with cash either.
And while we're on the subject of money, don't be put off visiting Japan because of its reputation for being expensive. It's not the cheapest country in the world, but Japan is certainly not as a dear as most people think. Food, for example, is very cheap and extremely good quality – you can easily have an excellent meal for no more than 1,000 yen (about £5.50). Subway travel is also reasonable (the most you'll pay for any journey on the Tokyo underground is a couple of quid), and capsule hotels offer a night's sleep for less than 4,000 yen (about £20). Whatever anyone else tells you, it is possible to do Japan on a shoestring.
These are only our top ten tips – between them the InsideJapan staff came up with many more – enough to flesh out a follow-up post, in fact! Watch this space…
Like this post? Help us by sharing it!