Like this post? Help us by sharing it!
Japanese street fashion is never more evident that during Tokyo Fashion Week…
There is a saying in Japan that goes: "Deru kui wa utareru", or "The nail that sticks out gets hammered down." In other words, conformity is key.
This saying is often trotted out by those wishing to denigrate Japan for its perceived intolerance of individuality. Whilst there is some truth to the old adage (no smoke without fire, after all!), Japan today is famous for precisely the opposite, and nowhere are the Japanese more expressive than in the weird and wonderful fashions to be found on the city streets.
The following is a brief guide to some of the wackiest trends to have graced the streets of Tokyo, Osaka, and indeed any of Japan's urban centres. Whilst most of these trends had their heyday in the 1990s, their influence can still be seen in the eclectic fashion choices of today's youngsters – especially in the Harajuku area of Tokyo. By the way – these aren't the twee, manufactured "Harajuku girls" of Gwen Stefani's dubious 2004 album, and they are certainly not those of Avril Lavigne's recent (and atrocious) "Hello Kitty" – which frankly has no redeeming features (watch it here at your own peril). These are the genuine article – so next time you're in Tokyo bring this guide along and play street fashion safari!
1. Lolita
Lolita is perhaps the most recognisable of Japanese street fashion trends – unsurprisingly since it has been around for years now. The trend began way back in the 1970s when Japanese brands such as Pink House, Milk and Angelic Pretty started selling flouncy skirts, corsets and bonnets and basically sticking frills, lace and bows on anything and everything. You can still spot Lolita girls out and about in 2014 – just head down to Harajuku in Tokyo to be in with a chance of a sighting!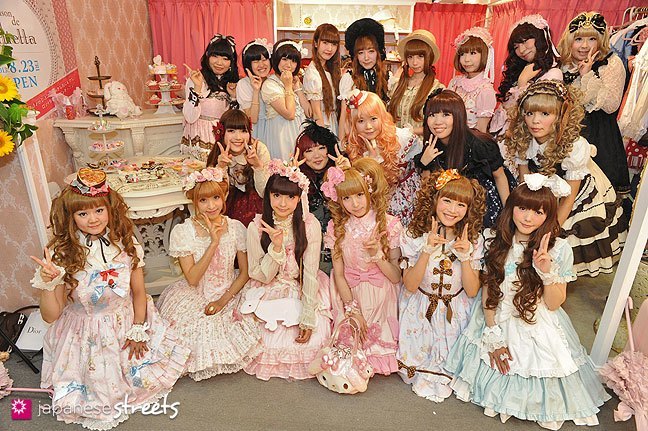 Within the Lolita trend are many sub-trends encompassing different styles of Lolita – from the self-explanatory Gothic Lolita (lots of black, heavy on the Victorian vibe); Sweet Lolita (as childlike as possible – think bows, pastel colours and stuffed animals); and even Kodona, a type of masculine Lolita style influenced by Victorian boys' clothing.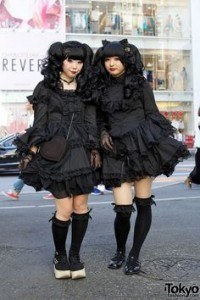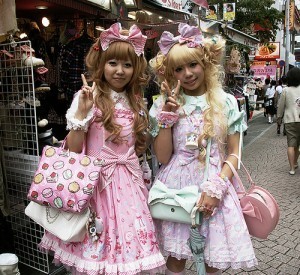 Lolita is one of the more "kawaii" trends in Japanese fashion. "Kawaii" essentially means "cute," but due to the movement's immense popularity and all-pervading presence in Japanese culture it really deserves its own post!
2. Kogal
"Kogal" simply means "high school girl" in Japanese, and this is also a trend that will probably be familiar to most foreigners. Adherents of this style typically wear very short skirts and baggy socks reminiscent of Japanese school uniforms, spend a lot of time in purikura photo booths with their friends and refer to themselves as "gyaru," simply meaning "gals." The Kogal style began to emerge in the 1970s, peaking in the late nineties before subsiding into relative obscurity.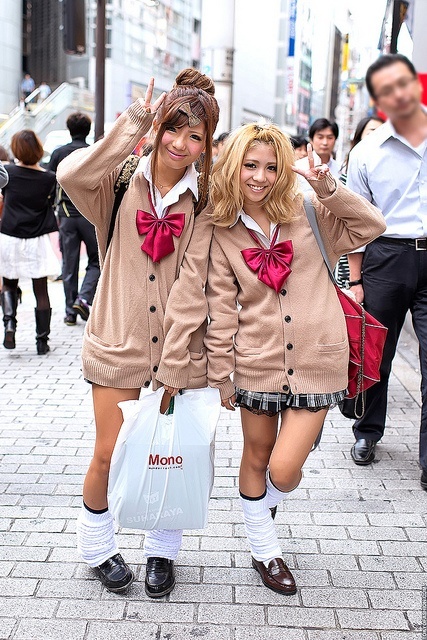 3. Cosplay
Cosplay is strictly more of a hobby than a fashion trend, and it has spread from Japan to become popular with youths and comic book convention attendees worldwide. Cosplay is short for "costume play" and simply means dressing up as a character from a video game, comic book, movie or cartoon. The movement became popular in the early nineties and is alive and kicking today – you only need to visit one of Akihabara's Cosplay restaurants to see the proof for yourself.
4. Decora
For fans of Decora style, more is most definitely more. Decora originated in the late 1990s and is still one of the more common styles to be found in areas like Harajuku today. Youngsters dressed in Decora style resemble walking confections, with plastic trinkets, cute furry toys, brightly-coloured hair clips, patterned face masks and every imaginable accessory piled on top of various layers of clothing.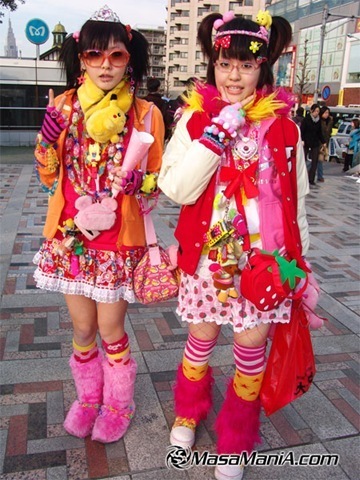 Now, we don't proclaim to be fashion know-it-alls, but we can help people include a fashion element to their trip. We can tell you where the cool kids hang out in Tokyo, we can arrange for you to try some Yuzen-silk dyeing in Kanazawa, or get you wearing a Kimono at a traditional Kimono manufacturer in Kyoto and our private guides can take you to the best shops for the latest fashion insight. If you want something more fashion specific, then we can look into it….we can do just about anything in Japan. All you have to do is ask.
Like this post? Help us by sharing it!