Like this post? Help us by sharing it!
For me, there is almost nothing better than going to a part of Japan that I have never been to before and seeing yet another facet of this wonderful country. But I am always amazed at how much there is to be discovered even in destinations that I have been to multiples times before. As the title might imply, the place in question this time is Nikko. Less than two hours from Tokyo, the main draw for most visitors are Nikko's spectacular shrines and temples, rightly deserving of their World Heritage status. But there is far more here than what most visitors ever get to see. This is partly because the ease of making a day trip from Tokyo is often preferred over the more rewarding but slightly more difficult option of staying overnight and getting out into the countryside to see a completely different side of Japan. This multiple part blog post is about some of the places worth visiting in Nikko National Park.
The Ryuo Gorge is not only beautiful, it's also one of the easiest places in Nikko National Park to access by train. From the hot spring resort of Kinugawa Onsen, a jumbling little train whisks you through dense forests to a quiet little station near the entrance of a walking path that takes in lush scenery and will have you wondering if the bright neon of Tokyo was just a dream. But as the picture above can attest to, it's not just the escape from concrete that makes this a deserved stop on your itinerary. The colorful locals and delicious freshly caught river fish make this an all-around cultural experience. Throw in a couple cups of sake and a dip in the hot spring at the end of a long walk and you can have a quintessentially Japanese experience all in an afternoon.
Speaking of sake, if you're thinking of visiting a sake brewery, you'd be smart to be picky about the one who visit for, alas, not all sake breweries are created equal. But fear not, for Nikko has a sake brewery of unparalleled greatness. Not only are the brews here about as tasty as you'll find, the owner is as nice a man as you'll meet anywhere and will be happy to show in to parts of his brewery that most sake makers wouldn't dream of letting tourists see. Although, if it's busy you may well be asked to lend a hand! 😉
Katayama Brewery is named after it's owner and is located not far from Shimoimaichi Train Station (a short taxi ride or a slightly long walk away). Here you can not only do tours of the brewery but you can enjoy free tastings of the sake that will have you seeing the brew more like fine wine than the rocket fuel like stuff that is often served overseas. If you are feeling like splashing out, try the specially made version of his best and most popular sake that has platinum and gold flakes in it. Though if you set off the metal detector at the airport upon your departure don't blame me!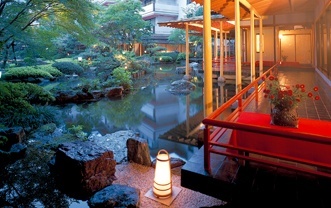 At the end of a day of walking and sake tasting, I can think of few better things to do than relaxing in a hot spring and tucking into some Japanese fine cuisine. Luckily, there is no shortage of places to do this in Nikko's National Park. The Kinugawa Grand Hotel (picture above and below) is just such a place. For a fraction of what a similar type of place would cost in Tokyo, you can be spoiled to your heart's content. Though you aren't likely to encounter many English speakers here, you can be sure that you will be welcomed with open arms and a deep bow upon your arrival. Enjoy some of Nikko's craft beer and a big plate of sashimi and take in the beautiful surroundings in your Japanese style room.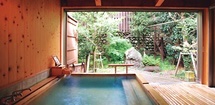 Like this post? Help us by sharing it!