Like this post? Help us by sharing it!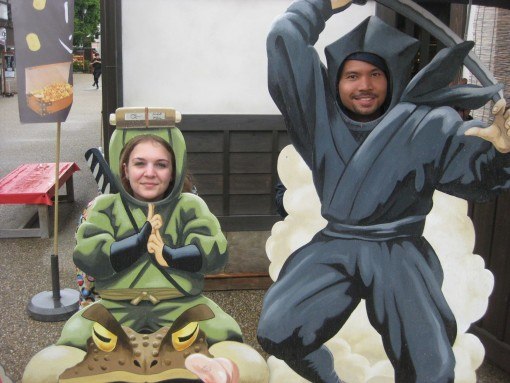 (photos by Ken Francisco)
Our inaugural HYPERJAPAN J-Pop and Go! tour was a great reminder that even going back to places that I've visited a dozen or more times can bring unexpected experiences, new surprises and untold amounts of fun! Working with the folks at HYPERJAPAN, we created a tour for people with as much energy as a Japanese anime character. We trounced from Buddhist temple to maid cafe, from the insanity of the Robot Restaurant to the quietude of a traditional Japanese garden. We learned about geisha culture from one of the world's foremost experts and we were taught Zen meditation from a Buddhist monk but we also dressed up in kimono for a samurai sword lesson and slept in a capsule hotel! Although you'll read about the Japan as the land of contrasts in any and every guidebook, there has surely never been a tour where these contrasts are juxtaposed so vividly. If you're interested in the full spectrum of Japanese culture, 10 days on this tour will have knowing more about Japanese pop culture than most people who stay for 6 months.
Luckily I don't need to ramble on about how good everything was because Kenneth Francisco – a skilled photographer and a passenger on the very first tour – has been kind enough to let us use his images for an exploratory journey through a few highlights of this great tour. Arigatou Ken!
At our visit to the maid cafe (pictured above) we sang songs, performed "magic" to enhance the deliciousness of our cute and cuddly meals and even had a birthday celebration for a very embarrassed young man! But in Kyoto we got to experience old Japan by visiting several UNESCO World Heritage Sites and rubbing elbows with many kimono clad locals. Walking through the romantic old buidlings in the geisha district on a quiet and warm spring night was the highlight for a couple who came on the tour for their honeymoon. For a few others, the maid cafe and capsule hotel came in with the top ranking!
In these shots Ken has caught me explaining sankinkotai with the picture of a samurai and also managed to find a couple of romantic deer whispering sweet nothings to one another on Miyajima island, the home of the massive floating Torii gate – although that only applies when the tide is in! But my personal favorite is Ken posing with Goku from Dragon Ball Z.
We had great weather throughout this tour, as can be evidenced by the clear views from Osaka castle (above) and of Mt. Fuji (below). The shot on the left shows our okonomiyaki being grilled right in front of us in Hiroshima while the picture on the right is from the Ramen Museum in Osaka, where we got to design and make our very own Cup of Noodles to take home with us as a souvenir. I can't speak for the rest of the group but mine were delicious! 😉
Conveyor belt sushi in Kyoto is always a favorite on my tours but it couldn't top the amazing stuff we had at the famous Tsukiji Fish Market in Tokyo! Our small group took up the entire restaurant.
Showing my serious, and not-so-serious, sides above; no trip to Japan is completely without one crazy night of karaoke and a delicious bento box on the bullet train!
Here we are learning the techniques of the samurai and looking very good in the process. These girls would give Uma Thurman a run for her money any day! Just ask Jeff, seen above before and after his bout with his spouse.
And what better way to finish off than with pictures from three of my own personal favorite experiences from this great and varied tour. Here's our capsule hotel, our Zen meditation session and the crazy but hilarious visit to the Robot Restaurant!
More HYPERJAPAN J-Pop & Go! to come….
Like this post? Help us by sharing it!