Like this post? Help us by sharing it!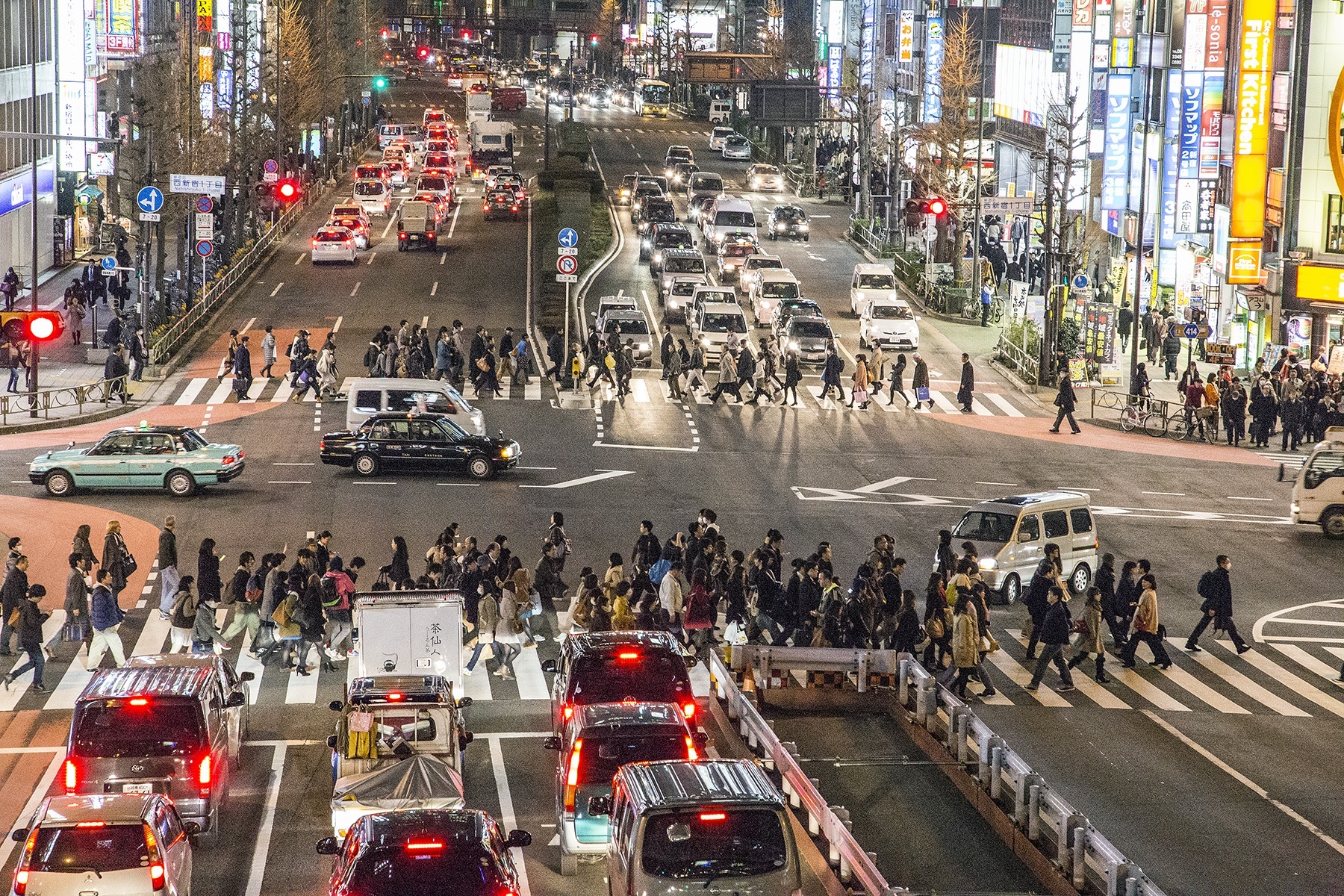 The Chuō Line, or central line, cuts through the circular Yamanote Line from Tokyo to Shinjuku, and continues west to the nearby mountains, with some trains even going on as far as Nagoya.  The first few stops, from Nakano to Kichijōji, top many Tokyoites' list of most desired places to live, and are spaced about a 15-minute walk apart.
Only 4 minutes from Shinjuku on the rapid trains, Nakano can make you feel nostalgic for a time you may or may not have been a part of. Just north of the station is Sun Mall, a covered shopping arcade leading to one of Nakano's most unique destinations: Nakano Broadway.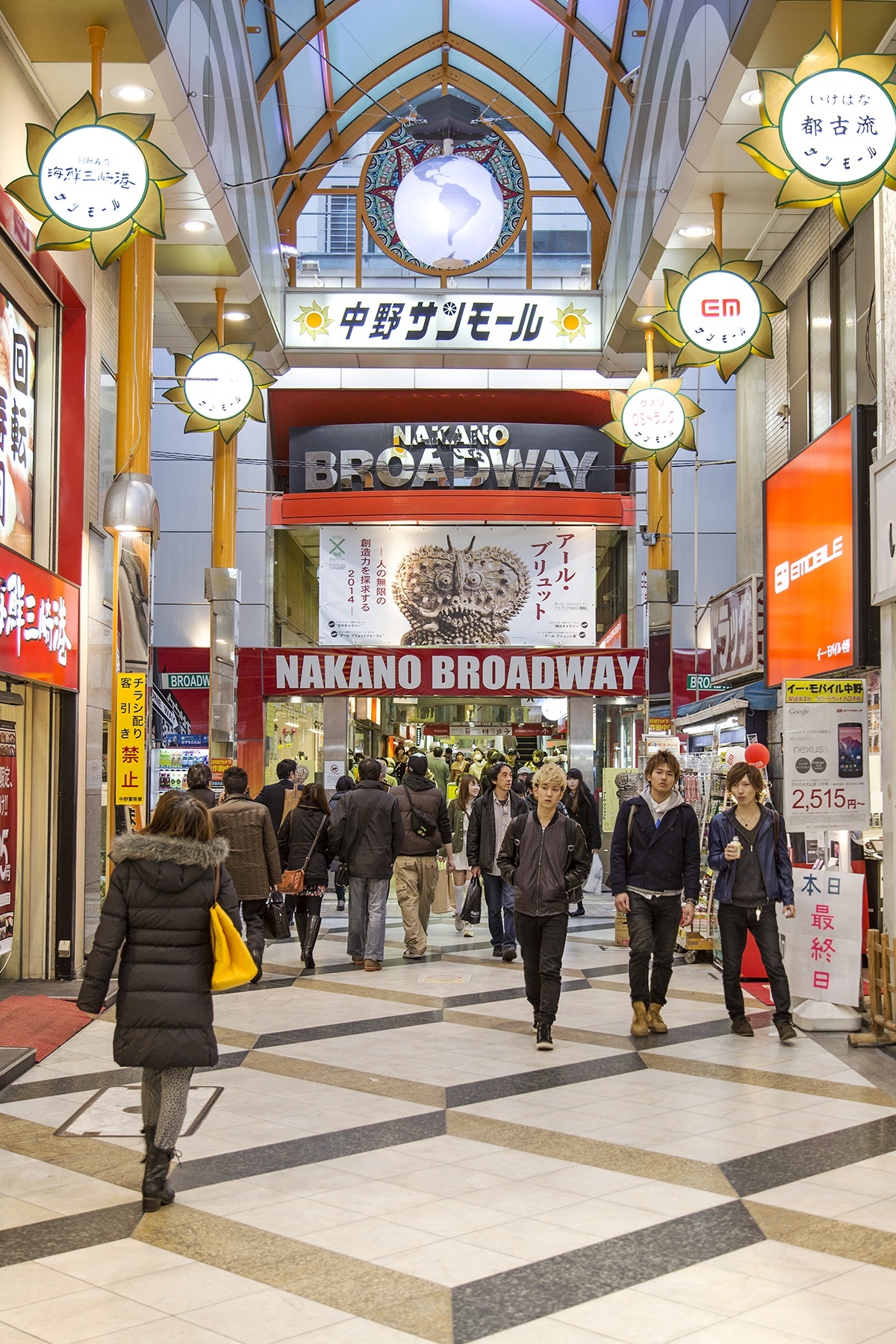 If you walk through the first floor, you'll find yourself back outside wondering what all the fuss is about. The second floor and up are an otaku's paradise, and certainly worth a visit even if you aren't a manga or anime fanatic. Mandarake, a world-famous vendor of rare memorabilia, has its headquarters here; with about a dozen different stores spread over three floors.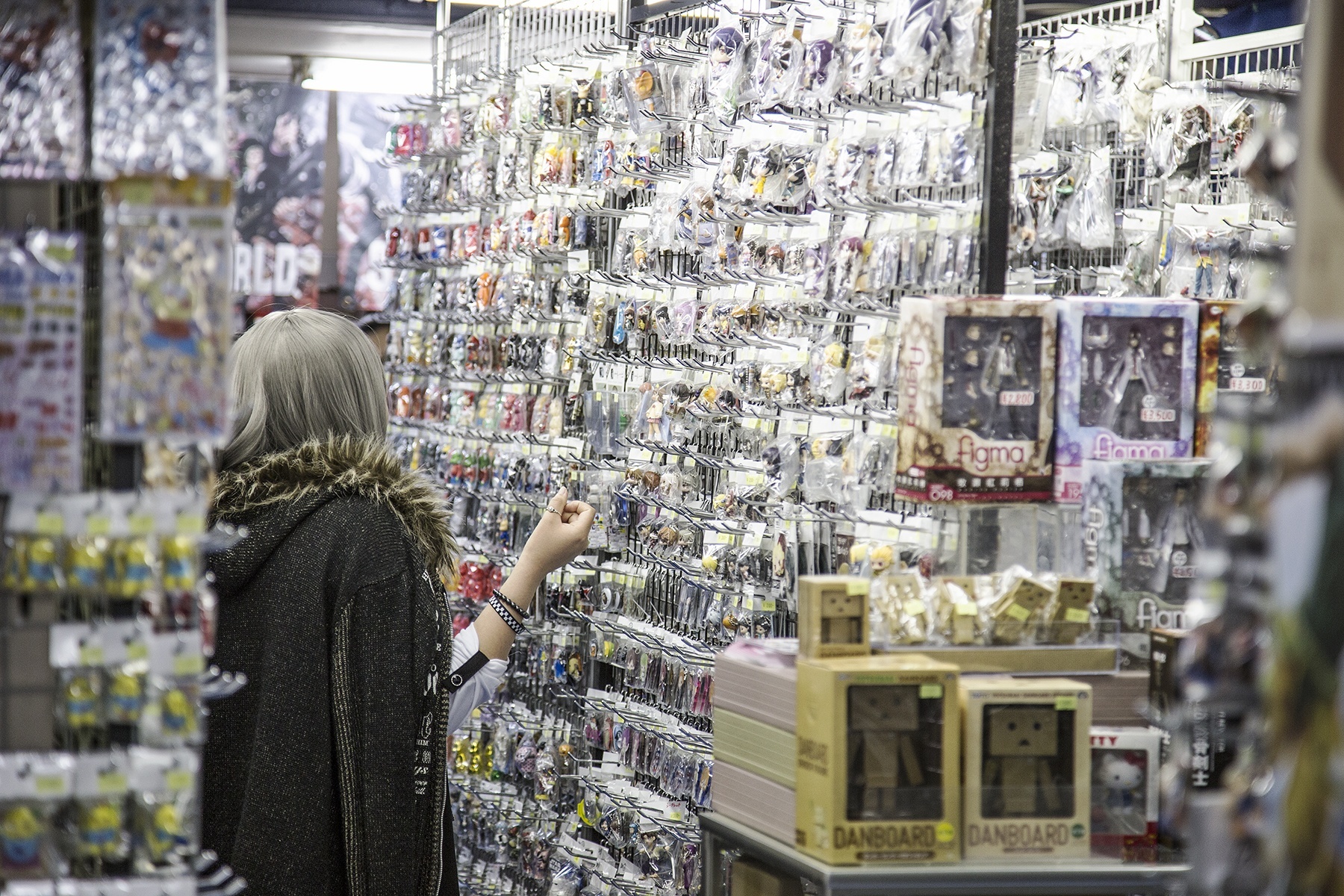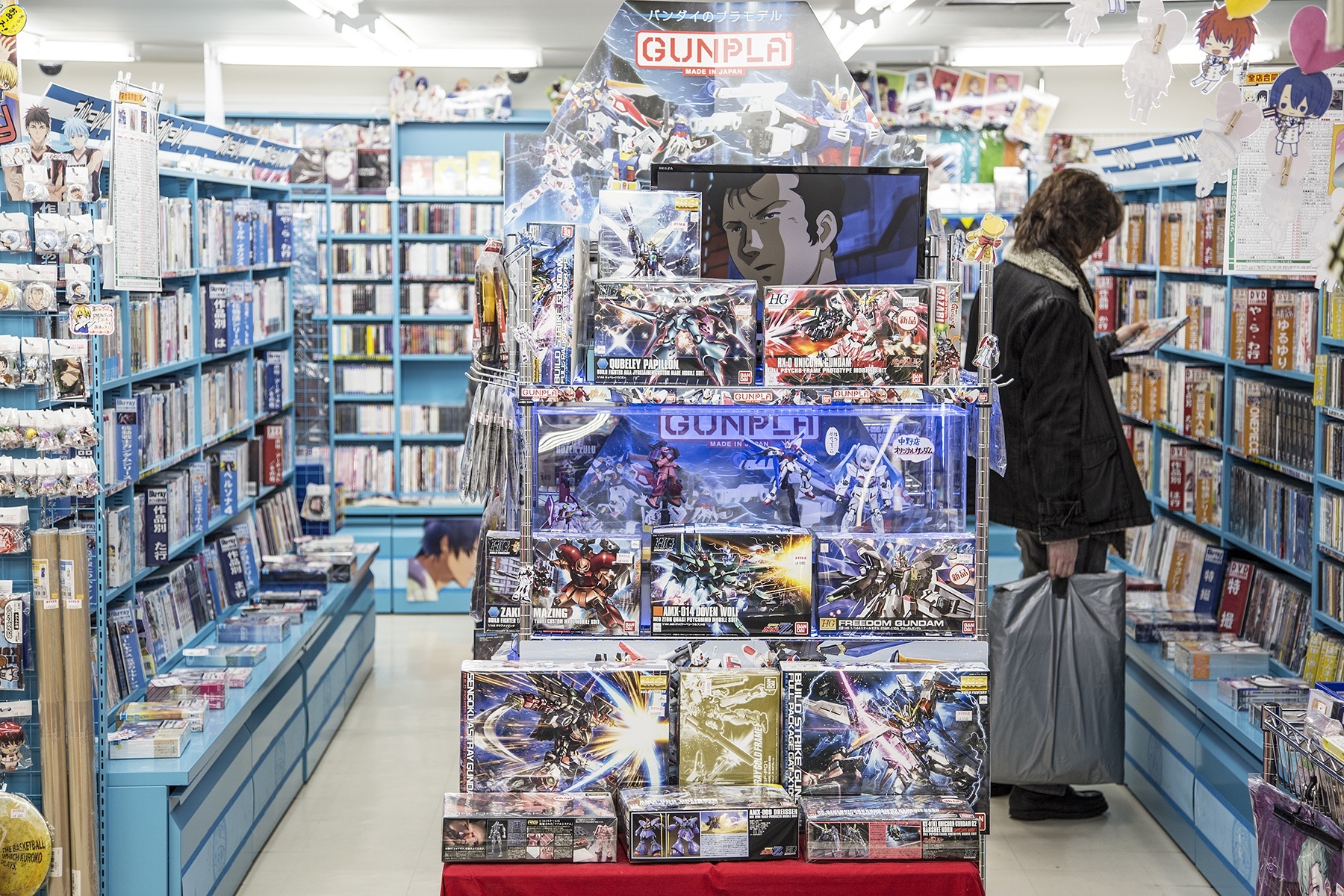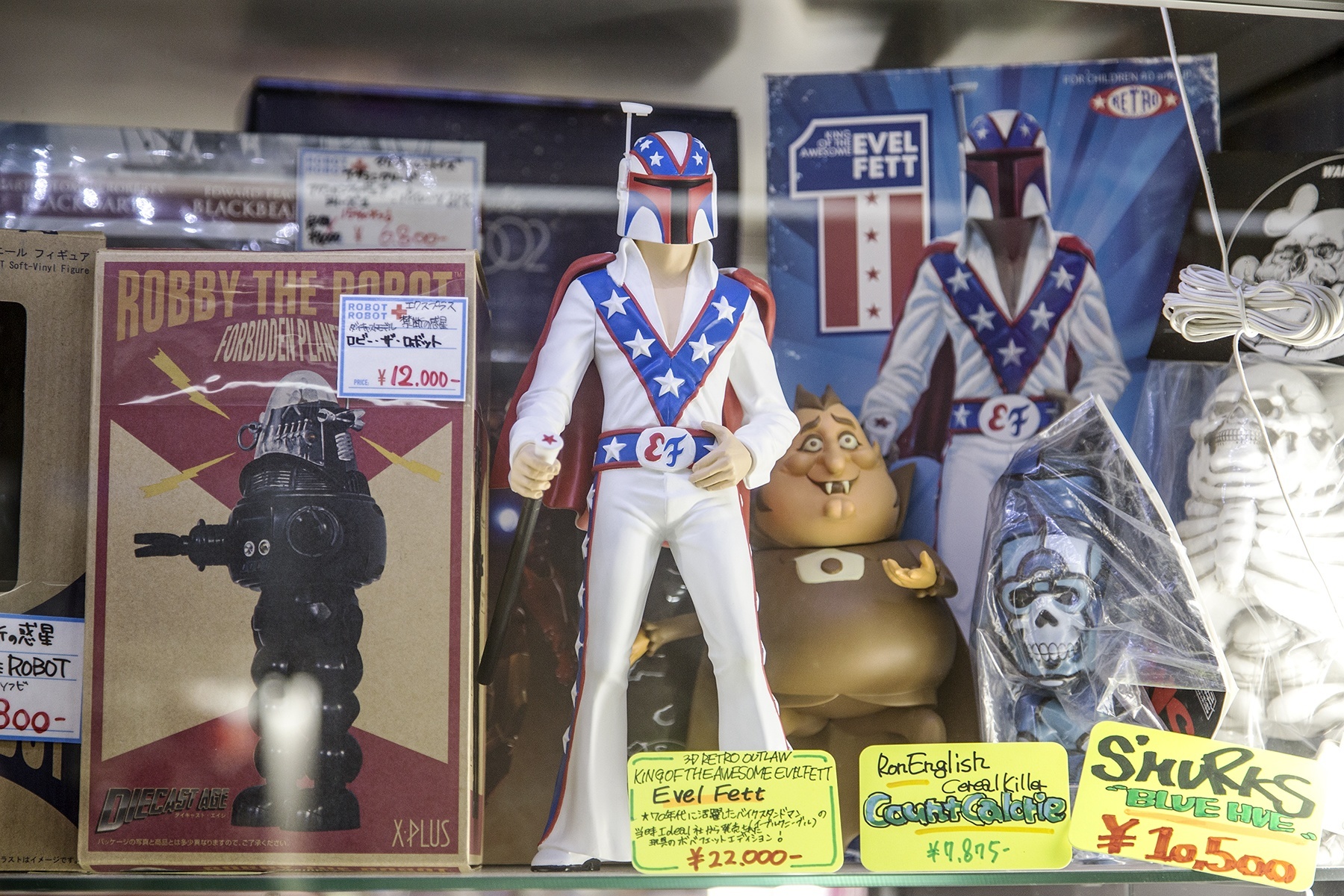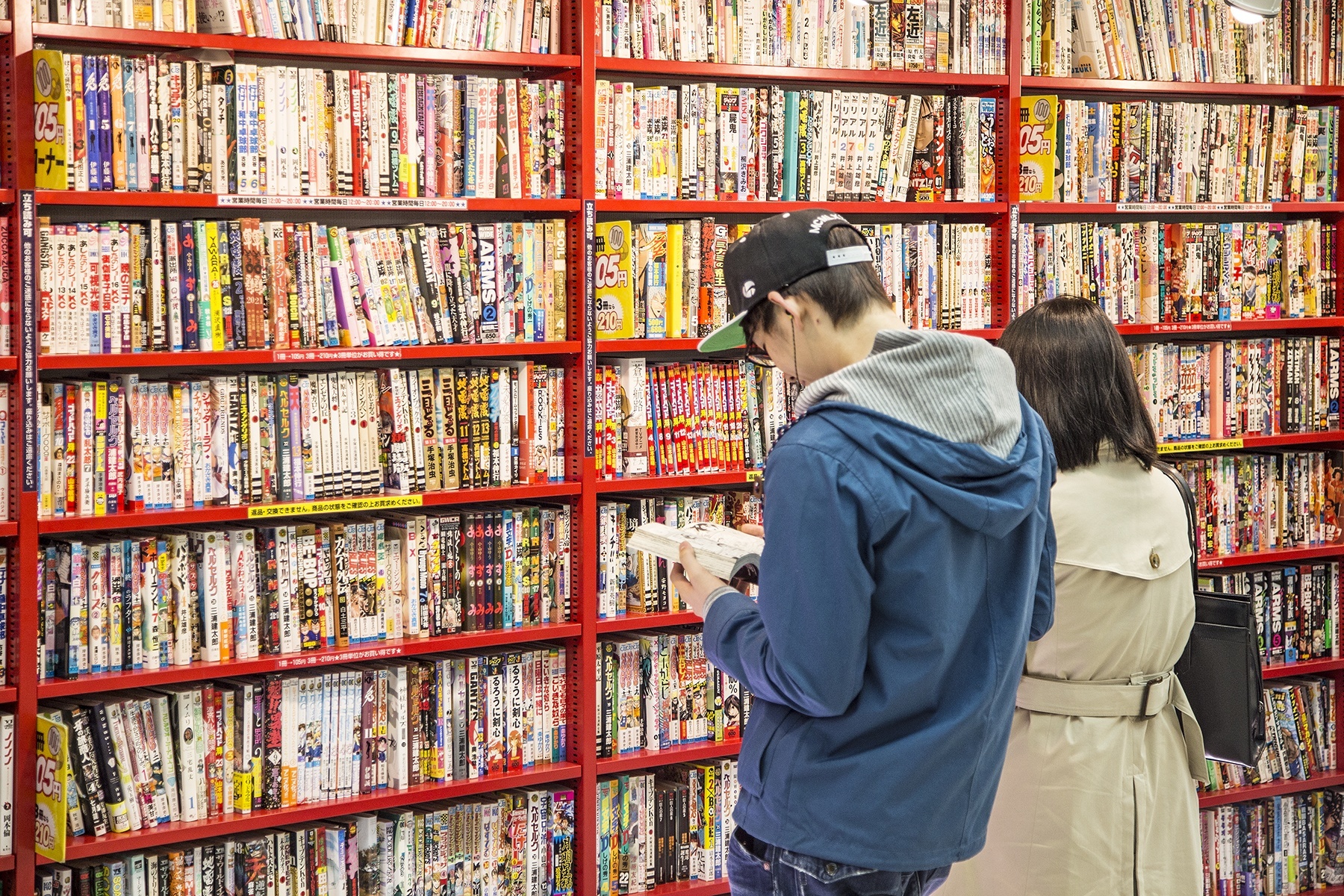 There is an eclectic assortment of other shops as well; such as a chic art café, a small gallery selling large prints of celebrated contemporary artwork, a maid café, a massage parlor, used camera and video shops, and a few army surplus-themed tactical gear and airsoft stores, such as Warriors, which has some pretty serious-looking equipment.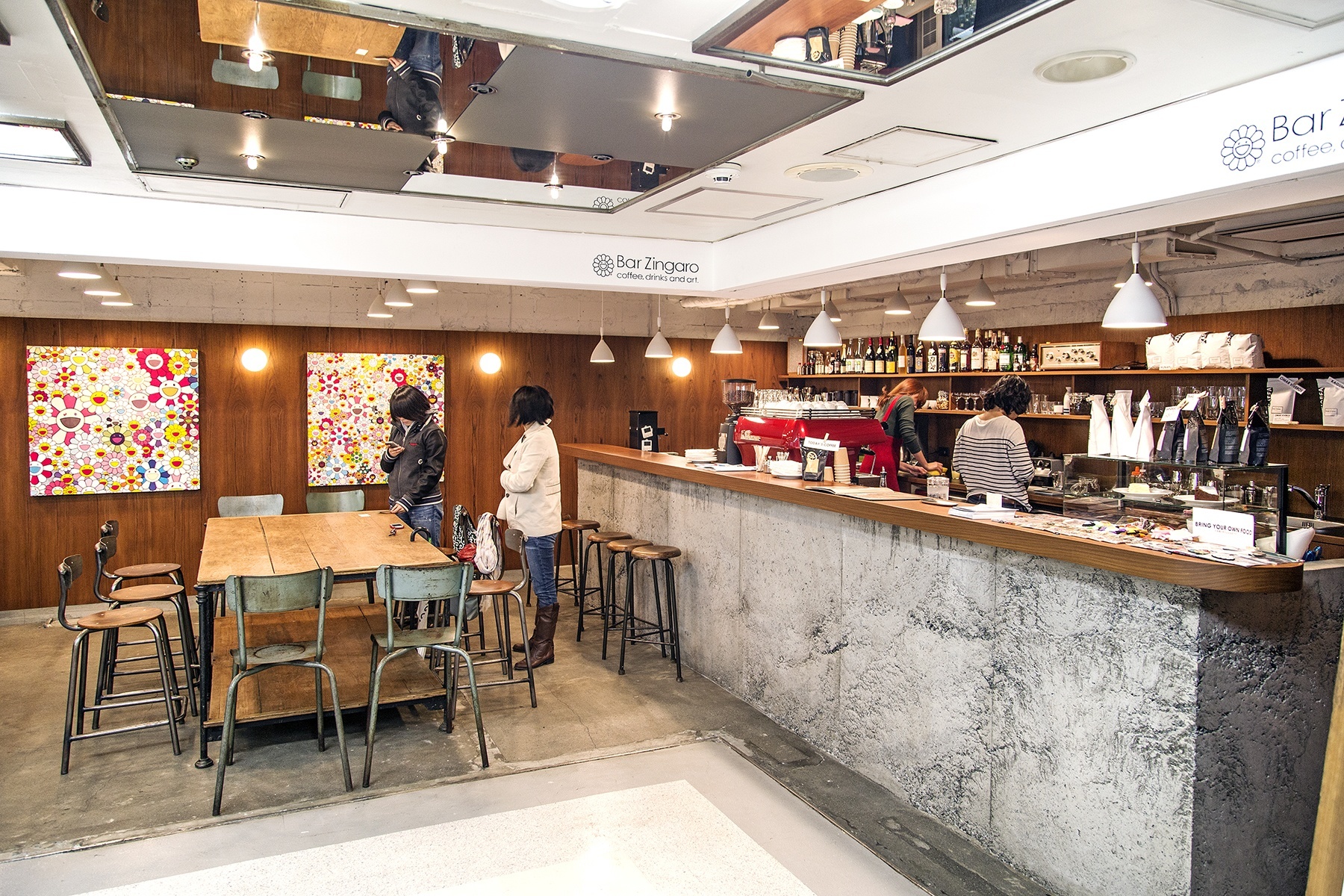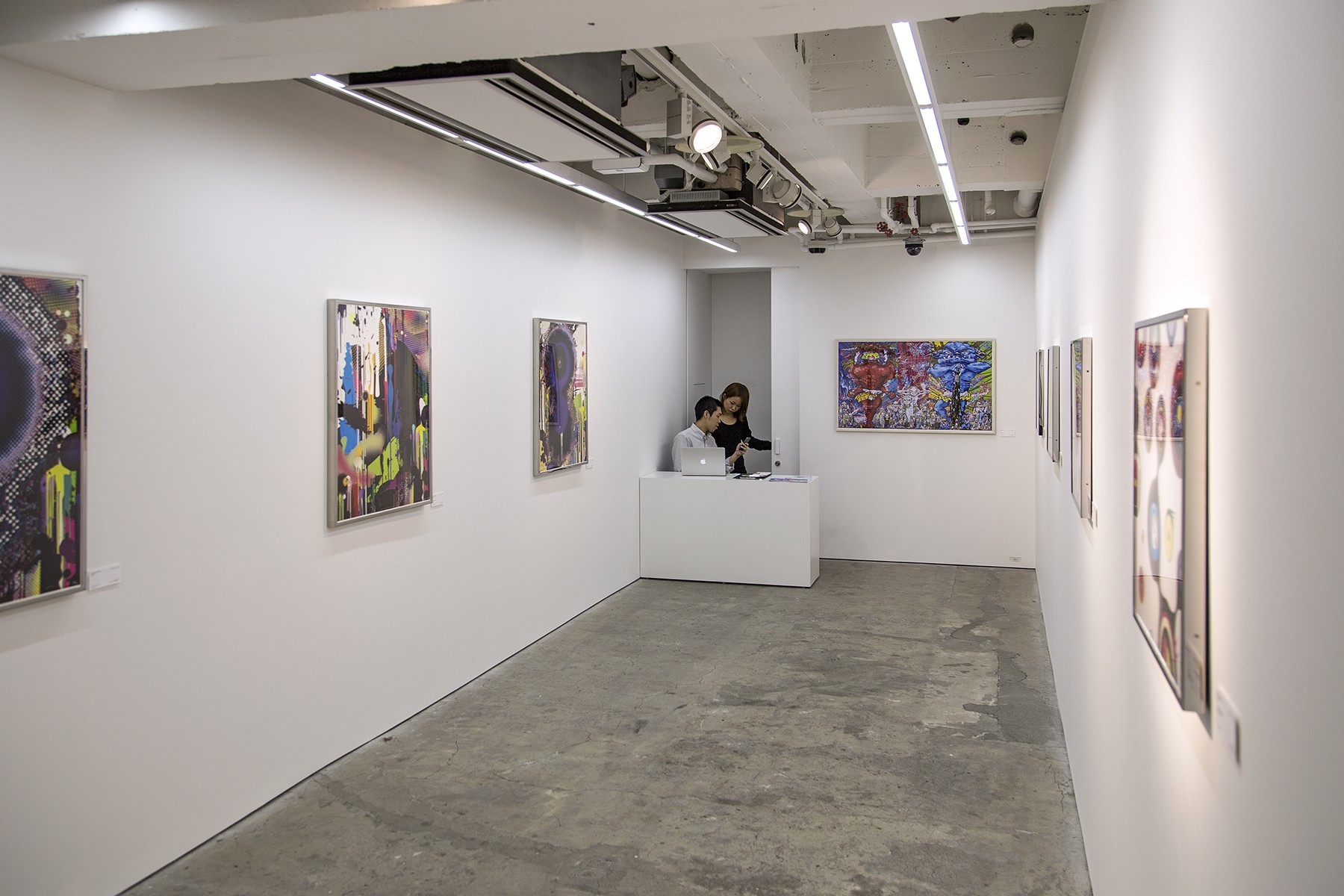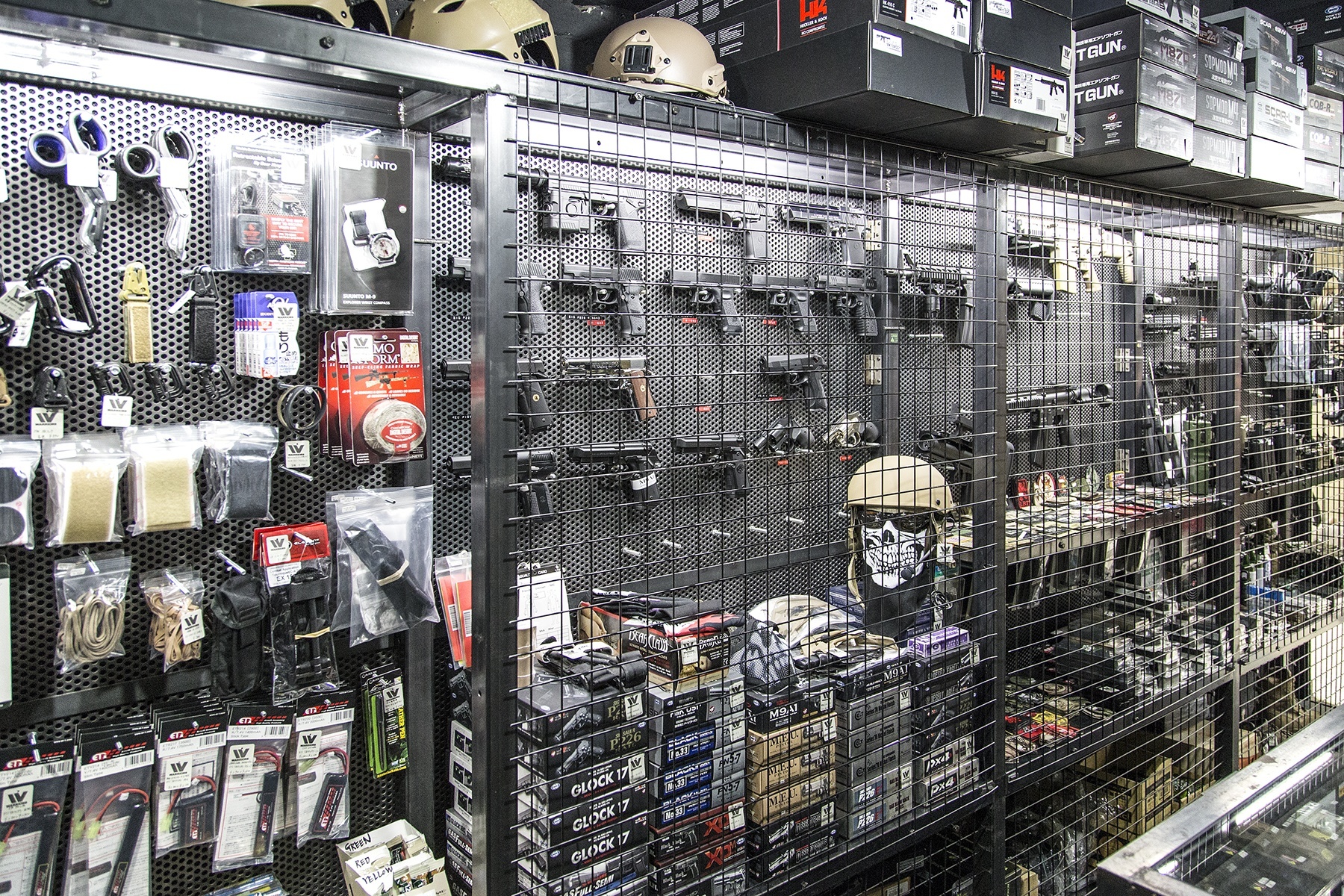 Just a short walk north of Nakano Broadway, is the quiet neighborhood of Arai, where you can find a charming little restaurant called ChoiChoi (焼や ちょいちょい〒165-0026東京都中野区新井1-31-9).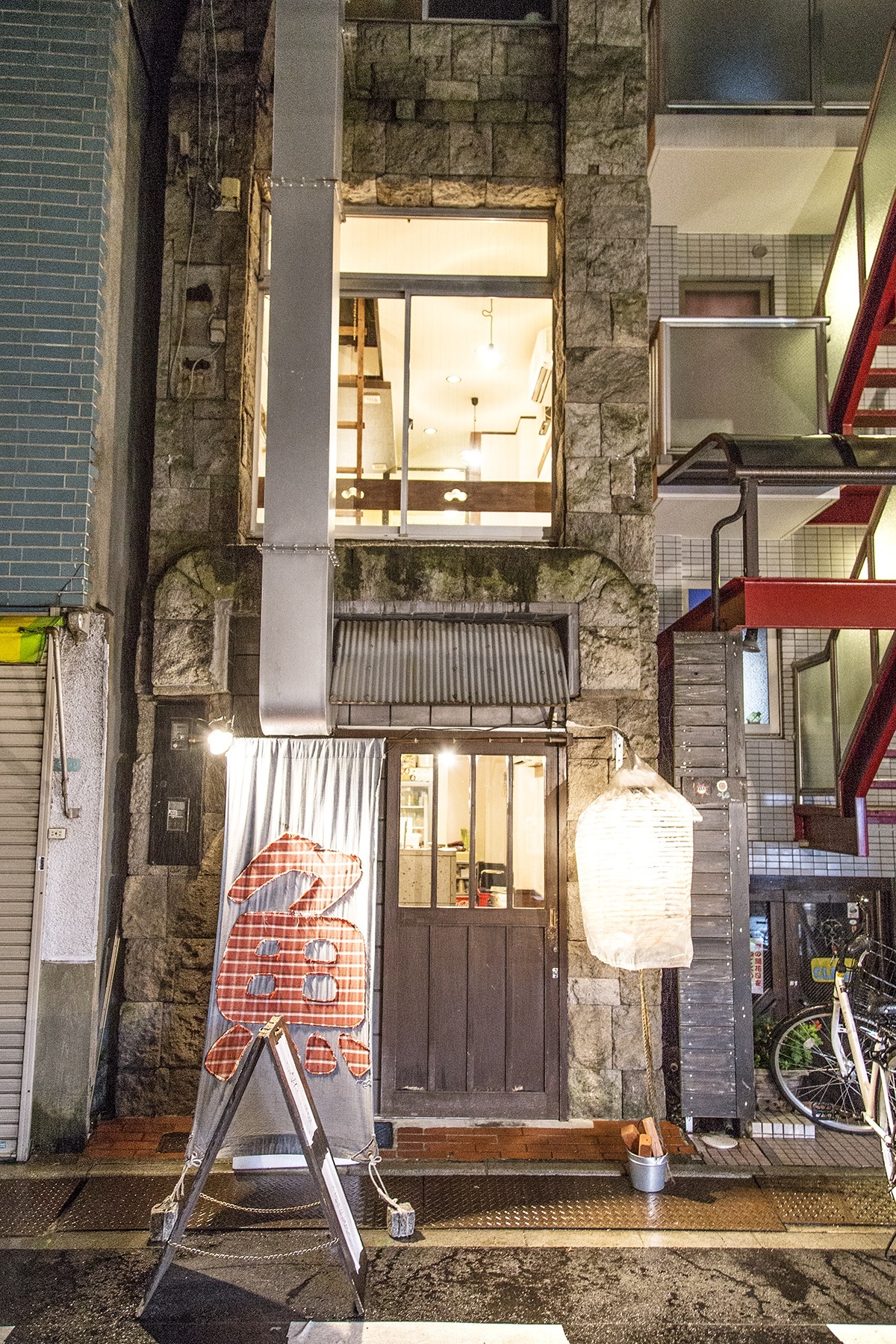 They serve many unique and delicious vegetable dishes and have a selection of savory grilled fish. It's tight seating on the first floor, but if you don't mind, you can sit at the bar and watch the master at work in front of you. Up a steep set of stairs, there are more seating options with a cozy atmosphere and a ladder leading up to the living quarters.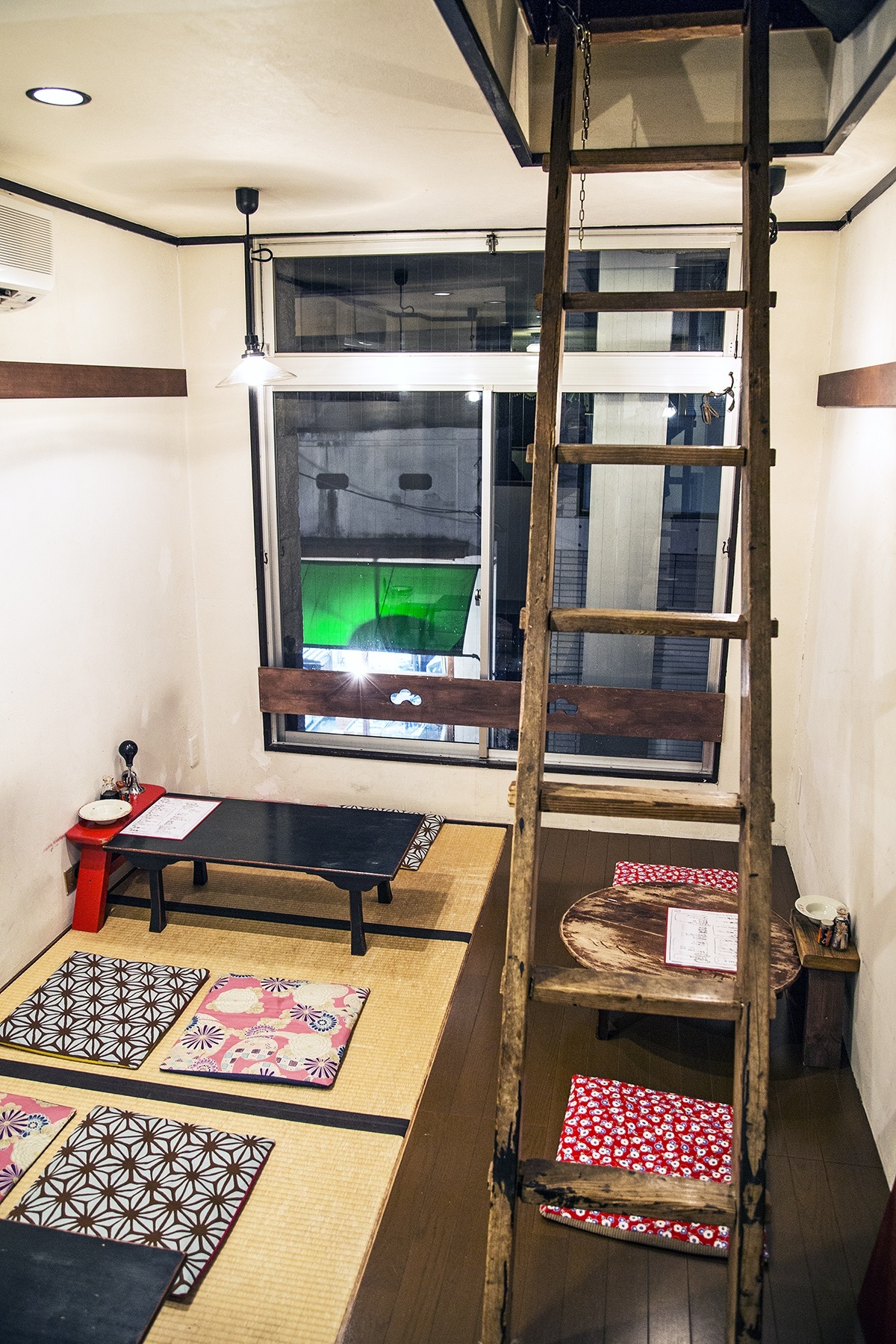 You have a choice between an old-fashioned bulb horn and a dinner bell to signal for attention on the second floor, of course the classic "sumimase~n" works as well, but just knowing these options exist adds a curious quality to the meal.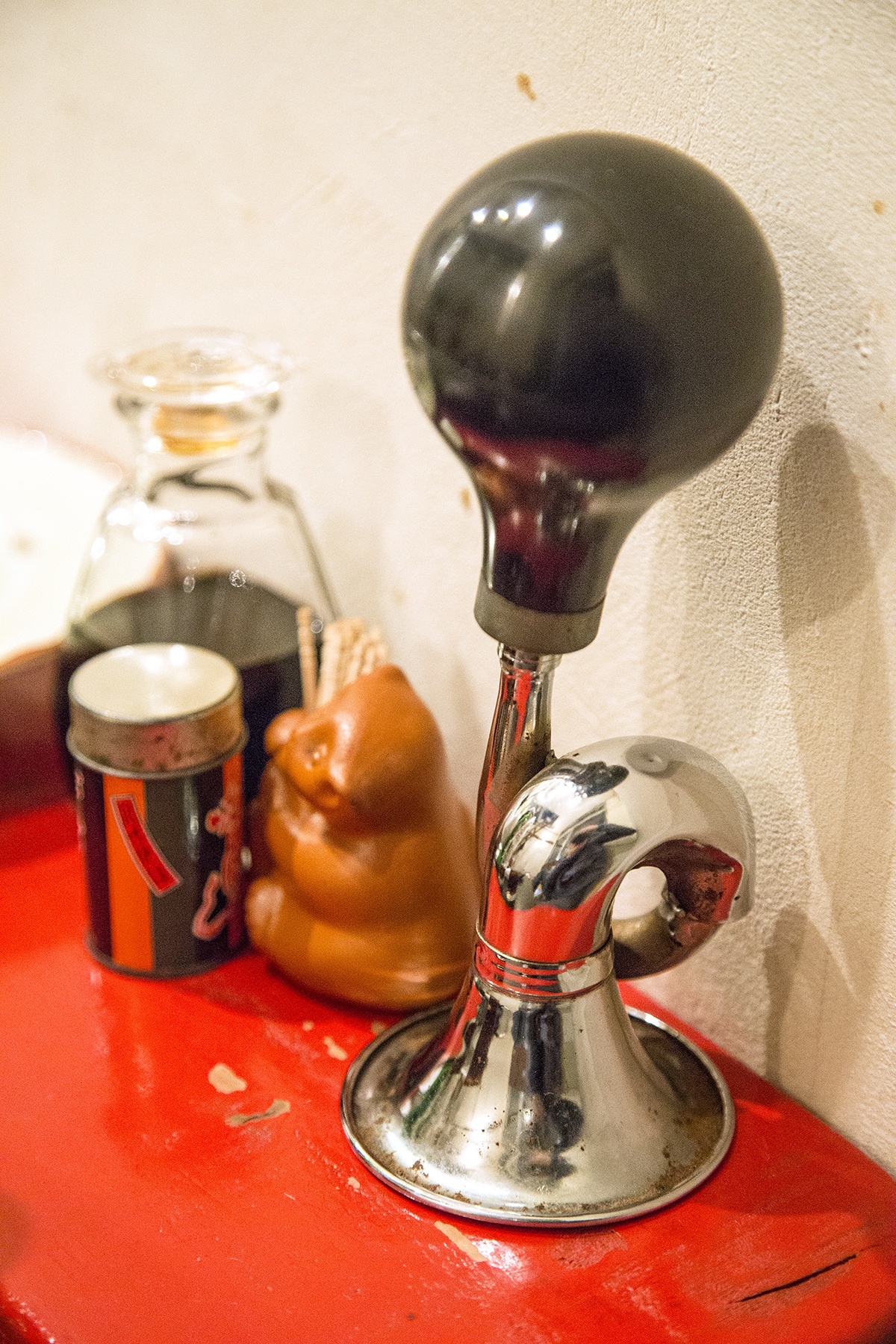 If you prefer a more lively scene, the alleyways of Sanbangai (三番街), adjacent to Sun Mall, are packed with bars and restaurants, each with their own style.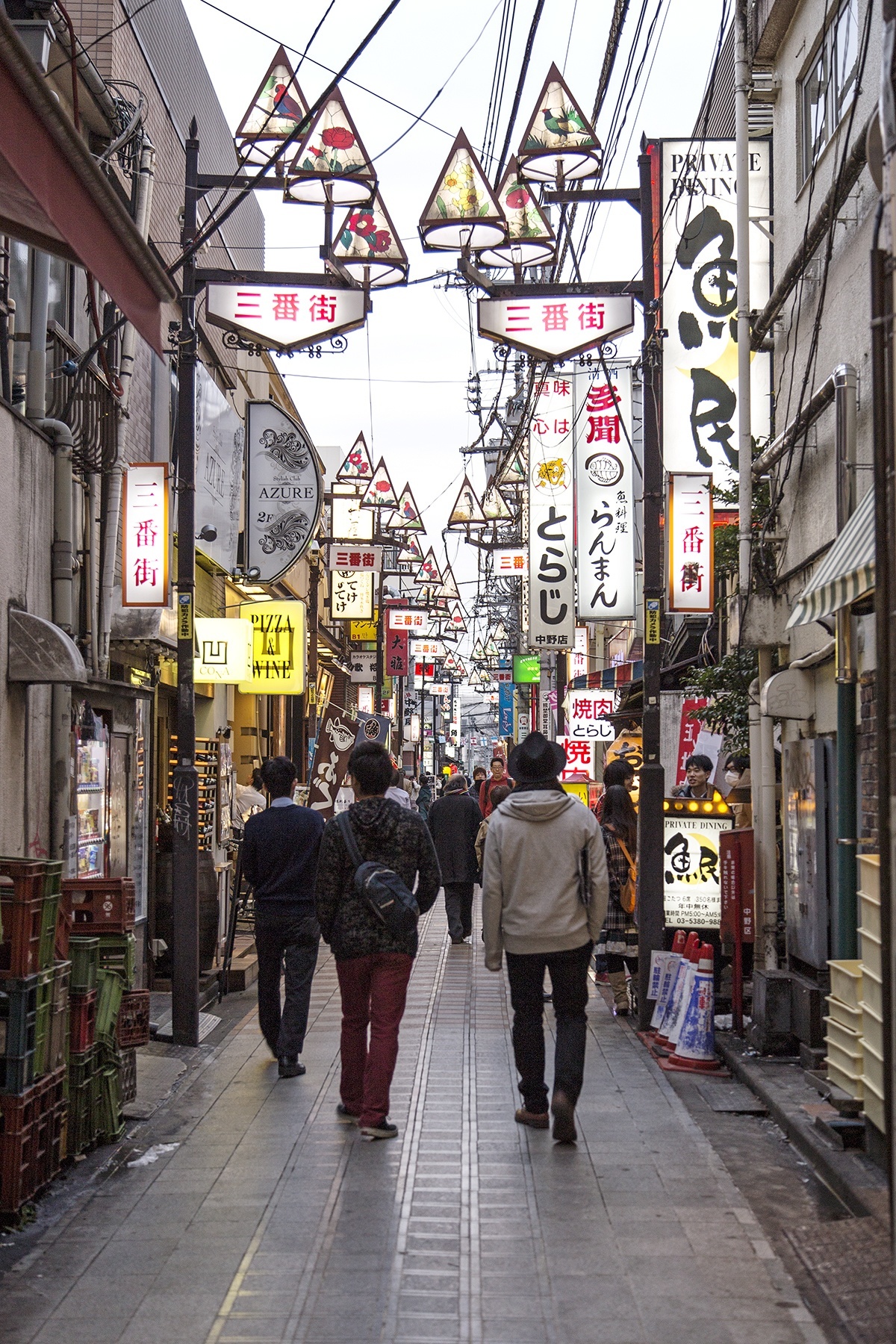 If you like unagi, or grilled eel, Miharu (味治) has been around for a while and featured in "Oishinbo", a long-running manga about culinary adventures.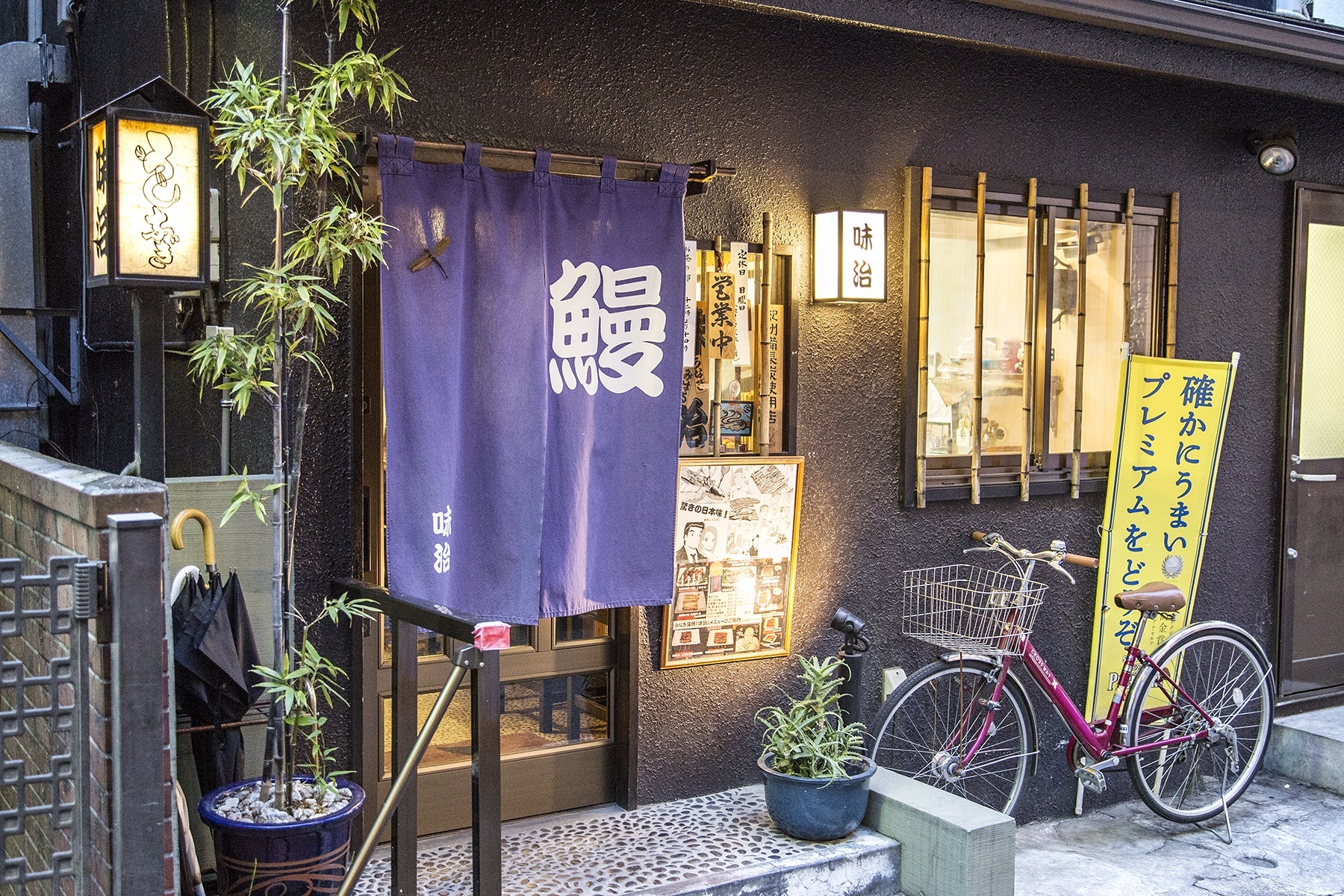 One stop west of Nakano is Kōenji, a hip and trendy neighborhood known for its used clothing stores and live music scene. Central Road, just to the north and west of the tracks, has an abundance of izakaya, or Japanese-style pubs. Although it's a chain, I liked the friendly staff, offerings, and décor of Himonoya (ひもの屋). If you walk under the tracks from the entrance of Central Road, you'll find Look Street (ルック商店街), which is a good place to find inexpensive threads.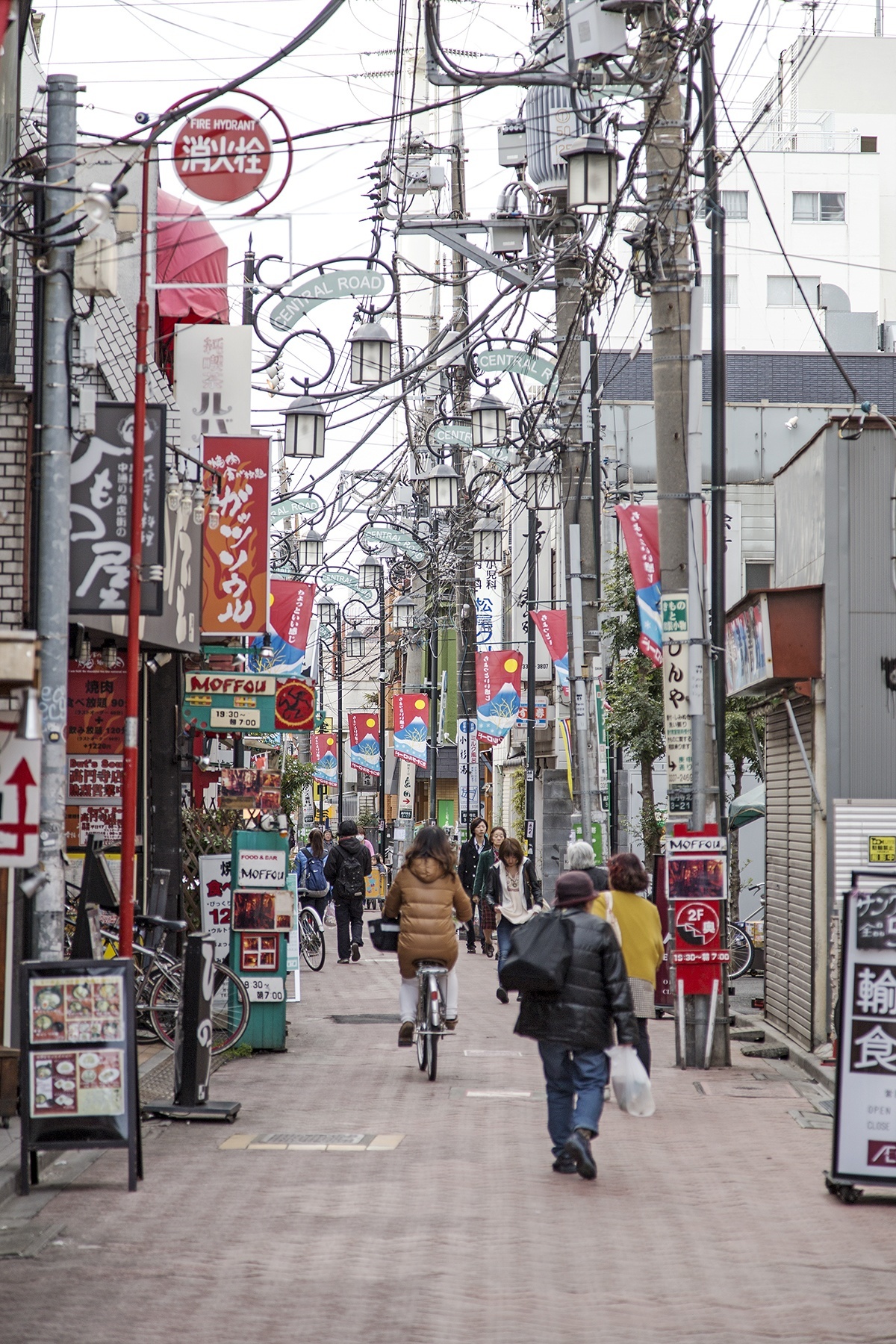 Covered shopping arcades, or shōtengai, are ubiquitous in Japan, but Asagaya's has more of a lived-in, community feel to it than most. One stop west of Kōenji, the town is renowned for its theater and jazz, and Star Road (スターロード), just northwest of the station, offers ample eating and drinking options.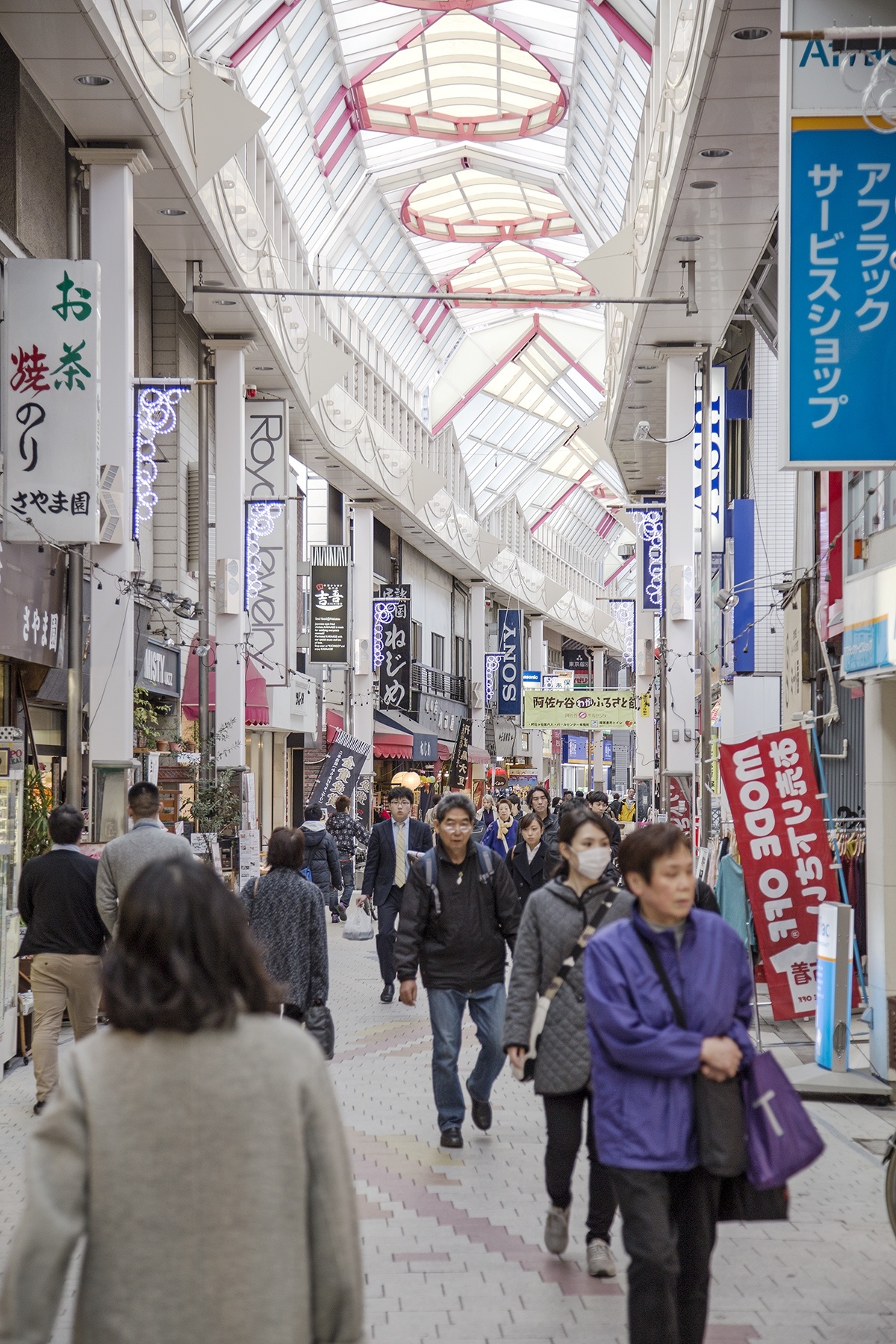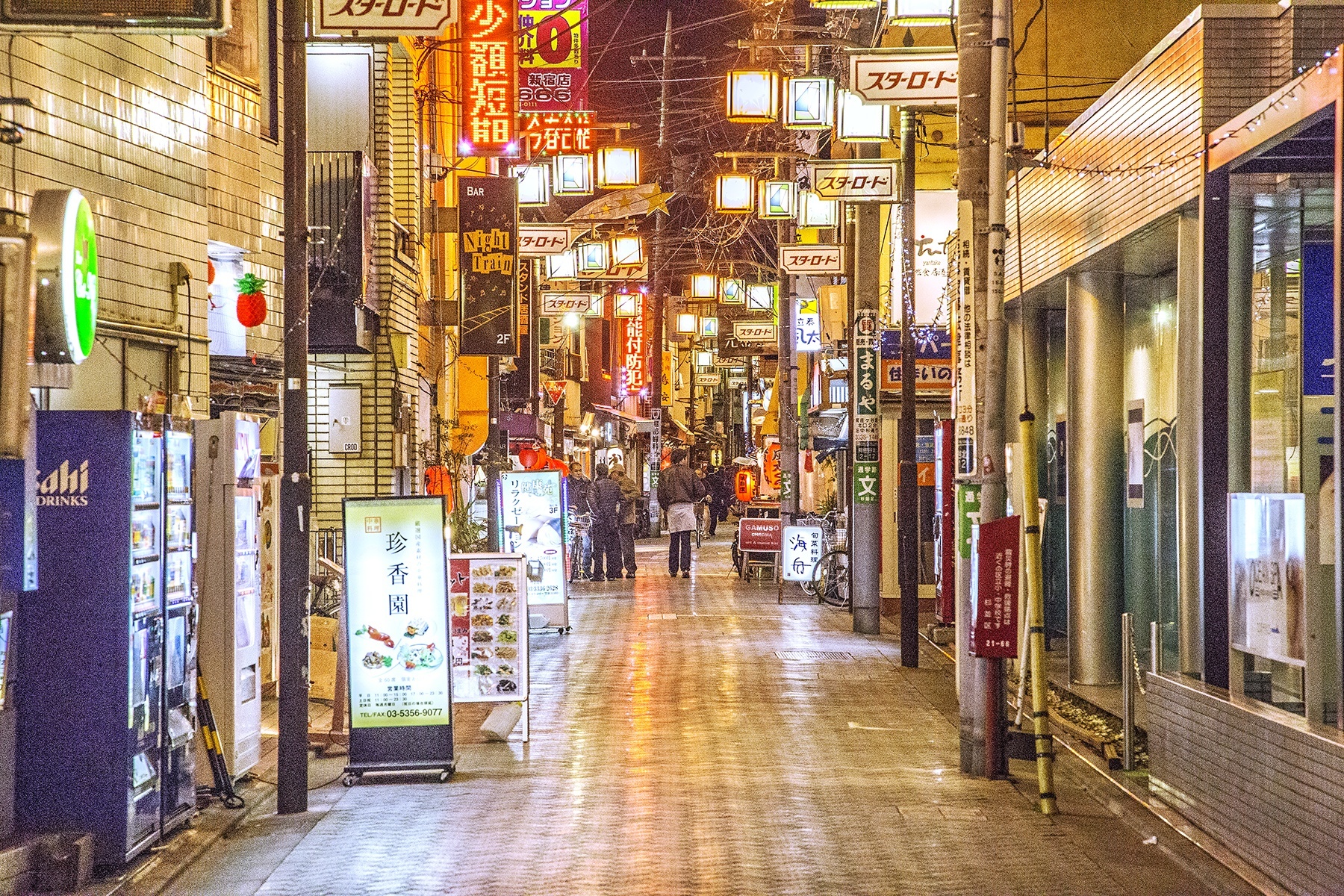 Yorunohirune (よるのひるね〒166-0001杉並区阿佐ヶ谷北2-13-4) is an interesting, and relatively famous café you might miss across from a local market.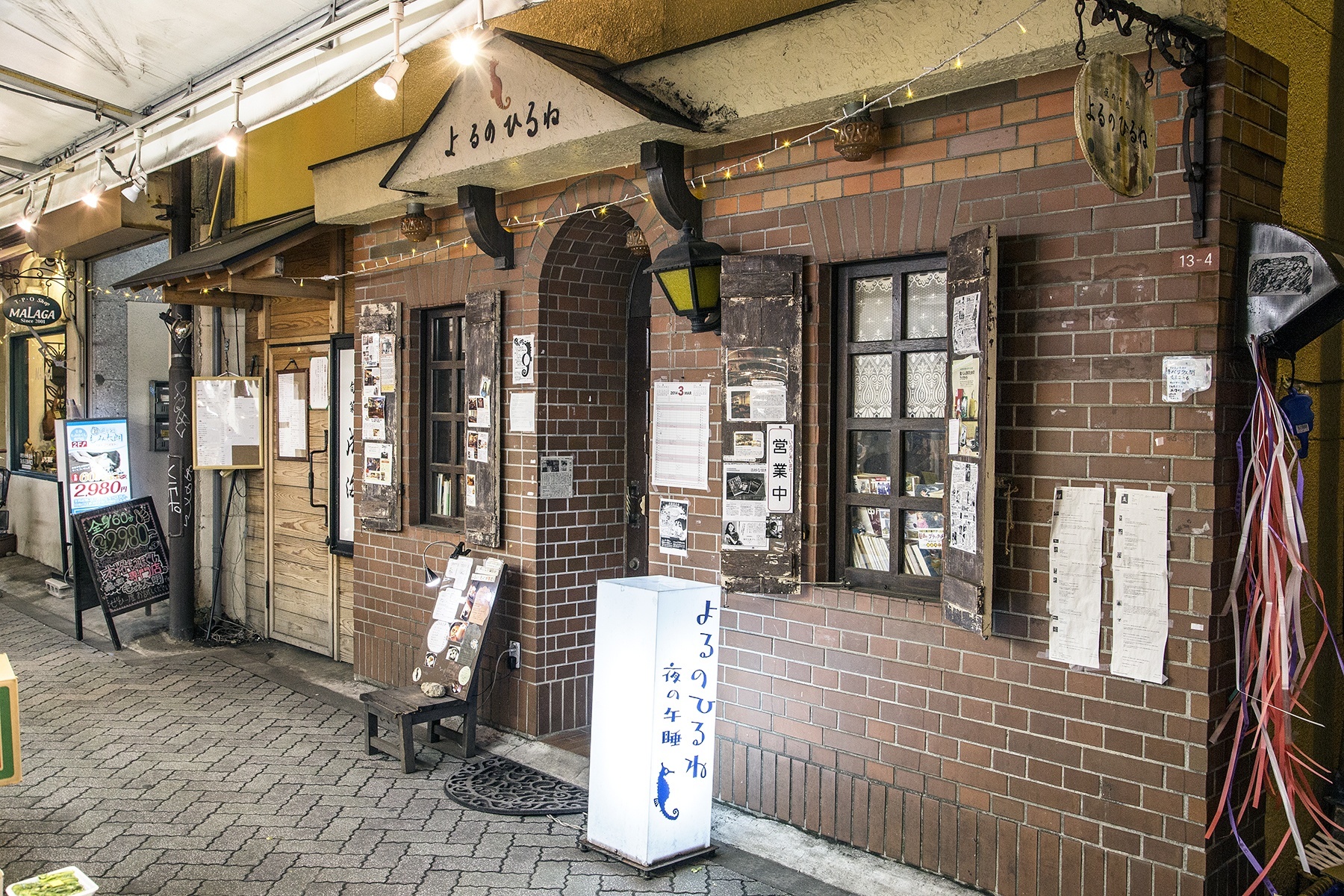 Even when you're inside, you're still unsure if you've just walked into a stranger's house uninvited, which temporarily sapped some of the confidence out of my ordering voice, but it's also part of the experience. The proprietor, Kadota-san, is originally from Shikoku. He's very friendly and makes you feel right at home. You're welcome to peruse his huge library of books, while you sip or nibble from the menu, and he plays host and DJ.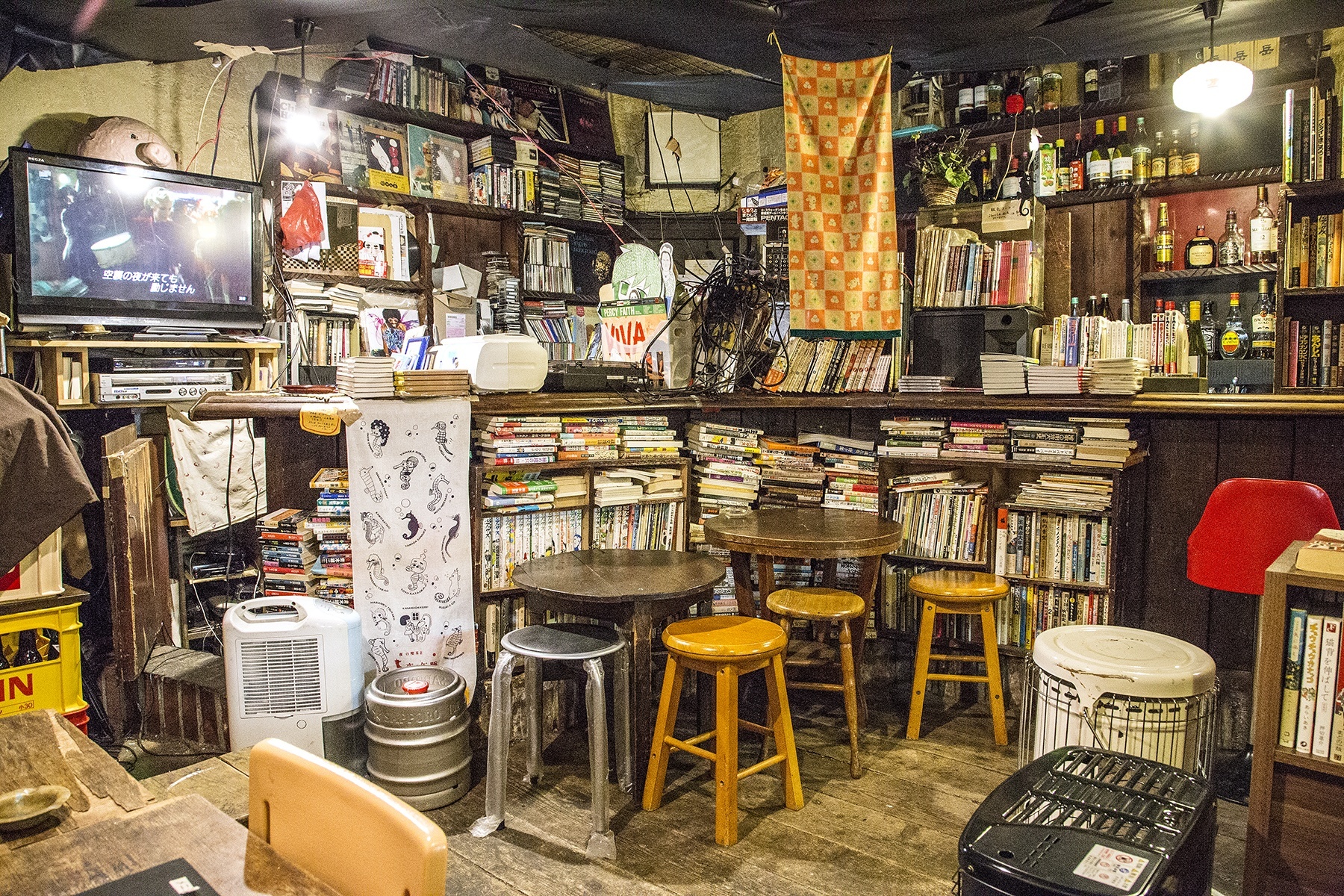 He also has an interesting manga for sale about his relationship with his wife, which she illustrated.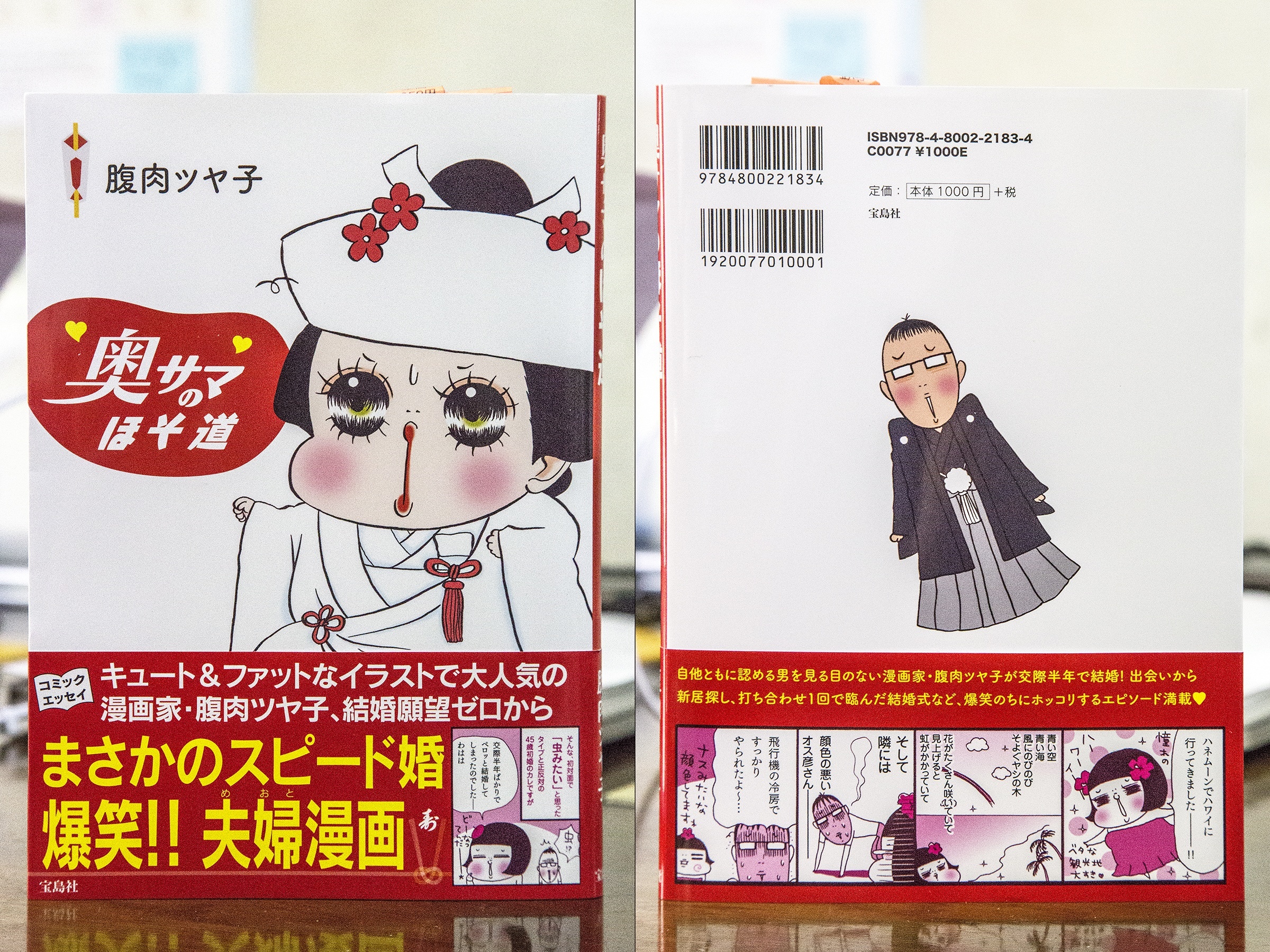 Just off of Star Road is Laputa, which is a theater well known among cinephiles for showing independent and experimental films (Japanese language). Asagaya Anime Street is due to open sometime in the middle of this month, stretching for a hundred meters or so under the Chuō line tracks between Asagaya and Kōenji train stations.
Ramen lovers owe themselves a visit to Ogikubo, one stop west of Asagaya, where Tokyo style ramen originated.  Perhaps the most famous shop is Harukiya (春木屋), which has a fish bone-based ramen recipe that has remained a guarded secret for over half a century. Unless you don't mind a line putting an hour or more between your empty stomach and prize, try to time your visit between the lunch and dinner rushes.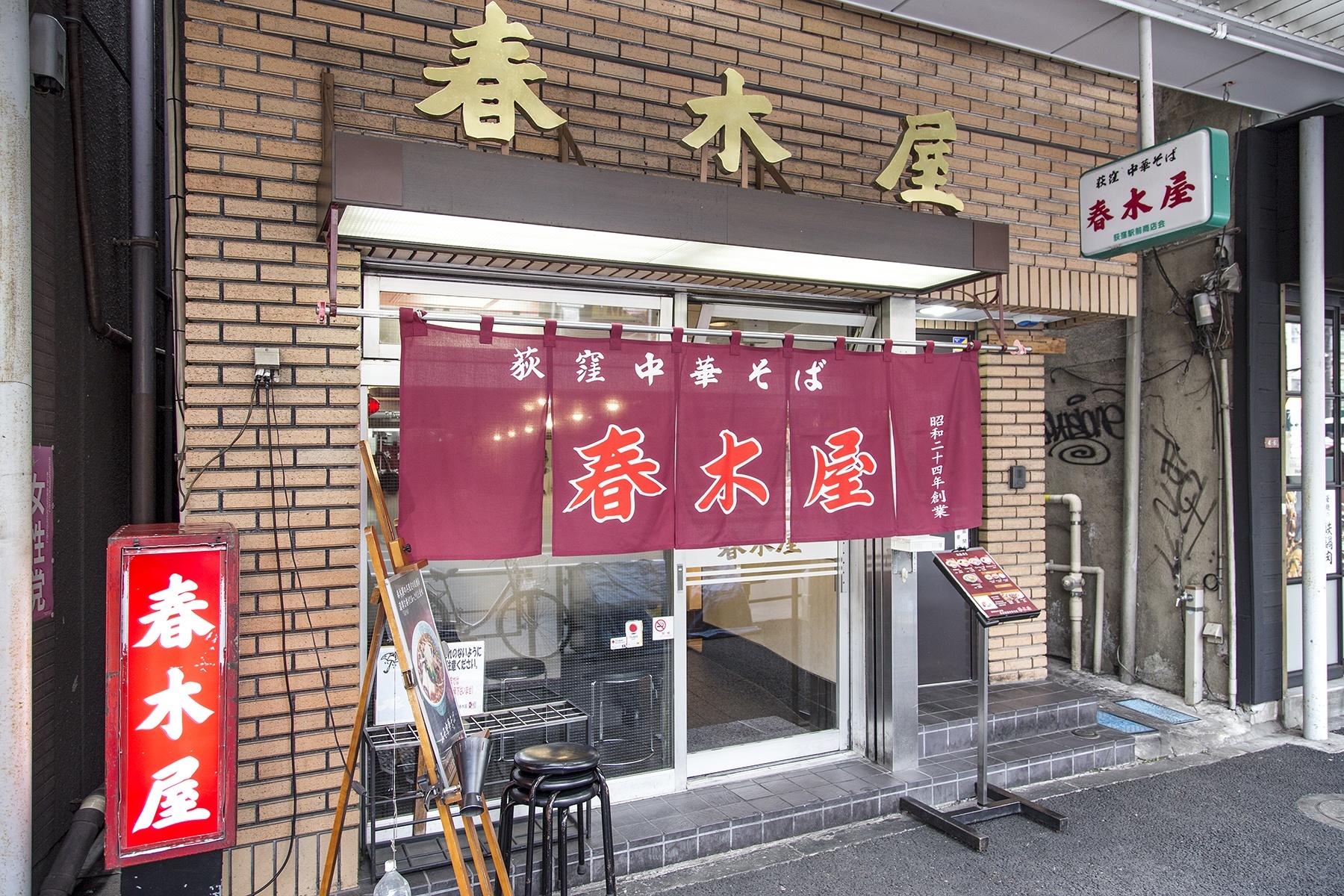 Many artists, authors and other creative professionals call Kichijōji home, and it has a palpable bohemian atmosphere about it. It's located just a couple stops to the west of Ogikubo. On the north side of the station, just to the left, you'll see Harmonica Yokochō (ハーモニカ横丁), which is a collection of narrow winding alleys, and cramped eateries and watering holes with an old town feel. Continuing west, you'll come across Nakamichi, and its many small craft and antique stores. Beautiful Inokashira Park is south of the tracks, and a popular place to see cherry blossoms in spring, or just stroll any time of year. The streets to the north of the lake lead you back to the station, passing by international restaurants and more modern shops.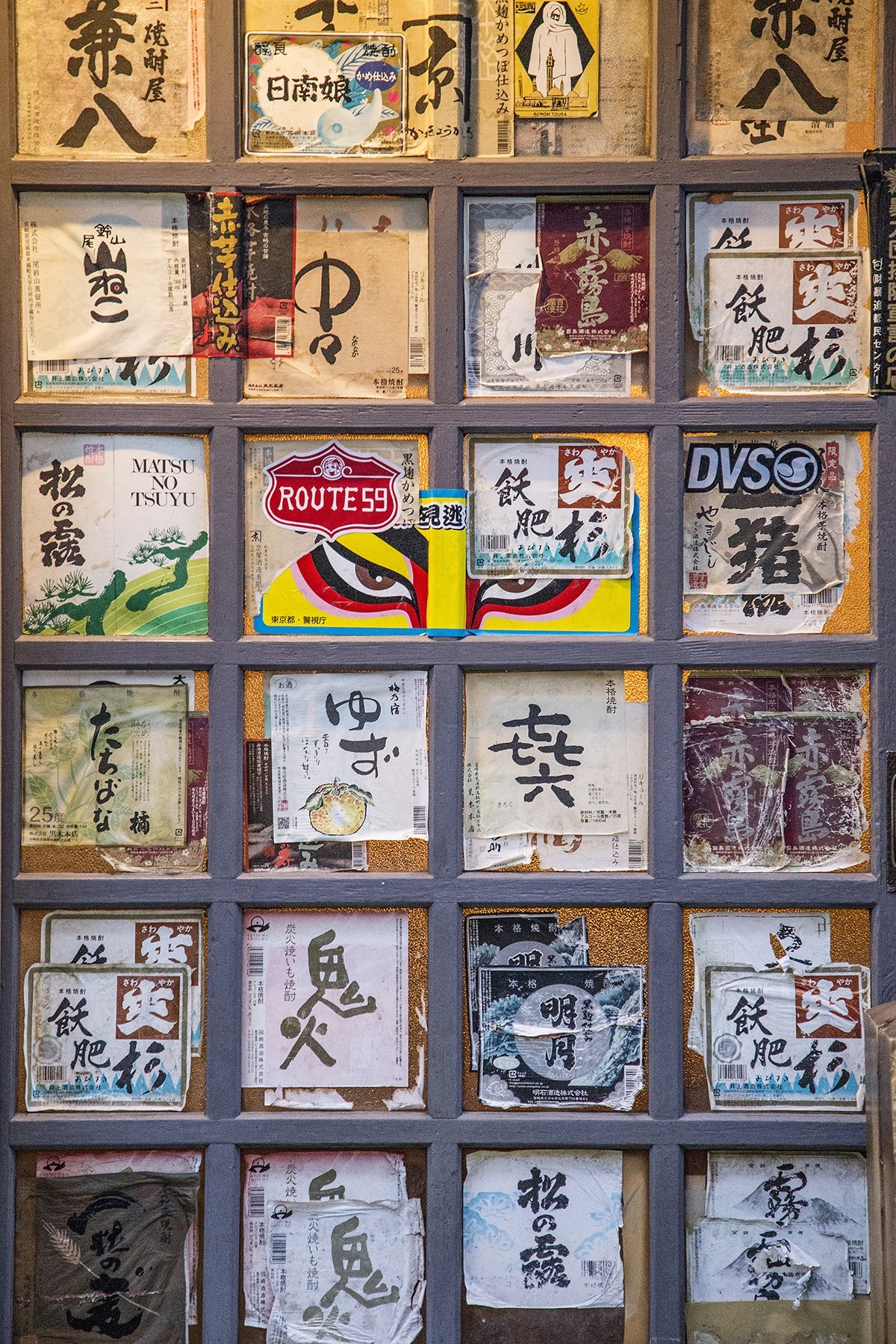 So, if you feel like experiencing something a little different from the well-trampled inner loop, why not hop on the Chuō line for a few minutes and discover your new favorite haunt? You'll feel like you traveled much further in space and time, and I think you'll like the quick escape.
Like this post? Help us by sharing it!