Like this post? Help us by sharing it!
Residents of the western hemisphere love sushi bars; feasting with glee on sushi rolls, teriyaki chicken and lots and lots of rice. Whether dining at a hibachi restaurant or ordering from a food cart at the local mall, sushi has invaded Western culture like a tasty combination of fish, avocado, nori and cucumber wrapped up in white rice.
In Japan however, the definition of sushi is much different.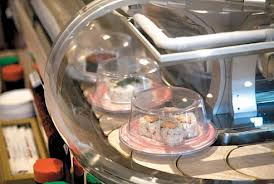 When visiting the eclectic sushi bars in Japan, the one thing people will notice immediately is the lack of sushi rolls like the California-style roll. They have no such thing in Japan.  Tons of rice, the strong fishy smell in the air, and the liberal drowning of the sushi in shoyu also won't be found in a Japanese sushi bar.
Traditional Japanese sushi relies on the freshest ingredients and concentrates on providing a unique experience to the palate of the diner with the serving of delicious fish varieties. Fish takes the forefront of this delicacy, with it being as fresh as possible without the "fishy" smell that represents poor quality seafood. In addition, Japanese sushi has more fish and less white rice in the meal. Most traditional sushi will be seasoned to perfection without the need of wasabi, shoyu or other condiments added.
Dining in a Japanese sushi bar varies. Japanese sushi bars usually have limited seating and the chef may speak limited English. There are also "kaiten-zushi" bars which are basically conveyor-belt style way of dining where plates move around the room as people eat as much as they want and pay for the number of plates they finish. There are even variations on the conveyor belts with gimmicks like small trains delivering your orders.
While Western style sushi has its own delicious taste, the only way to get a sense of the real thing is to visit Japan and taste for yourself.  It is something nobody should pass up as people can expect a fantastic dining experience in a friendly atmosphere.
Like this post? Help us by sharing it!