Like this post? Help us by sharing it!
Traveling to Japan can take on a whole different perspective if you're a kid. Most travelers from English-speaking countries are intrigued by the country's different language, dress, architecture and customs, even in modern Japan. If you're headed with your family to Nippon for a vacation or holiday after school gets out, here are some things that will help your kids learn about Japanese culture while having fun at the same time: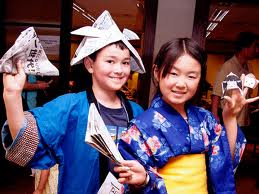 1. Ride a bullet train. Japan's high-speed trains travel at speeds of up to 320 km/h (200 mph), pretty cool if you're a kid. These trains are also an efficient way to tour the country.
2. Visit an electronics store. Some of the electronics stores in Tokyo are as big as a New York City or London apartment block. Plus, there stores have items that aren't yet for sale overseas. They are a teenager's paradise.
3. Gaze at the neon lights. The neon billboards in Tokyo's Shinjuku neighborhood are colorful, fanciful and intriguing, for kids of any age.
4. Master the art of origami. Japan's paper art is a fascinating and fun way to learn about Japanese culture.
5. Sleep in a traditional Japanese accommodation. Sleeping on the floor, stand-up bath tubs, and paper walls: what's not to love?
6. Sample ramen noodles. Ramen noodles, one of Japan's favorite inexpensive foods, are available on practically every street corner. Slurp these delicious noodles with your kids. They'll never want to have the grocery store variety again.
7. Visit a temple. The many Buddhist and Shinto temples, large and small, that dot the Japanese landscape combine art, religion and culture.
Going on holiday to Japan has plenty of exciting activities for the whole family!  When you look at the country for a child's point of view, you might just see Japan in a whole new light.
Like this post? Help us by sharing it!