Like this post? Help us by sharing it!
Whilst the headlines have been screaming of imminent and impending doom, all the reports we have been receiving have been of life in the capital returning rapidly to normal, of the Japanese just "getting on with it". Could this possibly be true? I went to Japan to find out!
As I touched down at Narita Airport on Monday morning at 8:50am, I felt genuinely nervous about what would lie beyond the confines of my 747. Would I find stories of normality to have been greatly over-stated? Would there be an underlying sense of grief and horror permeating the atmosphere of the city? Despite my confidence in the reports of my colleagues and suppliers, doubts still remained.
For the month since the great Tohoku earthquake struck on 11th March 2011, I have wanted to get over to Japan to see my friends and colleagues and to try and understand this monumental disaster a little better; what does this mean for Japan and of course, on a much smaller scale, what does it mean for me personally and for InsideJapan Tours.
The airport was quiet. Strolling under the dimmed lights of the arrivals area to immigration – all part of energy saving measures enacted across the region – the airport certainly felt very still. At immigration was I really one of only 5 foreigners in line, without the usual foreign visitor booths even being open? That certainly appeared to be the case. And this at the peak of cherry blossom, usually Japan's busiest season for tourist arrivals from oversees.
In the arrivals lobby it was the same. Was this eerily quiet or just what to expect? But thinking about it, my flight was, after all, the only one scheduled to arrive at Terminal 1 at that time so why should I expect any different? It is a long time since I have been to Narita Airport and thinking back, yes it often was this quiet when I was collecting tour arrivals, ready for two weeks of adventures around Japan. Terminal 1 has always been quiet in the mornings, which of course makes it a good time to arrive! No queues at immigration or baggage claim for me.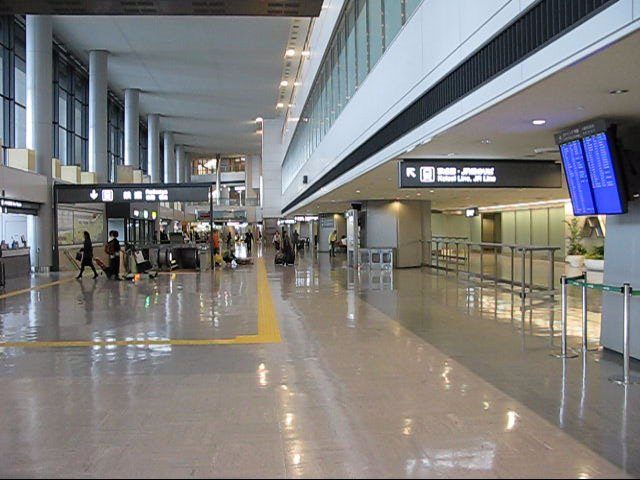 Next up, after changing my  travellers' cheques (very retro I know – explanation coming soon) for some hard currency yen, I headed down the escalators to the Japan Rail pass exchange office.  I asked the lady how it had been since the earthquake. "Usually around Easter and cherry blossom time," she began, "we would be exchanging 400 passes on a busy day. Now it is 100 at the most and even that many is unusual." This anecdote certainly backs up the statistic we have been receiving from JNTO – that visitor numbers from overseas are a quarter of what would usually be expected during spring. I explained what I do for a living and what I was doing in Japan, exchanged a quick "gambarimashou!" and I was underway, heading for the Narita Express into the city.
Today's first destination was Komazawa Daigaku (university) station 3 stops outside Shibuya, home to IJT's tour leader extraordinaire, Tyler Palma. Fresh from a tour around west Japan and some rather late night 30th birthday celebrations, Tyler met me at the station looking rather more genki than he had any right to after his recent work and social schedule! Lunch (and my now standard first meal in back Japan) was at the superb Coco-ichiban ya Curry House. Their slogan is "Good Smell, Good Curry!" or something like that and as always delicious fried things in super tasty curry sauce did not disappoint. When making a trip to Japan, a stop at Cocoichi really is a must. In fact so good is this wonder of Japanese cuisine that is deserves a blog post all its own! Oishiiii.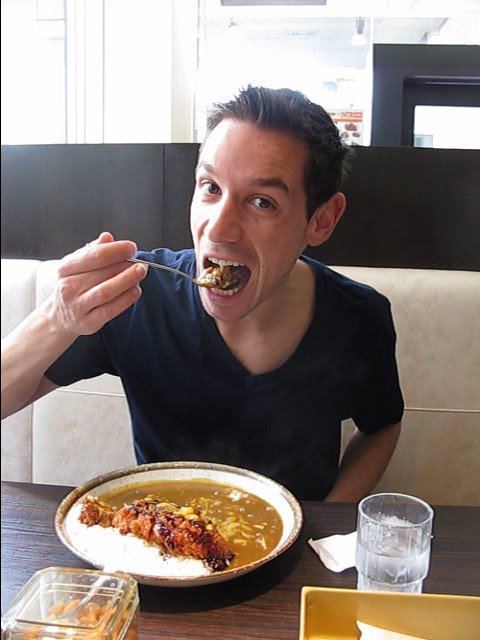 The start of April is, as everybody knows, cherry blossom season and having just arrived I did not want to miss out on what could be my one and only chance to indulge in 'hanami'. The beer is perhaps for some, more important than the blossom but after a 16 hour journey I wasn't ready for any more than a couple of ice cold Suntory Malts.
The blossom in the park really was stunning; blown by the wind, the petals falling like pink snow from the trees. Groups of students sat on their blue tarps drinking and laughing in the warm spring sunshine whilst I sat with Tyler and discussed the events of the previous month and how extraordinary Japan really is. Under those beautiful trees, with the warm breeze on my face and a cold beer in my hand it was hard to imagine the devastation in Tohoku and the hardships being endured in that region. It can seem clichéd, but the blossoms really  are a reminder of the cycle of life, death and rebirth and of better things to come; a symbol that out of the cold lifelessness of winter, spring always emerges, bringing with it hope and new possibilities. Now as the blossoms fall from the trees in Tokyo, in Tohoku they will be just emerging – hopefully bringing with them encouragement to the afflicted people of the region.
Our one drink done, we returned to the subway station and I headed back to Shibuya and onto Shinagawa to catch the Shinkansen west to Nagoya. The day did have one surprise left in store for me though; 10 minutes into the journey, as the train approached Yokohama, suddenly the lights went off and the sleek shinkansen glided to a halt. I had heard that the 'Bullet' trains come to an automatic stop in an earthquake but was yet to experience this. Unsurprisingly, this was the result of another aftershock in Tohoku which provided a good shake to the buildings in Tokyo but fortunately no damage. As usual, nobody panicked and nobody screamed. In fact, nobody so much as murmured any concern and within 5 minutes we were rolling again – just another example of how since the devastation of the great Tohoku earthquake and tsunami, the Japanese have just got on with things: An admirable and remarkable stoicism in the face of an unimaginable disaster.
Like this post? Help us by sharing it!