Fukuoka
Fukuoka is a laid-back, youthful, fun-loving city with good shopping, live music, a major baseball team and great restaurants. Due to its location Fukuoka is a great starting point for exploring the rest of Kyushu.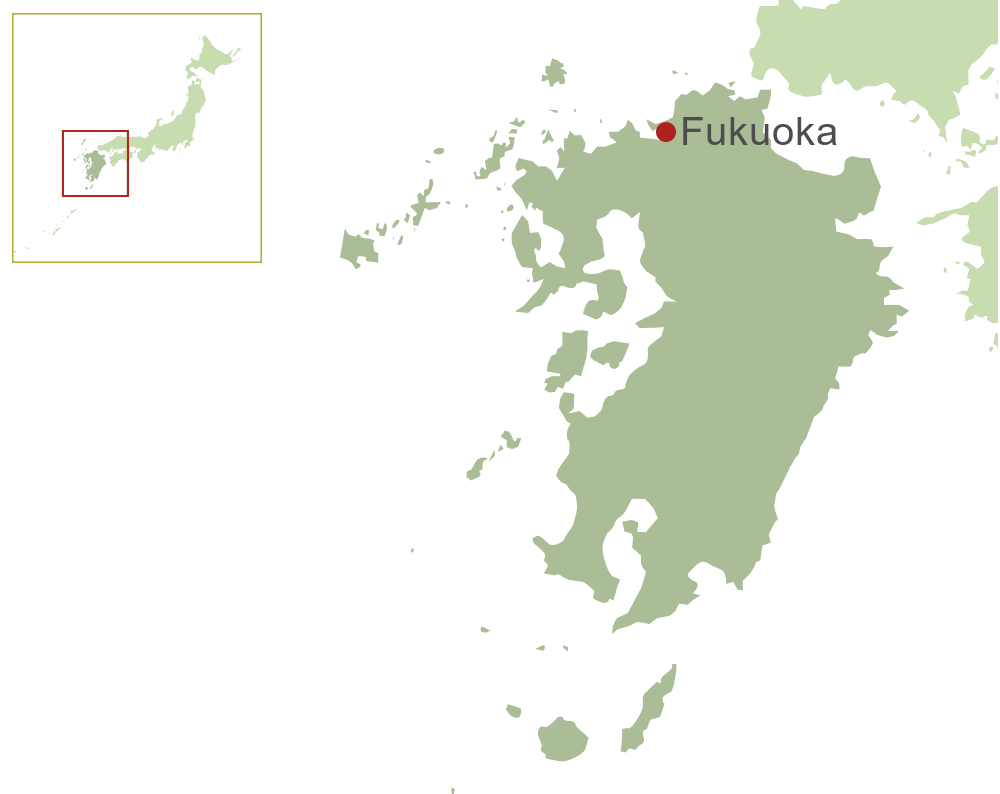 "Beginning an evening in Fukuoka with food at a bustling yatai stand is sure to be memorable. Slurping tonkotsu ramen as the city lights glittered on the water was a splendid way to kick off my first New Years Eve in Japan, and is sure to get your night off to a special start too."
Katrina Cordery, Sales Team Leader
Over the past ten years Fukuoka, the biggest city on Kyushu, has transformed itself into one of the most cosmopolitan and international cities in Japan. Although it is not as big as Tokyo or Osaka, it still manages to possess the same vibrant buzz.
Because of its proximity to South Korea and the rest of eastern Asia, the city has always been an important port with an international flavour. It is thought to be where tea and Buddhism were first introduced to Japan.
Fukuoka, however, is not a place to visit for traditional Japanese culture. There are a few important temples, shrines and museums but it's the excesses of modern urban life that draw people to the city.
The downtown area of Tenjin is packed full of shops, restaurants, karaoke booths and bars and attacks all of the senses with neon lights, music, crowds of people and the smell of ramen drifting from yatai stalls.
'Yatai' are mobile food stands set up in the early evening on pedestrian walkways and cleared away by the early hours. The ones in Fukuoka are famous for selling a pork broth noodle soup known as tonkotsu ramen. The stalls are usually frequented by salary men having a few drinks with their colleagues on their way home from work.
Fukuoka is also a great place to see the Softbank Hawks baseball team play and is also a usual destination for Japanese pop concerts.

Recommended Accommodation in Fukuoka
The following are our favourites from among the western-style hotels and Japanese-style inns of Fukuoka.
Experiences in Fukuoka
Fukuoka offers a wealth of exciting experiences that will help you get beneath the surface of Japan's fascinating culture. See below for a few of our favourites
Weather in Fukuoka
The Climate Guide for Fukuoka, Japan is perfect for planning your holiday. Monthly weather averages give the best indication of what the weather is usually like for every month of the year including figures for temperature, rainfall and sunshine.
Jan
Feb
Mar
Apr
May
Jun
Jul
Aug
Sep
Oct
Nov
Dec
Max Daytime Temperature (°C)
9
10
14
19
23
26
29
30
27
22
17
12
Min Night-time Temperature (°C)
1
2
5
10
14
18
23
23
19
13
8
3
Hours of Sunshine (Daily)
3
4
5
6
6
5
6
7
5
6
4
4
Hours of Daylight (Daily)
10
11
12
13
14
14
14
13
12
11
10
10
Heat and Humidity Discomfort
None
None
None
None
None
Low
High
High
Moderate
None
None
None
Days with some Rainfall
14
14
15
14
13
16
17
15
15
11
11
12
Monthly Rainfall (mm)
75
84
147
175
199
377
361
276
208
107
84
56
UV Index (Maximum)
3
4
6
8
9
10
11
10
8
6
4
3
Featured trips including Fukuoka
Nagasaki
Kagoshima
Yakushima
Kirishima National Park
Kumamoto
Kurokawa Onsen
Fukuoka

If you're an adventurous traveller who wants to discover a side of Japan rarely seen by outsiders, this itinerary could be the one for you.

13 nights: from US$3406 pp (twin share) Read more >

Tokyo
Fukuoka
Yufuin
Kirishima National Park
Kagoshima
Hiroshima
Kyoto
Tokyo

Mix traditional elegance and modern style, vast cities and sweeping countryside on this luxurious rail journey through Japan.

13 nights: from US$18226 pp (twin share) Read more >

Nagasaki
Kagoshima
Yakushima
Kirishima National Park
Kumamoto
Kurokawa Onsen
Fukuoka

Discover the impressive landscapes and vibrant cities of Kyushu on this journey from the forests of Yakushima to Kurokawa Onsen's hot springs

13 nights: from US$5252 pp (twin share) Read more >