Exclusive Private Journey
Shikoku Art & Culture
6 Nights: price on request
Trip Code: EPJ200
The rural Shikoku landscape has long captivated the imagination of Japan's most innovative thinkers. This module will connect you with expert guides and artisans to follow in the footsteps of eminent architects, artists, writers and landscape designers. Read more >
The Exclusive Private Journey detailed below has been designed as a short module to be incorporated into a longer Japan exploration tailored to suit your exact specifications. Nothing is fixed - every trip of this kind is based on in-depth consultation with our team of experts to ensure that we provide the very best travel experience for you.
Beginning in the hot spring city of Matsuyama, known as the home of Japan's oldest bathhouse, this itinerary takes in the best of Shikoku - Japan's little-visited, fourth-largest island - before taking you across the Seto Inland Sea to admire the world-famous modern art installations that have revitalised the tiny fishing island of Naoshima.
At every step of the trip you'll be accompanied by a highly experienced professional guide, stay in top-level accommodation and enjoy meals at the region's very best restaurants - not to mention some hidden eateries and superb street food known only to the locals.
What's more, refined by the knowledge and connections we've established through our years of experience, we'll introduce you to local experts and artisans - Shikoku's best artists, historians and garden designers. After all it is often the people you meet that provide the most memorable travel encounters.
Trip Highlights
Cruise the islands of the Seto Inland Sea by private boat

Go backstage in Japan's oldest Kabuki playhouse

Discover Japan's best landscape gardens in Takamatsu
Follow the literary trail of Matsuyama author Natsume Soseki

Explore the wild rural peaks and troughs of Iya Valley

Experience the best of Tadao Ando's art and architecture on Naoshima
For more information email us: [email protected] or call: 303 952 0379
What, where, when and how...
Shikoku Art & Culture - 7 Days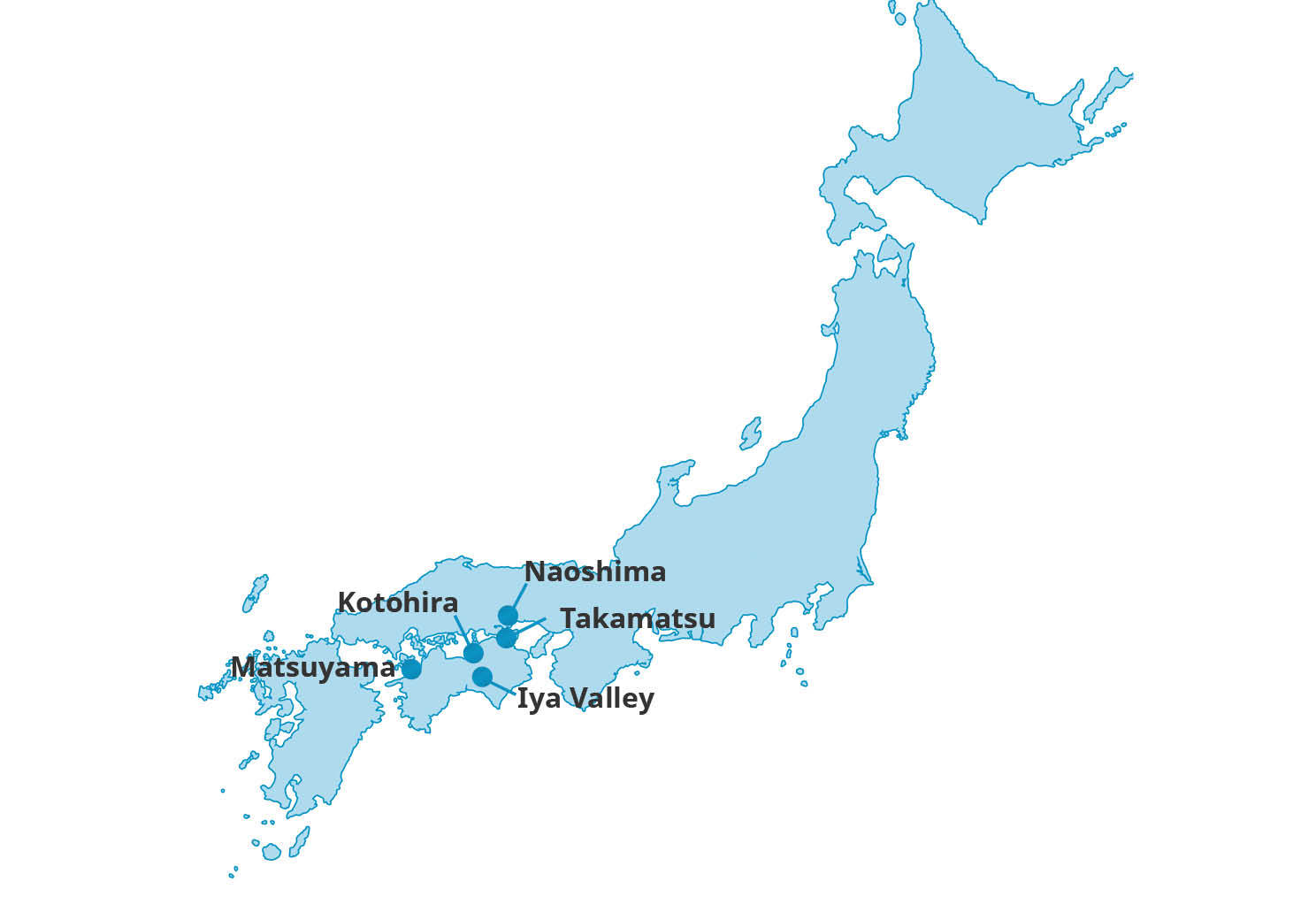 Shikoku Art & Culture - 7 Days - Day by Day
Shikoku Art & Culture - 7 Days - Accommodation
Shikoku Art & Culture - 7 Days - Experiences
Day 1

Travel through the scenic islands of the Seto Inland Sea by private boat to reach the historic spa town of Matsuyama on Shikoku Island.

Here'll we'll connect you with a local historian who'll help you imagine the days of the feudal period when warring samurai clans ruled Shikoku. Together you'll visit Matsuyama-jo, an original samurai castle that stands watch over the city. As the sun sets you'll enjoy an exclusive and atmospheric private tour inside the castle donjon (main keep).
East of the city centre is Dogo Onsen, one of the oldest hot spring resorts in Japan. The only way to finish a day in Matsuyama is with a visit to the Dogo Onsen Honkan, a beautiful Meiji Period wooden bathhouse dating from 1894. As well as taking a relaxing soak in the main baths, you'll have the opportunity to peek at the special bath reserved for visiting emperors.

Suggested Accommodation: Dogo Umenoya

Day 2-3

Today you'll travel into the rural heartland of Shikoku, to the small town of Kotohira.

Shikoku Island is home to 88 temples, which together form a circular pilgrimage route that takes months to complete on foot. We'll put you in touch with a group of pilgrims dressed head to toe in traditional white garb. Together you can ascend the 1,368 steps up Mount Zozu to Kotohira's Konpira-san – the most important temple on the circuit, with a private guide on hand to translate your questions and give you an insight into this revered tradition.
Other experiences in Kotohira include a private cooking class, where you'll learn to make the local speciality - sanuki udon noodles, and various day trips into the beautiful Iya Valley. We also highly recommend a backstage tour of Kanamaruza Theatre - Japan's oldest surviving playhouse with a history stretching back to 1835.
As an alternative option to these experiences, you might choose to visit the Chiiori Project: a lovingly restored farmhouse founded by the American writer Alex Kerr in order to revitalise Iya village through the establishment of an eco-friendly community. The project is deeply rooted in Japanese tradition and promises a fascinating insight into local rural culture through participation in a range of time-honoured techniques and activities.

Suggested Accommodation: Sakura-no-Sho

Day 4

In Takamatsu we'll show you Ritsurin Koen, one of the best landscape gardens in the country, which sits at the foot of Mount Shuin.

Become one of the gardening team as you learn the fundamentals of Japanese garden design at Takamatsu's renowned Ritsurin Garden - a horticultural symphony of chestnut trees, lotus ponds, red bridges and islands. We would be happy to arrange a private tea ceremony in the garden's Chrysanthemum Moon Pavilion here - a highly sought-after experience that few have the chance to enjoy.

Suggested Accommodation: JR Clement Hotel

Day 5-6

Today you'll leave Takamatsu by helicopter or private boat to travel across the beautiful Seto Inland Sea to your accommodation on the wonderful island of Naoshima.

Your visit to Naoshima offers some of the most impressive art and architecture of this module. Once a sleepy little island, Naoshima's inhabitants traditionally scraped a living from fishing while the young migrated to Japan's big cities to find work. This all changed in 1992, when art (and consequently tourism), began to gently revitalise the island's fortunes.

The Benesse Corporation chose Naoshima as the site for a series of innovative modern art installations and museums, all designed to blend the beauty of the island's geography with cutting-edge artistic experimentation.
Accompanied by a modern art expert, you'll visit the island's Art House Projects dotted around the little village of Honmura. The guide will explain the installations - which have been created by Japanese artists and architects in locations as diverse as abandoned houses, workshops, and even temples and shrines. Tadao Ando's "Minamidera" project is a highlight; an intriguing installation in an old warehouse that plays with one's perception of light.

Suggested Accommodation: Benesse House
View all days
Day 1

Travel through the scenic islands of the Seto Inland Sea by private boat to reach the historic spa town of Matsuyama on Shikoku Island.

Here'll we'll connect you with a local historian who'll help you imagine the days of the feudal period when warring samurai clans ruled Shikoku. Together you'll visit Matsuyama-jo, an original samurai castle that stands watch over the city. As the sun sets you'll enjoy an exclusive and atmospheric private tour inside the castle donjon (main keep).
East of the city centre is Dogo Onsen, one of the oldest hot spring resorts in Japan. The only way to finish a day in Matsuyama is with a visit to the Dogo Onsen Honkan, a beautiful Meiji Period wooden bathhouse dating from 1894. As well as taking a relaxing soak in the main baths, you'll have the opportunity to peek at the special bath reserved for visiting emperors.

Suggested Accommodation: Dogo Umenoya

Day 2-3

Today you'll travel into the rural heartland of Shikoku, to the small town of Kotohira.

Shikoku Island is home to 88 temples, which together form a circular pilgrimage route that takes months to complete on foot. We'll put you in touch with a group of pilgrims dressed head to toe in traditional white garb. Together you can ascend the 1,368 steps up Mount Zozu to Kotohira's Konpira-san – the most important temple on the circuit, with a private guide on hand to translate your questions and give you an insight into this revered tradition.
Other experiences in Kotohira include a private cooking class, where you'll learn to make the local speciality - sanuki udon noodles, and various day trips into the beautiful Iya Valley. We also highly recommend a backstage tour of Kanamaruza Theatre - Japan's oldest surviving playhouse with a history stretching back to 1835.
As an alternative option to these experiences, you might choose to visit the Chiiori Project: a lovingly restored farmhouse founded by the American writer Alex Kerr in order to revitalise Iya village through the establishment of an eco-friendly community. The project is deeply rooted in Japanese tradition and promises a fascinating insight into local rural culture through participation in a range of time-honoured techniques and activities.

Suggested Accommodation: Sakura-no-Sho

Day 4

In Takamatsu we'll show you Ritsurin Koen, one of the best landscape gardens in the country, which sits at the foot of Mount Shuin.

Become one of the gardening team as you learn the fundamentals of Japanese garden design at Takamatsu's renowned Ritsurin Garden - a horticultural symphony of chestnut trees, lotus ponds, red bridges and islands. We would be happy to arrange a private tea ceremony in the garden's Chrysanthemum Moon Pavilion here - a highly sought-after experience that few have the chance to enjoy.

Suggested Accommodation: JR Clement Hotel

Day 5-6

Today you'll leave Takamatsu by helicopter or private boat to travel across the beautiful Seto Inland Sea to your accommodation on the wonderful island of Naoshima.

Your visit to Naoshima offers some of the most impressive art and architecture of this module. Once a sleepy little island, Naoshima's inhabitants traditionally scraped a living from fishing while the young migrated to Japan's big cities to find work. This all changed in 1992, when art (and consequently tourism), began to gently revitalise the island's fortunes.

The Benesse Corporation chose Naoshima as the site for a series of innovative modern art installations and museums, all designed to blend the beauty of the island's geography with cutting-edge artistic experimentation.
Accompanied by a modern art expert, you'll visit the island's Art House Projects dotted around the little village of Honmura. The guide will explain the installations - which have been created by Japanese artists and architects in locations as diverse as abandoned houses, workshops, and even temples and shrines. Tadao Ando's "Minamidera" project is a highlight; an intriguing installation in an old warehouse that plays with one's perception of light.

Suggested Accommodation: Benesse House
Close all days