Like this post? Help us by sharing it!
From department stores to flea markets across Tokyo's myriad districts, tour leader Hugh Cann gives us the comprehensive lowdown on shopping in Tokyo. Plus, a few handy haggling phrases!
Shopping in Tokyo
So, you've been to Kyoto, Kanazawa, Nikko, Takayama, Hiroshima, Osaka or any of the other wonderful destinations in Japan and picked up a souvenir or two. But if you have a couple of days in the capital (and the voices of friends and family saying "bring me back something nice" ringing in your ears) Tokyo has it covered.
There is both high-end and offbeat fashion; traditional crafts and vintage wares; and all manner of only-in-Japan gadgets you didn't know existed but now desperately want. Whether you prefer department store browsing or rummaging for antique treasures, Tokyo meets all your shopping needs.
Tax matters
Japan has a flat consumption tax (GST, sales, VAT) of 8%, but if you're a temporary visitor (i.e. staying for less than six months), not working in Japan, and not a Japanese citizen, you may be exempt.
Generally, for consumables, the total spending amount should be from 5,000 yen (before tax) to qualify for exemption, and general items at least 10,000 yen (before tax). Food and beverages, cosmetics, medicines, batteries and cigarettes are classed as consumables.
Some shops have varying policies – discount department store chain Don Quixote sets the minimum purchase amount for consumables and general items at 5,000 yen before tax. Some shops do not consider consumables to be tax-exempt and set a minimum amount of 10,000 yen before tax.
Shopping options in Tokyo
Department stores (depāto) are one-stop shopping experiences with a wide range of products available, mostly better known brands and high quality goods on the more expensive side. Takashimaya in Shinjuku or Mitsukoshi, Matsuya or Itoya in Ginza are normally open daily from 10am – 8pm.
Ginza
Ginza is comparable with Oxford Street in London or Fifth Avenue in New York.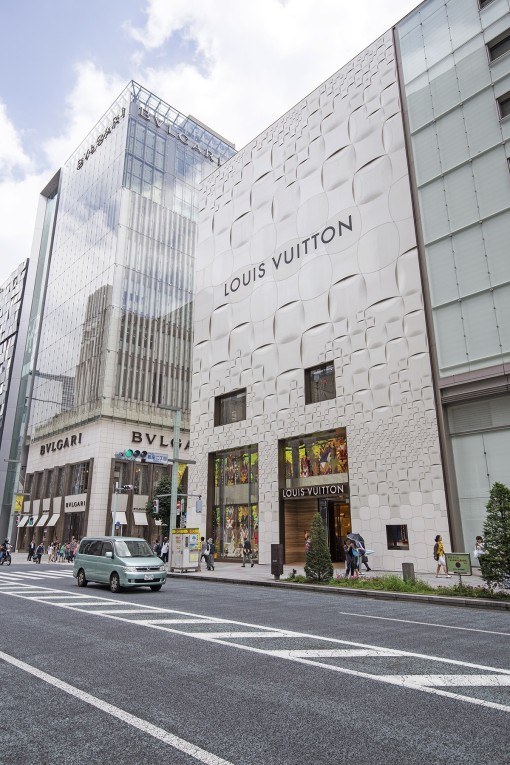 Takumi is a craft specialist store in Ginza stocking an elegant selection of traditional folk crafts, including toys, textiles and ceramics from with information detailing the origin and background of the pieces.
Head to Hakuhinkan for all kinds of games and toys, and for the best chopsticks you could possibly buy try Natsuno – there are even gold leaf ones! For antiques, furniture, kimono and yukata, screens, ornaments and ceramics visit Oriental Bazaar at nearby Omotesando. The Antique Mall in Ginza between Chuo Dori and Showa Ave. has a wide range of collectables with Japanese, Chinese, Asian, and Western antiques, as well as vintage kimono and fabrics.
Harajuku
Harajuku is the centre of offbeat fashion (odd ball fashion is perhaps a better description). For vintage clothing, try out Kinji or Mirror, or take a stroll down the road to Bingo in Shibuya.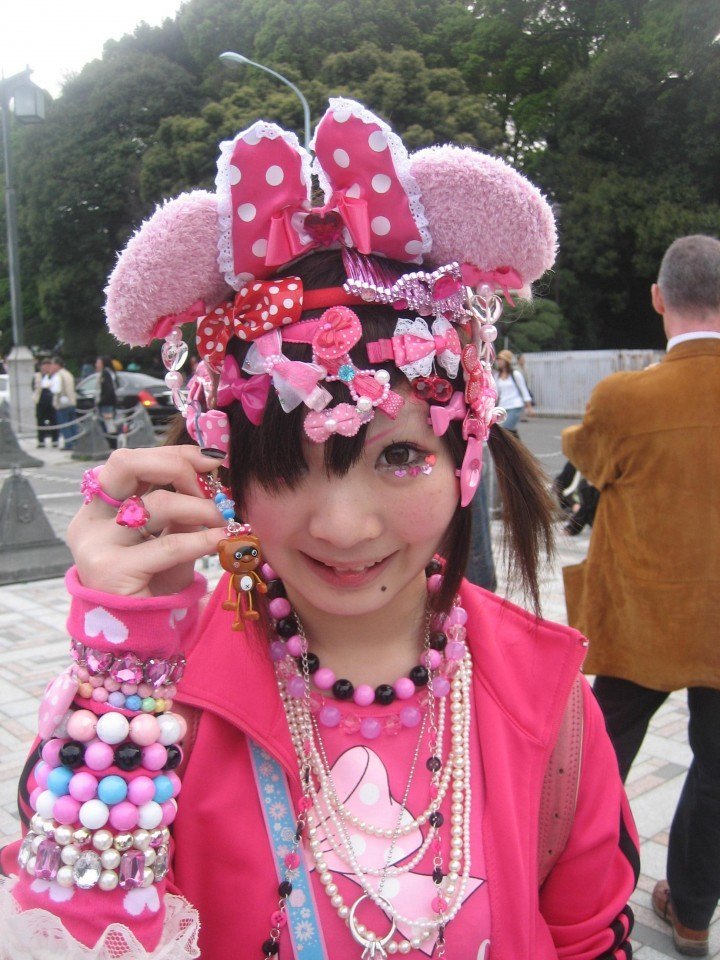 Omotesando
Omotesando is for the discerning (Tokyo's Champs Elysee) and thought of as a living, breathing catwalk.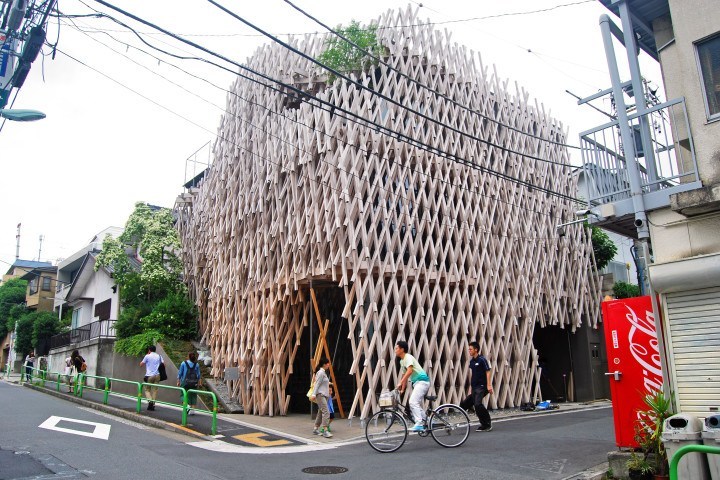 Shimokitazawa
A few stops from Shibuya or Shinjuku on the Keio Inokashira or Odakyu lines is Shimokitazawa. This bohemian neighbourhood has shops selling secondhand clothes, miscellaneous items from the 70s, and old animation-themed toys.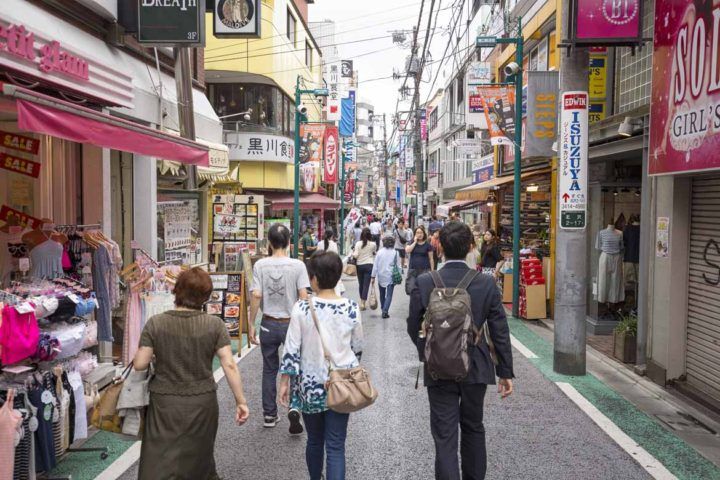 It's a trendsetting place with small theatre halls, bars and record shops. The narrow alleys are inaccessible to vehicles and it's an adventure to explore the district on foot.
Flea markets
For antiques and vintage, head to one of the many weekly flea markets.
 The Oedo Antique Market takes place at the Tokyo International Forum next to Yurakucho Station on the JR Yamanote line. It's said to be the 'largest outdoor antique market in Japan', and is held on the first and third Sunday of each month, weather permitting (it's normally cancelled when it rains).
Ohi Racecourse Flea Market, also known as Tokyo City Flea Market is one of the biggest and most popular flea markets, with around 600 vendors. Ohi Racetrack, Shinagawa (near Oikeibajo Station) every Saturday and Sunday, 9am-3pm.
Hanazono Shrine, every Sunday 8am-3pm at the shrine in Shinjuku, 3 min, walk from Shinjuku sanchome station on the Marunouchi and Toei Shinjuku Subway Lines or 7 min. walk from Shinjuku station (East Exit) on the JR Yamanote and Chuo Lines.
Otherwise you may want  a taste of ye olde Tokyo and fill your boots at Ameyokocho Market in Ueno.
Or perhaps a department store sized Japanese version of a one dollar shop – Don Quixote where you can get pretty much anything at discount prices.
Japanese swords

Japanese swords are a symbol of the bygone age of the samurai. Check your country's customs regulations before making a purchase. The real thing will set you back a minimum of 500k yen for a shinken (actual or true sword).
You can find these souls of the samurai at The Sword Co. in Toranomon, a 5-minute walk for Kamiyacho Station on the Hibiya line.  You might find this interesting if you are determined AND you can arrange for customs clearance. Otherwise you can purchase replicas priced anywhere from $200 up to $1,200 – Koyama Shoten in Asakusa is the easiest to find and has a huge range.
Books
Jimbocho is a heaven for booklovers.
Known as Tokyo's book town Jimbocho is one of the largest secondhand book markets in the world. It is on the intersection of Yasukuni-Dori and Hakusan-Dori in the Kanda district of Tokyo. If you like browsing, you'll find the latest published volumes, academic collections, art books, old magazines, and rare and antique books. You can spend hours here even if you cannot read Japanese.
For Yousho (洋書, foreign books):
Kitazawa Bookstore (北沢書店)
The Isseido Booksellers (一誠堂書店)
Italia Shobo (イタリア書房)
Books Sanseido (三省堂書店 神保町本店)
Haggling in Japanese!

A conversation might go something like this:
"Ikura desu ka?" – when you want to ask how much something is. The vendor may rattle off a reply in the vernacular – despite regretting the situation, just nod and smile before you respond. "Yasuku naranai?" / "Won't you make it a bit cheaper?
or
"Kibishii desune"  – that's a bit much / you drive a hard bargain. Best said with with a smile!
If that doesn't make an impact, your next step is "Okane ga tarinai!" Look sad – "I don't have enough money!" Or simply "Ni hyaku en, dou desuka?" when you want to say, "How about two hundred yen?"
As far as payment goes, credit cards are accepted. Cash withdrawals can be made at post offices, but the most convenient is the ubiquitous Seven Eleven where ATMs accept most major credit cards.
Whatever you look for, if you plan your time well, even one afternoon can be well used to get those last-minute buys in. Happy shopping!
---
Many of our small group tours and self-guided adventures include stays in Tokyo (all with plenty of shopping time…)
Like this post? Help us by sharing it!