Like this post? Help us by sharing it!
Originally from Australia, these days tour leader Ben is based permanently in Fukuoka – one of the biggest and most exciting cities on Japan's southwestern Kyushu Island. He gives us a sneak peek behind the noren curtains to share his guide to izakaya food. Hope you're hungry!
Recently I was tasked with something akin to having to find the proverbial needle in the haystack by my bosses at Inside Japan Tours. My mission: to find some really good izakaya in Fukuoka.
Quick note: Confusingly, Fukuoka is also known as Hakata. Hence you get Hakata Station, not Fukuoka Station, as the main train terminal, the beautiful girls being called Hakata bijin, and the food known as Hakata-style. Don't be surprised if I switch between the two.
What to expect in an izakaya in Japan?
Firstly, I'll quickly explain what an izakaya is. An izakaya is a cross between a pub, a restaurant and a tapas bar. They are places where Japanese people go to socialise, drink copious amounts, and to eat good food; usually sharing it, and trying lots of little bits of everything.
Here is one of the differences I have found between my own drinking culture and that of the Japanese. Whereas we Westerners often go out for a drink after work, scoff some bar food, then eat a kebab on the way home, Japanese drinking culture revolves around the food. Don't get me wrong, that doesn't mean that people here aren't cutting loose. On the contrary, an izakaya in a busy city on a Friday night can be a raucous, extremely fun place to be.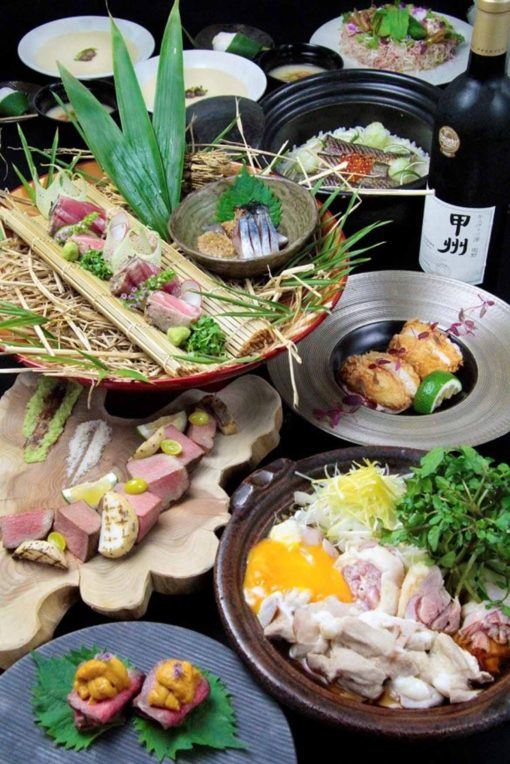 Anyway, back to that needle. So why was it so difficult for me to find a "good izakaya"? Because in Fukuoka, they are pretty much all good! Fukuoka/Hakata is renowned for its food. Both the locals, and many outside the prefecture, will argue that it is the best in Japan. Finding an izakaya that stood out was quite difficult, but I rose to the challenge and forced myself to visit a couple of my favourites. This time I intended to try the food seriously (meaning I forwent the ten pints of lager I usually have with my meal).
Top 5 izakaya food
Before I let you know a couple of my picks (and I share them begrudgingly), I'll introduce you to some classic Hakata-style dishes?
1. Fish
Yes, I know good sushi and sashimi can be had Japan-wide, but Fukuoka is renowned for its seafood. Also, in Fukuoka you can eat good sushi and sashimi at much cheaper prices than you would see in other cities (that's our little secret by the way). If you don't like your sashimi too fishy, try goma saba, a Hakata speciality: mackerel sashimi with white sesame.
2. Mizutaki
Chicken pieces and vegetables stewed in a simple fish or chicken broth, and served with a dipping sauce, and yuzukoshō (a type of Japanese fermented seasoning made from chilli peppers, yuzu peel and salt. It also includes vegetables such as cabbage, onion, leek and mushrooms, as well as some tofu. Simple, subtle, delicious!
3. Motsunabe
While we are on the subject of nabemono (hotpots) let's not forget Fukuoka's most famous: motsunabe. Motsunabe is not for everyone, as often it contains offal (yep intestines, sorry to be graphic), but it is very popular in Japan. A very strong pork or beef bone broth with garlic gloves, vegetables and the… you know… OR you can just go for beef or pork. I haven't sold this one well, but trust me, it's good. Just make sure to have breath mints in your pocket for a few day after.
4. Hakata ramen
Thin noodles served in bone- or miso-based broth, with big slices of tasty, well-cooked pork on top. Also has bean shoots, spring onion and other vegetables or condiments, depending on the place. Well known all throughout Japan, and getting pretty popular worldwide.
Recently, local chains like Ippudo and Ichiran have started opening restaurants overseas. Trust me though, it's better here, and best eaten at one of the hundreds of yatai (wheeled street stalls) that come out at night. Ramen and yatai, that's a whole other blog, and one I'm really looking forward to researching.
5. Karashi Mentaiko
Another popular local product from Hakata is karashi mentaiko. It's spicy-seasoned Alaska Pollack roe, flavoured with red pepper powder. It goes well with white rice, and is great in the middle of a rice ball. It is also really good with a creamy spaghetti sauce, actually it's good with just about everything! Mentaiko, like a lot of foods in Fukuoka, is an indicator of the long and close ties between the island of Kyushu and the Korean Peninsula.
The research begins, izakaya food in Fukuoka
Sorry, get me talking about food and Fukuoka and it just becomes endless. Where was I? Ah yes, my research. So I headed out recently to one of my favorites, Hakata Masusutake, to meet with my good friend, Sayo Terakawa.
Sayo-san and her husband have been in the restaurant business for many years, going from owning a humble cafe in Futsukaichi Fukuoka, to running over thirty-one restaurants nationwide. They will soon have restaurants in France, and the United Arab Emirates. In a country as fussy about food as Japan is, the restaurant business is notoriously hard, and the fact that Sayo and her husband have been so successful shows they know their stuff.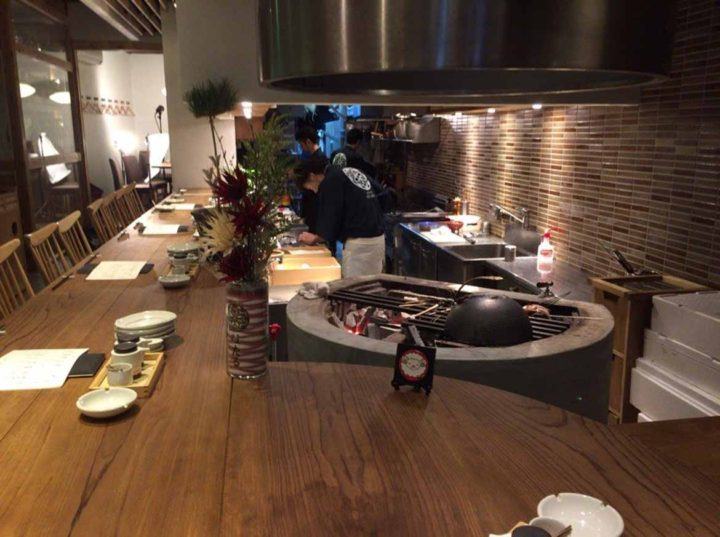 We wanted to work out a menu that was very Hakata, would appeal to a Western palate, and yet would still remain indicative of Japanese cuisine in general. To find the perfect balance I would have to eat a lot, but if that's what it took, I was willing to suffer for my art.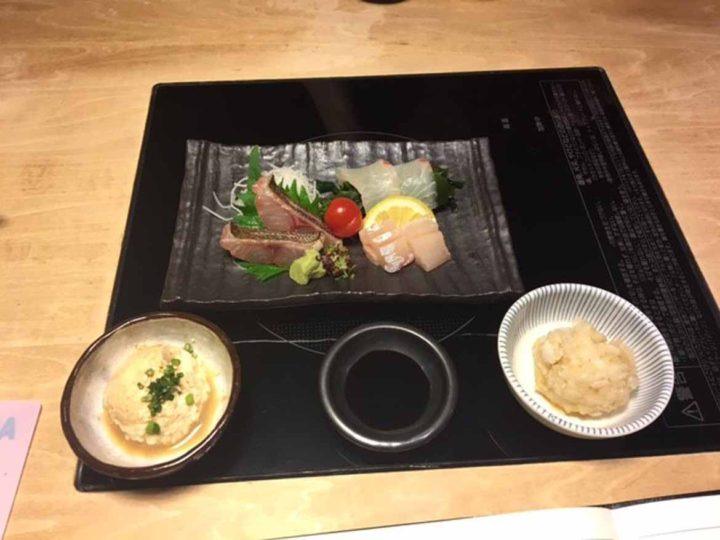 We started with some sashimi, but not the very fishy type. We chose nice, fatty fish – sea bream, amberjack and some mackerel. Match it with a little fresh tofu and potato salad – perfect start.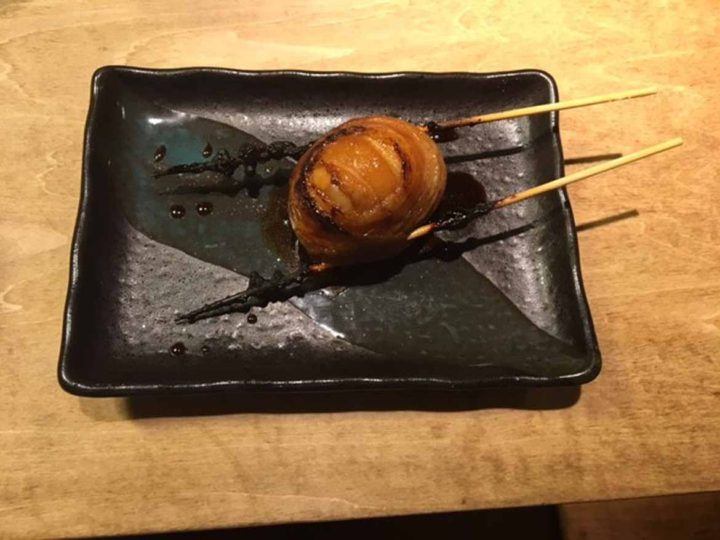 Next, one of my favorites, and the perfect mix of East and West – hanjuku egg (known here as Hakata toro tamago). An egg wrapped in bacon, dipped in teriyaki sauce, then cooked on a charcoal grill. When you bite into it, the yolk is still runny. Call me Homer Simpson, but you can't get any better than this – except for the next item on the menu…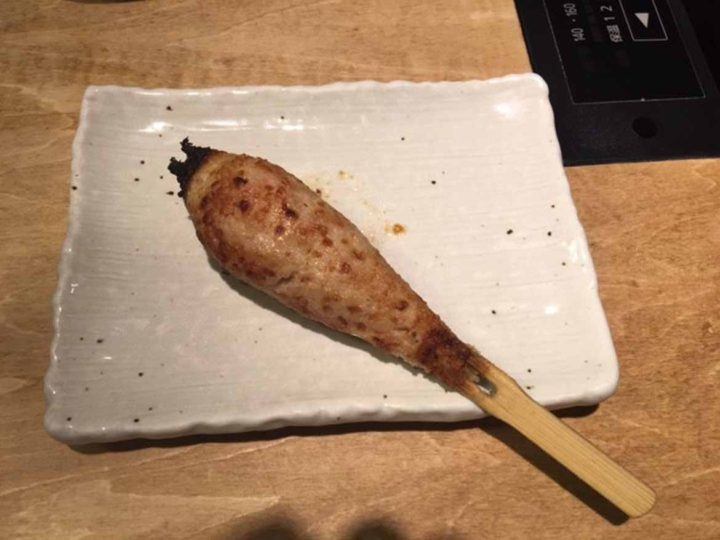 And, tsukune. Remember that word. A much-loved staple at any izakaya or yakitori-ya (grilled chicken restaurant). Usually chicken mince – but sometimes contains pork, fish and chicken cartilage as well – seasoned and mixed with egg and vegetables. This tsukune is made fresh daily, and one is not enough.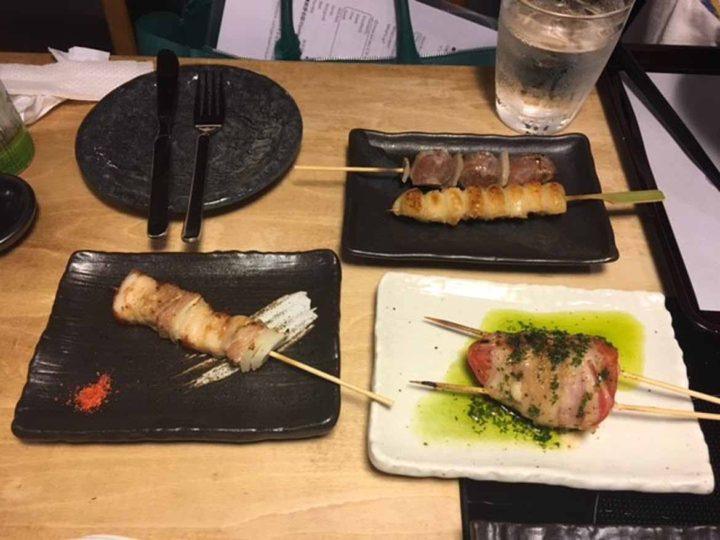 And the food just kept coming, it really pays to be friends with the owner! Following the tsukune was – from the top right: heart and chicken tail (I think?). Bottom left: pork belly, and bottom right: tomato wrapped in bacon and mozzarella cheese. The tomato in particular was a winner.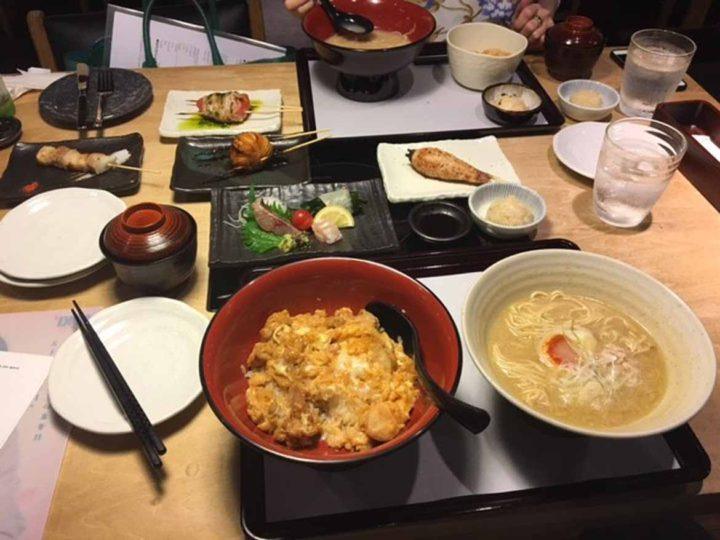 By now, with all the delicious food around me, I was starting to lose my head. I wasn't able to decide on a main. Should I go for the quintessential Hakata ramen? Or, should I go with my heart, and order my favorite, oyakodon?
I'll fill you in on the contenders. On the left is oyakodon, literally "parent/child rice bowl". Parent/child, get it? The chicken AND the egg. Oyakodon is pure Japanese comfort food, and many a child's most treasured "Mamma's special".
On the right is the mighty Hakata ramen, rich pork bone soup, thin noodles, a runny egg, and slices of marinated pork. As you can see, I went for both, and so should you. This is the joy of a Japanese izakaya food, just order the lot and share it!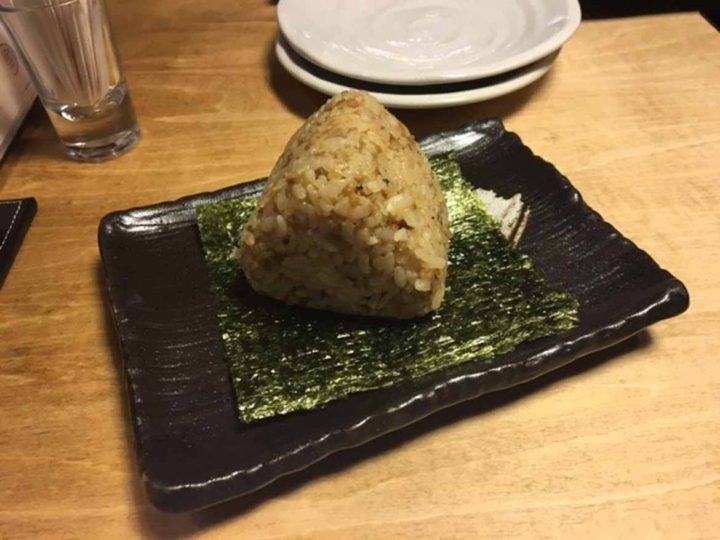 I won't show you the pictures of my empty plate, or my shamed face, but I ate it all, and was feeling absolutely stuffed (for want of a more polite term). But being Japan, the chef was worried I wasn't satisfied, and sent out a chicken rice ball (kindly, they let me take it home).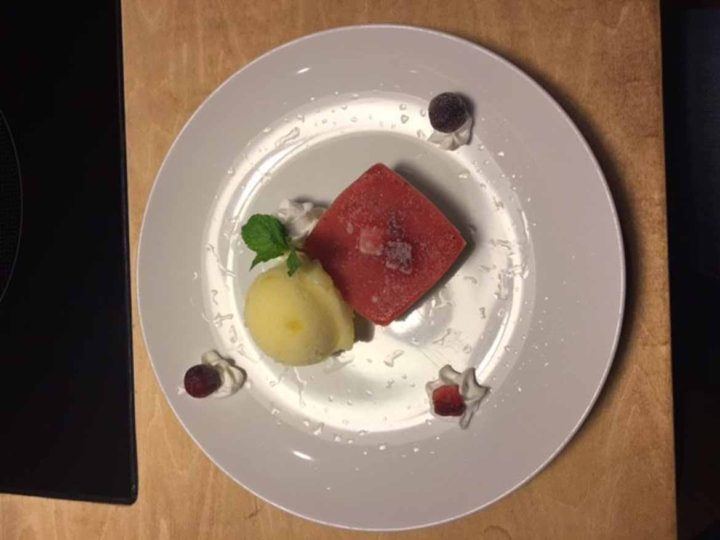 For dessert, we finished off with lemon and fresh watermelon sorbet. In Japanese when it comes to dessert, they have a term betsu bara, or "separate stomach", meaning you can always manage dessert. I managed. Just.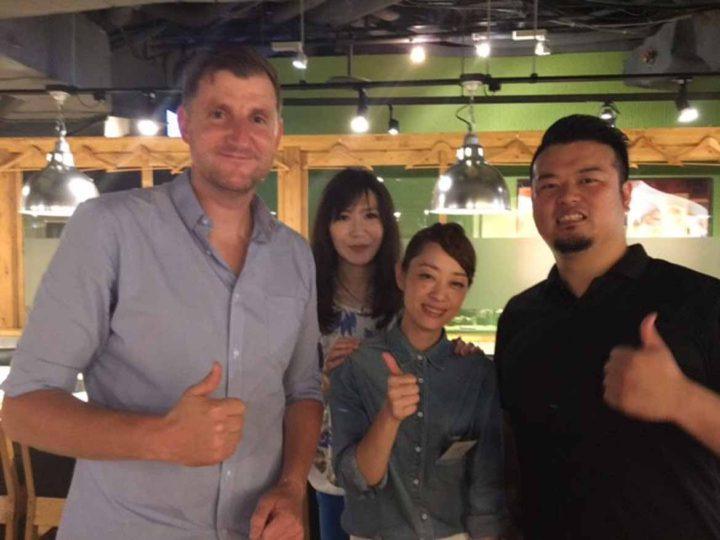 Such is Japanese hospitality that the chef actually came out to check I really was satisfied, and believe me, I was! Look at that face (I'm the tall one), and those straining shirt buttons.
The surprising thing is that to eat like a king in Japan, you don't have to spend a lot of money. A very satisfying lunch will come in at under 2,000 yen (£15/$20), and a great night out can be had for between 3,000 and 5,000 yen (£22-37/$30-50), and that includes all your drinks.
I can't thank Terakawa-san and the staff at Hakata Masusutake enough for looking after me so well, and for helping me decide on a great menu to introduce to our customers at Inside Japan Tours.
Now to you, valued customer, I make a plea. Please come and join me for an izakaya evening. For it is with you only that I can justify eating like this again, and call it work. Matteimasu! (I'm waiting).
---
From a Gastronomic Adventure self-guided adventure, to an izakaya night with one of our esteemed tour leaders, we've come up with everything for the foodie traveller. Get in touch with our (now hungry) team for more information!
Like this post? Help us by sharing it!