Like this post? Help us by sharing it!
Steve Parker is one of our longest-serving and most experienced tour leaders. Though he has a passion for the outdoors (in particular the mountains, where he loves leading our Historic Mountain Trails group tours), Steve also finds plenty to be fascinated by in his hometown: a Tokyo suburb by the name of Koenji.

As a Koenji local, I am of course a little biased, so my claim that its annual Awaodori Festival is one of the greatest events on the Tokyo festival calendar is perhaps stretching things. But with around a million people turning up for the fun over the last weekend of August, there is definitely something magnetic about this community party.
This year it was looking a little ominous, however: so-called Typhoon 9 blew in and hit Kanto (home to Tokyo) and the northeastern Tohoku region very hard, a mere 24 hours before Koenji was about to fulfill its 60th year in hosting Tokyo's best version of the Tokushima-based festival, Awaodori. As light early-evening rain fell on the throngs in the Saturday twilight, the area resembled an umbrella fest more than anything else. However, once the hypnotic drum beats started at 5pm, it was a different matter, and the focus shifted fully to the festivities, with the rain becoming a forgotten irrelevance.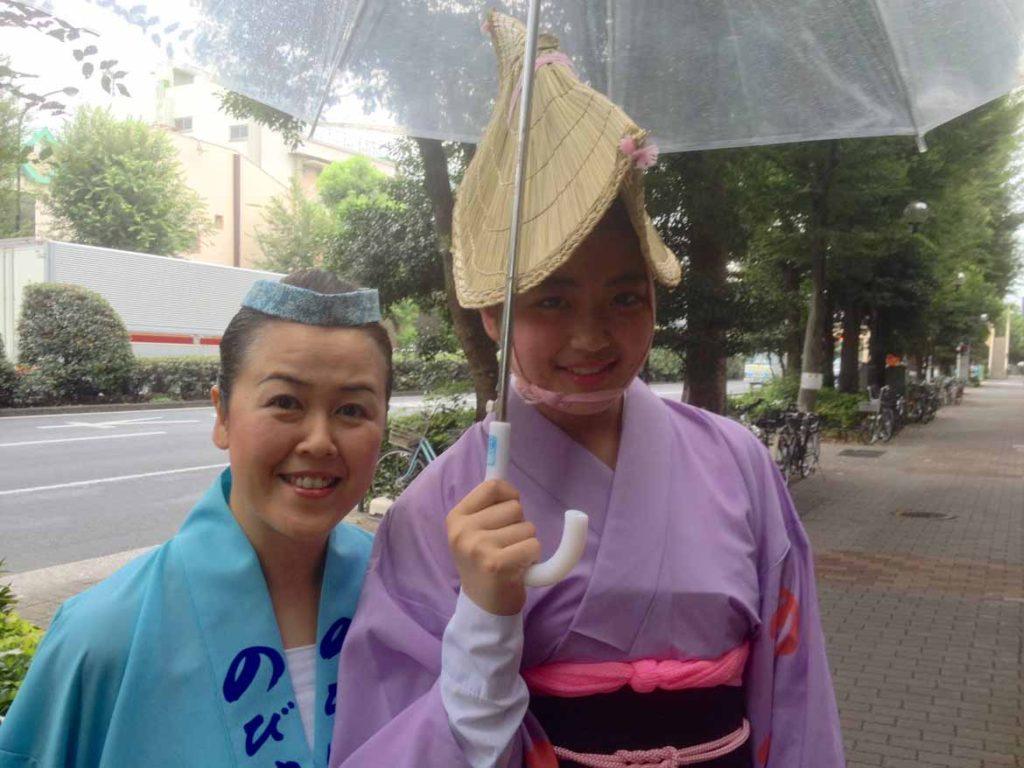 Although Shikoku Island's Tokushima city, the true home of the Awaodori dance, is believed to have started these traditional festivities back in the 1600s, Koenji's involvement started back in the early post WWII years. Local shopping street vendor associations in Koenji sensed a growing rivalry with neighbouring towns, and hence the need to create something a little special in order to put Koenji on Tokyo's cultural map. And so it was the humble, stumbling  Baka Odori ("Crazy Dance") Festival, that initially featured in Koenji's yearly summer calendar.
However, with waning interest, there was a call to scrap the idea completely after just a few years. A minor local referendum was organized on the future of the fiesta, with the result allegedly falling to a mere single vote… in favour of continuing the event. Something had to change though, and through consultation with Tokushima locals and social circles then based in Tokyo, a plan was hatched, and a revamped Koenji Awaodori Festival was born.
This year, key elements of the festival involved 81 dance troupes of between 30 and 150 members winding their way through the backstreets of Koenji, entertaining the local residents, before the three-hour crescendo featuring parades of dancers, chanters and musicians in exquisitely coloured kimono and happi coats. A large number of Tokyo dance troupes were present, but Tokushima was also represented, as always, along with groups from other prefectures around the country.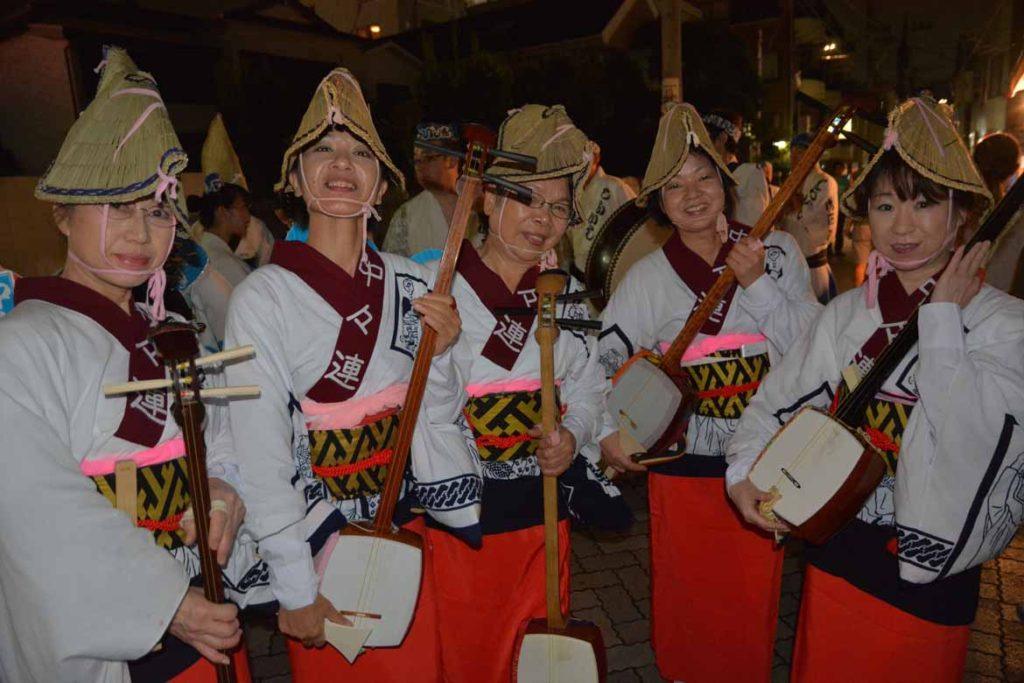 The typical dance troupe (ren) is headed by the leader parading with the troupe's representative lantern. Often, he is followed by the younger members, perhaps as young as five, who wave the troupe's personalised fans. Then follow the elegant female dancers in their distinctive kata straw hats and beautiful kimono. Their refined dance is typified by choreographed toe pointing in geta clogs; swaying, delicate hand movements, and beaming smiles. As they glide to the beat of taiko drums and festival gongs, the men perform a more spontaneously expressive dance around them – almost comedic in nature, with splayed feet and bent posturing. Shamisen lutes and fue flutes add a quintessential Japanese melody to the procession that leaves an indelible mark, even long after the spectacle is over.
For spectators, tables are brought out onto the streets with established restaurants serving their normal fare – and a few extras delicacies – to passersby. Random boutiques and bars do similar, making sure that the festival revelers are well catered for: yakitori BBQ skewers, sausages, stir-fried yakisoba noodles, takoyaki batter balls – too many to choose from!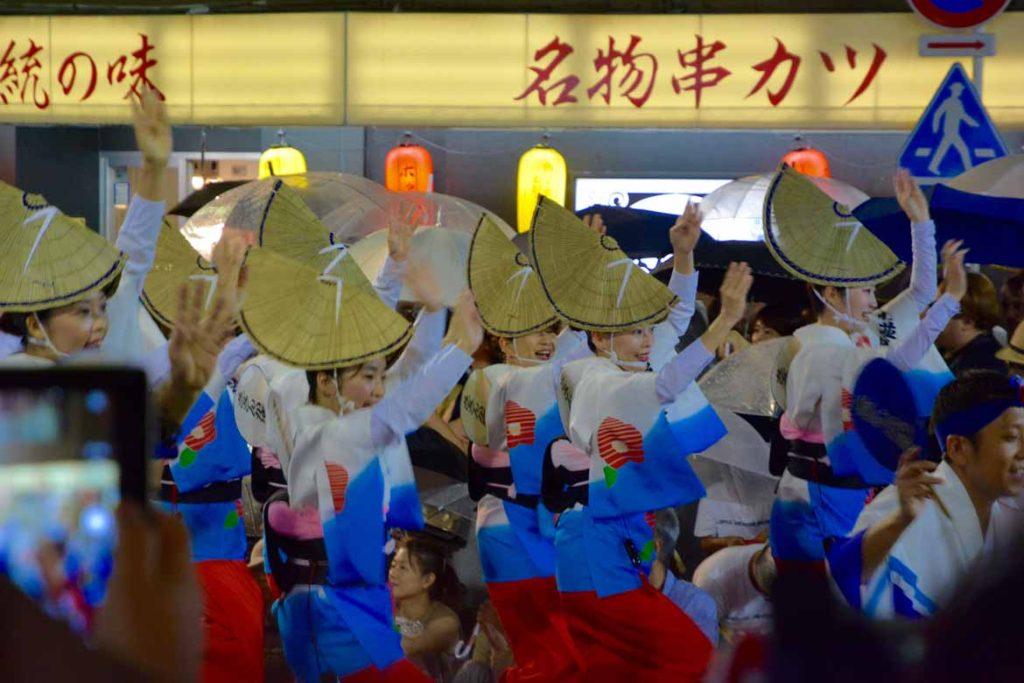 As always, the police were present this year, but only to divert human traffic and answer questions. As you would imagine, even with the considerable flow of sake and beer, not a single hint of trouble was to be seen, as everyone was too interested in getting into the communal spirit of this crowded event, which still manages to maintain the ambience of a true locals' event.
At 8pm on Sunday night, the final grand procession reached its colourful climax, after which sodden spectators headed into Koenji's teeming bars and restaurants to dry out and continue the partying.
The damp was a reminder to all that we had been very lucky this year, as muted bar and restaurant TV sets broadcast the imminent course of the incoming storm front to viewers. The driving rains and winds of typhoon 10 were soon to batter western Japan again, but Koenji had tiptoed between the storms to deliver one of its best Tokyo festivals yet!
Koenji's Awaodori Festival is free, and takes place during the last weekend of August. If you are around Tokyo at that time – be sure to drop in!
This slideshow requires JavaScript.
If you're interested in visiting Koenji's Awaodori Festival, let your Inside Japan consultant know when planning your trip. They'll be happy to give you directions to the festival and let you know the cultural background of Awaodori. Click here to start planning now.
Like this post? Help us by sharing it!