Like this post? Help us by sharing it!
Inside Japan travel consultant Emma Price lived in Japan from 2010 until 2015, where she worked as an English teacher in a junior high school in Sendai. Located on the east coast of Tohoku, Sendai was the city closest to the epicentre of the Tohoku Earthquake on March 11th 2011. Here, Emma tells the story of what happened there on this day five years ago.

Before 2011, my friends and I had sometimes wondered what it would be like to experience a strong earthquake – even joked that we'd like to experience it. When you come from somewhere as seismically uneventful as the UK, you can't help but wonder what it would feel like.
Then, on the 9th of March 2011, a 7.3 earthquake shook the Tohoku region where we were all working as assistant teachers. All of a sudden we weren't so curious any more, we were just thankful that we were safe and it hadn't been worse. We didn't realise at the time that this was only a foreshock of the massive 9.0 earthquake – the fourth largest in earth's recorded history – that would hit in two days' time.
The quake
The day of the earthquake was the day before graduation, and I was at the school where I taught English. It was a quarter to three and most of my pupils had gone home for the day, but some of the students and teachers were still there helping to decorate the premises for the next day's celebrations. I was heading downstairs to print something off in the classroom when I began to hear alarms going off on teachers' mobile phones – the early warning signal sent out by the Meteorological Agency to herald an imminent earthquake. From that moment we had just seconds before the shaking began, slowly at first then ramping up to a terrifying violence.
Adults were shouting at each other to switch off the gas supply, and we could hear the children screaming upstairs. As I crouched on the floor under my desk my head kept thumping the underside of the table as the floor bucked beneath me. Through the window I could see the tops of the trees on the other side of the playing field shaking back and forth with the force of the quake.
The shaking lasted six minutes – the longest six minutes of my life. I honestly thought that I was going to die. Ours was the oldest school building in Sendai, and I couldn't help but imagine the whole thing crumbling and collapsing into a pile of rubble. Many buildings actually did.
Thankfully ours didn't, and as the tremors subsided we were all evacuated safely to the baseball field outside the school. There were three more aftershocks in the ensuing hour – each one the size of a major earthquake in its own right, measuring up to 7.9 in magnitude – so we were repeatedly thrown to the ground as we gathered on the field. As we waited there in shock the sky began to fill with strange clouds and smoke, and it started to snow. Apocalyptic is the only way to describe it.
That night the school wouldn't allow me to go home because I lived alone, so I stayed on the premises and helped as refugees from the surrounding areas began to arrive. I had only been in Japan for six months at this point and couldn't speak much Japanese, so I was assigned a duty that didn't require much language skill: spraying peoples' hands with disinfectant after they used the bathroom. We wouldn't have running water or electricity for three days, so the facilities quickly became horrible.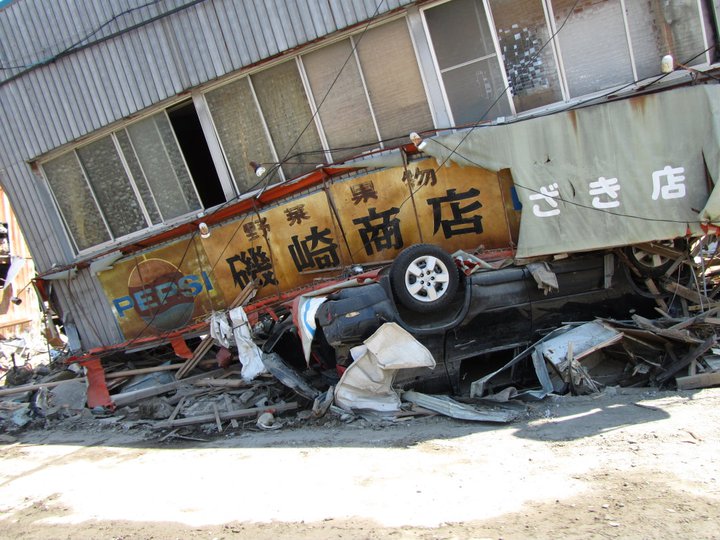 The aftermath
The next day I went back to my flat to assess the damage, which was thankfully relatively minimal – just a few broken objects. I was lucky to be living in an area close to the city hospital, which meant that we were one of the first districts to have our electricity and running water switched back on. Some areas had to wait weeks, and colleagues who lived further out of the city would come to my place with their rice cookers to use my electricity supply. At school, we dug fire pits all over the playing field and collected firewood so that we could cook the stock of emergency rations – mainly wakame rice balls. There was no gas supply for a full month, and for two or three weeks people had to queue for rations as though we were living in a war zone.
As terrifying as the earthquake was, I was lucky to have been out of reach of the ensuing tsunami, which overwhelmed existing sea defences and inundated an area of nearly 600 square kilometres, sweeping away entire towns in its path. My friends and I spent a couple of weeks helping to clear the detritus in Ishinomaki, one of the worst-affected coastal towns, where the devastation was complete. The entire town stank, and there were dead fish everywhere. No news report on TV could come close to conveying the vast and surreal scale of the destruction.
We began to learn that what we had experienced paled in comparison to what happened to the people here, some of whom described being trapped on their roofs or in the upper floors of their houses for days. In one woman's house, where I was helping to clear the wreckage, there were family photos scattered through the rooms that didn't even belong to her – they had been washed there by the sea. Those parts of Sendai that were out of the reach of the tsunami had their own troubles. We volunteered here too, helping the city's elderly people pick up their furniture and put back all the things that had been dislodged during the quake and its aftershocks.
After a couple of weeks, the British government offered to bus all its citizens out of affected areas to Tokyo and fly them home at no cost. At this time there was a lot of uncertainty surrounding the Fukushima nuclear plant, so I left Sendai along with most of the other expats. When I arrived in Tokyo I couldn't believe that everything was completely normal – foreign news reports had led me to believe that the damage here had been almost as bad as in Sendai, but it wasn't true at all. People seemed completely unaffected.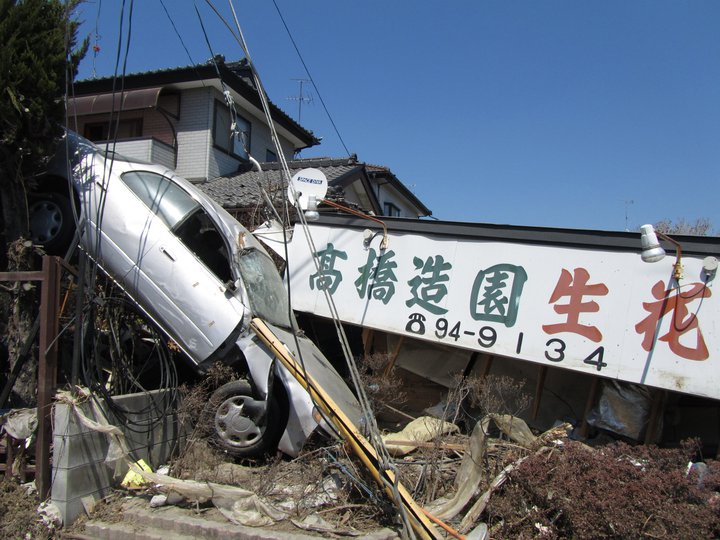 Return to Tohoku
After a couple of weeks at home in the UK I returned to Tohoku, where I would stay for over four more years. Though people were afraid about the nuclear waste leaking from the Fukushima power plant, a friend's father was a nuclear physicist and sent us all detailed explanations of how nuclear power plants work and what the scale of the problem could be. I thought that if he was happy for his daughter to continue living and working in Sendai, it must be safe.
Though most of the wreckage has now been cleared, the tsunami's destructive power is still evident in vacant plots and abandoned buildings, and there are still tens of thousands of Japanese living in temporary housing across the region. It will still be many years before the coast of Tohoku is returned to normality – and as slow as the physical recovery has been, the economic and emotional effects will take much longer to heal.
This slideshow requires JavaScript.
Next week, we'll be taking a closer look at the Fukushima meltdown and the ongoing risks it poses for Japan and the wider world, so stay tuned.
If you would like to lend your help to those still affected by the earthquake and tsunami, we are currently raising money for Second Harvest Japan, a charity that continues to provide food and support to survivors. Amongst other fundraising activities, 12 of us (including Emma) will be running the Bath Half Marathon this Sunday! Click here to support us.
Photos by Emma Price & Sarah Michael
Like this post? Help us by sharing it!