Like this post? Help us by sharing it!
After recently spending a warm and sunny June in Europe, I returned to Japan during tsuyu, the rainy season. This is not the best time of the year to be without a trusty brolly (kasa in Japanese), and so after losing two in the space of 24 hours whilst running day tours in Tokyo, I figured, why not write a little about umbrella culture in Japan? Exciting stuff…!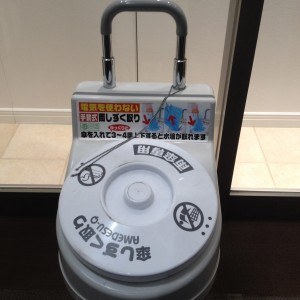 The unique umbrella culture in Japan has been developing for over a millenium – you've surely even seen classic 18th-century woodlblock prints of elegant geisha posing with one. Today still, it is not unusual to see a bride being escorted with this exquisite traditional bamboo and paper variety (wagasa), which is a common accessory to the classic Japanese wedding photo. Most often though, of course, it is the practical modern brolly which is in high demand.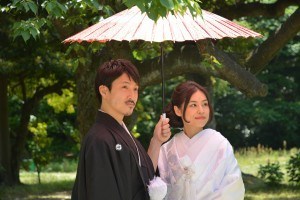 The month of June can be a wet affair, but not in a cold, bone-chilling way. Normally the temperatures are working their way up into the high 20s (80+F), making the use of raincoats or similar a hot sweaty affair.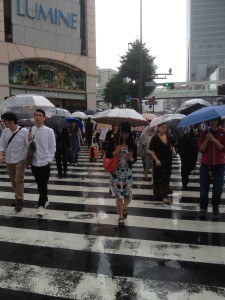 And so, the early summer sees a huge increase in the use of the umbrella and all sundry equipment that goes with it. Unlike, perhaps, among younger folks in the the UK, it's use is not seen in any way as uncool. Students, business people, school kids, housewives and the elderly alike – all would rather avoid the "cool" wet look. The warm dry look is far more de rigeur.
Your average Jun normally plumps for a transparent, plastic variety – easily obtainable at any convenience store (from which you are seemingly never more than 200 metres). A sudden cathartic opening up of the skies? No worries!
These cheap and cheerfuls retail at just 300-500 yen, and can be great for negotiating your way through the crowded streets of Tokyo, with, basically full visibility through their clear plastic covering. Be warned however, these tend to die a quick and painful death, contorted out of shape, or with spokes ripped from fraying plastic, thanks to even the slightest gust of wind. Life expectancy is short!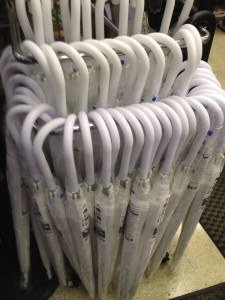 Similarly, don't be surprised if your plastic friend disappears – these cheapos also seem to be part of the societal share system, mi kasa es tu kasa (involuntarily lend and borrow alike – Japan doesn't do petty crime)
I suppose this is understandable if there is a line up of the same generic species outside a store or izakaya (Japanese-style pub). In short, you are normally required to rest the weary limbs of your brolly in a stand outside an establishment, often filled with, you guessed it, a dozen other clear plastic brothers and sisters, only distinguishable from the either black and white handles, or the extent of wear and tear.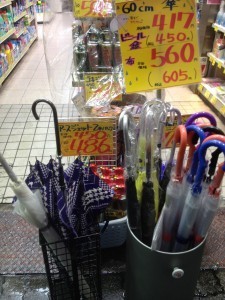 Feel good, knowing that you have not created a lethal skating rink of the shop floor, but equally don't be surprised if you leave empty handed. Never mind – the store will no doubt have a stock of pet brollies ready for a new owner. If in a local bar or restaurant, you may even be presented by the proprietor with a friend to get you home in a dry state, if you look forlorn enough as you step warily out into a deluge.
So, to avoid inadvertent pilfering, why not  dish out a little more cash for some rain protection with a little colour and more personality? Some varieties even reveal a pattern once they become wet – a typical Japanese "kawaii" touch to a practical item. Do try to avoid introducing these into the societal share system though, for you will end up broke!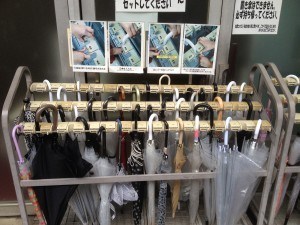 Worried about losing a top-of-the range model? No fear – many hotels, sports centres and government offices even provide brolly lockers for your trusty friend. Just make sure you remember your locker number or where you left your key!!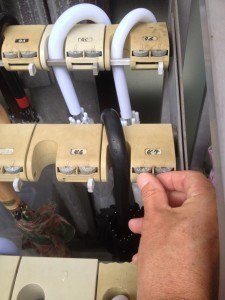 Thankfully, many stores and restaurants are showing more umbrella tolerance by generously allowing them inside, if accompanied by an owner (unlike pets), and providing that they are fitted with easy-to-apply umbrella "condoms", to avoid rainwater dripping all over the show. Simply slide your kasa into the dispenser and you're ready to enter(!!). The dispensed long, slender plastic sheath will catch all the drops and ensure almost all unwanted accidents.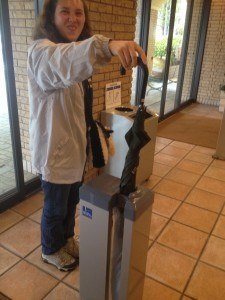 Large public buildings, office blocks and similar may even opt for the V-shaped shake and spin-dry pad – simply insert collapsed brolly and twirl, allowing centrifugal force to splash rain into the water catcher. Job done!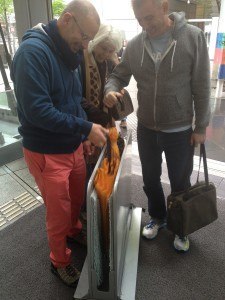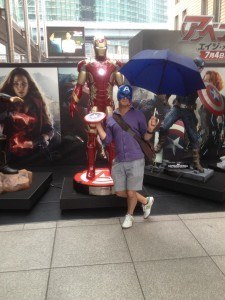 As mentioned, on the crowded streets of Tokyo, transparency allows you to negotiate and meander your course of progress through the crowds, but what about staying dry on a bicycle? No worries there, for a range of easy-to-use umbrella clips is available, attachable to the handlebars of your shopping bicycle. This allows you to free up a hand to use your mobile phone or or pick your nose while dodging pedestrian obstacles and traffic. They think of everything here ☺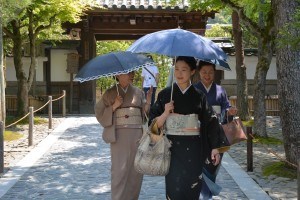 Of course, soon the rains of early summer will fade and the sun protective portable parasols will be out in force, keeping the heavy rays of sun at bay and the fair Japanese skin pale and fresh. That said, the umbrella, come rain or shine, is a major street tool for all – I wonder how many I will get through this summer – 2 down and counting…
And by the way…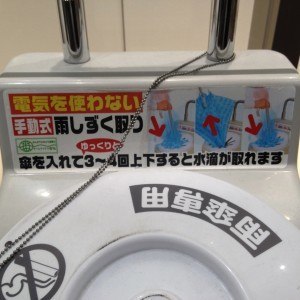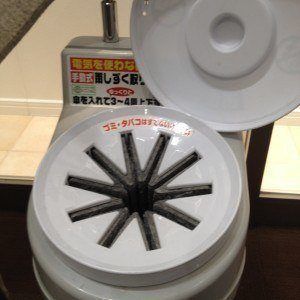 *IJT would like to emphasize that no customers were harmed in any way whilst testing this umbrella equipment.
Like this post? Help us by sharing it!