Like this post? Help us by sharing it!
Japan is well-known for its various culinary delights and, bar sushi, none is as popular as ramen. To get an expert's opinion on ramen in Japan, we asked Brian of Ramen Adventures to give us a few tips for top ramen shops in Tokyo. This is an incredibly hard thing to do, but here are three of his long list of favourite Tokyo ramen haunts…
Finding the best of any food in Japan can be a challenge. Ramen, especially, can be a tough one. Most shops that offer convenience, unfortunately, are designed to serve quantity over quality. Some of the best shops, on the other hand, take time and patience to find. To make matters worse, I've often shown up at an out of the way shop to find that the soup had run out. For someone living in Tokyo, this isn't anything to cry about, but for a traveler with limited time, this is an epic fail.
Luckily, for everyone, massive Tokyo Station created the Tokyo Ramen Street. Located just a minute outside of the Yaesu South Exit, this collection of ramen shops brings not just eight shops, but eight amazing shops to one location. These are all shops with their honten, head store, in some other, less convenient location. And because the shops are all based in the Tokyo area, the authenticity is sincere.
Start by wandering around and seeing what looks good. Sure, some shops will have a longer line, so take that into account. Once you've made a choice, line up and enjoy your bowl! Because Tokyo Ramen Street was built for convenience, you shouldn't have any problems.
Here are a couple standouts at the Tokyo Ramen Street: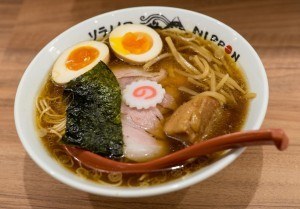 Soranoiro Nippon
Their classic chukasoba is a clean and refreshing take one old-school soy sauce ramen. Served with thin noodles, you'll feel full of energy after slurping here. Another bowl to think about is their vegisoba. This is the only legitimate vegan ramen in Japan that I would recommend to people.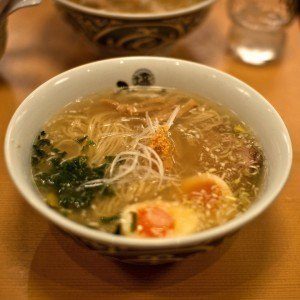 Hirugao
This shop has been at Tokyo Ramen Street since they opened in 2010. It's a light, shio broth flavored with high quality salt. Definitely the most simple bowl here.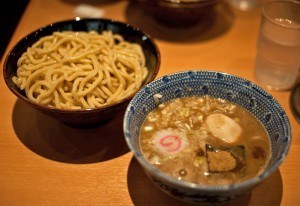 Rokurinsha
If you judge ramen by the line alone, then Rokurinsha must be one of the best in Japan. Often, you'll need to wait 30 minutes to an hour. But if you've never had thick, porky tonkotsu gyokai tsukemen, this one might be for you. The noodles are served separate from the gravy-like soup, and dipped.
If you are in Tokyo for a few days, we would say, take Brian's advice and head to Ramen Street for a quality slurp. If you want more insight in the world of Ramen, then we can organise for you to spend some time on a Ramen Adventure with Brian for some of the best noodles in Tokyo.

Like this post? Help us by sharing it!