Like this post? Help us by sharing it!
Japanese Etiquette Tips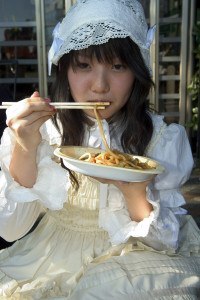 Slurping of noodles is not only polite, it is almost expected. Forget what your Mom told you –  Never eat noodles without slurping!
Public restrooms have a code of etiquette. Often you will find slippers at the doorway to a rest room. Use them as failing to do so is quite rude….and embarrassing if you are not wearing the right shoes….or someone elses shoes!
Likewise, lookout for a 'Genkan' entrance in some restaurants, ryokan, hotels and homes. You will see a raised floor and probably pairs of shoes neatly lined up. You should assume that you also need to take your shoes off and step out of your own footwear directly onto the raised floor, so not to bring in dirt from the outside.
Experienced travellers to Japan know to carry a small clean towel with them at all times, as Japanese restrooms typically do not have them.
Never blow your nose in public as this is considered a highly offensive habit and spreads germs. Sniffing is a polite substitute.
Best not greet a Japanese person by kissing or hugging them (unless you know them extremely well). While Westerners often kiss on the cheek by way of greeting, the Japanese are far more comfortable bowing or shaking hands. In addition, public displays of affection are not good manners.This is an amusing video looking into the bow in detail….kind of…
The Japanese place great consideration on the elderly, persons of high position, cleanliness, and observing someone's privacy. A foreigner planning a vacation or business trip to Japan whom on arrival is always respectful when dealing with native Japanese people will most likely never really offend them. But, if you are unsure if you are about to make a major faux pas it is perfectly all right to ask about etiquette. If you do make a mistake, learn to laugh it off – this will minimise the impact and soften or end any affront.
Whether you are a first time visitor to Japan for business or pleasure, or an experienced traveller, perhaps pack a pocket etiquette guide to use during your trip to Japan. Good manners are of utmost importance to the Japanese, but what might be considered good manners in western society may be considered rude in Japan. Likewise, what the Japanese view as proper etiquette, Westerners may find offensive.  Being prepared with simple rules of etiquette is the best way to avoid embarrassment.
People will see that you are not Japanese and will understand that you do not know local etiquette and will understand if you make little faux pas or two. Just be polite, smile and look around. You will pick the basics up…
Like this post? Help us by sharing it!