Like this post? Help us by sharing it!
Hotto Puraza Asama, a 20 minute bus ride from Matsumoto station, has all you need for a relaxing afternoon soak: outdoor and indoor baths, a jet-bath and a sauna.  Oh, and a vending machine stocked with milk.  For some reason, onsen and milk go together like sport and Lucozade.  The cow juice is a rare treat – but it makes you miss Weetabix even more.
Sceptical of the idea of afternoon bath,  11 members of my Spring Elegance tour group stayed around Matsumoto`s famous samurai-period castle today.  Just 4 adventurous ladies joined me on the ride up into the hills.  They cherished both the warm bath and the white beverage.  "So worth it," one girl said.  "Now we just have to convince all the others," chipped in another.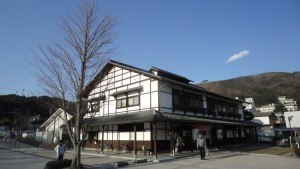 Like this post? Help us by sharing it!