Like this post? Help us by sharing it!
I have been back in Japan for 10 days and it feels good. It is hot, humid and sweaty. Not to everybody's taste but I love it; an escape from the impending and inevitable drawing in of the nights in the UK and the prospect of a cold damp winter that will inevitably follow.
I have walked the temples of Kyoto's Higashiyama district at dawn; slept on soft tatami mat flooring; soaked myself in deep, steaming hot baths; traversed 2000 km of the east coast by 'Bullet' Train; slurped delicious tingling cold udon and soba noodles; crunched the lightest, crispiest tempura; savoured immaculately cut slices of sashimi adorned with freshly grated wasabi; drunk the freshest, crisp, cold sake; marvelled at the Tokyo skyline; been soaked to the skin under the neon lights of a Shibuya night. This is Japan and I love it.
However, on this trip I also had the opportunity to travel north-east to Tohoku and to see for myself a small part of the devastation which followed in the wake of the March earthquake and tsunami. It was needless to say, a thought provoking trip and one that I am glad I made as part of my efforts to try and understand what happened and what the future holds for those people directly affected by the disaster.
Over the next few days I will be posting my thoughts and impressions of each stage of my journey. I hope that this will provide at least a small insight into my experience and those of the people I met and talked with. But perhaps most of all, writing this down has been my way of processing my thoughts and feelings when confronted first hand with such an enormous human tragedy.
Part 1 – Off to Tohoku
It is hard to believe that nearly 6 months has passed since I awoke on a Friday morning to news of a "huge" earthquake in Tohoku which had triggered a devastating tsunami. In the immediate aftermath of the Great Tohoku Earthquake of 11th March 2011 details were sketchy and the true magnitude of what had occurred would only gradually emerge as the weekend unfolded. Like the whole world, I watched in shock and horror as the pictures of the devastating tsunami waves and fires that followed adorned our television screens for the hours and days that followed. Tens of thousands missing, the death toll unknown: This was a natural disaster on an incomprehensible scale.
But the world moves on and rapidly Japan dropped out of the 24 hour news reports and became a footnote. Only events at the stricken Fukushima nuclear power plant were now deemed news worthy items and only then if the story was one of a new setback or failing by TEPCO, the shamed operator. The steady progress there towards stabilising the reactors and the monumental cleanup operation across the whole region has rarely been afforded any airtime. Yet by following the Japanese news reports and a wide range of blogs I have been able to piece together a picture of the recovery efforts. However, none of this is the same as seeing with your own eyes; talking with survivors; breathing in the air where houses, factories and schools once stood.
I came to Tohoku one week ago to meet with Chie Goto, the Japan Coordinator for Boston based NPO United Planet. As revealed in the mission statement on their web site, United Planet "strives to create a world in which all people understand, respect, and support one another". I wanted to see exactly how UP had responded to the earthquake and what volunteer programmes it was looking to establish in Tohoku, especially with the emphasis on providing support for those who had experienced the disaster. The stories of those affected by the tsunami are documented by Chie-san on her blog. It is an insightful and sad record of the human cost of the disaster – http://gotochie.wordpress.com/voice-of-a-survivor/
Goto-san is an extremely genki (lively and energetic) lady in her early 40's, with long dark hair, greying a little at the ends and an oval, open face. Her impressive CV takes in several years living in Kenya where she established volunteer and cultural organisations and time living in the US as well as finding the time to visit an impressive 63 countries across the globe. She speaks English with an almost frightening rapidity, as if she has a huge mountain of words to get out and only a very limited time to do so, which is quite possibly, usually the case.
Clearly recognising me from my detailed emailed description ("I'm the only foreigner in here, sat at the window"), she greets me in the Starbucks on the ground floor of Sendai Station with an enthusiastic "Alasutea-san" before immediately launching into the plan for the evening. As it transpires this involves dinner with a small group of Kenyan students visiting as part of a three week study trip from Kenya (all coordinated by the organisation founded by Goto-san), a member of Japan's diplomatic staff in Haiti and his wife (also friends of Goto-san) and a family of tsunami survivors who have recently been re-housed in the temporary accommodation units which have sprung up across Tohoku over the past 3 months.
After we locate the restaurant on the 29th floor of an imposing office building I am sat next to Eric, a 23 year old Bio-Chemistry student who introduces us to a little Swahili, informs me a little about the Kenyan education system and engages myself and Emi, a Japanese girl travelling with the Kenyan party, in a discussion about the carrousel of Japanese Prime Ministers contrasted with the rather more intransigent African dictators.  Not quite what I was expecting when I boarded the Shinkansen at Tokyo Station.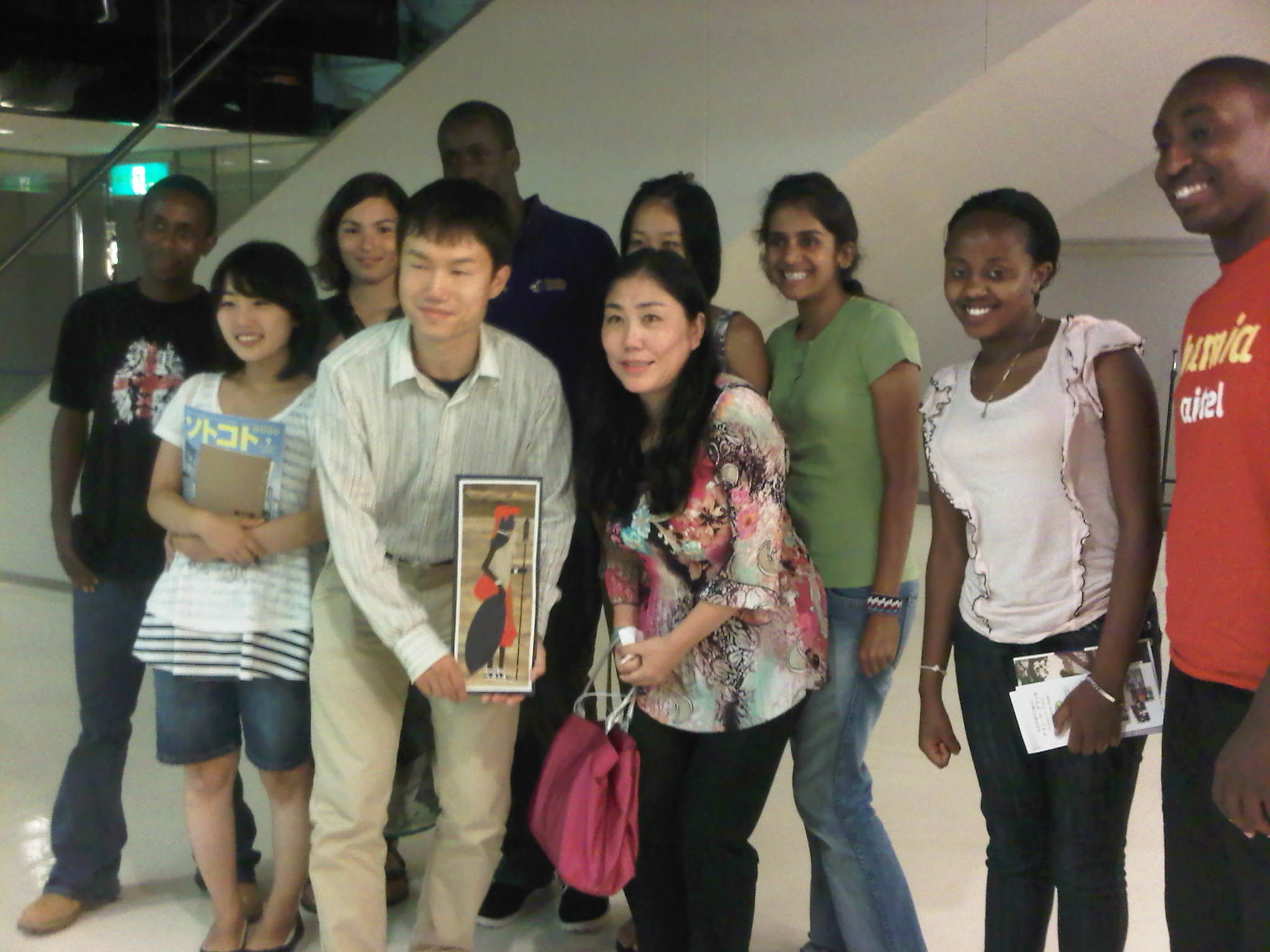 The following morning, Eric and the rest of the Kenyan party are to be visiting a kindergarten located in Ishinomaki, an area severely hit by the tsunami. In his words, "we are just going to make some small kids smile". I am to follow Eric and the Kenyan delegation before heading off with Goto-san to see for myself some of the areas worst affected by the tsunami. I am nervous and unsure of what I will think or feel when actually confronted with the reality of the disaster. I am also exhausted.
Like this post? Help us by sharing it!