Like this post? Help us by sharing it!
Here's a shocking statistic: Japan gets through 24 billion pairs of disposable chopsticks (waribashi) a year. That's 185 pairs per person. This amounts to A LOT of wood, causing huge deforestation problems, mostly in neighbouring countries such as China.
Some argue that waribashi are made from offcuts of wood that would be wasted anyway. But consider this:  the average life span of a pair of disposable chopsticks is just 10 minutes. Open packet of chopsticks, eat food, throw chopsticks away. This results in a massive landfill problem or an equally nasty amount of incineration fumes.
So why do people persist with waribashi? Well, in part it's an issue of culture and hygiene. At home the Japanese are very attached to their chopsticks. Whereas a person in the West would use the first piece of cutlery they grab from the drawer, each family member in Japan has their own specific pair of chopsticks. Woe betide the child that borrows their father's hashi (non-disposable chopsticks)! That's why in restaurants, some Japanese would find it unhygienic to use non-disposable chopsticks, no matter how well they have been washed.
But there is a solution to this problem: carry your own set of chopsticks in a nifty little case. These are sold everywhere from 100 yen shops, to convenience stores to fancy shopping malls, so it's easy enough to buy a pair on the first day of your holiday. Over the course of a two week trip, we estimate this would save you using 24 pairs of disposable chopsticks.
箸 hashi = chopsticks
割り箸 waribashi = disposable chopsticks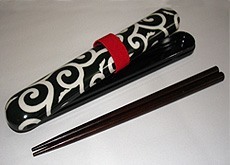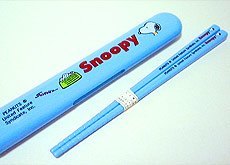 Some chopsticks are  thrown away after just 10 minutes in use!?
Your new Japanese friends will be a little amused that you've brought your own chopsticks along. But it sets a wonderful green example to a serious problem that Japan really needs to address.
InsideJapan Tours provide smart  InsideJapan branded re-usable chopsticks for all of their tour customers to carry throughout their Japan travels. The chopsticks look nice and come with a carry case, so that there is no excuse wherever you are eating. It is a very simple gesture which could make the world of difference.
Like this post? Help us by sharing it!