Like this post? Help us by sharing it!
Saturday April 2nd 2011         Inokashira Park in Tokyo
It`s still early in the hanami season, but already the party has begun in Tokyo. In Inokashira park yesterday, hundreds of people were celebrating the arrival of spring with a picnic with friends/family/colleagues under a sakura (cherry blossom) tree.
There was a festive New Years Eve kind of atmosphere. Knowing tea ceremony ettiquette won`t help you here. Any behaviour, except wearing shoes, seems acceptable once on the blue tarpaulin.
Locals and foreigners alike were having a great time. A peak-capped Japanese man was playing 'The House of the Rising Sun' on his guitar. A passing American was so impressed he stopped to sing for him.   To be honest, he had a dreadful voice, but then again so do I, and the sake-drunk audience loved it all the same.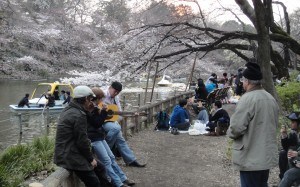 Like this post? Help us by sharing it!