Like this post? Help us by sharing it!
At lunchtime in central Unzen, three Japanese ladies standing outside their restaurants were competing for my custom. The restaurants looked ordinary, and with the greatest respect, so did the ladies. But in Unzen, a 90 minute bus ride from Nagasaki, I was reminded that the ordinary has hidden charms. In an ordinary looking shokudo (diner), served up by an ordinary looking waitress, I discovered the extraordinary Turko Rice.
Turko Rice is a meibutsu (a famous dish) of the Nagasaki region. A vital ingredient, as the counter-intuitive will already have guessed, is a pile of spaghetti. A fried pork cutlet on a bed of rice, salad and HP sauce fill the rest of the dish. I was in heaven, three meals in one sitting, on one plate. My childhood dream had come true.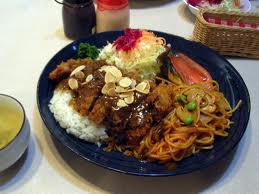 The Japan site of Wikipedia has 6 explanations for the origins of Turko Rice, all of them obscure and ridiculous. My favourite theory has the spaghetti representing Italy, and the rice India. The pork cutlet is Turkey – being the bridge connecting Italy and India. Now, I know things have changed since I was at school but, geographical naivety aside, there is no way a pork cutlet looks like a bridge.
Turko Rice is exactly the kind of meal Japanese prepare for foreigners. Not knowing what foreigners eat, their only answer is to prepare every single possible food in the world, serve it on one plate, then run off and hide under the kitchen table. I am sure the same wishful thinking has led to raw broccoli's triumphant and nauseating dominance of the breakfast tables in Japan's hotels.
Anyway, I should note nodoka (peaceful) Unzen is a great place to visit, and people don't here for Turko Rice. They come to have a bath. Unzen's public baths are basic but interesting (100 yen soap and towel not included). The Fukiya ryokan, has larger more luxurious indoor and outdoor baths (1000 Yen, soap and towels supplied). The boiling hell pools behind the Fukiya are muddy, smelly and always empty but worth a look (Free, soap and towels a needless extravagance).
Like this post? Help us by sharing it!