Like this post? Help us by sharing it!
The Koshien is the oldest and most famous baseball stadium in Japan. Once the biggest in Asia, it hosted the legendary Babe Ruth on his tour of Japan in the 1930s. In August, captivating the nation, it stages the fiercely contested annual National High School Baseball Championships. Just a short trip from Kobe or Osaka, for a fraction of the price of attending a Premier League football game, you can get grandstand views and 3 hours of fantastic entertainment.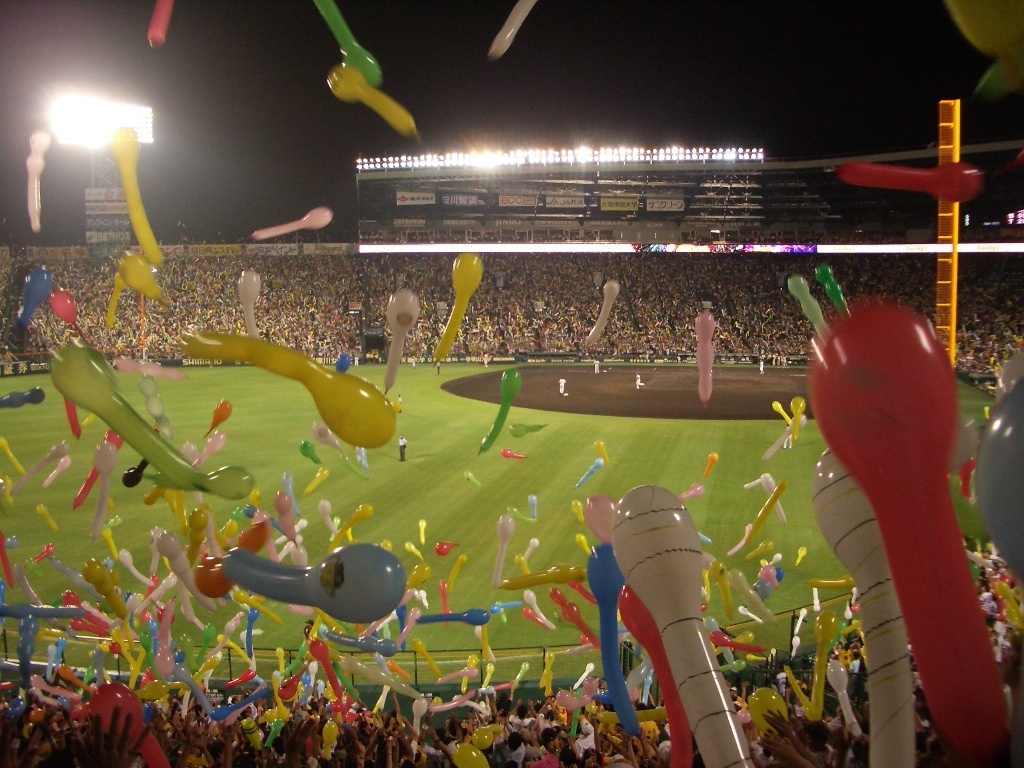 In a game I recently attended, the home team, the Hanshin Tigers were being outplayed and heavily outscored. Only halfway in and the game was over as a contest. In most countries in these circumstances sitting amongst the home supporters would be a pretty uncomfortable experience. Fortunately when at the Koshien, the result is of secondary importance. The Koshien experience is far too interesting to get overly absorbed in the outcome of any game.
The high-spirited indefatigable beer sellers were a personal highlight. For a country with a legal drinking age of 20, it takes admirable cheek to employ 16 year old school girls to run up and down steps with 15 litre kegs of beer strapped to their backs. Despite the humidity, the arduousness of their task, and having 3 packets of dried squid hanging from their necks, the girls remained manically cheery.
The supporters were fascinating. Growing up watching live football in England, I learnt it was important to be miserable at all times and only make negative comments about the game. At the Koshien, there was no space for misery or negativity, all the support was positive, despite the home team being drubbed.
Both teams' chants were co-ordinated by energetic organisers at the front waving placards. A proud 6 year old supporter sat along from me knew each song by heart. Even more surreal, when the opposition was batting the other team would refrain from chanting as an act of respect. Can't see the same happening at Stamford Bridge.
What the chants lack in spontaneity and raw emotion, are more than compensated for by a magnetic rhythm and almost universal participation. Even the most cynical (and I count myself amongst them) cannot help but get carried away with the carnival atmosphere. You do not need to like baseball you do not even need to like sport to have a great time at the Koshien.
Like this post? Help us by sharing it!