Like this post? Help us by sharing it!
Yesterday the IRB confirmed that Japan is to host the worlds biggest rugby tournament in 2019. This is fantastic news and will be a major step forward for a sport which has sometimes been regarded as elitist, upper class and a wee bit cliquey. When Japan narrowly missed out on getting the right to host the 2011 tournament (given to New Zealand), Japan's top rugby chap accused the top rugby playing nations of simply "passing the ball around between themselves".

Japan will do an amazing job of hosting this key event in the rugby calender and we can look forward to real breath of fresh air taking the tournament outside of the established rugby-playing nations, as we did when Japan co-hosted the football World Cup with South Korea in 2002. Japan is ready and could host this tomorrow, with modern stadiums, fantastic transport links and thousands of hotel rooms already in place. Compare this to the problems of small stadiums, lack of transport infrastructure and hotel room numbers that saw Lions fans housed in cruise ships floating in Wellington Harbour during the 2005 Lions tour of New Zealand! Admittedly New Zealand is a rugby-mad country, but with such a small population they will struggle to meet the needs of the and thousands of rugby fans who will descend on the "Land of the Long White Cloud" in 2011. But they deserve their chance to host it and good luck to them. However it will be 2019 that I will be looking forward to most, when the most hospitable country on earth plays host to the most gentlemanly sports fans in the world. I just wonder if the nomihodai (all you can drink) deals will be kept on the bar menus…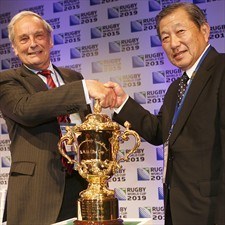 What do you think? Is Japan the right country to host the first Asian Rugby World Cup? Will there be much interest from the locals? Will the Japanese onsen culture clash with the muddy after-match baths of the rugby fans. Will Asahi, Sapporo and Kirin have enough beer stockpiled to keep all the fans happy? Look forward to hearing from you!
Like this post? Help us by sharing it!