Like this post? Help us by sharing it!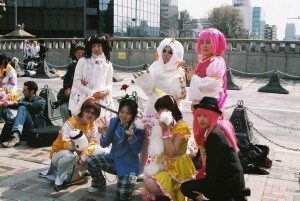 5/ "Harajuku girls you got that wicked style" – Sundays in Harajuku
No one has done more to publicise the strange underworld of Japanese youth fashions and culture than Miss Gwen Stefani. After years of international success with her band No Doubt, Gwenni Gwen Gwen decided to say goodbye to the guys in the band and strike out alone. Clearly though she missed her boys and so just had to find a replacement. And what did she find to mend the hole in her heart? A small troupe of ultra-trendy cute Japanese girls from the uber-cool suburb of Harajuku. So what is all the fuss about? Well, pop down to Harajuku Station (JR Yamanote Line) on a Sunday morning and you will see for yourself. Just round the corner on the bridge over the tracks that leads to Meiji Shrine gather an extraordinary collection of young Japanese dressed in an incredible assortment of outfits. Some say that this movement grew out of a tiny clique of 80's kids who loved Echo and the Bunnymen but I have no way of testing the veracity of this rumour. Anyway, today is a far cry from some pseudo-Gothic pop trend of recessionary Britain. Many of the outfits are based on favourite anime characters and form part of cos-play culture (short for costume play – there is even an annual world cos play summit held for the first time in summer 2008 in Nagoya). Others… well, I don't know. I really ought to ask.
In short though this is an incredible display. Japanese youths are endlessly inventive, perhaps because of the similarity in basic appearance – straight black hair and dark brown eyes. Clearly many hours are spent on customising these amazing outfits and there is a clearly a sense of freedom afforded by dressing up in crazy clothes.
To be honest, I don't think these are the real Harajuku girls of Gwen Stefani fame. They are tucked away in the side streets, buying their clothes in members-only boutiques and sipping outrageously priced lattes on Omotesandou – the Champs Elysee of Tokyo (apparently). All the same, this is a sight not to be missed when in the capital. And once you have checked this out you can head to the more serene surroundings of Meiji Shrine or to the lively scenes of Yoyogi Park, where Tokyo comes out to play.
Like this post? Help us by sharing it!