Exclusive Private Journey
Snow Monkeys & Samurai
3 Nights: price on request
Trip Code: EPJ500
This module makes a fantastic alpine addition to any tailored honeymoon, traversing the backbone of Japan in luxurious style while taking in traditional towns, artistic heritage, fascinating wildlife and stunning mountain scenery. Read more >
Take a seat in the luxurious "gran class" car of the bullet train to speed north from Tokyo up into the Japanese Alps, home to some of the most spectacular rural landscapes in the country. Seventy percent of Japan is mountainous, and this range forms the backbone of Honshu, Japan's main island.
Your first stop is Nagano, home of the 1998 Winter Olympics and Zenko-ji Temple - the most important Zen temple in Japan. You'll be based in the quaint village of Obuse, where you'll explore sake breweries and flower gardens and enjoy small-town alpine life.
From here you'll also have the chance to visit some of the world's northernmost-living primates, the gorgeous "snow monkeys" who play for hours in natural hot springs baths in the mountains near Yudanaka Onsen.
The Alps have a rich artistic heritage; local hero Hokusai - the master of woodblock prints - is honoured in excellent museums in both Obuse and Matsumoto. We'll connect you with an experienced artist to help you explore the legacy of this great master.
Throughout this Exclusive Private Journey you will be accompanied by an top-class guide, stay in the finest accommodation and enjoy world-class dining. A driver and private car will be at your disposal for all transfers and sightseeing.
What, where, when and how...
Snow Monkeys & Samurai - 4 Days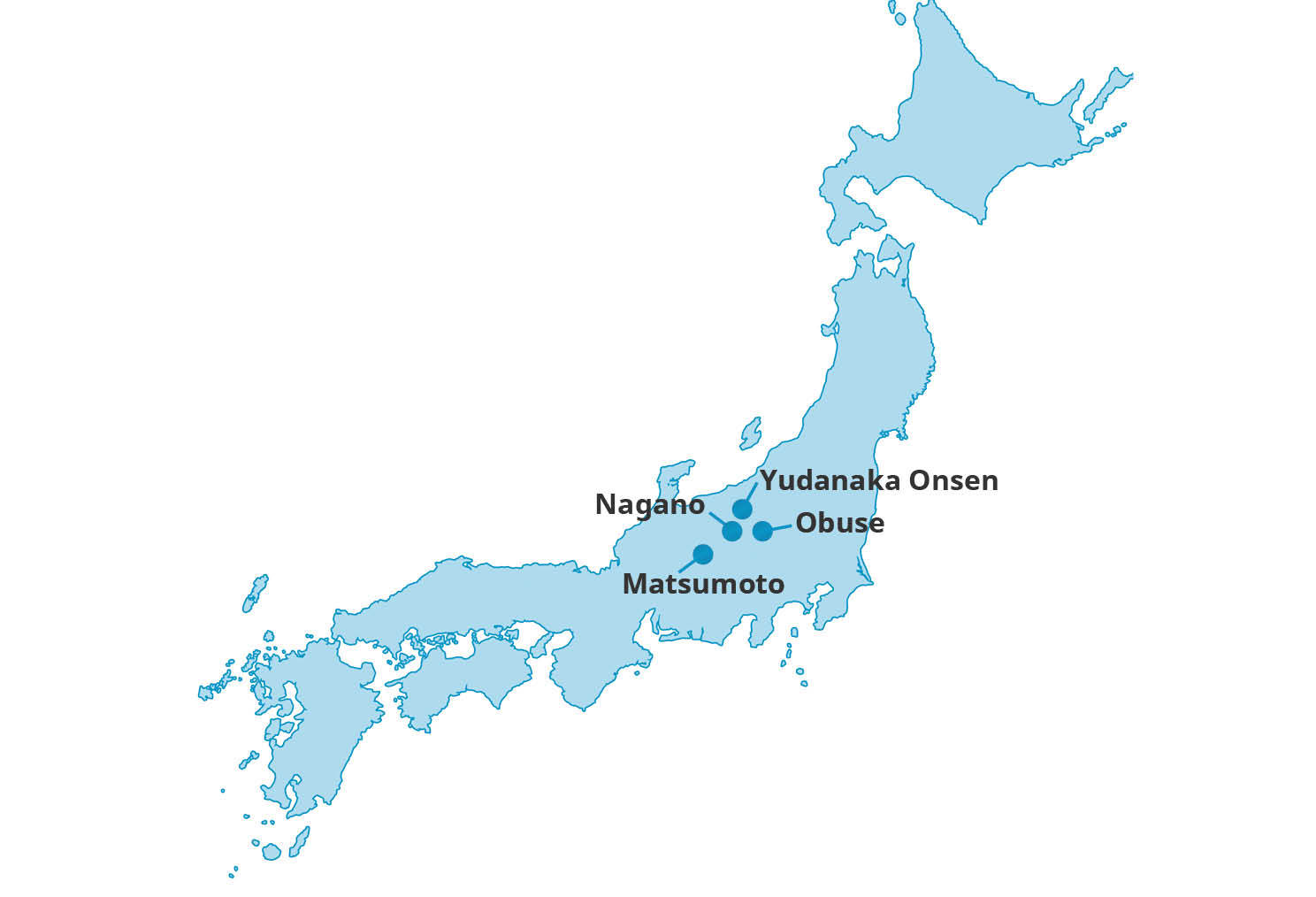 Destinations
Snow Monkeys & Samurai - 4 Days - Day by Day
Snow Monkeys & Samurai - 4 Days - Accommodation

Snow Monkeys & Samurai - 4 Days - Experiences
Day 1-2

You'll take the Shinkansen bullet train from Tokyo to Nagano where this module begins high in the Japanese Alps.

Travel on the bullet train will be in "gran class" – a luxury train car with reclining leather seats – and your guide will be waiting for you when you arrive on the platform at Nagano Station.
Together with your guide you could break your journey in Nagano to visit Zenko-ji Temple or head straight on by private car to the see Japan's famous snow monkeys at Yudanaka Onsen. To escape the winter cold whole families of macaque monkeys play in the natural hot springs - a fantastic sight.
You'll spend two nights in a beautiful ryokan inn in the small village of Obuse, not far from the snow monkeys of Yudanaka. Obuse belies its size with an incredible cultural and historical background and ongoing legacy; it was the home of Katsushika Hokusai, the world famous ukiyo-e woodblock print artist.
On your second day you'll explore the galleries and museums of Obuse - just have a look at the experience tab below for an idea of what we can organise. For those interested in design, the Japanese Lamp Museum, housed in an old renovated storehouse, has a collection of almost 1,000 antique lanterns, lamps and candles that date from ancient times through until the mid-1920s.

Another option is a visit to Obuse's floral garden, which comprises 15,000 square metres of landscaped flowerbeds, a hill garden and (somewhat unusually for Japan) an expansive lawn.

Suggested Accommodation: Masuichi Kyakuden

Day 3-4

On to Matsumoto today to see one of Japan's few remaining original samurai castles.

Matsumoto's castle, known as the "Black Crow", retains the original wooden construction from when it was first built, when Japan was under the rule of the Tokugawa Shogun. The castle gets its name from its unusual black walls (castles in Japan are usually white) and the beautiful design is undoubtedly one of the finest examples in existence.
Your guide will help bring a little of the castle's history to life, and climbing the steep wooden steps within you will really get a feel for what life was like for the samurai who were in charge of maintaining the security of this fortress.

Suggested Accommodation: Kai Matsumoto
View all days
Day 1-2

You'll take the Shinkansen bullet train from Tokyo to Nagano where this module begins high in the Japanese Alps.

Travel on the bullet train will be in "gran class" – a luxury train car with reclining leather seats – and your guide will be waiting for you when you arrive on the platform at Nagano Station.
Together with your guide you could break your journey in Nagano to visit Zenko-ji Temple or head straight on by private car to the see Japan's famous snow monkeys at Yudanaka Onsen. To escape the winter cold whole families of macaque monkeys play in the natural hot springs - a fantastic sight.
You'll spend two nights in a beautiful ryokan inn in the small village of Obuse, not far from the snow monkeys of Yudanaka. Obuse belies its size with an incredible cultural and historical background and ongoing legacy; it was the home of Katsushika Hokusai, the world famous ukiyo-e woodblock print artist.
On your second day you'll explore the galleries and museums of Obuse - just have a look at the experience tab below for an idea of what we can organise. For those interested in design, the Japanese Lamp Museum, housed in an old renovated storehouse, has a collection of almost 1,000 antique lanterns, lamps and candles that date from ancient times through until the mid-1920s.

Another option is a visit to Obuse's floral garden, which comprises 15,000 square metres of landscaped flowerbeds, a hill garden and (somewhat unusually for Japan) an expansive lawn.

Suggested Accommodation: Masuichi Kyakuden

Day 3-4

On to Matsumoto today to see one of Japan's few remaining original samurai castles.

Matsumoto's castle, known as the "Black Crow", retains the original wooden construction from when it was first built, when Japan was under the rule of the Tokugawa Shogun. The castle gets its name from its unusual black walls (castles in Japan are usually white) and the beautiful design is undoubtedly one of the finest examples in existence.
Your guide will help bring a little of the castle's history to life, and climbing the steep wooden steps within you will really get a feel for what life was like for the samurai who were in charge of maintaining the security of this fortress.

Suggested Accommodation: Kai Matsumoto
Close all days
Other Honeymoons trips you may like
Tokyo
Hakone
Kyoto
Taketomi
Tokyo

A luxury honeymoon combining iconic cities, stunning countryside and relaxing subtropical beaches

14 nights: from AU$23845 pp (twin share) Read more >

Tokyo
Hakone
Kyoto
Kinosaki Onsen
Osaka

Japan's hot spring towns and vibrant cities make for a perfect setting for a romantic honeymoon

11 nights: from AU$4294 pp (twin share) Read more >

Matsuyama
Kotohira
Iya Valley
Takamatsu
Naoshima

An exclusive journey through rural Shikoku that will introduce you to Japan's best architects, artists, writers and landscape designers.

6 nights: Read more >