Self-Guided Adventure
Beach & Culture Deluxe Honeymoon
14 Nights: from AU$23845 per person (twin share)
Trip Code: BCD
Japan is a fabulous destination for a luxury honeymoon. On this itinerary we've included five-star hotels in Tokyo and Kyoto, a beautiful hot spring ryokan in Hakone National Park and a luxurious beach resort on the tiny subtropical island of Taketomi. Read more >
Your honeymoon begins in Tokyo, Japan's frenetic capital, where bright neon lights are juxtaposed with quiet gardens, shrines and temples. Here we've included a day with a private guide, driver and car to help you get the most out of your city sightseeing, and you'll also have the opportunity to delve into kaiseki haute cuisine with a private cooking lesson run by a top Tokyo chef in an exclusive restaurant kitchen.
In the Fuji-Hakone National Park a private car will whisk you to Mount Fuji's fifth station for spectacular views across the countryside before continuing into the foothills and the beautiful Hakone National Park. Here, overlooking a secluded valley, you will relax in a luxurious traditional ryokan and enjoy hot spring bathing as well as some pampering in the ryokan spa.
Kyoto is Japan's cultural heart and a must-see for any overseas visitor. Here you'll spend a private evening in the company of an apprentice geisha and a knowledgeable geisha expert learning all about this most mysterious element of Japanese culture. Over dinner and drinks, the geisha will entertain you with dancing, a shamisen musical performance and parlour games. This is truly a very rare and special experience and sure to be one of the highlights of your time in Japan. We've chosen a gorgeous boutique property in Gion, which mixes traditional aesthetics and hospitality with modern luxury.
After the cultural splendours of the mainland it's time to relax on the beach as you jet south to the tiny subtropical island of Taketomi. There are no cars on this island - just water buffalo and carts - and one little village. Your stay here will be the very antithesis of the towns and cities you have visited in mainland Japan, with accommodation at a very luxurious resort offering the best in Japanese design and hospitality.
What's included
14 nights' accommodation

Breakfast every day, four lunches and six evening meals

All transport between destinations incl. domestic flights

Private car airport transfers

Green (first class) Shinkansen tickets

Manaca transport card with 2,500 yen credit for city transport

Private guides, drivers & cars in Tokyo, Kyoto and to Mount Fuji

Private cooking class with top Tokyo chef

Private audience with an apprentice geisha

Pocket WiFi device

Your personalised InsideJapan Info-Pack
What's NOT included:
International flights

Local transport (buses, subways, taxis) at any destination unless otherwise specified

Any entrance fees including those for shrines, temples and museums

Baggage handling and luggage forwarding
Trip Highlights
Stay in deluxe accommodation

Learn to cook kaiseki cuisine with a top Tokyo chef
Enjoy hot springs in a fabulous Hakone ryokan
Explore Tokyo & Kyoto with a private guide & driver

Spend an evening with an apprentice geisha

Spend four nights on tropical Taketomi Island
For more information email us: [email protected] or call: + 61 7 3186 8800
What, where, when and how...
Beach & Culture Deluxe Honeymoon - 15 Days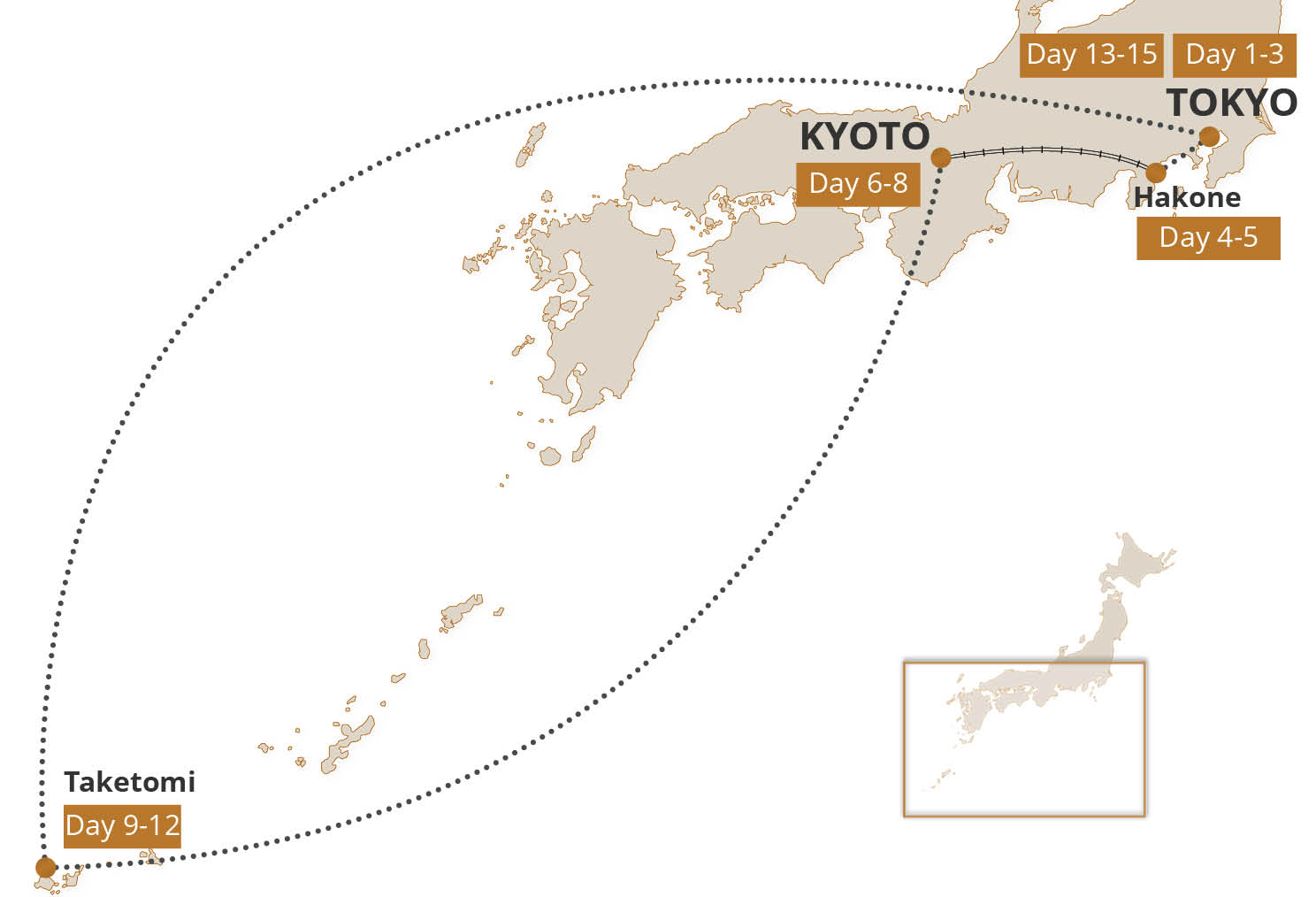 Destinations
Beach & Culture Deluxe Honeymoon - 15 Days - Day by Day
Beach & Culture Deluxe Honeymoon - 15 Days - Accommodation
Beach & Culture Deluxe Honeymoon - 15 Days - Experiences
Day 1-3

Welcome to Japan! On arrival at the airport you will be conveyed by private car to your first hotel in the city centre where your honeymoon begins in style at the fabulous Palace Hotel

After a night to relax and acclimatise, today you'll have the services of a knowledgeable private guide, driver and car for a full-day city sightseeing tour. There's so much to see in Tokyo that it can be difficult to know where to start, but we recommend beginning in the historic Asakusa quarter before taking a trip up the Skytree (Tokyo's newest and tallest tower) before visiting Akihabara "electric town," the art museums of Roppongi or the upmarket boutiques of Ginza. The itinerary today will be flexible and your guide will be happy to incorporate anything that takes your fancy.
On your second day in the capital you'll have an exclusive hands-on cooking lesson with a top Tokyo chef in the kitchens of one of the city's best restaurants. With the help of an interpreter the chef will instruct you in the fundamentals of kaiseki haute cuisine and you'll have the chance to try the dishes afterwards. This is a fabulous way to improve your culinary skills and better appreciate Japanese cuisine!

Overnight: Palace Tokyo

Day 4-5

Today a guide and driver will meet you at your Tokyo hotel and take you on a full-day tour of the Fuji-Hakone region, starting with Fuji Five Lakes, taking in Mount Fuji's fifth station and finishing in Hakone National Park.

Here you will be staying in a luxurious ryokan with fantastic hot spring baths overlooking the lush mountainous valley. A superb multi-course dinner will be included on both nights at this ryokan.
On your second day in Hakone you will have a free day either to relax and enjoy the hot springs and spa facilities at your ryokan or to further explore Hakone National Park. We've included Hakone Free Passes that will allow you to make full use of the national park's mountain railways, cable cars, boats and buses. For the best Fuji views take the cable car up to the volcanic pools in Owakudani and increase your longevity by eating a lucky egg boiled in the thermal waters.

Overnight: Ginyu

Day 6-8

Just over two hours on the world famous Shinkansen bullet train will bring you to Kyoto, the cultural heart of Japan.

Here you'll be staying in our favourite luxury Japanese property: Sowaka. The afternoon will be free for you to begin exploring the city - we recommend visiting the wonderful five-storey pagoda at Toji Temple to start you off.
On your first full day in Kyoto you'll have a private guide, driver and car at your disposal to help you get the most out of this fascinating city. The itinerary is flexible so you can decide what you'd like to do on the day or we can plan a route for you in advance. You may like to visit the classic sights of Kiyomizu-dera Temple and the Golden Pavilion, or you may prefer to head off the beaten track to lesser-visited sights such as Byodo-in, the temple on the back of the ten yen coin.
Kyoto's most famous residents are the elusive geisha and on your final evening in the city you will have a private audience with a maiko (apprentice geisha). This is a very exclusive experience; seldom does your average Kyotoite have this opportunity! The evening begins with a guided walking tour of the Gion geisha district before you make your way to a private bar. Here you'll meet an English-speaking geisha expert who will explain all about this mysterious world while you are served tea by a maiko. The maiko will also perform a fan dance or play the shamisen, entertain you with some drinking games and answer any questions you may have about this fascinating and secretive profession.

Overnight: Sowaka

Day 9-12

A private car will take you from your Kyoto hotel to Osaka Kansai Airport in time for your flight to Ishigaki Island at the southern tip of the Okinawa archipelago.

From here a taxi will be waiting to take you to Ishigaki Port, where you'll catch the ferry to the secluded Taketomi Island. Here you'll be staying at the outstanding Hoshinoya Resort - every bit worth the day of travelling it will take to get here.
You will have several free days at the Hoshinoya Resort to relax on the beach or by the pool. Taketomi is a tiny island without any cars, so the best way to explore is by bicycle. You could also try snorkelling or scuba diving, or make the short journey across to neighbouring Ishigaki or Iriomote Islands for further exploration.

Overnight: Hoshinoya Taketomi

Day 13-15

After a serene interlude on Taketomi you'll be catapulted back into the modern world as you retrace your steps by ferry, taxi and plane to Tokyo.

Here a private car will be waiting to take you from Tokyo Haneda Airport to your final hotel, the iconic Park Hyatt, made famous by Sofia Coppola's famous film Lost in Translation.
You will have a final full day in Tokyo to see anything you may have missed at the start of your trip. You'll be ideally placed to do a bit of last-minute shopping and to enjoy your final night among Tokyo's bright neon lights and skyscrapers.
Sadly your honeymoon must come to an end, and on your final morning a private car will pick you up from your hotel to take you to the airport in time for your flight home.

Overnight: Park Hyatt
View all days
Day 1-3

Welcome to Japan! On arrival at the airport you will be conveyed by private car to your first hotel in the city centre where your honeymoon begins in style at the fabulous Palace Hotel

After a night to relax and acclimatise, today you'll have the services of a knowledgeable private guide, driver and car for a full-day city sightseeing tour. There's so much to see in Tokyo that it can be difficult to know where to start, but we recommend beginning in the historic Asakusa quarter before taking a trip up the Skytree (Tokyo's newest and tallest tower) before visiting Akihabara "electric town," the art museums of Roppongi or the upmarket boutiques of Ginza. The itinerary today will be flexible and your guide will be happy to incorporate anything that takes your fancy.
On your second day in the capital you'll have an exclusive hands-on cooking lesson with a top Tokyo chef in the kitchens of one of the city's best restaurants. With the help of an interpreter the chef will instruct you in the fundamentals of kaiseki haute cuisine and you'll have the chance to try the dishes afterwards. This is a fabulous way to improve your culinary skills and better appreciate Japanese cuisine!

Overnight: Palace Tokyo

Day 4-5

Today a guide and driver will meet you at your Tokyo hotel and take you on a full-day tour of the Fuji-Hakone region, starting with Fuji Five Lakes, taking in Mount Fuji's fifth station and finishing in Hakone National Park.

Here you will be staying in a luxurious ryokan with fantastic hot spring baths overlooking the lush mountainous valley. A superb multi-course dinner will be included on both nights at this ryokan.
On your second day in Hakone you will have a free day either to relax and enjoy the hot springs and spa facilities at your ryokan or to further explore Hakone National Park. We've included Hakone Free Passes that will allow you to make full use of the national park's mountain railways, cable cars, boats and buses. For the best Fuji views take the cable car up to the volcanic pools in Owakudani and increase your longevity by eating a lucky egg boiled in the thermal waters.

Overnight: Ginyu

Day 6-8

Just over two hours on the world famous Shinkansen bullet train will bring you to Kyoto, the cultural heart of Japan.

Here you'll be staying in our favourite luxury Japanese property: Sowaka. The afternoon will be free for you to begin exploring the city - we recommend visiting the wonderful five-storey pagoda at Toji Temple to start you off.
On your first full day in Kyoto you'll have a private guide, driver and car at your disposal to help you get the most out of this fascinating city. The itinerary is flexible so you can decide what you'd like to do on the day or we can plan a route for you in advance. You may like to visit the classic sights of Kiyomizu-dera Temple and the Golden Pavilion, or you may prefer to head off the beaten track to lesser-visited sights such as Byodo-in, the temple on the back of the ten yen coin.
Kyoto's most famous residents are the elusive geisha and on your final evening in the city you will have a private audience with a maiko (apprentice geisha). This is a very exclusive experience; seldom does your average Kyotoite have this opportunity! The evening begins with a guided walking tour of the Gion geisha district before you make your way to a private bar. Here you'll meet an English-speaking geisha expert who will explain all about this mysterious world while you are served tea by a maiko. The maiko will also perform a fan dance or play the shamisen, entertain you with some drinking games and answer any questions you may have about this fascinating and secretive profession.

Overnight: Sowaka

Day 9-12

A private car will take you from your Kyoto hotel to Osaka Kansai Airport in time for your flight to Ishigaki Island at the southern tip of the Okinawa archipelago.

From here a taxi will be waiting to take you to Ishigaki Port, where you'll catch the ferry to the secluded Taketomi Island. Here you'll be staying at the outstanding Hoshinoya Resort - every bit worth the day of travelling it will take to get here.
You will have several free days at the Hoshinoya Resort to relax on the beach or by the pool. Taketomi is a tiny island without any cars, so the best way to explore is by bicycle. You could also try snorkelling or scuba diving, or make the short journey across to neighbouring Ishigaki or Iriomote Islands for further exploration.

Overnight: Hoshinoya Taketomi

Day 13-15

After a serene interlude on Taketomi you'll be catapulted back into the modern world as you retrace your steps by ferry, taxi and plane to Tokyo.

Here a private car will be waiting to take you from Tokyo Haneda Airport to your final hotel, the iconic Park Hyatt, made famous by Sofia Coppola's famous film Lost in Translation.
You will have a final full day in Tokyo to see anything you may have missed at the start of your trip. You'll be ideally placed to do a bit of last-minute shopping and to enjoy your final night among Tokyo's bright neon lights and skyscrapers.
Sadly your honeymoon must come to an end, and on your final morning a private car will pick you up from your hotel to take you to the airport in time for your flight home.

Overnight: Park Hyatt
Close all days
Other Honeymoons trips you may like
Tokyo
Hakone
Kyoto
Kinosaki Onsen
Osaka

Japan's hot spring towns and vibrant cities make for a perfect setting for a romantic honeymoon

11 nights: from AU$4294 pp (twin share) Read more >

Matsuyama
Kotohira
Iya Valley
Takamatsu
Naoshima

An exclusive journey through rural Shikoku that will introduce you to Japan's best architects, artists, writers and landscape designers.

6 nights: Read more >

Explore Tokyo in the finest possible style, with an expert guide, world-class accommodation, and a range of exclusive encounters and experiences.

4 nights: Read more >