Taketomi
A short boat ride from Ishigaki will bring you to the small island of Taketomi. The island is populated by approximately 300 over an area of just 5.4 sqkm.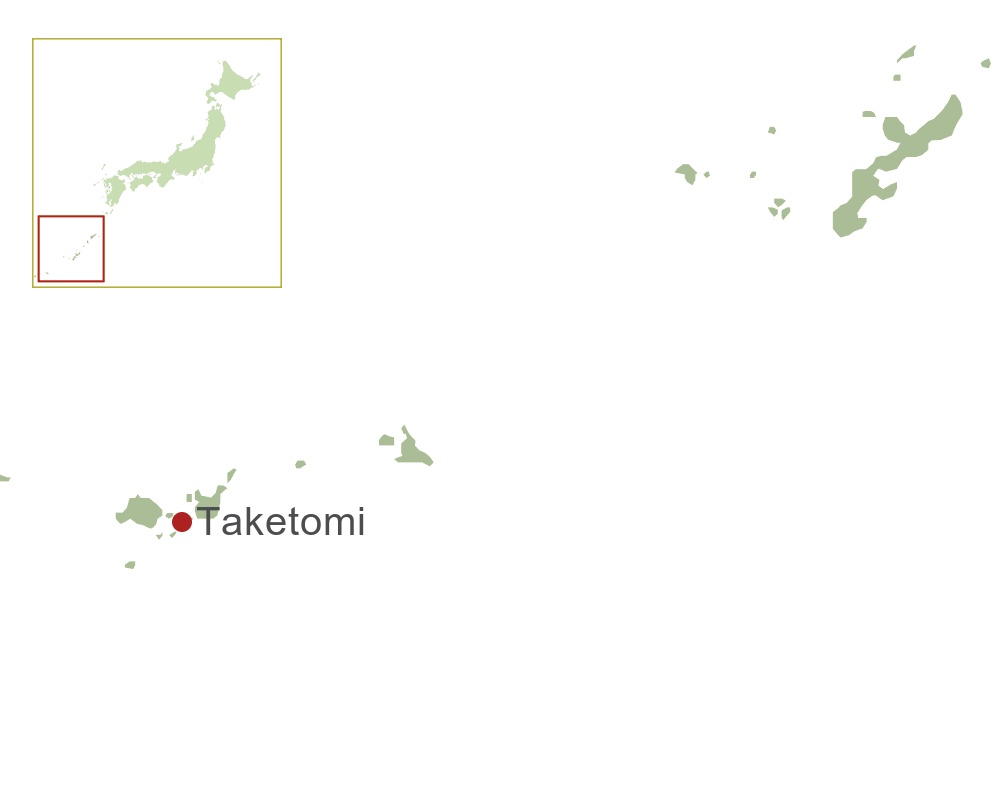 "Taketomi island has a very laid back tropical and traditional Ryukyu atmosphere. The island gives you an idea how island life in the the Ryukyu kingdom would have been. A very very pleasant day trip from Ishigaki"
Simon King, Director
This tiny subtropical island has an example of a perfectly preserved traditional Ryukyu village which would have been found all over Okinawa in days gone by. The traditional Ryukyu one-story houses are characterised by their red tiled roofs, stone walls and the lion-like Shisa at the gates whose duty is to ward off evil spirits. The village adds to the quaint small island atmosphere which is also helped by the water buffalo drawn carts that trundle around the island with their masters singing traditional Taketomi folk songs as they go.
The size of the island makes it easy to navigate by foot. As part of the Yaeyama islands there are a number of golden beaches each with coral rich sea and the opportunity for some excellent snorkelling. Taketomi is a very worthwhile day trip from its larger neighbour, Ishigaki.
Recommended Accommodation in Taketomi
The following are our favourites from among the western-style hotels and Japanese-style inns of Taketomi.

Experiences in Taketomi
Taketomi offers a wealth of exciting experiences that will help you get beneath the surface of Japan's fascinating culture. See below for a few of our favourites
Featured trips including Taketomi
Tokyo
Ishigaki
Taketomi
Iriomote
Tokyo

This 10-night superior island-hopping itinerary introduces Japan's subtropical side in style, with superb accommodation and fine dining included.

10 nights: from US$6617 pp (twin share) Read more >

Tokyo
Hakone
Kyoto
Taketomi
Tokyo

A luxury honeymoon combining iconic cities, stunning countryside and relaxing subtropical beaches

14 nights: from US$16315 pp (twin share) Read more >