Self-Guided Adventure
Zen & Now Family Holiday
10 Nights: from AU$10127 (per family)
Trip Code: ZANC
We know that the key to a good family holiday is to keep things simple. This trip is an easy two-centre jaunt to Japan's best-loved cities: Tokyo and Kyoto. With five nights in each you'll have plenty of time to explore, taking things as fast-paced or as relaxed as your family desires. Read more >
If adults come away from Japan enthralled - just imagine visiting as a child. Utterly fascinating yet accessible, a trip to Japan is a mind-opening experience for a whole family. This trip is just begging to be customized. Whether your family wants to try out ninja training in Kyoto, join one of our Insiders on a video game arcade safari across Tokyo, or immerse themselves in the hands-on futuristic art exhibits at teamLab, we can adapt the itinerary to suit your interest.
Japan's capital Tokyo has lots to entertain children of all ages. From play parks to amusement arcades, wacky outlandish fashions to open air historical museums, robots to cat cafes, plus all manner of transportation: boats, buses, subway trains, even rickshaws and a monorail. We've included our Tokyo Mystery Game, a fun way to discover the districts of Asakusa, Harajuku and Shibuya. We've also added in tickets up the Tokyo Skytree so you can see the vast neon cityscape from above.
Two and a half hours on the bullet train will take you on to Kyoto, the epicentre of traditional Japanese culture and home to the country's best temples, shrines and gardens. You'll stay in a self-catering machiya townhouse giving your family privacy and the freedom to come and go as you please. We'll also arrange for you to have a one-night stay in a traditional ryokan inn, but if you'd prefer to stay in your townhouse for the duration, we can adapt the trip for you.
There's probably only so many temples that your kids will tolerate, but fortunately Kyoto has lots more to offer. There's a fantastic train museum, bamboo groves, hands-on craft activities and kimonos to try-on. This trip includes a sushi-making class, but if you'd like to include more cultural lessons, please let us know and we can tailor the trip.
Kyoto is also a fantastic base for day trip. In Nara you can feed the cheeky yet sacred deer; in Osaka why not visit Universal Studios Japan; or unleash your inner samurai at Himeji Castle. Our complimentary Info-Pack is full of family-friendly sightseeing ideas and advice, and our English-speaking Japan office staff are just a phone call away should you have any problems or questions.
Please note that this trip is designed to start in Tokyo at either Narita or Haneda airports, and finish with a shared shuttle bus transfer to Osaka's Kansai International Airport. If you want to return to Tokyo or extend your trip to take in more of the country, let us know and we'll adjust accordingly.
Meals: Everyone has their own food likes and dislikes. As you'll have the freedom of being in self-catering accommodation in Tokyo and Kyoto, it means you get to choose what to have for each meal. We're sure you'll love discovering neighbourhood bakeries serving up fresh pastries, and your Info-Pack will have plenty of suggestions for kids-friendly lunch and dinner options. Hint: "curry rice" (Japanese-style non-spicy curry with sticky rice) is always a hit!
Guideline pricing: The trip price is for a family of four (based on two adults, one teenager and one child aged 6-11), but we know that doesn't reflect the reality of every family - they come in all shapes and sizes. Get in touch and we can put together the perfect trip to fit your family.
What's included
10 nights' accommodation

Breakfast and dinner at your Kyoto ryokan

Manaca transport card with 2,500 yen credit for city transport

Bullet train tickets from Tokyo to Kyoto

Shared shuttle bus airport transfers

Tokyo Skytree tickets

Tokyo Mystery Game

Sushi-making lesson in Kyoto

Family-friendly sightseeing ideas & inspiration

Pocket WiFi device

Your personalised InsideJapan Tours' Info-Pack
What's NOT included:
International flights

Any extra local transport (buses, subways, taxis) unless covered by the included passes

Any entrance fees (including those for temples, shrines and museums) unless otherwise specified

Baggage handling and luggage forwarding
Trip Highlights
Explore Japan's greatest cities: Tokyo & Kyoto

Learn to make your own sushi rolls

Live like a local in a beautiful traditional Kyoto townhouse
Spend a night in a homely ryokan inn

Ride the world famous bullet train

Enjoy quality family time on this gentle-paced trip
For more information email us: [email protected] or call: + 61 7 3186 8800
What, where, when and how...
Zen & Now Family Holiday - 11 Days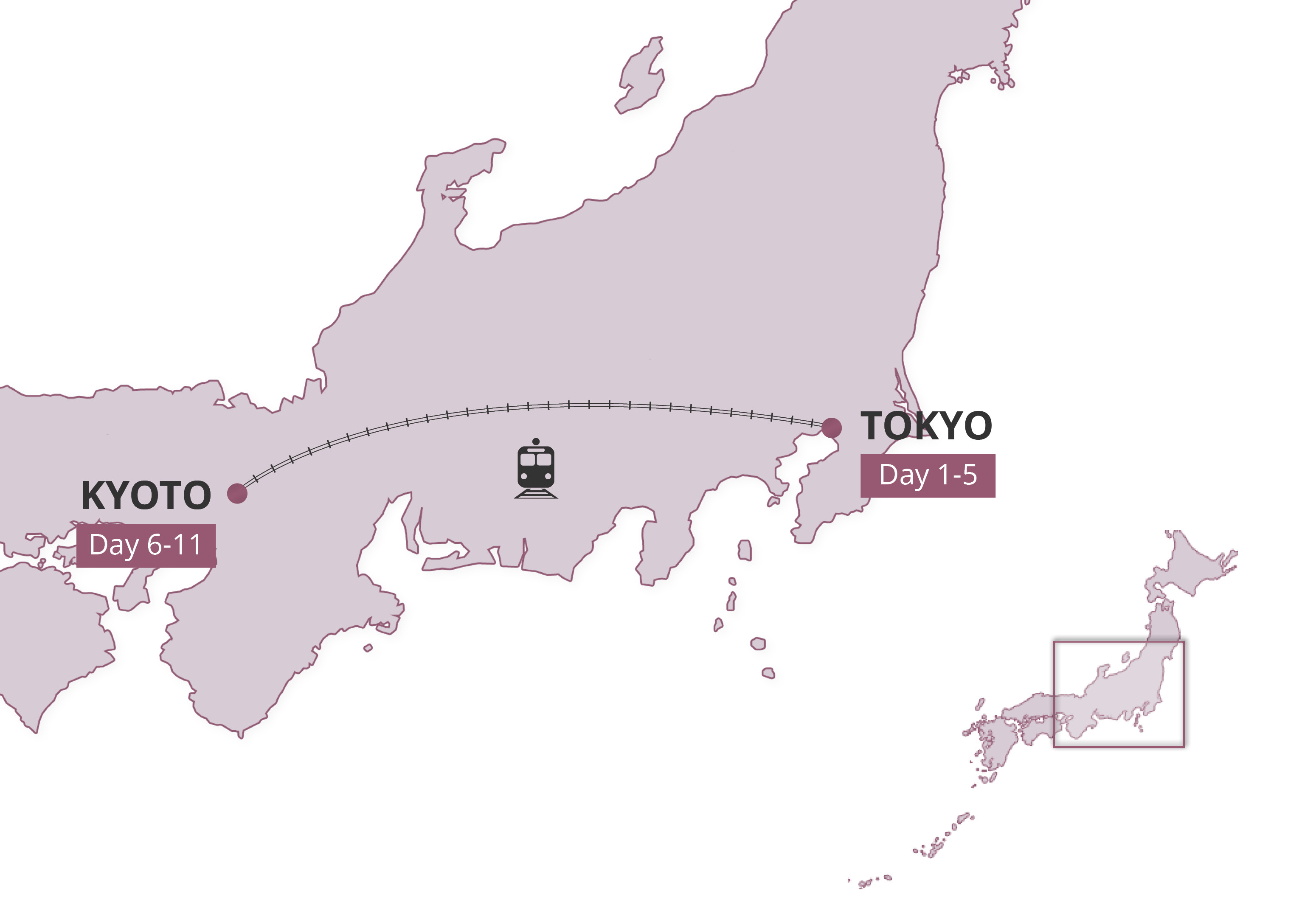 Destinations
Zen & Now Family Holiday - 11 Days - Day by Day
Zen & Now Family Holiday - 11 Days - Accommodation

Zen & Now Family Holiday - 11 Days - Experiences
Day 1-5

Welcome to Tokyo! Explore the parks, museums, wacky restaurants and skyscrapers of the world's greatest capital.

This is a holiday of two halves - first up: Tokyo. You'll stay in one of our favourite mid-range apartment-hotels near Ueno Park, where you get the independence of an apartment with the reassurance of having a hotel reception and friendly staff. It has excellent public transport links to all the main sightseeing areas in the capital.

Our complimentary Info-Pack has lots of family-friendly sightseeing ideas and advice, including our favourite playparks, the best fashion and shopping spots, and the best places to try out video games and arcades.

We've also included tickets up the Tokyo Skytree so you can see the mega metropolis from above, as well as our fantastic Tokyo Mystery Game. Solve the clues to progress from one district to another and along the way visit both famous sites and secret fascinating spots.

Overnight: Mimaru Apartment Hotel

Day 6

Take the bullet train to Kyoto, home of Japan's finest temples, shrines, gardens and geisha.

Next up is Kyoto, the heart of Japanese tradition and culture. After the modernity of Tokyo, to give your family a taste of tradition, your home on the first night will be a homely ryokan inn, where homecooked breakfast and dinner are included.

Overnight: Watazen

Day 7-11

Explore where old meets new in Kyoto

For the last four nights we'll arrange for you to stay in a traditional machiya townhouse, now converted into self-catering accommodation while retaining its charm and character.

You'll have lots of time to explore Kyoto at your own pace, taking in as many or as few temples as suits you all! We have loads of great ideas for sightseeing in Kyoto. Japan's best railway museum is here housing 53 trains from steam locomotives to the most recent bullet trains.

Kyoto sits in a flat basin making it an easy place to walk or cycle. Bikes can be rented easily, and a great route is to cycle along the banks of the Kamo River. The Imperial Palace grounds are another place to let off steam. There's an excellent playground in the northeast corner of the park. If you don't mind parting with some yen, the parallel shopping arcades of Teramachi and Shinkyogoku in the city centre is the beloved hangout spot of Japanese schoolkids. Shops sell all manner of kitsch from pencil cases, to key rings, to flavoured KitKats. There are also plenty of gorgeous craft shops and vintage stores to keep adults happy.

While in Kyoto we'll arrange a hands-on cooking class for your family Kyoto is also a great place for a day trip. Nara is just 40 minutes by train, home to picturesque temples set in a sprawling deer park. Or why not visit Himeji Castle, 45 minutes away on the bullet train.

At the end of your stay in Kyoto we'll arrange a shared shuttle bus transfer to Osaka Kansai Airport ahead of your flight home.

Overnight: Machiya Residence
View all days
Day 1-5

Welcome to Tokyo! Explore the parks, museums, wacky restaurants and skyscrapers of the world's greatest capital.

This is a holiday of two halves - first up: Tokyo. You'll stay in one of our favourite mid-range apartment-hotels near Ueno Park, where you get the independence of an apartment with the reassurance of having a hotel reception and friendly staff. It has excellent public transport links to all the main sightseeing areas in the capital.

Our complimentary Info-Pack has lots of family-friendly sightseeing ideas and advice, including our favourite playparks, the best fashion and shopping spots, and the best places to try out video games and arcades.

We've also included tickets up the Tokyo Skytree so you can see the mega metropolis from above, as well as our fantastic Tokyo Mystery Game. Solve the clues to progress from one district to another and along the way visit both famous sites and secret fascinating spots.

Overnight: Mimaru Apartment Hotel

Day 6

Take the bullet train to Kyoto, home of Japan's finest temples, shrines, gardens and geisha.

Next up is Kyoto, the heart of Japanese tradition and culture. After the modernity of Tokyo, to give your family a taste of tradition, your home on the first night will be a homely ryokan inn, where homecooked breakfast and dinner are included.

Overnight: Watazen

Day 7-11

Explore where old meets new in Kyoto

For the last four nights we'll arrange for you to stay in a traditional machiya townhouse, now converted into self-catering accommodation while retaining its charm and character.

You'll have lots of time to explore Kyoto at your own pace, taking in as many or as few temples as suits you all! We have loads of great ideas for sightseeing in Kyoto. Japan's best railway museum is here housing 53 trains from steam locomotives to the most recent bullet trains.

Kyoto sits in a flat basin making it an easy place to walk or cycle. Bikes can be rented easily, and a great route is to cycle along the banks of the Kamo River. The Imperial Palace grounds are another place to let off steam. There's an excellent playground in the northeast corner of the park. If you don't mind parting with some yen, the parallel shopping arcades of Teramachi and Shinkyogoku in the city centre is the beloved hangout spot of Japanese schoolkids. Shops sell all manner of kitsch from pencil cases, to key rings, to flavoured KitKats. There are also plenty of gorgeous craft shops and vintage stores to keep adults happy.

While in Kyoto we'll arrange a hands-on cooking class for your family Kyoto is also a great place for a day trip. Nara is just 40 minutes by train, home to picturesque temples set in a sprawling deer park. Or why not visit Himeji Castle, 45 minutes away on the bullet train.

At the end of your stay in Kyoto we'll arrange a shared shuttle bus transfer to Osaka Kansai Airport ahead of your flight home.

Overnight: Machiya Residence
Close all days
Other trips you may like
Nagasaki
Kagoshima
Yakushima
Kirishima National Park
Kumamoto
Kurokawa Onsen
Fukuoka

If you're an adventurous traveller who wants to discover a side of Japan rarely seen by outsiders, this itinerary could be the one for you.

13 nights: from AU$4978 pp (twin share) Read more >

Tokyo
Hakone
Kyoto
Hiroshima
Osaka
Takayama
Tokyo

An essential two-week itinerary featuring some of Japan's classic sights, including Tokyo, Kyoto and Mount Fuji.

14 nights: from AU$3705 pp (twin share) Read more >

Tokyo
Hakone
Kyoto
Hakuba
Nagano
Tokyo

Japan is a first class winter sports destination with a twist. Why not combine skiing or snowboarding with a taste of the unique Japanese culture?

13 nights: from AU$5833 pp (twin share) Read more >