Self-Guided Adventure
Northern Highlights
14 Nights: from AU$8721 per person (twin share)
Trip Code: NHS
Japan's Tohoku region stretches 500 miles north of the capital and, in stark contrast to the modern skyscrapers of Tokyo, boasts outstanding natural beauty and well-preserved history – a reminder that traditional ways are still very much alive and well in Japan. Read more >
Japan's Tohoku region stretches 500 miles north of the capital and is an area famed for its countryside, onsen hot springs, mountains and lakes.
Your journey starts and ends in Tokyo. You will begin with a stay in the traditional Asakusa district, with its echoes of pre-war Tokyo, and end with a night in the buzzing entertainment hub of Shinjuku.
In between these city stays you'll soak in a hot spring bath at one of Japan's most celebrated spa resorts, follow in the footsteps of the pilgrims at Mount Haguro, explore the World Heritage temple complex at Nikko, and much more besides.
Whatever time of year you travel you will find that the Tohoku region offers some of the best scenery in Japan. In spring, stroll around the samurai houses in Kakunodate with hundreds of weeping pink cherry blossom plants providing a beautiful backdrop. In autumn, take in the rich oranges and reds surrounding Lake Chuzenji in Nikko National Park. In winter, admire the enchanting snow-capped peaks and frozen lakes of the north.
Japan effortlessly blends the traditional with the modern, and by speeding between destinations on the world-renowned Shinkansen bullet train you will experience these contrasts first-hand. Included car hire for the most rural locations will allow you to get out on the open road and explore even the most hidden parts of Tohoku.
Accommodation will include stays in Western hotels as well as Japanese-style inns, and even an atmospheric shukubo temple lodging where you can experience some of the best of traditional Tohoku cuisine.
What's included
14 nights' accommodation (seven nights Japanese style)

Breakfast every day, eight evening meals and two lunches

Airport transfers by private car

Transport between destinations unless otherwise specified

Nikko Free Pass for transport in the Nikko region

Manaca transport card with 2,500 yen credit for city transport

Car hire on Sado Island (Toyota Corolla or similar)

Eight-hour private guide service in Nikko including entrance fees and lunch

Taiko drumming experience

Pocket WiFi device

Your personalised InsideJapan Info-Pack
What's NOT included:
International flights

Local transport (buses, subways, taxis) unless otherwise specified

Bus or taxi transfers to/from Haguro-san

Bus or taxi transfers to/from Nyuto Onsen

Entrance fees including those for shrines, temples and museums unless otherwise specified

Fuel and tolls for car hire

Baggage handling and luggage forwarding
Trip Highlights
Discover Tokyo with a private guide

Travel by Shinkansen bullet train

Visit the samurai houses in Kakunodate
Stay in a traditional shukubo inn
Have a go at taiko drumming

Wander the shrine complex at Nikko
For more information email us: [email protected] or call: + 61 7 3186 8800
What, where, when and how...
Northern Highlights - 15 Days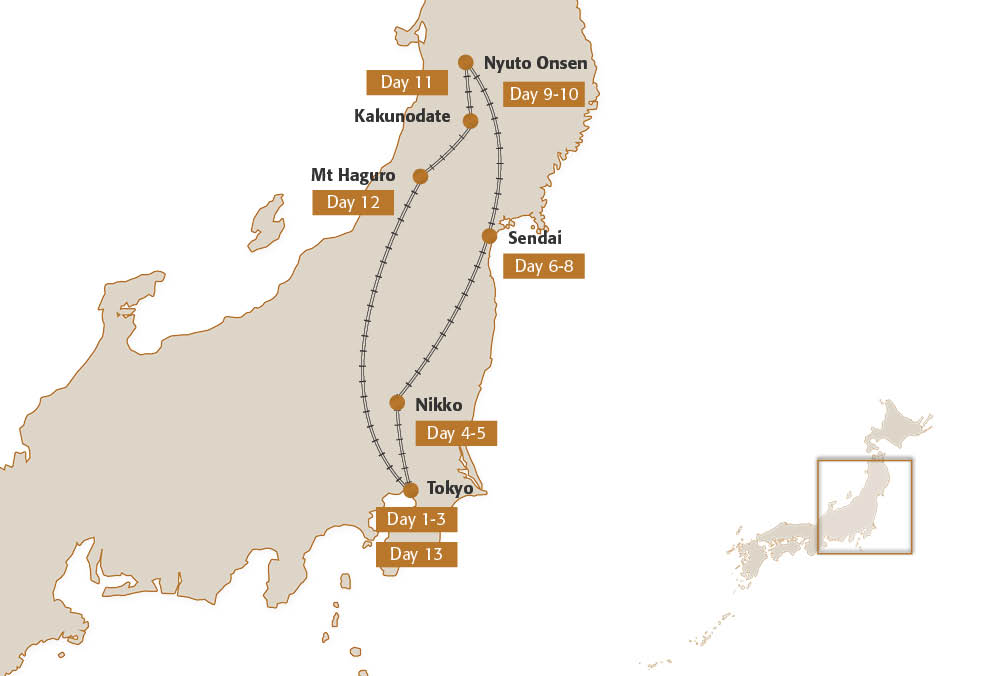 Northern Highlights - 15 Days - Day by Day
Northern Highlights - 15 Days - Accommodation
Northern Highlights - 15 Days - Experiences
Day 1-3

Your adventure begins with a stay in Tokyo's traditional Asakusa district, the perfect base from which to begin exploring the inexhaustible attractions of Japan's capital city.

Welcome to Japan! After being conveyed by private car to your hotel in the Asakusa district, the rest of the day will be free for you to start exploring the city. Asakusa is Tokyo's most traditional district, and just moments from your hotel is the city's oldest temple: Senso-ji. Across the Sumida River you'll also see Tokyo's newest landmark: the 634m Skytree. Armed with your personalised Info-Pack, getting to know Tokyo couldn't be easier.

On your first full day in the city you'll be taken on a tour of Tokyo by a private guide, who will help you get to know a side of the city that most visitors don't get to see. Entrance fees and lunch at a local restaurant will be included, and the itinerary itself will be completely flexible to cater to your needs and interests.

Following your day of sightseeing you'll be accompanied by a guide to watch a morning sumo training session at one of the city's sumo "stables." This is a unique chance to see sumo wrestlers up-close and the experience lasts for around 90 minutes. Transport will be included. Please note that sometimes the stable tour can be cancelled at the last minute due to the wrestlers' schedules, and will not be available during sumo tournaments.

The rest of your day will be free for you to continue exploring Tokyo independently. We suggest that you head to Tsukiji Fish Market for some of the world's freshest sushi or go shopping in Akihabara's "electric town".

Alternatively you could use this time to take a day trip out of the city – the giant Buddha at coastal Kamakura is a popular choice, whilst the energetic amongst you might prefer a day of hiking at Mount Takao. Your Info-Pack will be full of suggestions and details of all the options for today.

Overnight: Gate Hotel Kaminarimon

Day 4-6

Ornate shrines and atmospheric forests provide a dramatic contrast to the hustle and bustle of Tokyo as you begin your journey north with a stop at Nikko.

From Tokyo you will head north by train to Nikko, where a local guide will give you a private tour of the amazing temple complex in its atmospheric forest setting.

Built around the mausoleum of shogun Tokugawa Ieyasau, Toshu-gu Shrine lies at the entrance to Nikko National Park and is the most lavishly decorated shrine in Japan. Lunch and entrance fees will be included as part of the tour, and after your sightseeing you will head to your Japanese-style ryokan inn for a delicious kaiseki dinner.

Your second day in Nikko will be free for you to spend exploring the national park, which is filled with stunning scenery. The included transport pass will cover the buses in the area and allow you to visit the impressive Kegon waterfalls, soak at the nearby hot spring temple, take a cable car ride for fabulous views of Lake Chuzenji and go hiking across the Senjogahara marshland.

Overnight: Senhime Monogatari

Day 7-8

Speed northwards on the bullet train to Sendai, the largest city in the Tohoku region and gateway to the celebrated Matsushima Bay.

Today you'll head north from Nikko to Sendai, the largest city in the Tohoku Region with a population of 1.2 million. To get there you'll be riding the world-famous Shinkansen bullet train, quite an experience in itself!

Nowadays Sendai is known for its high proportion of high-tech industries, but it also has a rich history as the stronghold of the feudal warlord Matsume Date. Date's splendid mausoleum and the excellent Sendai Museum are certainly worth a visit today.

On your second day in Sendai we recommend visiting Matsushima Bay. Dotted with over 200 pine tree-covered islands, this area is celebrated as one of Japan's three most scenic views.

After a 40-minute train ride from central Sendai, take a cruise across the bay and explore Zuigan-ji, one of the regions most important Zen temples. Full details of how to get to Matsushima will be included in your personalised Info-Pack.

Overnight: Westin Sendai

Day 9

Relax in the milky waters and take a stroll in your yukata at one of Japan's finest hot spring resorts, Nyuto Onsen.

The next stop on your adventure will be Nyuto Onsen. To get there you'll speed from Sendai to Tazawa-ko by bullet train before a leisurely bus (or taxi) ride conveys you through the mountains to your destination.

Renowned in Japan as one of the country's most impressive hot spring areas, Nyuto Onsen lies deep in the mountains of Akita Prefecture.

Ramshackle wooden buildings surrounded by woodland, steaming pools of milky-white water, locals making their way from bath to bath or taking a stroll in their yukata cotton kimono – this is the ultimate hot spring experience and will reassure you that traditional ways are very much alive and well in Japan. Dinner will be included at your traditional ryokan inn tonight.

On day nine of your itinerary you will have another full day to either relax at Nyuto Onsen or take a day trip into the surrounding area. Lake Tazawa-ko is Japan's deepest lake and is surrounded by gently sloping hills with some great hiking trails.

You can also take a cruise across the lake, find the famous golden statue of Tatsuko, visit a temple complex and enjoy the various small beaches. The scenic peaks of Mount Komagatake offer a challenge for hikers.

Dinner at your traditional Japanese inn will be included again tonight.

Overnight: Yama no Yado

Day 10

History comes alive at Kakunodate, a superbly well-preserved samurai town with some of the best cherry blossom to be found in the Tohoku region.

From Nyuto Onsen you will make your way to the historic town of Kakunodate. Kakunodate was founded in the early 1600s as a military outpost and once boasted a castle, a collection of grand samurai mansions, and some more modest merchant homes as the class system dictated.

Although the castle has been destroyed, much of the rest of the town remains relatively unchanged and many of the original samurai houses still stand today. A handful of these houses are open to the public, giving a fascinating insight into the life of a samurai.

Kakunodate is also famous for its weeping cherry trees, making it a popular destination for cherry blossom viewing in late April and early May. Dinner will be included at your hotel this evening.

Overnight: Wanoi Kakunodate

Day 11

Spot a mountain monk meditating in the forests as you hike to the top of sacred Mount Haguro and spend the night in a traditional temple lodging.

Your next destination is Mount Haguro, one of the three Dewa Sanzan sacred mountains in Yamagata Prefecture. During your stay here you might be lucky enough to spot one of Haguro's famous mountain monks meditating in the forest as you wander along the mountain paths!

There is a beautiful hike up to the top of the Mount Haguro, leading past hidden temples and pagodas before arriving at the temple complex at the top. The museum at the foot of the mountain will tell you a little more about the history of Buddhism in the area.

Tonight you will stay at an authentic shukubo temple lodging, where you'll also have the chance to sample delicious shojin ryori Buddhist food.

Overnight: Kanbayashi Katsukane Shukubo

Day 12-13

Explore the goldmines of Sado Island and take part in a taiko drumming lesson with some of Japan's best players.

After your night in Haguro you will make your way by train and ferry to Sado Island, a sparsely populated land mass in the Sea of Japan. Here you will explore the island by hire car, allowing you to appreciate the open mountainous countryside, rugged coastlines, hidden beaches, grottoes and remote fishing villages at your own pace.

Ancient tradition perseveres in many of these villages and you may witness the Tub Boat fisherwomen setting sail in small round tubs to catch seafood in the shallow waters! Dinner will be included tonight at your traditional ryokan inn.

On the morning of your second day on Sado you will be taking part in a taiko drumming experience at the Kodo centre. The drummers who train here are arguably the most famous taiko performers in the country and regularly tour internationally, so you'll be learning from the best!

The rest of the day will be free for you to explore the island and we suggest visiting the decommissioned gold mine – once one of the most productive in the world. Dinner will once again be included at your accommodation this evening.

Overnight: Yoshidaya Ryokan

Day 14-15

Return to Tokyo for one last night in Shinjuku, the capital's business and entertainment hub.

Leaving your car at the port, today you will take the ferry to Niigata before catching the Shinkansen back to Tokyo. Your final night in Japan will be spent in Shinjuku, Tokyo's main commerce and entertainment district.

With a wealth of restaurants, bars and karaoke on your doorstop – as well as plenty of last-minute souvenir shops – Shinjuku is the perfect place to end your northern adventure!

As your time in Japan comes to an end you will be picked up from your hotel by private car and whisked in comfort to Tokyo's Narita Airport in time for your departure flight.

Overnight: Keio Plaza Tokyo
View all days
Day 1-3

Your adventure begins with a stay in Tokyo's traditional Asakusa district, the perfect base from which to begin exploring the inexhaustible attractions of Japan's capital city.

Welcome to Japan! After being conveyed by private car to your hotel in the Asakusa district, the rest of the day will be free for you to start exploring the city. Asakusa is Tokyo's most traditional district, and just moments from your hotel is the city's oldest temple: Senso-ji. Across the Sumida River you'll also see Tokyo's newest landmark: the 634m Skytree. Armed with your personalised Info-Pack, getting to know Tokyo couldn't be easier.

On your first full day in the city you'll be taken on a tour of Tokyo by a private guide, who will help you get to know a side of the city that most visitors don't get to see. Entrance fees and lunch at a local restaurant will be included, and the itinerary itself will be completely flexible to cater to your needs and interests.

Following your day of sightseeing you'll be accompanied by a guide to watch a morning sumo training session at one of the city's sumo "stables." This is a unique chance to see sumo wrestlers up-close and the experience lasts for around 90 minutes. Transport will be included. Please note that sometimes the stable tour can be cancelled at the last minute due to the wrestlers' schedules, and will not be available during sumo tournaments.

The rest of your day will be free for you to continue exploring Tokyo independently. We suggest that you head to Tsukiji Fish Market for some of the world's freshest sushi or go shopping in Akihabara's "electric town".

Alternatively you could use this time to take a day trip out of the city – the giant Buddha at coastal Kamakura is a popular choice, whilst the energetic amongst you might prefer a day of hiking at Mount Takao. Your Info-Pack will be full of suggestions and details of all the options for today.

Overnight: Gate Hotel Kaminarimon

Day 4-6

Ornate shrines and atmospheric forests provide a dramatic contrast to the hustle and bustle of Tokyo as you begin your journey north with a stop at Nikko.

From Tokyo you will head north by train to Nikko, where a local guide will give you a private tour of the amazing temple complex in its atmospheric forest setting.

Built around the mausoleum of shogun Tokugawa Ieyasau, Toshu-gu Shrine lies at the entrance to Nikko National Park and is the most lavishly decorated shrine in Japan. Lunch and entrance fees will be included as part of the tour, and after your sightseeing you will head to your Japanese-style ryokan inn for a delicious kaiseki dinner.

Your second day in Nikko will be free for you to spend exploring the national park, which is filled with stunning scenery. The included transport pass will cover the buses in the area and allow you to visit the impressive Kegon waterfalls, soak at the nearby hot spring temple, take a cable car ride for fabulous views of Lake Chuzenji and go hiking across the Senjogahara marshland.

Overnight: Senhime Monogatari

Day 7-8

Speed northwards on the bullet train to Sendai, the largest city in the Tohoku region and gateway to the celebrated Matsushima Bay.

Today you'll head north from Nikko to Sendai, the largest city in the Tohoku Region with a population of 1.2 million. To get there you'll be riding the world-famous Shinkansen bullet train, quite an experience in itself!

Nowadays Sendai is known for its high proportion of high-tech industries, but it also has a rich history as the stronghold of the feudal warlord Matsume Date. Date's splendid mausoleum and the excellent Sendai Museum are certainly worth a visit today.

On your second day in Sendai we recommend visiting Matsushima Bay. Dotted with over 200 pine tree-covered islands, this area is celebrated as one of Japan's three most scenic views.

After a 40-minute train ride from central Sendai, take a cruise across the bay and explore Zuigan-ji, one of the regions most important Zen temples. Full details of how to get to Matsushima will be included in your personalised Info-Pack.

Overnight: Westin Sendai

Day 9

Relax in the milky waters and take a stroll in your yukata at one of Japan's finest hot spring resorts, Nyuto Onsen.

The next stop on your adventure will be Nyuto Onsen. To get there you'll speed from Sendai to Tazawa-ko by bullet train before a leisurely bus (or taxi) ride conveys you through the mountains to your destination.

Renowned in Japan as one of the country's most impressive hot spring areas, Nyuto Onsen lies deep in the mountains of Akita Prefecture.

Ramshackle wooden buildings surrounded by woodland, steaming pools of milky-white water, locals making their way from bath to bath or taking a stroll in their yukata cotton kimono – this is the ultimate hot spring experience and will reassure you that traditional ways are very much alive and well in Japan. Dinner will be included at your traditional ryokan inn tonight.

On day nine of your itinerary you will have another full day to either relax at Nyuto Onsen or take a day trip into the surrounding area. Lake Tazawa-ko is Japan's deepest lake and is surrounded by gently sloping hills with some great hiking trails.

You can also take a cruise across the lake, find the famous golden statue of Tatsuko, visit a temple complex and enjoy the various small beaches. The scenic peaks of Mount Komagatake offer a challenge for hikers.

Dinner at your traditional Japanese inn will be included again tonight.

Overnight: Yama no Yado

Day 10

History comes alive at Kakunodate, a superbly well-preserved samurai town with some of the best cherry blossom to be found in the Tohoku region.

From Nyuto Onsen you will make your way to the historic town of Kakunodate. Kakunodate was founded in the early 1600s as a military outpost and once boasted a castle, a collection of grand samurai mansions, and some more modest merchant homes as the class system dictated.

Although the castle has been destroyed, much of the rest of the town remains relatively unchanged and many of the original samurai houses still stand today. A handful of these houses are open to the public, giving a fascinating insight into the life of a samurai.

Kakunodate is also famous for its weeping cherry trees, making it a popular destination for cherry blossom viewing in late April and early May. Dinner will be included at your hotel this evening.

Overnight: Wanoi Kakunodate

Day 11

Spot a mountain monk meditating in the forests as you hike to the top of sacred Mount Haguro and spend the night in a traditional temple lodging.

Your next destination is Mount Haguro, one of the three Dewa Sanzan sacred mountains in Yamagata Prefecture. During your stay here you might be lucky enough to spot one of Haguro's famous mountain monks meditating in the forest as you wander along the mountain paths!

There is a beautiful hike up to the top of the Mount Haguro, leading past hidden temples and pagodas before arriving at the temple complex at the top. The museum at the foot of the mountain will tell you a little more about the history of Buddhism in the area.

Tonight you will stay at an authentic shukubo temple lodging, where you'll also have the chance to sample delicious shojin ryori Buddhist food.

Overnight: Kanbayashi Katsukane Shukubo

Day 12-13

Explore the goldmines of Sado Island and take part in a taiko drumming lesson with some of Japan's best players.

After your night in Haguro you will make your way by train and ferry to Sado Island, a sparsely populated land mass in the Sea of Japan. Here you will explore the island by hire car, allowing you to appreciate the open mountainous countryside, rugged coastlines, hidden beaches, grottoes and remote fishing villages at your own pace.

Ancient tradition perseveres in many of these villages and you may witness the Tub Boat fisherwomen setting sail in small round tubs to catch seafood in the shallow waters! Dinner will be included tonight at your traditional ryokan inn.

On the morning of your second day on Sado you will be taking part in a taiko drumming experience at the Kodo centre. The drummers who train here are arguably the most famous taiko performers in the country and regularly tour internationally, so you'll be learning from the best!

The rest of the day will be free for you to explore the island and we suggest visiting the decommissioned gold mine – once one of the most productive in the world. Dinner will once again be included at your accommodation this evening.

Overnight: Yoshidaya Ryokan

Day 14-15

Return to Tokyo for one last night in Shinjuku, the capital's business and entertainment hub.

Leaving your car at the port, today you will take the ferry to Niigata before catching the Shinkansen back to Tokyo. Your final night in Japan will be spent in Shinjuku, Tokyo's main commerce and entertainment district.

With a wealth of restaurants, bars and karaoke on your doorstop – as well as plenty of last-minute souvenir shops – Shinjuku is the perfect place to end your northern adventure!

As your time in Japan comes to an end you will be picked up from your hotel by private car and whisked in comfort to Tokyo's Narita Airport in time for your departure flight.

Overnight: Keio Plaza Tokyo
Close all days
Other trips you may like
Tokyo
Mount Fuji
Kyoto
Nara
Osaka
Tokyo

Welcome to one of the most wheelchair-friendly countries in the world. Explore Tokyo, Kyoto, Osaka and more on this exciting 10-night adventure.

10 nights: from AU$6327 pp (twin share) Read more >

Tokyo
Matsumoto
Takayama
Kyoto
Osaka
Tokyo

The whole family can get stuck in to Japanese culture with this hands-on activity holiday.

12 nights: from AU$14611 (per family) Read more >

Tokyo
Hakone
Kyoto
Hiroshima
Osaka
Takayama
Tokyo

An essential two-week itinerary featuring some of Japan's classic sights, including Tokyo, Kyoto and Mount Fuji.

14 nights: from AU$3838 pp (twin share) Read more >