Self-Guided Adventure
Northern Highlights
14 Nights: from AU$6080 per person (twin share)
Trip Code: NHC
When the famous Haiku poet Matsuo Basho set off on his pilgrimage to the North he was to discover rural Japan, a land of lush landscapes and rich in legend. As you journey through the pilgrimage towns of Tohoku and on to remote Sado Island you'll experience some of the same Japan as the great poet. Read more >
As soon as you start heading north from Tokyo into the Tohoku region you begin leaving the crowds behind. This northern half of Japan's main island is considered off the beaten track even amongst Japanese; a region where the pace of life is slower, the culture richer and the hospitality warmer.
Taking you deep into the mountains and along the wild coasts of this beautiful part of Japan, this itinerary will introduce you to a side of the country that most visitors never get to see.
From the ornate temples and shrines of Nikko National Park to the rugged seascapes and unique culture of remote Sado Island; from an atmospheric overnight stay at a pilgrims' lodging to the ramshackle buildings of Nyuto Onsen; be prepared to see a very different side of Japan to what you've known before.
The past is ever-present in the Tohoku region, and as you tour Kakunodate's samurai district and explore the temples atop Mount Haguro, history can seem to come alive.
Though primarily focussed on rural destinations, this itinerary also includes city stays in Sendai and Tokyo, enabling you to experience the striking contrasts between life in the Japanese countryside and life in some of the world's largest metropolises.
From Sendai you'll have the chance to visit the temple complex of Yamadera, clinging to the side of a cliff - and Matsushima Bay, a collection of scenic islets considered to be one of the top three views of Japan.
This is your chance to explore a rich and enchanting side of Japan rarely visited by tourists.
What's included
14 nights' accommodation in Japan (seven nights Japanese style)

Breakfast every day, eight evening meals and one lunch

Airport transfers

Transport between destinations unless otherwise specified

Nikko Free Pass

Morning visit to a sumo stable

Manaca transport card with 2,500 yen credit for use on local transport

Car hire on Sado Island (Toyota Corolla or similar)

Four-hour private guide service in Nikko including entrance fees and lunch

Taiko drumming experience

Pocket WiFi device

Your personalised InsideJapan Info-Pack
What's NOT included:
International flights

Local transport (buses, subways, taxis) at any destination unless otherwise specified

Any entrance fees including those for shrines, temples and museums unless otherwise specified

Petrol (gas) and tolls for car hire on Sado Island

Baggage handling and luggage forwarding
Trip Highlights
Explore the sights and sounds of Tokyo

Try your hand at taiko drumming

Discover the temples of Nikko with a private guide
Watch sumo wrestlers in morning training

Relax in a hot spring bath at Nyuto Onsen

Drive around Sado Island
For more information email us: [email protected] or call: + 61 7 3186 8800
What, where, when and how...
Northern Highlights - 15 Days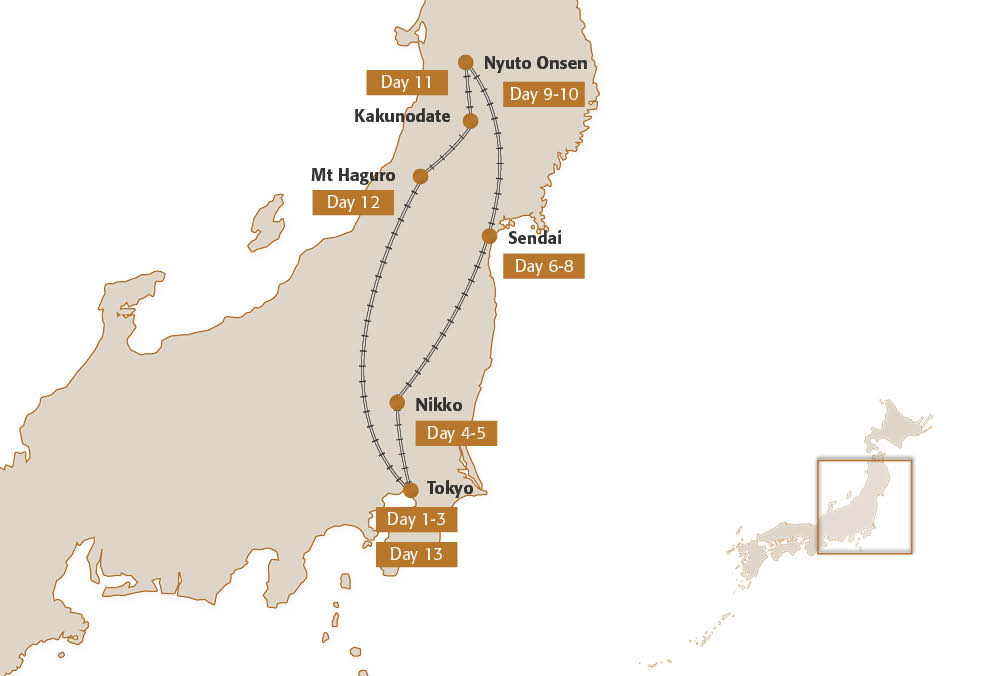 Northern Highlights - 15 Days - Day by Day
Northern Highlights - 15 Days - Accommodation
Northern Highlights - 15 Days - Experiences
Day 1-3

Enjoy a tea ceremony in Hamarikyu Gardens or survey Tokyo from 634m above the ground as you explore the many delights of Japan's capital.

To kick off your northern adventure you will be staying in the Asakusa district of Tokyo, the city's historical quarter and home to Senso-ji: Tokyo's oldest temple. You have the remainder of today to settle in and explore the many great sights within the vicinity of your hotel. There are numerous restaurants nearby and plenty of exciting options to ease you into your Japanese experience.

On your first full day in Tokyo you will be taking a tour of the city with a private guide, who will help you plan an itinerary to cover some of the city's famous spots and some of its more unusual locations.

Perhaps visit Hamarikyu Gardens to participate in a tea ceremony, followed by a walk to the impressive Meiji Shrine and a spectacular view of Tokyo from the Metropolitan Government Buildings.

After an action-packed day of guiding you will have another full day to either continue exploring the city independently or to make a day trip out of Tokyo.

Just a short train ride away you'll find the vast Chinatown at Yokohama; the giant Buddha statue at coastal Kamakura; and some excellent hiking trails around Mount Takao. Details of how to make these day trips and more will be included in your Info-Pack.

Overnight: Gracery Asakusa Hotel

Day 4-5

Swap city life for the peace and quiet of the forest as you take a tour of Japan's most opulent religious architecture in Nikko National Park.

Today you will leave the capital behind to start your journey north. You will travel by local train to Nikko, where a local guide will be waiting to accompany you around some of Nikko's famous shrines and temples.

The craftsmanship of the Tosho-gu Shrine here is truly amazing – keep an eye out for the original "see-no-evil" monkeys carved into the building! Lunch and entrance fees are included and your guide will ensure that you really get the most out of your day. This evening a sumptuous dinner will also be included at your Japanese-style accommodation.

After a relaxing night at your ryokan inn you will have another full day in Nikko to explore the national park, home to a wealth of natural beauty. Highlights include the impressive Kegon waterfalls, the hot spring temple at Yumoto and a cable car ride with great views of Lake Chuzen-ji – as well as plenty of hiking trails.

Lots of suggestions will be included in your Info-Pack and your transport pass will cover local transport.

Overnight: Oedo Onsen Kirifuri

Day 6-7

Speed north on the bullet train to Sendai, a modern city with a rich history.

This morning you will take the local train to Utsunomiya before changing trains for your first trip on the Shinkansen, Japan's world-famous bullet train. This will whisk you on to the city of Sendai, the gateway to the north and a modern city with a rich history.

Based at a hotel in the centre of the city, you will be able to use the loop bus to visit the various historical sights such as the castle ruins and the mausoleum of Sendai's founding father, Date Masamune. Don't forget to try Sendai's speciality food: gyuutan (cow's tongue).

On your second day in Sendai you will have the chance to continue exploring the city or to visit the island-studded bay of Matsushima. This is a beautiful area and the boat trip around the bay is well worthwhile, whilst the small town of Matsushima also has a sleepy temple complex with a fine collection of Japanese art.

In the evening you'll be free to sample some of the local cuisine in Matsushima or Sendai.

Overnight: Richmond Hotel Premier Sendai

Day 8-9

Wend your way into the mountains for a relaxing stay at the hot spring village of Nyuto Onsen, one of the most impressive in Japan.

Today you will hop aboard the Shinkansen and be swept north to Tazakawa-ko, from whence you'll take a bus into the mountain village of Nyuto Onsen.

Quite simply one of the most impressive hot spring towns in Japan, the baths here are scattered through forests and mountains and are a real treat! Dinner will be included tonight at your Japanese-style ryokan inn.

After a night in this secluded mountain village you will have a day to explore the area. We recommend taking a day trip to either Lake Tazawa for a boat cruise or a cycle ride, or over to Mount Akita Komagatake for some great hiking and fabulous views.

In the evening you will be served another fabulous dinner and will have plenty of time to relax and enjoy the hot springs in Nyuto Onsen.

Overnight: Tsurunoyu

Day 10

Walk through history as you explore the ancient samurai town of Kakunodate.

Today you will make your way to Kakunodate, an ancient samurai town set on a plain amongst the Tohoku mountains. There are a number of original samurai residences here to explore and the whole town has a real sense of history to it.

Kakunodate is also the most popular spot in the Tohoku region for cherry blossom viewing, with hundreds of weeping shidareazakura trees around the historic town. Dinner will be included tonight at your hotel.

Overnight: Kakunodate Hotel Folkloro

Day 11

Sample traditional temple fare as you spend the night at a shukubo temple lodging in Haguro village.

Today you will travel south along the Sea of Japan Coast before heading inland once more to Mount Haguro, one of the Dewa Sanzan sacred mountains. Here you will be staying at a traditional shukubo, or pilgrims' lodging, which is sure to be a memorable experience.

Whilst in Haguro you can make the trek up the 2,446 steps to the top of the mountain – or alternatively take the bus! You may also wish to visit the Yamabushi museum in the centre of Haguro village. A typical Buddhist shojin ryori dinner will be included in your stay tonight.

Overnight: Kanbayashi Katsukane Shukubo

Day 12-13

Walk in the shoes of many an exiled intellectual as you take a ferry across to Sado Island for a lesson in taiko drumming.

Today you will catch the train to Niigata before taking the ferry over to Sado Island. The sixth largest of Japan's islands, Sado was once the place of harshest exile. Dangerous political opponents were banished here to live side by side with subversive artists, playwrights and actors, causing Sado to develop a uniquely rich culture and heritage all of its own.

On arrival at Sado's main port you will collect your hire car and begin your exploration of the island. We suggest taking the skyline road and visiting the fascinating gold mine – once one of the most productive in the world! Dinner will be included at your Japanese-style accommodation on both nights of your stay on the island.

On your second day on Sado you will be participating in an hour's taiko drumming experience at the Kodo centre near Ogi. The Kodo drummers are arguably the most famous of all taiko groups in Japan and regularly tour internationally.

The rest of the day will be free for you to explore the island, during which time you might pay a visit to one of the island's sake distilleries.

Overnight: Yoshidaya Ryokan

Day 14-15

Cap off your trip with a night in Tokyo's vibrant entertainment district, a dramatic contrast to your northern adventure!

Today you will drop off your hire car, take the ferry back to the mainland and hop on the Shinkansen for the last time to take you back to the capital city. You will be staying in Shinjuku, the entertainment and business heart of Tokyo. There are literally thousands of bars, restaurants, clubs and karaoke rooms to choose from here, so you're sure to have a fantastic finale to your adventures.

At last it is time for you to leave Japan, and on your final morning you will travel back to Tokyo's Narita airport by limousine bus. Have a safe journey home!

Overnight: Sunroute Plaza Shinjuku
View all days
Day 1-3

Enjoy a tea ceremony in Hamarikyu Gardens or survey Tokyo from 634m above the ground as you explore the many delights of Japan's capital.

To kick off your northern adventure you will be staying in the Asakusa district of Tokyo, the city's historical quarter and home to Senso-ji: Tokyo's oldest temple. You have the remainder of today to settle in and explore the many great sights within the vicinity of your hotel. There are numerous restaurants nearby and plenty of exciting options to ease you into your Japanese experience.

On your first full day in Tokyo you will be taking a tour of the city with a private guide, who will help you plan an itinerary to cover some of the city's famous spots and some of its more unusual locations.

Perhaps visit Hamarikyu Gardens to participate in a tea ceremony, followed by a walk to the impressive Meiji Shrine and a spectacular view of Tokyo from the Metropolitan Government Buildings.

After an action-packed day of guiding you will have another full day to either continue exploring the city independently or to make a day trip out of Tokyo.

Just a short train ride away you'll find the vast Chinatown at Yokohama; the giant Buddha statue at coastal Kamakura; and some excellent hiking trails around Mount Takao. Details of how to make these day trips and more will be included in your Info-Pack.

Overnight: Gracery Asakusa Hotel

Day 4-5

Swap city life for the peace and quiet of the forest as you take a tour of Japan's most opulent religious architecture in Nikko National Park.

Today you will leave the capital behind to start your journey north. You will travel by local train to Nikko, where a local guide will be waiting to accompany you around some of Nikko's famous shrines and temples.

The craftsmanship of the Tosho-gu Shrine here is truly amazing – keep an eye out for the original "see-no-evil" monkeys carved into the building! Lunch and entrance fees are included and your guide will ensure that you really get the most out of your day. This evening a sumptuous dinner will also be included at your Japanese-style accommodation.

After a relaxing night at your ryokan inn you will have another full day in Nikko to explore the national park, home to a wealth of natural beauty. Highlights include the impressive Kegon waterfalls, the hot spring temple at Yumoto and a cable car ride with great views of Lake Chuzen-ji – as well as plenty of hiking trails.

Lots of suggestions will be included in your Info-Pack and your transport pass will cover local transport.

Overnight: Oedo Onsen Kirifuri

Day 6-7

Speed north on the bullet train to Sendai, a modern city with a rich history.

This morning you will take the local train to Utsunomiya before changing trains for your first trip on the Shinkansen, Japan's world-famous bullet train. This will whisk you on to the city of Sendai, the gateway to the north and a modern city with a rich history.

Based at a hotel in the centre of the city, you will be able to use the loop bus to visit the various historical sights such as the castle ruins and the mausoleum of Sendai's founding father, Date Masamune. Don't forget to try Sendai's speciality food: gyuutan (cow's tongue).

On your second day in Sendai you will have the chance to continue exploring the city or to visit the island-studded bay of Matsushima. This is a beautiful area and the boat trip around the bay is well worthwhile, whilst the small town of Matsushima also has a sleepy temple complex with a fine collection of Japanese art.

In the evening you'll be free to sample some of the local cuisine in Matsushima or Sendai.

Overnight: Richmond Hotel Premier Sendai

Day 8-9

Wend your way into the mountains for a relaxing stay at the hot spring village of Nyuto Onsen, one of the most impressive in Japan.

Today you will hop aboard the Shinkansen and be swept north to Tazakawa-ko, from whence you'll take a bus into the mountain village of Nyuto Onsen.

Quite simply one of the most impressive hot spring towns in Japan, the baths here are scattered through forests and mountains and are a real treat! Dinner will be included tonight at your Japanese-style ryokan inn.

After a night in this secluded mountain village you will have a day to explore the area. We recommend taking a day trip to either Lake Tazawa for a boat cruise or a cycle ride, or over to Mount Akita Komagatake for some great hiking and fabulous views.

In the evening you will be served another fabulous dinner and will have plenty of time to relax and enjoy the hot springs in Nyuto Onsen.

Overnight: Tsurunoyu

Day 10

Walk through history as you explore the ancient samurai town of Kakunodate.

Today you will make your way to Kakunodate, an ancient samurai town set on a plain amongst the Tohoku mountains. There are a number of original samurai residences here to explore and the whole town has a real sense of history to it.

Kakunodate is also the most popular spot in the Tohoku region for cherry blossom viewing, with hundreds of weeping shidareazakura trees around the historic town. Dinner will be included tonight at your hotel.

Overnight: Kakunodate Hotel Folkloro

Day 11

Sample traditional temple fare as you spend the night at a shukubo temple lodging in Haguro village.

Today you will travel south along the Sea of Japan Coast before heading inland once more to Mount Haguro, one of the Dewa Sanzan sacred mountains. Here you will be staying at a traditional shukubo, or pilgrims' lodging, which is sure to be a memorable experience.

Whilst in Haguro you can make the trek up the 2,446 steps to the top of the mountain – or alternatively take the bus! You may also wish to visit the Yamabushi museum in the centre of Haguro village. A typical Buddhist shojin ryori dinner will be included in your stay tonight.

Overnight: Kanbayashi Katsukane Shukubo

Day 12-13

Walk in the shoes of many an exiled intellectual as you take a ferry across to Sado Island for a lesson in taiko drumming.

Today you will catch the train to Niigata before taking the ferry over to Sado Island. The sixth largest of Japan's islands, Sado was once the place of harshest exile. Dangerous political opponents were banished here to live side by side with subversive artists, playwrights and actors, causing Sado to develop a uniquely rich culture and heritage all of its own.

On arrival at Sado's main port you will collect your hire car and begin your exploration of the island. We suggest taking the skyline road and visiting the fascinating gold mine – once one of the most productive in the world! Dinner will be included at your Japanese-style accommodation on both nights of your stay on the island.

On your second day on Sado you will be participating in an hour's taiko drumming experience at the Kodo centre near Ogi. The Kodo drummers are arguably the most famous of all taiko groups in Japan and regularly tour internationally.

The rest of the day will be free for you to explore the island, during which time you might pay a visit to one of the island's sake distilleries.

Overnight: Yoshidaya Ryokan

Day 14-15

Cap off your trip with a night in Tokyo's vibrant entertainment district, a dramatic contrast to your northern adventure!

Today you will drop off your hire car, take the ferry back to the mainland and hop on the Shinkansen for the last time to take you back to the capital city. You will be staying in Shinjuku, the entertainment and business heart of Tokyo. There are literally thousands of bars, restaurants, clubs and karaoke rooms to choose from here, so you're sure to have a fantastic finale to your adventures.

At last it is time for you to leave Japan, and on your final morning you will travel back to Tokyo's Narita airport by limousine bus. Have a safe journey home!

Overnight: Sunroute Plaza Shinjuku
Close all days
Other trips you may like
This is a simple little package that proves it needn't break the bank to go on a winter sports holiday in Japan.

7 nights: from AU$2413 pp (twin share) Read more >

Tokyo
Nagano
Kusatsu
Minakami
Lake Chuzenji
Nikko
Tokyo

Discover splendid mountain scenery and hot spring towns in this intrepid driving itinerary along the famous Romantic Road.

10 nights: from AU$4902 pp (twin share) Read more >

Kakunodate
Mount Haguro
Ginzan Onsen
Sendai
Tokyo

Discover the highlights of rural Tohoku in this week-long add-on itinerary - samurai towns, hot spring villages, and sacred mountains.

7 nights: from AU$3154 pp (twin share) Read more >