Self-Guided Adventure
Art and the Seto Inland Sea
14 Nights: from AU$7790 per person (twin share)
Trip Code: ASIS
All over the world, the finest art is found almost exclusively in big cities. But Japan has always done things differently, and on this itinerary you'll discover that Japan's true artistic heart lies not amid skyscrapers and neon – but amongst the rural islands of the Seto Inland Sea. Read more >
Stretching 450 kilometres end-to-end and encompassing nearly 3,000 tiny islands, the Seto Inland Sea lies cradled between the three main Japanese islands of Honshu, Shikoku and Kyushu. Though blessed with beautiful natural scenery and a temperate year-round climate, until recently few outsiders ever visited it the region.
That was until the early 1990s, when a quiet revolution occurred amongst the quiet fishing villages and deserted beaches of the Seto Islands. It began on the island of Naoshima with the opening of the Benesse House Museum - the luxury hotel and art gallery designed by feted architect Tadao Ando. Fast forward nearly 30 years, and the region is overflowing with world-class art. Installations by international artists stand dotted across the hills and beaches, hidden in empty houses and abandoned shrines, and even, on Inujima Island, set in the ruins of a Meiji-era copper refinery.
On this itinerary you'll discover the very best of this hidden world as you explore the tiny islands of Inujima and Teshima, cycle across the sea on the Shimanami Kaido, and spend four nights where it all began - at Benesse House. In addition to your journey through the Inland Sea, you'll spend three full days in the cultural capital of Kyoto, where ancient temples rub shoulders with modern art, stop off in Takamatsu, home of the Isamu Noguchi Garden Museum, and round off your trip in hectic Osaka - perhaps Japan's most exciting city.
Combining the very best of Japan's traditional and modern artistic traditions and taking you far from the tourist trail, this is the ultimate itinerary for art-lovers in Japan.
What's included
14 nights' accommodation in Japan

Breakfast every day and one evening meal

Full-day private guide in Kyoto and Naoshima

All transport between destinations in Japan

Bicycle hire on the Shimanami Kaido

Airport transfers

Pocket WiFi device

Your personalised InsideJapan Info-Pack
What's NOT included:
International flights

Local transport (subways, taxis, buses) at any destination unless otherwise specified

Any entrances fees unless otherwise specified

Baggage handling & luggage forwarding
Trip Highlights
Cycle the spectacular Shimanami Kaido route

Stay at a hotel-cum-art-gallery on Naoshima Island

Explore the "art islands" of the Seto Inland Sea
See modern and traditional art at Kyoto's best galleries

Admire outstanding architecture at the Miho, Isamu Noguchi and Toyo Ito museums

Explore the temples of Kyoto with an expert local guide
For more information email us: [email protected] or call: + 61 7 3186 8800
What, where, when and how...
Art and the Seto Inland Sea - 15 Days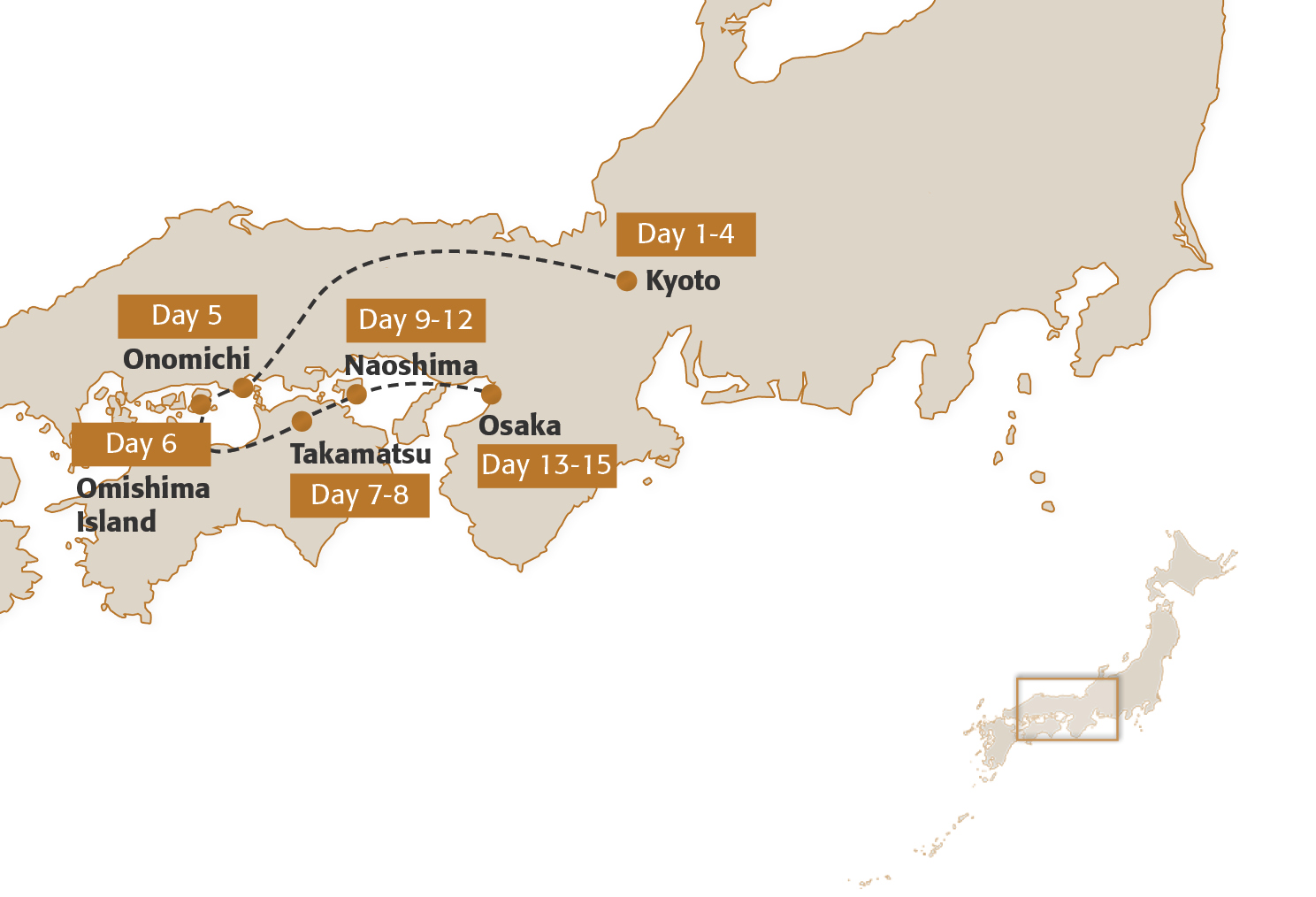 Art and the Seto Inland Sea - 15 Days - Day by Day
Art and the Seto Inland Sea - 15 Days - Accommodation
Art and the Seto Inland Sea - 15 Days - Experiences
Day 1-4

Explore Kyoto with a private guide, visit one of Japan's oldest and most distinguished museums, and take a day trip to the architecturally striking Miho Museum in the Kyoto countryside.

On arrival at Kansai Airport, you will be picked up by a private car and driver and transfer to Kyoto – a drive of just under two hours. The rest of your first day will be yours to relax or begin exploring the city.

On day two you will be joined by a local guide for a full day of sightseeing in the "City of Ten Thousand Temples". Your guide will pick you up from your hotel in the morning and take you on a tour of some of Kyoto's famous sites and lesser-known spots, including some of its finest temples, shrines, gardens and museums. Please let us know in advance if there is anything you particularly wish to see, as we can pass this information on to the guide for you.

On day three, we suggest heading out to sample some of Kyoto's rich artistic offerings. As one of Japan's oldest and most distinguished museums, the Kyoto National Museum is a great place to start. Those interested in Japanese ceramics should stop by the house of legendary potter Kawai Kanjiro, and those who prefer contemporary art should head to the Museum of Modern Art Kyoto (MOMAK) which exhibits a rotating collection of work from the 20th century to the modern day.

On your fourth day in Kyoto, we recommend heading out of the city for a day trip to the Miho Museum. Located in the hills of Shiga Prefecture, the Miho Museum is as famous for its unusual architecture (designed by I.M. Pei, the arhictect responsible for the glass pyramid at the Louvre) as for its impressive collection of historical artefacts. In the south wing are ancient treasures from Egypt, Western Asia, Greece, Rome, China and the Islamic world; in the north wing are Japanese painting and artefacts.

Overnight: The Screen

Day 5

Leave Japan's former capital behind and journey across country to Onomichi, the jumping-off point for the Shimanami Kaido cycle route and your exploration of the Seto Islands.

Today you'll have most of the day at leisure to continue exploring Kyoto. You might like to hike the ten thousand red gates of Fushimi Inari Shrine (we recommend arriving early to avoid the day's crowds), squeeze in a few of the city's lesser-known areas of interest, or head to any of the museums and galleries you didn't manage to see on day three.

This afternoon you'll take the train west to Onomichi, a journey of just over two hours on the shinkansen. Onomichi is the starting point of a the Shimanami Kaido, a cycle route that stretches 70 kilometres from Honshu Island to Shikoku, traversing six islands on the Seto Inland Sea.

Tonight you'll be staying at the aptly named Hotel Cycle – part of Onomichi U2, a bike-friendly enclave which opened in March 2014 to serve the cycling community at the mouth of the Shimanami Kaido. The Onomichi U2 project took over a former maritime warehouse on the waterfront to create a stylish 2,000 sqm complex that contains a bike hire and repair shop, restaurant, bar, bakery, event space, boutique shop as well as the hotel which has 28 guestrooms.

Overnight: Cycle Hotel ONOMICHI U2

Day 6

Get on your bike and set off on the Shimanami Kaido cycle route, stopping for an overnight stay on the little-visited island of Omishima.

Today you'll tackle the mighty Shimanami Kaido! We will make an advance reservation for you to collect bikes from the rental terminal in Onomichi. Staff will be able to help you select the right sized bike and you will need to pay on the day for the bike, which you will be able to drop off at the Imabari rental terminal on Shikoku Island.

After a morning of cycling over bridges and around tiny, rural islands, you'll stop this afternoon on Omishima Island, roughly halfway along the route. Located on the opposite side of the island to the cycle route and facing out to sea is the Toyo Ito Museum of Architecture. The museum comprises two small buildings known as "Steel Hut" and "Silver Hut", both of which were designed by the Pritzker Prize 2013 winner, Toyo Ito. The museum hosts exhibits relating to his work and other themes in contemporary Japanese architecture – not least, the revitalisation of rural Japanese communities through art and design. Admission is 800 yen and the museum is open 9am-5pm.

Tonight you'll stay at a Japanese-style hotel on Omishima Island, with tatami-mat floors and thick futon mattresses. Be sure to try the communal hot-spring baths!

Overnight: Fujimien

Day 7-8

After completing your cycle route, visit the abstract Genichiro Inokuma Museum in Marugame before heading to Takamatsu, the home of the Isamu Noguchi Garden Museum.

On day seven you'll continue cycling on the Shimanami Kaido to reach Imabari on Shikoku Island. The morning will involve approximately 35km of cycling, crossing Hakatajima and Oshima Islands. At the end of the route you can drop off your bike and take a local bus to Imabari Station to begin your exploration of Shikoku – the fourth-largest of Japan's islands.

The first stop on your route is Marugame, the hometown of Japanese abstract master Genichiro Inokuma (1902-1993). Inokuma spent much of his life working in Paris and New York alongside Matisse and Picasso and produced thousands of sculptures and large murals during his lifetime. The Genichiro Inokuma Museum of Contemporary Art features a large permanent exhibition of his work alongside rotating exhibitions by Japanese and international artists. After exploring the gallery, take the train from Marugame to Takamatsu, a journey of 45 minutes. The evening will be at leisure for you to explore this wonderful city.

On day eight, you'll gain an introduction to the life and work of Isamu Noguchi (1904-1988), a prominent Japanese American artist, sculptor and landscape designer whose major works include bridges at the Hiroshima Peace Park and the garden at the UNESCO headquarters in Paris. The Isamu Noguchi Garden Museum is accessible by appointment only and exhibits many of the artists's sculptures – both finished and unfinished – in his former home and studio in Mure, 20 minutes on the train from Takamatsu Station "Energy Void", the largest of the artworks on display, is a 3.6-metre-tall sculpture of black Swedish granite that the building was literally built around.

This evening you'll return to Takamatsu for another evening the city – your last before heading across the sea to Naoshima Island.

Overnight: JR Clement Hotel

Day 9-12

Spend four days exploring Naoshima, Teshima and Inujima – three islands steeped in modern art and beautiful nature.

On day nine you'll catch the 50-minute ferry from Takamatsu to Naoshima, where you'll spend four nights at the Benesse House Museum. Combining art gallery and hotel, the complex blends art, architecture, and the natural world, with ocean views in every room. The rest of the day will be free for you to start getting to know the island – which is easily explored on foot or by bike.

On day ten you will have a full day with a private guide who will be able to help you understand the meaning behind Naoshima's famous artworks, while also introducing you to the history of the island. The day's itinerary is flexible, so the guide can show you the art museums of your choice. Please note that you will need to pay entrance fees and any local transport costs on the day.

There's plenty to keep you occupied for your remaining days on Naoshima. We recommend making a day trip to Teshima Island, a 20-minute ferry ride away, to visit the local art museum – an open-air, concrete structure surrounded by paddy-fields. You might also like to make the short trip to Inujima (or "Dog Island"), where a ruined copper refinery is now the setting for the Seirensho Art Museum.

Overnight: Benesse House

Day 13-15

Return to mainland Honshu Island for two nights in the hectic buzz that is Osaka, one of Japan's most exciting cities.

On day 13 you will take the 20-minute ferry from Naoshima to Uno, and from there travel by train to Osaka, the powerhouse of Japan's Kansai region. Known for its delicious street food and the laid-back exuberance of the local people, Osaka is the perfect place to get a taste of the big city before you head home. We recommend heading to the Nanba district this evening and bar-hopping your way along Dotonbori, stopping in at local izakaya (pub restaurants) to sample the famous local delicacies: okonomiyaki (savoury pancake), takoyaki (fried octopus dumplings) and kushikatsu (deep-fried skewers of meat & vegetables).

On your last full day in Japan, we suggest continuing the artistic theme with a visit to Osaka's National Museum of Art (NMAO), slap-bang in the city centre. Designed by Argentine-American architect Cesar Pelli, most of the exhibition halls are below ground level, while the externally visible structures represent bamboo waving in the breeze. Inside the museum are permanent art spaces featuring Japanese and international contemporary art with regular artist-focused temporary exhibits.

Finally, on day 15, it's time to pack your bags and wave goodbye to Japan, taking the train from Tennoji Station to Kansai Airport for your onward flight.

Overnight: Royal Park Iconic Osaka Midosuji
View all days
Day 1-4

Explore Kyoto with a private guide, visit one of Japan's oldest and most distinguished museums, and take a day trip to the architecturally striking Miho Museum in the Kyoto countryside.

On arrival at Kansai Airport, you will be picked up by a private car and driver and transfer to Kyoto – a drive of just under two hours. The rest of your first day will be yours to relax or begin exploring the city.

On day two you will be joined by a local guide for a full day of sightseeing in the "City of Ten Thousand Temples". Your guide will pick you up from your hotel in the morning and take you on a tour of some of Kyoto's famous sites and lesser-known spots, including some of its finest temples, shrines, gardens and museums. Please let us know in advance if there is anything you particularly wish to see, as we can pass this information on to the guide for you.

On day three, we suggest heading out to sample some of Kyoto's rich artistic offerings. As one of Japan's oldest and most distinguished museums, the Kyoto National Museum is a great place to start. Those interested in Japanese ceramics should stop by the house of legendary potter Kawai Kanjiro, and those who prefer contemporary art should head to the Museum of Modern Art Kyoto (MOMAK) which exhibits a rotating collection of work from the 20th century to the modern day.

On your fourth day in Kyoto, we recommend heading out of the city for a day trip to the Miho Museum. Located in the hills of Shiga Prefecture, the Miho Museum is as famous for its unusual architecture (designed by I.M. Pei, the arhictect responsible for the glass pyramid at the Louvre) as for its impressive collection of historical artefacts. In the south wing are ancient treasures from Egypt, Western Asia, Greece, Rome, China and the Islamic world; in the north wing are Japanese painting and artefacts.

Overnight: The Screen

Day 5

Leave Japan's former capital behind and journey across country to Onomichi, the jumping-off point for the Shimanami Kaido cycle route and your exploration of the Seto Islands.

Today you'll have most of the day at leisure to continue exploring Kyoto. You might like to hike the ten thousand red gates of Fushimi Inari Shrine (we recommend arriving early to avoid the day's crowds), squeeze in a few of the city's lesser-known areas of interest, or head to any of the museums and galleries you didn't manage to see on day three.

This afternoon you'll take the train west to Onomichi, a journey of just over two hours on the shinkansen. Onomichi is the starting point of a the Shimanami Kaido, a cycle route that stretches 70 kilometres from Honshu Island to Shikoku, traversing six islands on the Seto Inland Sea.

Tonight you'll be staying at the aptly named Hotel Cycle – part of Onomichi U2, a bike-friendly enclave which opened in March 2014 to serve the cycling community at the mouth of the Shimanami Kaido. The Onomichi U2 project took over a former maritime warehouse on the waterfront to create a stylish 2,000 sqm complex that contains a bike hire and repair shop, restaurant, bar, bakery, event space, boutique shop as well as the hotel which has 28 guestrooms.

Overnight: Cycle Hotel ONOMICHI U2

Day 6

Get on your bike and set off on the Shimanami Kaido cycle route, stopping for an overnight stay on the little-visited island of Omishima.

Today you'll tackle the mighty Shimanami Kaido! We will make an advance reservation for you to collect bikes from the rental terminal in Onomichi. Staff will be able to help you select the right sized bike and you will need to pay on the day for the bike, which you will be able to drop off at the Imabari rental terminal on Shikoku Island.

After a morning of cycling over bridges and around tiny, rural islands, you'll stop this afternoon on Omishima Island, roughly halfway along the route. Located on the opposite side of the island to the cycle route and facing out to sea is the Toyo Ito Museum of Architecture. The museum comprises two small buildings known as "Steel Hut" and "Silver Hut", both of which were designed by the Pritzker Prize 2013 winner, Toyo Ito. The museum hosts exhibits relating to his work and other themes in contemporary Japanese architecture – not least, the revitalisation of rural Japanese communities through art and design. Admission is 800 yen and the museum is open 9am-5pm.

Tonight you'll stay at a Japanese-style hotel on Omishima Island, with tatami-mat floors and thick futon mattresses. Be sure to try the communal hot-spring baths!

Overnight: Fujimien

Day 7-8

After completing your cycle route, visit the abstract Genichiro Inokuma Museum in Marugame before heading to Takamatsu, the home of the Isamu Noguchi Garden Museum.

On day seven you'll continue cycling on the Shimanami Kaido to reach Imabari on Shikoku Island. The morning will involve approximately 35km of cycling, crossing Hakatajima and Oshima Islands. At the end of the route you can drop off your bike and take a local bus to Imabari Station to begin your exploration of Shikoku – the fourth-largest of Japan's islands.

The first stop on your route is Marugame, the hometown of Japanese abstract master Genichiro Inokuma (1902-1993). Inokuma spent much of his life working in Paris and New York alongside Matisse and Picasso and produced thousands of sculptures and large murals during his lifetime. The Genichiro Inokuma Museum of Contemporary Art features a large permanent exhibition of his work alongside rotating exhibitions by Japanese and international artists. After exploring the gallery, take the train from Marugame to Takamatsu, a journey of 45 minutes. The evening will be at leisure for you to explore this wonderful city.

On day eight, you'll gain an introduction to the life and work of Isamu Noguchi (1904-1988), a prominent Japanese American artist, sculptor and landscape designer whose major works include bridges at the Hiroshima Peace Park and the garden at the UNESCO headquarters in Paris. The Isamu Noguchi Garden Museum is accessible by appointment only and exhibits many of the artists's sculptures – both finished and unfinished – in his former home and studio in Mure, 20 minutes on the train from Takamatsu Station "Energy Void", the largest of the artworks on display, is a 3.6-metre-tall sculpture of black Swedish granite that the building was literally built around.

This evening you'll return to Takamatsu for another evening the city – your last before heading across the sea to Naoshima Island.

Overnight: JR Clement Hotel

Day 9-12

Spend four days exploring Naoshima, Teshima and Inujima – three islands steeped in modern art and beautiful nature.

On day nine you'll catch the 50-minute ferry from Takamatsu to Naoshima, where you'll spend four nights at the Benesse House Museum. Combining art gallery and hotel, the complex blends art, architecture, and the natural world, with ocean views in every room. The rest of the day will be free for you to start getting to know the island – which is easily explored on foot or by bike.

On day ten you will have a full day with a private guide who will be able to help you understand the meaning behind Naoshima's famous artworks, while also introducing you to the history of the island. The day's itinerary is flexible, so the guide can show you the art museums of your choice. Please note that you will need to pay entrance fees and any local transport costs on the day.

There's plenty to keep you occupied for your remaining days on Naoshima. We recommend making a day trip to Teshima Island, a 20-minute ferry ride away, to visit the local art museum – an open-air, concrete structure surrounded by paddy-fields. You might also like to make the short trip to Inujima (or "Dog Island"), where a ruined copper refinery is now the setting for the Seirensho Art Museum.

Overnight: Benesse House

Day 13-15

Return to mainland Honshu Island for two nights in the hectic buzz that is Osaka, one of Japan's most exciting cities.

On day 13 you will take the 20-minute ferry from Naoshima to Uno, and from there travel by train to Osaka, the powerhouse of Japan's Kansai region. Known for its delicious street food and the laid-back exuberance of the local people, Osaka is the perfect place to get a taste of the big city before you head home. We recommend heading to the Nanba district this evening and bar-hopping your way along Dotonbori, stopping in at local izakaya (pub restaurants) to sample the famous local delicacies: okonomiyaki (savoury pancake), takoyaki (fried octopus dumplings) and kushikatsu (deep-fried skewers of meat & vegetables).

On your last full day in Japan, we suggest continuing the artistic theme with a visit to Osaka's National Museum of Art (NMAO), slap-bang in the city centre. Designed by Argentine-American architect Cesar Pelli, most of the exhibition halls are below ground level, while the externally visible structures represent bamboo waving in the breeze. Inside the museum are permanent art spaces featuring Japanese and international contemporary art with regular artist-focused temporary exhibits.

Finally, on day 15, it's time to pack your bags and wave goodbye to Japan, taking the train from Tennoji Station to Kansai Airport for your onward flight.

Overnight: Royal Park Iconic Osaka Midosuji
Close all days
Other trips you may like
Tokyo
Mount Fuji
Kyoto
Nara
Osaka
Tokyo

Welcome to one of the most wheelchair-friendly countries in the world. Explore Tokyo, Kyoto, Osaka and more on this exciting 10-night adventure.

10 nights: from AU$7942 pp (call us to discuss to requirements) Read more >

Kyoto
Miyajima
Matsuyama
Kotohira
Iya Valley
Takamatsu
Osaka

Explore the rural heartlands of Japan whilst helping to sustain unique aspects of Japanese culture and tradition on this classic two-week trip.

13 nights: from AU$5586 pp (twin share) Read more >

Tokyo
Kanazawa
Shirakawago
Takayama
Matsumoto
Tsumago
Kyoto
Tokyo

A budget 14-night adventure taking you into the heart of old Japan, with traditional accommodation and visits to the historic cities of Tokyo & Kyoto.

14 nights: from AU$4066 pp (twin share) Read more >