Self-Guided Adventure
Kumano Kodo Three-Night Module (Gentle Walking)
3 Nights: from AU$1881 per person (twin share)
Trip Code: KK003
This short walking module introduces the Kumano Kodo network of pilgrimage routes with a series of gentle hikes punctuated by stays in traditionl countryside inns and visits to some of the area's famous shrines. This module is designed to be incorporated into a longer Self-Guided Adventure. Read more >
The Kumano Kodo is the name given to an area of pilgrimage routes to the south of Osaka and Kyoto, encompassing parts of Nara, Wakayama and Mie Prefectures.
The Kumano Kodo centres around three great shrines: Hongu Taisha, Nachi Taisha, and Hayatama Taisha - known collectively as the Kumano Sanzan. Emanating from these three shrines the various pilgrimage trails trace their way through dense forest and across high mountain passes and stunning valleys, linking the various sacred sites of the area from Yoshino and Omine to Mount Koya and even as far as the great shrine of Ise - Shintoism's most sacred site.
For more than a thousand years these trails have been trudged by those from all walks of life, from retired emperors to the lowliest of itinerant peasants, and they remain in use as pilgrimage routes to this day.
As you follow in the footsteps of the pilgrims you'll make your way across the tip of the Kii Peninsula from Kii-Tanabe to Kii-Katsuura, a journey that will encompass stays at Kawayu Onsen with its steaming riverbed hot spring baths; Yunomine Onsen, one of Japan's oldest and most enchanting spa towns; and Kii-Katsuura, right on the water and overlooking the bay.
Along the way you'll visit all three of the Kumano Sanzan shrines, stay in traditional Japanese-style accommodation, take a boat cruise on the Kumano River, wander amongst ancient cryptomeria trees and marvel at Japan's tallest waterfall.
The Kumano Kodo is an area not to be missed: steeped in legend and history, with a mystical atmosphere and outstanding natural beauty.
What's included
Three nights' Japanese-style accommodation (two nights fully en suite, one night en suite toilet only)

Breakfast and dinner at your accommodation every day, two bento lunchboxes

All train travel between destinations

Traditional boat cruise on the Kumano River

Same-day luggage shuttle service between destinations on the Kumano Kodo

Kumano Kodo orientation and guidebook

Pocket WiFi device

Personalised InsideJapan Info-Pack
What's NOT included:
Local transport between destinations, including all buses

Any entrance fees, including those for temples, shrines and onsen

Lunch upon arrival in Kii-Tanabe
Trip Highlights
Soak in some of Japan's finest natural onsen baths

Marvel at the tallest waterfall in Japan

Sample kaiseki cuisine
Visit all three of the Kumano Sanzan sacred shrines

Stay in traditional ryokan accommodation

Appreciate the natural beauty of the Kumano area
For more information email us: [email protected] or call: + 61 7 3186 8800
What, where, when and how...
Kumano Kodo Three-Night Module (Gentle Walking) - 4 Days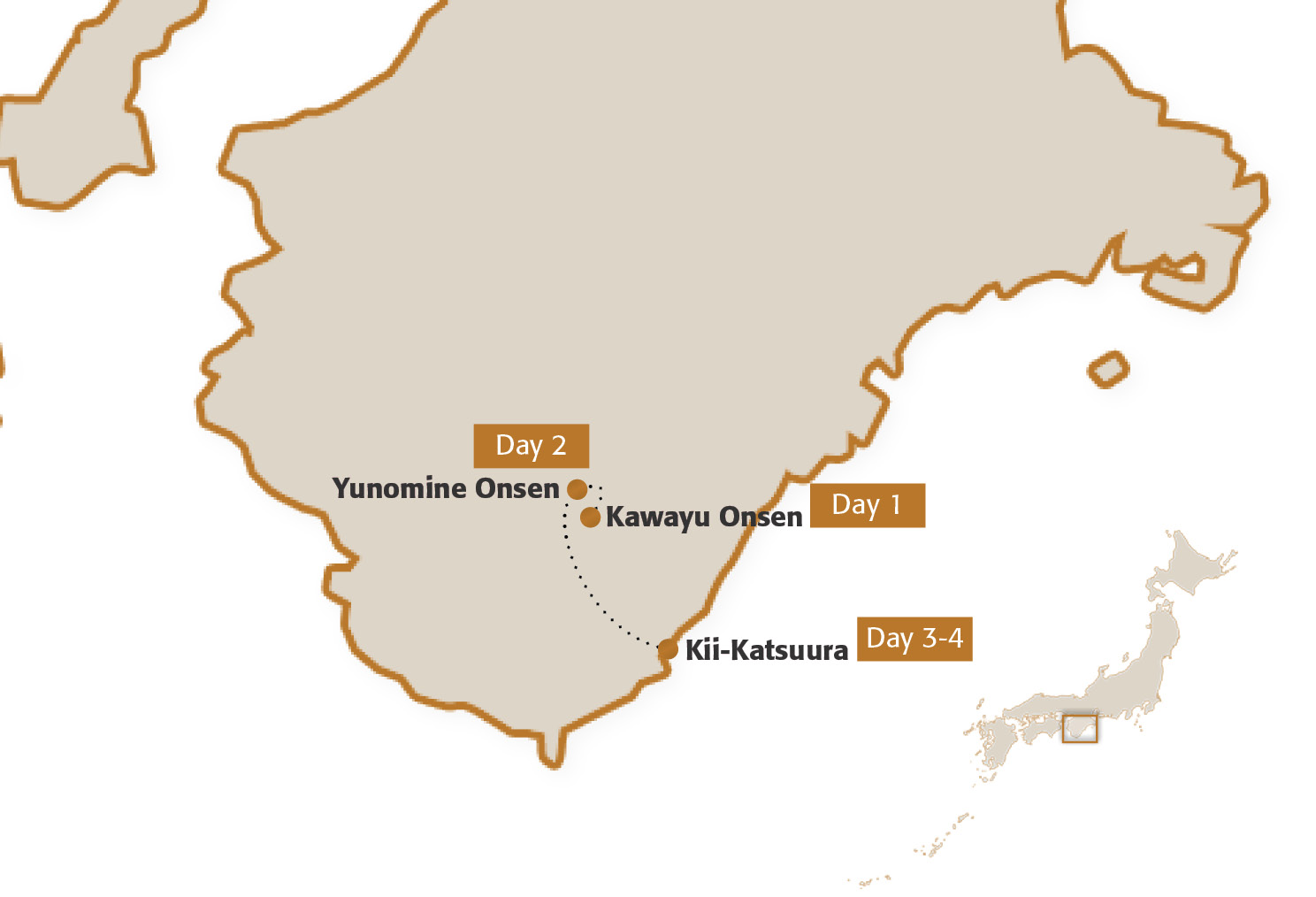 Destinations
Kumano Kodo Three-Night Module (Gentle Walking) - 4 Days - Day by Day
Kumano Kodo Three-Night Module (Gentle Walking) - 4 Days - Accommodation

Kumano Kodo Three-Night Module (Gentle Walking) - 4 Days - Experiences
Day 1

Today you'll catch the train from Kyoto to Kii-Tanabe, a small coastal city in Wakayama Prefecture and for centuries the gateway to the Kumano Kodo.

Here you'll have a quick orientation session, grab a fresh seafood lunch and hop on the bus to Kawayu Onsen in the heart of the Kumano Kodo.

This little onsen village is located a short distance from Hongu Taisha, the main shrine and the point at which all the Kumano Kodo pilgrimage routes converge.

Here you'll be staying at a famous ryokan inn right next to the Oto River, steaming with the heat from volcanic hot springs. A gorgeous kaiseki dinner will be included in your stay here tonight and a bento lunchbox will be provided for your day of walking tomorrow.

Overnight: Fujiya Ryokan

Day 2

After breakfast you'll hop aboard the shuttle bus from your ryokan to Hosshinmon-Oji, one of the Kumano Kodo's most important landmarks and the gate that marks the outermost entrance to Kumano Hongu Taisha.

From the gate you'll walk the seven kilometres to the shrine itself, a route that will lead you past market stalls in Hosshinmon Village, through deep forest, across tea plantations and past terraced fields.

After visiting the shrine, another bus will bring you to Yunomine Onsen, home to the only operational UNESCO World Heritage registered onsen bath in Japan and the site of your next ryokan inn. Dinner will be included here this evening.

Overnight: Adumaya Ryokan

Day 3-4

Your day will begin as you float through steep gorges and past waterfalls along the Kumano River to Kumano Hayatama Taisha, another of the Kumano Sanzan and the first of today's shrines.

After exploring Hayatama Taisha you'll make your way to Daimonzaka Chushajo, from whence you'll walk to the final Kumano shrine: Nachi Taisha. The walk takes about an hour along an impressive cobblestone staircase lined with ancient Japanese cedar trees, and at the end Nachi Taisha stands majestically in front of the largest waterfall in Japan – the 133 m high and 13 m wide Nachi-no-Otaki.

After visiting Nachi Taisha you'll take a short bus ride to Kii-Katsuura, where you'll be staying at a fabulous Japanese-style hotel with hot spring baths looking out across the bay. Dinner will be included at your hotel again tonight.

On day four we recommend making the most of your stay in Kii-Katsuura by getting up early to visit the city's wonderful fish market – a fascinating experience!

Later this morning you'll take a limited express train around the Kii Peninsula to Osaka, a journey of just under four hours.

Overnight: Katsuura Gyoen
View all days
Day 1

Today you'll catch the train from Kyoto to Kii-Tanabe, a small coastal city in Wakayama Prefecture and for centuries the gateway to the Kumano Kodo.

Here you'll have a quick orientation session, grab a fresh seafood lunch and hop on the bus to Kawayu Onsen in the heart of the Kumano Kodo.

This little onsen village is located a short distance from Hongu Taisha, the main shrine and the point at which all the Kumano Kodo pilgrimage routes converge.

Here you'll be staying at a famous ryokan inn right next to the Oto River, steaming with the heat from volcanic hot springs. A gorgeous kaiseki dinner will be included in your stay here tonight and a bento lunchbox will be provided for your day of walking tomorrow.

Overnight: Fujiya Ryokan

Day 2

After breakfast you'll hop aboard the shuttle bus from your ryokan to Hosshinmon-Oji, one of the Kumano Kodo's most important landmarks and the gate that marks the outermost entrance to Kumano Hongu Taisha.

From the gate you'll walk the seven kilometres to the shrine itself, a route that will lead you past market stalls in Hosshinmon Village, through deep forest, across tea plantations and past terraced fields.

After visiting the shrine, another bus will bring you to Yunomine Onsen, home to the only operational UNESCO World Heritage registered onsen bath in Japan and the site of your next ryokan inn. Dinner will be included here this evening.

Overnight: Adumaya Ryokan

Day 3-4

Your day will begin as you float through steep gorges and past waterfalls along the Kumano River to Kumano Hayatama Taisha, another of the Kumano Sanzan and the first of today's shrines.

After exploring Hayatama Taisha you'll make your way to Daimonzaka Chushajo, from whence you'll walk to the final Kumano shrine: Nachi Taisha. The walk takes about an hour along an impressive cobblestone staircase lined with ancient Japanese cedar trees, and at the end Nachi Taisha stands majestically in front of the largest waterfall in Japan – the 133 m high and 13 m wide Nachi-no-Otaki.

After visiting Nachi Taisha you'll take a short bus ride to Kii-Katsuura, where you'll be staying at a fabulous Japanese-style hotel with hot spring baths looking out across the bay. Dinner will be included at your hotel again tonight.

On day four we recommend making the most of your stay in Kii-Katsuura by getting up early to visit the city's wonderful fish market – a fascinating experience!

Later this morning you'll take a limited express train around the Kii Peninsula to Osaka, a journey of just under four hours.

Overnight: Katsuura Gyoen
Close all days
Other trips you may like
Yunomine Onsen
Koguchi
Nachi

Add this advanced hiking module to a longer trip and discover the ancient pilgrimage trails of the Kumano Kodo.

3 nights: from AU$1330 pp (twin share) Read more >

This is a simple little package that proves it needn't break the bank to go on a winter sports holiday in Japan.

7 nights: from AU$2660 pp (twin share) Read more >

Tokyo
Kanazawa
Shirakawago
Takayama
Matsumoto
Tsumago
Kyoto
Tokyo

A classic 14-night adventure introducing the traditional side of Japan, from Japanese-style inns to time-honoured cuisine and ancient temples.

14 nights: from AU$6289 pp (twin share) Read more >