Abashiri
Abashiri, the largest town on the Okhostk Coast of northeastern Hokkaido, is predominantly a fishing town. As well as an abundance of fresh seafood available throughout the year, it is also blessed with natural beauty such as flower gardens and lakes - as well as dramatic ice floes in winter.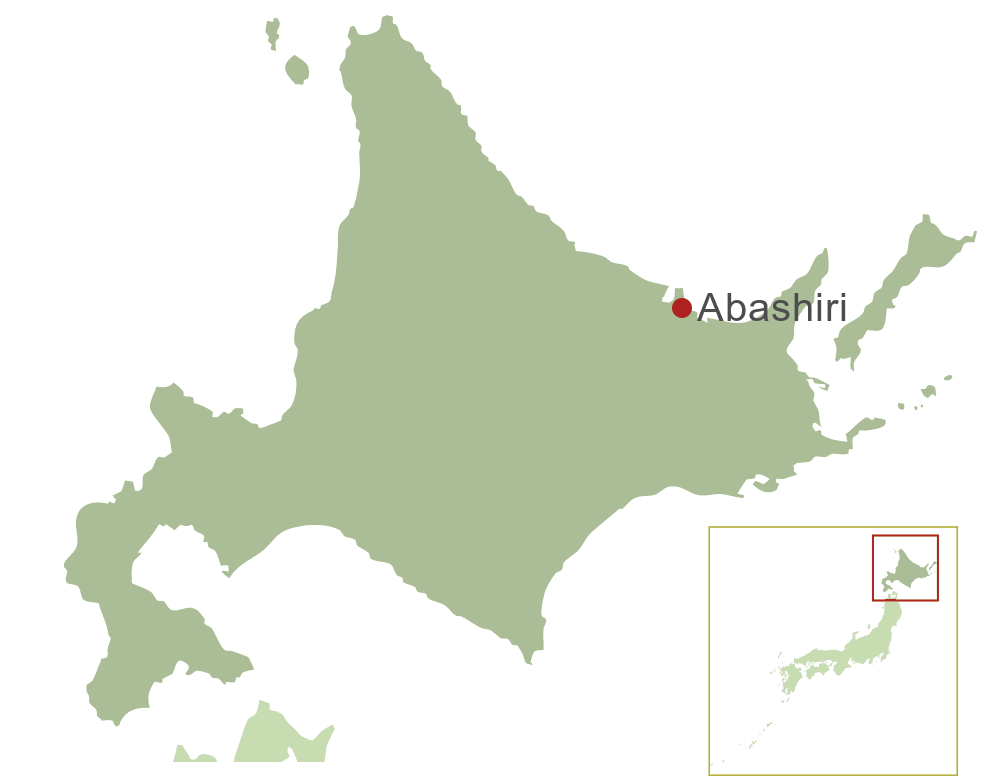 "Have you ever seen a salmon-skin suit? If the answer's no, get yourself to Abashiri!"
Tom Weston, Sales Director
Mention Abashiri to any Japanese person and the first thing they're likely to say is "keimusho" - which means "prison". This is certainly not to say that staying in Abashiri is in any way similar to being banged up behind bars - rather it is in reference to Kangoku, the Meiji-era penal facility built here to house serious offenders and political prisoners.

Opened in 1892, this institution had a fearsome reputation. Thanks to this (and to the exceptionally harsh winters), life for the prisoners here was very tough indeed. Today the prison has been turned into an excellent open-air museum where you can stroll through all the old buildings and even spend some time in a cell if you fancy it!

In addition to the prison, Abashiri has a few other places of interest - such as the Koshimizu Gensei-kaen (Wild Flower Preserve), where about 40 kinds of flowers bloom in spring and summer; Lake Notori-ko, where coral weed turns the surface into a red carpet; Lake Saroma-ko, which is separated from the sea by a long, thin sandbar; and Lake Tofutsu-ko, famous for its swans.
Abashiri's other main attraction is the drifting sea ice that can be seen on the Sea of Okhotsk during the winter. Typically reaching the Abashiri coastline around mid-January and disappearing around mid-April, the ice (called ryuhyo in Japanese) forms a vast landscape of geometric plates stretching as far as the eye can see and is best viewed from the deck of a sightseeing boat.
Another interesting place that you might like to visit is the Okhotsk Ryuhyo-kan (Ice Floe Museum), located on Mount Tento, where you can learn about the science behind the sea ice, watch a wide-screen introductory film (with English subtitles) and enter a special, super-cold room where you can take in a wet towel and see how quickly it freezes at -16 C (3.2 F)!
Finally, we also recommend checking out the Museum of Northern Peoples, which introduces the culture of the Ainu - the indigenous people of Hokkaido - as well as many other northern peoples such as the Inuit, the Sami, and the Siberian peoples.
Recommended Accommodation in Abashiri
The following are our favourites from among the western-style hotels and Japanese-style inns of Abashiri.

Weather in Abashiri
The Climate Guide for Abashiri, Japan is perfect for planning your holiday. Monthly weather averages give the best indication of what the weather is usually like for every month of the year including figures for temperature, rainfall and sunshine.
Jan
Feb
Mar
Apr
May
Jun
Jul
Aug
Sep
Oct
Nov
Dec
Max Daytime Temperature (°C)
-3
-3
0
7
12
15
18
21
18
13
6
0
Min Night-time Temperature (°C)
-10
-11
-7
-1
4
8
12
15
11
6
-1
-6
Hours of Sunshine (Daily)
4
5
6
6
6
5
5
5
5
5
4
4
Hours of Daylight (Daily)
9
10
12
13
15
15
15
14
12
11
10
9
Heat and Humidity Discomfort
None
None
None
None
None
None
None
None
None
None
None
None
Days with some Rainfall
26
23
23
18
18
17
18
18
18
20
22
25
Monthly Rainfall (mm)
70
57
59
87
102
84
109
139
168
135
117
82
UV Index (Maximum)
1
2
3
5
6
7
8
7
5
3
1
1
Featured trips including Abashiri
Tokyo
Tsurui
Lake Kussharo
Abashiri
Sapporo
Kyoto
Yudanaka
Tokyo

Japan in the winter is a magical destination, blanketed in snow and free from the crowds that throng the cultural hotspots in summer.

14 nights: AU$9500 Read more >