Self-Guided Adventure
Pilgrim's Paths
14 Nights: from US$4108 per person (twin share)
Trip Code: PPC
This very special journey through Japan will take you from modern Tokyo to ancient Kyoto via a network of ancient pilgrimage paths known as the Kumano Kodo. Along the way you'll stay at a temple lodging on Koya-san and at various traditional ryokan inns. Read more >
On our Pilgrim's Paths itinerary you will join the ranks of the junreisha, as pilgrims are known in Japanese, as you travel through Japan exploring modern cities, old towns, remote villages and some of the country's most sacred sites.
This very special journey through Japan will take you from modern Tokyo to ancient Kyoto before introducing you to the many pilgrimage routes in the Kansai region.
Become one of the six million visitors per year to visit the Grand Shrine of Ise, one of Shinto's holiest sites. Discover Buddhist tradition and shojin ryori cuisine at Mount Koya. Soak in the relaxing hot spring baths at Yunomine Onsen. This will undoubtedly be a trip to remember!
Although all of the destinations on this itinerary offer a range of fantastic experiences, the highlight of the trip will be hiking along the ancient Kumano Kodo, registered as a UNESCO World Heritage Site in 2004.
This network of ancient pilgrimage trails provides access to the sacred Kumano Sanzan shrines of the Kii Peninsula: Hongu Taisha, Hayatama Taisha and Nachi Taisha. In use for more than 1,000 years, the well-marked paths offer various half- or full-day treks through verdant forest, past beautiful rivers and across stunning mountain passes.
As you journey through Japan you'll stay at an authentic shukubo temple lodging at mysterious Mount Koya and at traditional ryokan inns in Ise, Yunomine Onsen and Chikatsuyu-oji.
Historic cities, ancient forest paths, the most venerated of Shinto shrines and healing volcanic hot spring waters make this a very special spiritual journey through Japan.
What's included
14 nights' accommodation (seven nights Japanese style)

Breakfast each morning, five evening meals and two lunches

Transport between destinations unless otherwise specified

Airport transfers

Insider walking tour of Tokyo

Full day private guide in Mount Koya

Manaca transport card with 2,500 yen credit for city transport

Tea ceremony experience

Cycling tour of Kyoto with lunch included

Kansai Thru Pass

Same-day luggage forwarding service between destinations on the Kumano Kodo (from Kawayu Onsen to Yunomine and from Yunomine to Nachi)

Pocket WiFi device

Your personalised InsideJapan Info-Pack
What's NOT included:
International flights

Local transport at any destination unless otherwise specified

Any entrance fees including those for shrines, temples and museums unless otherwise specified

Baggage handling and luggage forwarding unless otherwise specified
Trip Highlights
Witness the morning prayers at the temples of Mount Koya

Relax in Yunomine Onsen's hot spring baths

Hike the pilgrimage routes of the Kumano Kodo
Take part in a tea ceremony

Visit the Grand Shrine at Ise

Stay at authentic Japanese ryokan inns and a shukubo temple lodging
For more information email us: [email protected] or call: 303 952 0379
What, where, when and how...
Pilgrim's Paths - 15 Days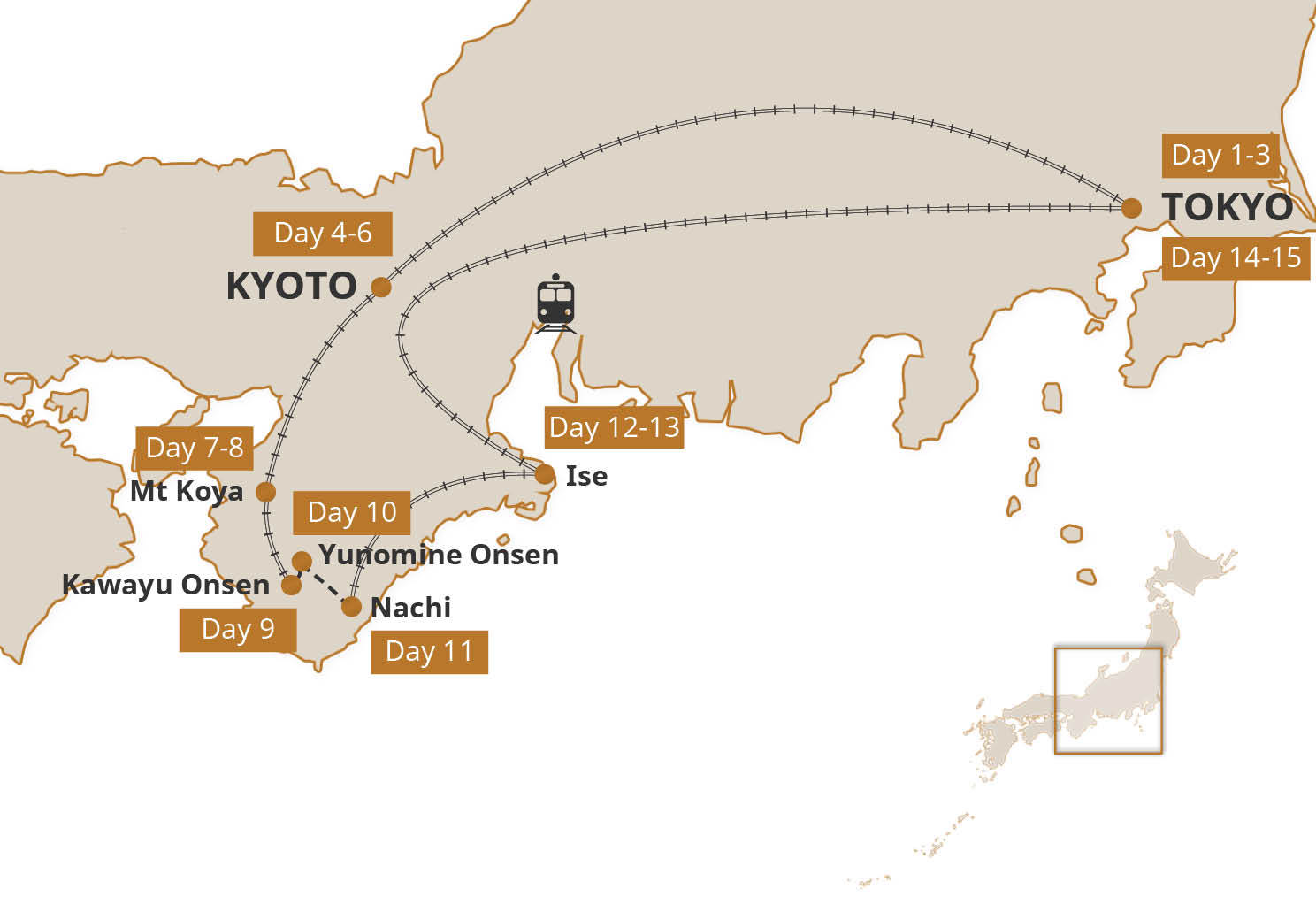 Pilgrim's Paths - 15 Days - Day by Day
Pilgrim's Paths - 15 Days - Accommodation
Pilgrim's Paths - 15 Days - Experiences
Day 1-3

Explore Tokyo, from the traditional district of Ueno to the futuristic delights of Odaiba.

Situated on the banks of the Sumida River, Asakusa is Tokyo's most traditional area and is home to the magnificent Senso-ji Temple as well as a colourful carnival of market stalls, food vendors and traditional ryokan inns. The rest of this first day will be free for you to get to know this area or to venture further afield. Armed with your personalised Info-Pack and a good map, you will be all set to discover Tokyo.
On your first full day in Tokyo you'll meet one of our Insider experts who'll take you and up to 10 InsideJapan Tours travellers on a very special sightseeing tour of Tokyo. As well as visiting famous districts such as Harajuku and the Shibuya zebra crossing, you'll also visit artisans and craftsmen in more traditional parts of town.
With another full day to explore Tokyo on day three, the options are endless. Cross the rainbow bridge to Odaiba, where the famous Gundam statue, futuristic Miraikan museum and a traditional onsen spa centre make for an eclectic afternoon! A sushi breakfast at Tsukiji Fish Market is an unbeatable way to start the day, whilst a cruise along the Sumida River provides an interesting perspective on the surrounding metropolis.

Overnight: Gracery Asakusa Hotel

Day 4-6

Discover Kyoto by bicycle as you speed past machiya townhouses, around the Imperial Palace grounds and through the vibrant district of Miyagawacho

Today you will speed west on the Shinkansen bullet train to Kyoto. Arriving at the architecturally striking Kyoto Station complex you would be forgiven for thinking that this is a modern city like any other, but Kyoto is extremely traditional at its heart. This afternoon will be free for you to begin your explorations – we suggest heading to the old district of Gion at dusk for some geisha-spotting or checking out the array of restaurants in the Pontocho quarter.
On your second day in Kyoto you will be exploring the city by bike with a guide. Relatively flat and with a cycle path running north to south along the Kamogawa River, Kyoto is an ideal city to explore on two wheels. The day's itinerary is flexible and the guide will have plenty of suggestions such as visiting Fushimi Inari Shrine with its thousands of Torii gates in the south, heading along the river and then exploring Kiyomizu-dera Temple, the Path of Philosophy and the Silver Pavilion. Your guide is a local of the Kyoto area and you will get to see far more on this tour than on a conventional coach trip!
On your last day in Kyoto we will arrange for you to participate in a tea ceremony experience at the En teahouse in central Kyoto. Here you'll learn about the history and philosophy of tea ceremony, try the ceremony for yourself and sample the tea and traditional sweets on offer. The rest of your day will be free for you to wander through the bamboo groves in charming Arashiyama, pick up some great souvenirs in the traditional streets around Higashiyama or stop in to admire Sanjusangendo Temple. Your Info-Pack will be full of great suggestions.

Overnight: Mitsui Garden Kawaramachi Jokyoji

Day 7-8

Drink in the atmosphere as you discover sacred Mount Koya with an expert private

The next stop on your pilgrimage is Mount Koya, whose sacred temples form part of the Kii Peninsula World Heritage Site. The journey to Koya is a scenic train ride through stunning mountain scenery, including a vertiginous section of funicular railway up the mountainside.
Once in the town, a twilight walk through the vast Okunoin Cemetery here is highly recommended this evening! Tonight you'll be staying at a shukubo Buddhist temple lodging where you'll tuck in to a meal of shogun ryori, traditional vegetarian fare, for dinner.
On your second day in Koya you'll rise early to witness morning prayers at your shukubo before a full day with a private guide who will be able to give you some great insights into life in the area. Your guide will also be able to recommend some good places for lunch and will answer any questions you may have about the temples, shrines and landmarks you'll be visiting.
If you are keen on hiking please let us know in advance and we will be sure to let the guide know you preferences. Dinner will be included again at your lodgings tonight.

Overnight: Fudoin Shukubo

Day 9

Begin your adventures on the Kumano Kodo in Kawayu Onsen, where you can soak in a riverbed hot spring bath

Today you will catch the train from Koya to Hashimoto and then on to Kii-Tanabe, a small coastal city at the tip of the Kii Peninsula. After a short orientation session at the local tourist information centre followed by a seafood lunch, you'll hop on the bus for the short journey to Kawayu Onsen in the heart of the Kumano Kodo.
Kawayu Onsen is a popular onsen town where hot springs bubble to the surface of the crystal-clear River Oto. You'll be staying in one of the area's most famous ryokan inns right on the riverbank, where you can grab a yukata bathrobe and a shovel and dig your own hot spring bath!
In the winter there is also a large, candlelit senninburo bath carved from the riverbed right opposite your ryokan. A delicious kaiseki dinner will be included at your accommodation this evening, and a bento lunchbox provided for tomorrow.

Overnight: Fujiya Ryokan

Day 10

Visit Hongu Taisha, the very heart of the Kumano Kodo pilgrimage network, and stay in a ryokan inn at Yunomine Onsen

After breakfast at your ryokan, today you will catch the bus to Hosshinmon-oji – the gateway to the outer precincts of Kumano Hongu Taisha, the point at which all the Kumano Kodo pilgrimage routes converge.
Today you'll be walking the 7km from Hosshinmon-oji to the shrine itself, a journey that will take you through traditional Hosshinmon Village, the site of an old school house, terraced fields and tea plantations before leading you over the ridge of Fushiogami-oji to the shrine itself.
After exploring Hongu Taisha you will catch a bus onwards to Yunomine Onsen, one of Japan's oldest spa towns and the location of your ryokan tonight. Be sure to rest your weary muscles in the inn's onset hot springs before enjoying your included kaiseki dinner tonight.

Overnight: Adumaya Ryokan

Day 11

Take a traditional boat ride on the Kumano River, walk part of the Daimonzaka cobbled stairway and marvel at the tallest waterfall in Japan

After a short bus ride from Yunomine to Hitari you will begin your day with a relaxing boat ride down the Kumano River to Hatayama Taisha, another of the three great Kumano Sanzan shrines. Pilgrims have approached this shrine by boat for centuries, and you'll be travelling in a traditional narrow, open-topped boat (albeit with motor!) just as millions have done before you.
After visiting Hatayama Taisha you'll have lunch in Shingu before taking the bus to the Daimonzaka – an impressive 600m cobblestone stairway. You'll be walking a one-hour section of this stairway through bamboo groves and giant cryptomeria trees to Nachi Taisha, the last of the Kumano Sanzan shrines.
The majestic red pagoda of Nachi Taisha, a striking sight in its own right, stands against the backdrop of Nachi-no-Otaki – Japan's tallest waterfall at a dizzying 133 m. Tonight you'll be staying in a tranquil minshuku inn with views of the waterfall and will enjoy another fantastic included dinner.

Overnight: Mitaki Sanso

Day 12-13

Visit one of Shinto's most sacred sites and wander through the well-preserved historical streets of Ise.

Today you will take the bus to Kii-Katsuura before catching the train to Ise, the home of Shinto's two most sacred shrines. This pilgrimage site is visited by a staggering six million Japanese each year. Spend the afternoon exploring the inner and outer areas of the shrine and grounds before heading to your traditional Japanese inn to relax and enjoy a sumptuous dinner.
After a relaxing night at your ryokan you will have another full day in the Ise area to continue exploring the town or venture a little further afield. The Ise Shima region is known for its winding, rugged coastline, with many scenic spots overlooking the islands of Ago Bay and Ise Bay.


Overnight: Hoshide-kan

Day 14-15

Ride the bullet train back to Tokyo for one final night in the heart of the city's entertainment district.

Today you will return to Tokyo for a final night in the capital, to be spent in the city's entertainment and business centre: Shinjuku. Use this opportunity to check out the numerous bars and restaurants on your doorstep or do some last-minute souvenir shopping.
Sadly your adventures in Japan must come to an end, and on your final morning you will transfer to Tokyo's Narita Airport in plenty of time for your departure flight. Have a safe journey home.

Overnight: Sunroute Plaza Shinjuku
View all days
Day 1-3

Explore Tokyo, from the traditional district of Ueno to the futuristic delights of Odaiba.

Situated on the banks of the Sumida River, Asakusa is Tokyo's most traditional area and is home to the magnificent Senso-ji Temple as well as a colourful carnival of market stalls, food vendors and traditional ryokan inns. The rest of this first day will be free for you to get to know this area or to venture further afield. Armed with your personalised Info-Pack and a good map, you will be all set to discover Tokyo.
On your first full day in Tokyo you'll meet one of our Insider experts who'll take you and up to 10 InsideJapan Tours travellers on a very special sightseeing tour of Tokyo. As well as visiting famous districts such as Harajuku and the Shibuya zebra crossing, you'll also visit artisans and craftsmen in more traditional parts of town.
With another full day to explore Tokyo on day three, the options are endless. Cross the rainbow bridge to Odaiba, where the famous Gundam statue, futuristic Miraikan museum and a traditional onsen spa centre make for an eclectic afternoon! A sushi breakfast at Tsukiji Fish Market is an unbeatable way to start the day, whilst a cruise along the Sumida River provides an interesting perspective on the surrounding metropolis.

Overnight: Gracery Asakusa Hotel

Day 4-6

Discover Kyoto by bicycle as you speed past machiya townhouses, around the Imperial Palace grounds and through the vibrant district of Miyagawacho

Today you will speed west on the Shinkansen bullet train to Kyoto. Arriving at the architecturally striking Kyoto Station complex you would be forgiven for thinking that this is a modern city like any other, but Kyoto is extremely traditional at its heart. This afternoon will be free for you to begin your explorations – we suggest heading to the old district of Gion at dusk for some geisha-spotting or checking out the array of restaurants in the Pontocho quarter.
On your second day in Kyoto you will be exploring the city by bike with a guide. Relatively flat and with a cycle path running north to south along the Kamogawa River, Kyoto is an ideal city to explore on two wheels. The day's itinerary is flexible and the guide will have plenty of suggestions such as visiting Fushimi Inari Shrine with its thousands of Torii gates in the south, heading along the river and then exploring Kiyomizu-dera Temple, the Path of Philosophy and the Silver Pavilion. Your guide is a local of the Kyoto area and you will get to see far more on this tour than on a conventional coach trip!
On your last day in Kyoto we will arrange for you to participate in a tea ceremony experience at the En teahouse in central Kyoto. Here you'll learn about the history and philosophy of tea ceremony, try the ceremony for yourself and sample the tea and traditional sweets on offer. The rest of your day will be free for you to wander through the bamboo groves in charming Arashiyama, pick up some great souvenirs in the traditional streets around Higashiyama or stop in to admire Sanjusangendo Temple. Your Info-Pack will be full of great suggestions.

Overnight: Mitsui Garden Kawaramachi Jokyoji

Day 7-8

Drink in the atmosphere as you discover sacred Mount Koya with an expert private

The next stop on your pilgrimage is Mount Koya, whose sacred temples form part of the Kii Peninsula World Heritage Site. The journey to Koya is a scenic train ride through stunning mountain scenery, including a vertiginous section of funicular railway up the mountainside.
Once in the town, a twilight walk through the vast Okunoin Cemetery here is highly recommended this evening! Tonight you'll be staying at a shukubo Buddhist temple lodging where you'll tuck in to a meal of shogun ryori, traditional vegetarian fare, for dinner.
On your second day in Koya you'll rise early to witness morning prayers at your shukubo before a full day with a private guide who will be able to give you some great insights into life in the area. Your guide will also be able to recommend some good places for lunch and will answer any questions you may have about the temples, shrines and landmarks you'll be visiting.
If you are keen on hiking please let us know in advance and we will be sure to let the guide know you preferences. Dinner will be included again at your lodgings tonight.

Overnight: Fudoin Shukubo

Day 9

Begin your adventures on the Kumano Kodo in Kawayu Onsen, where you can soak in a riverbed hot spring bath

Today you will catch the train from Koya to Hashimoto and then on to Kii-Tanabe, a small coastal city at the tip of the Kii Peninsula. After a short orientation session at the local tourist information centre followed by a seafood lunch, you'll hop on the bus for the short journey to Kawayu Onsen in the heart of the Kumano Kodo.
Kawayu Onsen is a popular onsen town where hot springs bubble to the surface of the crystal-clear River Oto. You'll be staying in one of the area's most famous ryokan inns right on the riverbank, where you can grab a yukata bathrobe and a shovel and dig your own hot spring bath!
In the winter there is also a large, candlelit senninburo bath carved from the riverbed right opposite your ryokan. A delicious kaiseki dinner will be included at your accommodation this evening, and a bento lunchbox provided for tomorrow.

Overnight: Fujiya Ryokan

Day 10

Visit Hongu Taisha, the very heart of the Kumano Kodo pilgrimage network, and stay in a ryokan inn at Yunomine Onsen

After breakfast at your ryokan, today you will catch the bus to Hosshinmon-oji – the gateway to the outer precincts of Kumano Hongu Taisha, the point at which all the Kumano Kodo pilgrimage routes converge.
Today you'll be walking the 7km from Hosshinmon-oji to the shrine itself, a journey that will take you through traditional Hosshinmon Village, the site of an old school house, terraced fields and tea plantations before leading you over the ridge of Fushiogami-oji to the shrine itself.
After exploring Hongu Taisha you will catch a bus onwards to Yunomine Onsen, one of Japan's oldest spa towns and the location of your ryokan tonight. Be sure to rest your weary muscles in the inn's onset hot springs before enjoying your included kaiseki dinner tonight.

Overnight: Adumaya Ryokan

Day 11

Take a traditional boat ride on the Kumano River, walk part of the Daimonzaka cobbled stairway and marvel at the tallest waterfall in Japan

After a short bus ride from Yunomine to Hitari you will begin your day with a relaxing boat ride down the Kumano River to Hatayama Taisha, another of the three great Kumano Sanzan shrines. Pilgrims have approached this shrine by boat for centuries, and you'll be travelling in a traditional narrow, open-topped boat (albeit with motor!) just as millions have done before you.
After visiting Hatayama Taisha you'll have lunch in Shingu before taking the bus to the Daimonzaka – an impressive 600m cobblestone stairway. You'll be walking a one-hour section of this stairway through bamboo groves and giant cryptomeria trees to Nachi Taisha, the last of the Kumano Sanzan shrines.
The majestic red pagoda of Nachi Taisha, a striking sight in its own right, stands against the backdrop of Nachi-no-Otaki – Japan's tallest waterfall at a dizzying 133 m. Tonight you'll be staying in a tranquil minshuku inn with views of the waterfall and will enjoy another fantastic included dinner.

Overnight: Mitaki Sanso

Day 12-13

Visit one of Shinto's most sacred sites and wander through the well-preserved historical streets of Ise.

Today you will take the bus to Kii-Katsuura before catching the train to Ise, the home of Shinto's two most sacred shrines. This pilgrimage site is visited by a staggering six million Japanese each year. Spend the afternoon exploring the inner and outer areas of the shrine and grounds before heading to your traditional Japanese inn to relax and enjoy a sumptuous dinner.
After a relaxing night at your ryokan you will have another full day in the Ise area to continue exploring the town or venture a little further afield. The Ise Shima region is known for its winding, rugged coastline, with many scenic spots overlooking the islands of Ago Bay and Ise Bay.


Overnight: Hoshide-kan

Day 14-15

Ride the bullet train back to Tokyo for one final night in the heart of the city's entertainment district.

Today you will return to Tokyo for a final night in the capital, to be spent in the city's entertainment and business centre: Shinjuku. Use this opportunity to check out the numerous bars and restaurants on your doorstep or do some last-minute souvenir shopping.
Sadly your adventures in Japan must come to an end, and on your final morning you will transfer to Tokyo's Narita Airport in plenty of time for your departure flight. Have a safe journey home.

Overnight: Sunroute Plaza Shinjuku
Close all days
Other Active trips you may like
Tokyo
Matsumoto
Takayama
Kyoto
Osaka
Tokyo

The whole family can get stuck in to Japanese culture with this hands-on activity holiday.

12 nights: from US$11648 (per family) Read more >

Takahara
Nonaka
Yunomine Onsen
Koguchi
Kii-Katsuura

A challenging five-night walking module introducing the ancient trails of the Kumano Kodo pilgrimage network.

5 nights: from US$1781 pp (twin share) Read more >

Tokyo
Kyoto
Mount Koya
Kawayu Onsen
Yunomine Onsen
Kii-Katsuura
Ise
Tokyo

Follow in the footsteps of Japanese royalty as you tread the pilgrimage paths of the Kumano Kodo, with superior accommodation and cuisine included.

14 nights: from US$7735 pp (twin share) Read more >