Self-Guided Adventure
Wild Hokkaido
14 Nights: from AU$7467 per person (twin share)
Trip Code: WDH
This summer trip is a fabulous introduction to the multitude of charms of Japan's northern reaches, from the wildlife and rugged scenery of the Shiretoko Peninsula to a spectacular hike in the Daisetsuzan mountains. Read more >
Hokkaido is the second-largest of Japan's four main islands, yet doesn't receive the foot traffic that the others do. You might assume from this that there is not much up here to see, but we'll let you into a secret: Hokkaido is one of the wildest, most rugged parts of Japan, offering sweeping landscapes of smoking volcanoes, steaming hot springs, mist-covered lakes and vast national parks. If you love exploring the great outdoors at your own place, this trip is perfect for you. We can easily adapt the itinerary to suit your interests and the amount of time you have - just let us know.
Unlike the rest of Japan, Hokkaido is not particularly well served by public transport, so this trip includes the use of a hire car. If the thought of driving abroad terrifies you - relax! The roads in Hokkaido are extremely quiet and having your own set of wheels will give you the freedom to travel at your own pace, stopping to admire the views and getting you to places that are inaccessible by public transport.
Wild Hokkaido is perfect for those with an interest in rural Japan: its little villages, its fascinating wildlife, and its spectacular scenery. But this doesn't mean you have to miss out on city life either! The trip begins and ends in Tokyo, the prototypical "big city", where you'll have a chance to see the bright neon and skyscrapers that modern Japan is famous for.
Seasons: This Self-Guided Adventure works best if you travel in July, August or September when the high roads are open and the scenery is at its best.
Driving in Japan: Please note that to drive in Japan you will need to obtain an International Driving Permit (IDP) before you leave your home country.
What's included
14 nights' accommodation

Breakfast every day and seven evening meals

All transport between destinations, including airport transfers and domestic flights

IC transport card with 2,500 yen credit for transport in Tokyo

8-day car hire (pick-up at Memanbetsu Airport, drop-off in Sapporo)

Eight-hour private guide service in Tokyo

Six-hour private guided hike up Mount Asahi

Two-hour cruise around the Shiretoko Peninsula

Four-hour guided trek through the Shiretoko Five Lakes region

Pocket WiFi device

Your personalised InsideJapan Info-Pack
What's NOT included:
International flights

Any entrance fees (including temples, shrines and museums) unless otherwise specified

Any local transport (buses, subways, taxis) unless otherwise specified

Baggage handling and luggage forwarding

Petrol (gas) for car hire in Hokkaido
Trip Highlights
Hike through the beautiful Daisetsuzan National Park

Take a wildlife cruise on the Sea of Okhotsk

Soak in steaming natural hot spring baths
Explore the wilds of Hokkaido by car

Explore Tokyo with the help of a knowledgeable guide

Trek through the Shiretoko Five Lakes with a nature guide
For more information email us: [email protected] or call: + 61 7 3186 8800
What, where, when and how...
Wild Hokkaido - 15 Days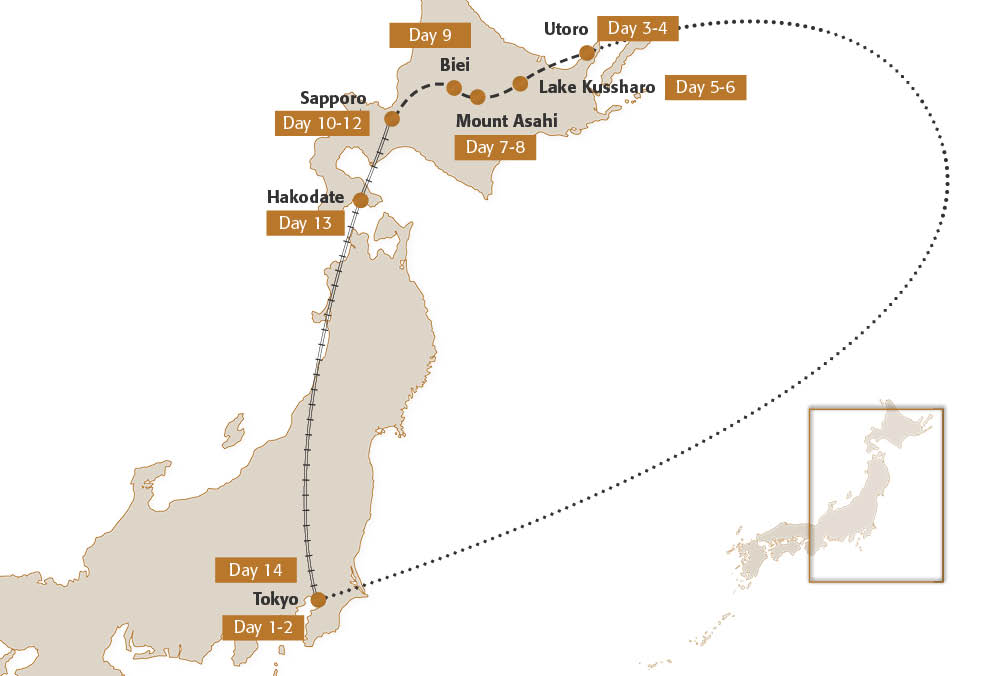 Wild Hokkaido - 15 Days - Day by Day
Wild Hokkaido - 15 Days - Accommodation
Wild Hokkaido - 15 Days - Experiences
Day 1-2

Your trip begins in the vast metropolis that this Tokyo, Japan's capital city.

A shared shuttle transfer will take you from the airport to your hotel in the centre of the city, where you will have the rest of day one to relax and get used to the new time zone. For those with the energy (we applaud you), you will be well placed to begin your exploration of the city. Perhaps you'd like to begin your journey in the traditional Asakusa district of Tokyo, home to Senso-ji Temple and the towering Skytree.

On day two, you will have the full day with a private local guide to make the most of Japan's energetic capital. There is far too much to see for one day, so your guide will tailor the day's itinerary to suit your preferences. We recommend stopping to peruse the high-tech gadgets at Akihabara "electric town", and making time for a cup of green tea in beautiful Hamarikyu Gardens.

Overnight: The B Ginza

Day 3-4

Your northern adventure begins in Utoro on the rugged Shiretoko Peninsula.

On day three you will be driven by private car from your hotel to Haneda Airport, where you will board a plane for the short domestic flight to Memanbetsu in Hokkaido. Here, you will pick up your hire car for the next 10 days and drive the 85 kilometres (52 mi) to Utoro on the west side of the Shiretoko Peninsula. Hokkaido offers an extremely pleasant location for driving, and we are sure you will have no trouble getting used to the differences! The remainder of day three will be at leisure.

Over the next two days you'll get to see some of the best natural scenery and wildlife in the region. On day four you will enjoy a two-hour cruise around the Shiretoko Peninsula. This is a fantastic opportunity to spot some of Hokkaido's wildlife, from whales and dolphins to a wide variety of rare birds.

The rest of the day will be free for you to explore – and with a car at your disposal, the Peninsula is your oyster. Then on the following morning, you'll join an experienced nature guide for a trek through the Shiretoko Five Lakes region. It's mostly flat which gives you plenty of energy to admire the views.

Overnight: Kitakobushi Shiretoko Hotel & Resort

Day 5-6

Today you will move on to Lake Kussharo, in the beautiful Akan National Park.

After your hiking tour of the Shiretoko Five Lakes this morning, you'll drive on to Lake Kussharo. It's a 105km (65 miles) journey and you can enjoy the beautiful countryside on your way.

In the summer months, Lake Kussharo is a fantastic base for water sports, canoeing and fishing – so depending on what time you arrive, you might have time to partake in one of these. Your hotel will be able to help you organise an activity of your choice. Another popular pastime at Lake Kussharo is to soak in one of the local hot spring baths, or to dig your own from the lakeshore! You'll have a whole day at leisure to explore the area and relax.

Overnight: Kussharo Prince Hotel

Day 7-8

Moving westwards across Hokkaido, today you will arrive at Mount Asahi in Daisetsuzan – another of Hokkaido's beautiful national parks.

Mount Asahi, or Asahi-dake, is the tallest mountain in Hokkaido, and the surrounding national park is famous for its excellent hiking opportunities and spectacular scenery. On day five you will drive the 257 kilometres (160 mi) from Lake Kussahro to Mount Asahi. The drive usually takes around four hours, and is the longest journey of the itinerary. We're sure you'll find plenty of spots of interest along the way to break up the day.

On day eight you will have the services of a local guide for a hike up Mount Asahi itself – a great opportunity to enjoy the fabulous views and ask any questions you might about about Hokkaido's distinctive culture.

Overnight: Asahidake Onsen Hotel Bearmonte

Day 9

On day nine you will make the short 40 kilometre (25 mi) to Biei, famous for its rolling fields of brightly coloured flowers.

If you are visiting Hokkaido in July, at Biei you will be greeted by the "patchwork road" – a landscape of rolling hills and wide fields of flowers more reminiscent of Provence than Japan. In summer, this area is awash with brightly coloured flowers – most famously lavender – and has been used in countless advertising campaigns and used on packaging for all kinds of products across Japan. This is a lovely, laid-back place to stop for a night and soak up the pretty surroundings, whether on foot, by bike, or by car.

Overnight: Resort House BIBI

Day 10-12

Sapporo is Hokkaido's capital – a cosmopolitan city that offers a refreshing contrast to the rural destinations you have visited so far.

The drive from Biei to Sapporo is a very manageable 145 kilometres (90 miles), so you can choose whether you'd like to while away more time in Biei or head straight on to the city today. Either way, you will have the rest of the day leisure. You'll also drop off your rental car here.

You'll have the whole of the next day to enjoy Sapporo, famous for its buttery ramen noodles and beer! We can make a reservation to visit one of the beer factories and have a beer garden dinner, so let us know if that interests you.

In the summer, Odori Park at the heart of the city is transformed into a vast beer garden, providing the perfect spot to enjoy the mild (comparatively to mainland Japan) weather and mix with the locals, whose eagerness to make friends after a couple of tipples may surprise you! We also highly recommend trying the Hokkaido specialty, "Genghis Khan" (lamb strips cooked on a dome-shaped hotplate), and making time to visit the Ainu Museum, which is dedicated to the culture of Hokkaido's native people.

On the following day you'll have another free day. We recommend hopping on the train to nearby Otaru, a small canal town with lovely historic streets. If you like Japanese whisky, you can continue on to Yoichi whisky distillery where tours and tastings are available.

Overnight: Richmond Sapporo Eki-mae

Day 13

Your northern odyssey concludes in Hakodate, your last destination on the island of Hokkaido before you zip south to Tokyo on the bullet train.

Hakodate is famous throughout Japan for the wonderful night views from Mount Hakodate, showing the city's twinkling lights laid out below with the blackness of the sea on either side. It's a fittingly spectacular vista to round off your experience of Hokkaido, and certainly not to be missed!

We recommend a visit to the local fish market, where we suggest you try the shio ramen: a noodle dish prepared with squid ink stock. The town's star-shaped Goryokaku Fort, a Western-style citadel built in the dying days of the Edo Period (1603-1868), is another of its famous attractions – and is most impressive when viewed from above at the Goryokaku Tower

Overnight: Mystays Hakodate Goryokaku

Day 14-15

Your trip finishes with a bang as you arrive back in Tokyo, where you'll have a final night in the fast-paced Shinjuku district.

On day 14 you will hop aboard the Shinkansen bullet train for the 4-hour journey south to Tokyo. Enjoy the impeccable service aboard the train as you watch the countryside of northern Japan whizz past, finally arriving back in Tokyo in time to enjoy a final evening in the city. Your hotel is in the exciting Shinjuku district, packed with bars, restaurants and shops, so you will certainly not be at a loss tonight. We suggest a final-night meal at an izakaya (a kind of Japanese pub with tapas-style food) then heading out to a karaoke booth for a really Japanese end to your trip.

Unfortunately your adventure comes to an end on day 15, and you will travel by shared shuttle bus to the airport in time for your flight home.

Overnight: JR Kyushu Blossom Shinjuku
View all days
Day 1-2

Your trip begins in the vast metropolis that this Tokyo, Japan's capital city.

A shared shuttle transfer will take you from the airport to your hotel in the centre of the city, where you will have the rest of day one to relax and get used to the new time zone. For those with the energy (we applaud you), you will be well placed to begin your exploration of the city. Perhaps you'd like to begin your journey in the traditional Asakusa district of Tokyo, home to Senso-ji Temple and the towering Skytree.

On day two, you will have the full day with a private local guide to make the most of Japan's energetic capital. There is far too much to see for one day, so your guide will tailor the day's itinerary to suit your preferences. We recommend stopping to peruse the high-tech gadgets at Akihabara "electric town", and making time for a cup of green tea in beautiful Hamarikyu Gardens.

Overnight: The B Ginza

Day 3-4

Your northern adventure begins in Utoro on the rugged Shiretoko Peninsula.

On day three you will be driven by private car from your hotel to Haneda Airport, where you will board a plane for the short domestic flight to Memanbetsu in Hokkaido. Here, you will pick up your hire car for the next 10 days and drive the 85 kilometres (52 mi) to Utoro on the west side of the Shiretoko Peninsula. Hokkaido offers an extremely pleasant location for driving, and we are sure you will have no trouble getting used to the differences! The remainder of day three will be at leisure.

Over the next two days you'll get to see some of the best natural scenery and wildlife in the region. On day four you will enjoy a two-hour cruise around the Shiretoko Peninsula. This is a fantastic opportunity to spot some of Hokkaido's wildlife, from whales and dolphins to a wide variety of rare birds.

The rest of the day will be free for you to explore – and with a car at your disposal, the Peninsula is your oyster. Then on the following morning, you'll join an experienced nature guide for a trek through the Shiretoko Five Lakes region. It's mostly flat which gives you plenty of energy to admire the views.

Overnight: Kitakobushi Shiretoko Hotel & Resort

Day 5-6

Today you will move on to Lake Kussharo, in the beautiful Akan National Park.

After your hiking tour of the Shiretoko Five Lakes this morning, you'll drive on to Lake Kussharo. It's a 105km (65 miles) journey and you can enjoy the beautiful countryside on your way.

In the summer months, Lake Kussharo is a fantastic base for water sports, canoeing and fishing – so depending on what time you arrive, you might have time to partake in one of these. Your hotel will be able to help you organise an activity of your choice. Another popular pastime at Lake Kussharo is to soak in one of the local hot spring baths, or to dig your own from the lakeshore! You'll have a whole day at leisure to explore the area and relax.

Overnight: Kussharo Prince Hotel

Day 7-8

Moving westwards across Hokkaido, today you will arrive at Mount Asahi in Daisetsuzan – another of Hokkaido's beautiful national parks.

Mount Asahi, or Asahi-dake, is the tallest mountain in Hokkaido, and the surrounding national park is famous for its excellent hiking opportunities and spectacular scenery. On day five you will drive the 257 kilometres (160 mi) from Lake Kussahro to Mount Asahi. The drive usually takes around four hours, and is the longest journey of the itinerary. We're sure you'll find plenty of spots of interest along the way to break up the day.

On day eight you will have the services of a local guide for a hike up Mount Asahi itself – a great opportunity to enjoy the fabulous views and ask any questions you might about about Hokkaido's distinctive culture.

Overnight: Asahidake Onsen Hotel Bearmonte

Day 9

On day nine you will make the short 40 kilometre (25 mi) to Biei, famous for its rolling fields of brightly coloured flowers.

If you are visiting Hokkaido in July, at Biei you will be greeted by the "patchwork road" – a landscape of rolling hills and wide fields of flowers more reminiscent of Provence than Japan. In summer, this area is awash with brightly coloured flowers – most famously lavender – and has been used in countless advertising campaigns and used on packaging for all kinds of products across Japan. This is a lovely, laid-back place to stop for a night and soak up the pretty surroundings, whether on foot, by bike, or by car.

Overnight: Resort House BIBI

Day 10-12

Sapporo is Hokkaido's capital – a cosmopolitan city that offers a refreshing contrast to the rural destinations you have visited so far.

The drive from Biei to Sapporo is a very manageable 145 kilometres (90 miles), so you can choose whether you'd like to while away more time in Biei or head straight on to the city today. Either way, you will have the rest of the day leisure. You'll also drop off your rental car here.

You'll have the whole of the next day to enjoy Sapporo, famous for its buttery ramen noodles and beer! We can make a reservation to visit one of the beer factories and have a beer garden dinner, so let us know if that interests you.

In the summer, Odori Park at the heart of the city is transformed into a vast beer garden, providing the perfect spot to enjoy the mild (comparatively to mainland Japan) weather and mix with the locals, whose eagerness to make friends after a couple of tipples may surprise you! We also highly recommend trying the Hokkaido specialty, "Genghis Khan" (lamb strips cooked on a dome-shaped hotplate), and making time to visit the Ainu Museum, which is dedicated to the culture of Hokkaido's native people.

On the following day you'll have another free day. We recommend hopping on the train to nearby Otaru, a small canal town with lovely historic streets. If you like Japanese whisky, you can continue on to Yoichi whisky distillery where tours and tastings are available.

Overnight: Richmond Sapporo Eki-mae

Day 13

Your northern odyssey concludes in Hakodate, your last destination on the island of Hokkaido before you zip south to Tokyo on the bullet train.

Hakodate is famous throughout Japan for the wonderful night views from Mount Hakodate, showing the city's twinkling lights laid out below with the blackness of the sea on either side. It's a fittingly spectacular vista to round off your experience of Hokkaido, and certainly not to be missed!

We recommend a visit to the local fish market, where we suggest you try the shio ramen: a noodle dish prepared with squid ink stock. The town's star-shaped Goryokaku Fort, a Western-style citadel built in the dying days of the Edo Period (1603-1868), is another of its famous attractions – and is most impressive when viewed from above at the Goryokaku Tower

Overnight: Mystays Hakodate Goryokaku

Day 14-15

Your trip finishes with a bang as you arrive back in Tokyo, where you'll have a final night in the fast-paced Shinjuku district.

On day 14 you will hop aboard the Shinkansen bullet train for the 4-hour journey south to Tokyo. Enjoy the impeccable service aboard the train as you watch the countryside of northern Japan whizz past, finally arriving back in Tokyo in time to enjoy a final evening in the city. Your hotel is in the exciting Shinjuku district, packed with bars, restaurants and shops, so you will certainly not be at a loss tonight. We suggest a final-night meal at an izakaya (a kind of Japanese pub with tapas-style food) then heading out to a karaoke booth for a really Japanese end to your trip.

Unfortunately your adventure comes to an end on day 15, and you will travel by shared shuttle bus to the airport in time for your flight home.

Overnight: JR Kyushu Blossom Shinjuku
Close all days
Other trips you may like
Tokyo
Hakone
Kyoto
Kinosaki Onsen
Osaka

Japan's hot spring bathing culture and scenic countryside make it a wonderfully romantic setting for a honeymoon.

11 nights: from AU$8987 pp (twin share) Read more >

Tokyo
Kanazawa
Noto Peninsula
Japan Alps
Nagano
Kusatsu
Minakami
Lake Chuzenji
Tokyo

Pile into your rental car for an unforgettable family adventure around Japan, including the Japan Alps, and the outdoor adventure mecca of Minakami.

14 nights: from AU$25897 (per family) Read more >

Takahara
Nonaka
Yunomine Onsen
Kii-Katsuura

This intermediate walking module offers five days exploring part of the Kumano Kodo, one of the most beautiful and mystical corners of Japan.

4 nights: from AU$2223 pp (twin share) Read more >