Self-Guided Adventure
Japan Solo
11 Nights: from AU$5225 per person
Trip Code: JSOLO
While any of our Self-Guided Adventures can be undertaken by yourself, this trip has been specially designed with solo travellers in mind. We've balanced time for solo discovery with numerous chances to meet fellow travellers and interact with the Japanese in hands-on cultural activities. Read more >
This solo adventure will see you travelling by bullet train from Tokyo to Kyoto and Hiroshima. You'll also visit the sacred island of Miyajima where you'll stay in a traditional Japanese inn, and the buzzing city of Osaka for a night in a capsule pod! While you'll make your way between cities and stay in the hotels alone, we've thrown in lots of group activities on this trip to facilitate meeting people - from a cooking class in Tokyo, to a samurai sword lesson in Kyoto and a nighttime street food tour in Osaka.
Solitude is a glorious thing and is often the best way to soak up Japanese culture. Contemplate Zen at one of Kyoto's tranquil rock gardens, or hike in peace to the top of Mount Misen on Miyajima Island. Cast yourself adrift in the crowds at Tokyo's famous zebra crossroads or absorb Hiroshima's tragic past at the Peace Museum.
Eating out alone is common practice in Japan, and what's more, the country is one of the safest places to travel in the whole world. Japanese people may appear to be on the shy side, but if you're travelling alone, you'll find locals especially keen to go out of their way to help you with directions and sightseeing recommendations.
Our staff regularly travel solo on research trips in Japan and all of our Travel Consultants have tips to share from their favourite sushi joints to the most peaceful temples. You'll also receive our InsideJapan Tours Info-Pack packed full of sightseeing and restaurant recommendations plus tailormade instructions for each journey on your trip. Our Japan office is also just a phone call away should you get lost in translation at any point.
Please note: During the popular travel seasons such as cherry blossom in Spring, and the autumn leaves in October/November, many 'ryokan' style accommodation will restrict rooms from being used on a solo basis. Our consultants can discuss options with you but may need to adjust the routing or accommodation depending on the season.
What's included
11 nights' accommodation (two nights' Japanese style, one night capsule hotel)

Breakfast every day except the night of the capsule hotel

Three dinners and two lunches

All transport between destinations

Shared shuttle bus airport transfers

7-day Japan Rail Pass

Manaca transport card with 2,500 yen credit for city transport

Group Japanese cooking class in Tokyo

Tokyo Mystery Game card

Four-hour private guide service in Kyoto

Group guided walking tour of Gion

Group samurai sword lesson in Kyoto

Group night food tour of Osaka

Tokyo Skytree ticket

Pocket WiFi device

Your personalised InsideJapan Tours Info-Pack
What's NOT included:
International flights

Local transport (buses, subways, taxis) at any destination unless otherwise specified

Any entrance fees including those for shrines, temples and museums

Baggage handling and luggage forwarding
Trip Highlights
Stay in a traditional ryokan inn and a capsule hotel

Take the world famous bullet train

Join an elegant tea ceremony on Miyajima island
Learn Japanese cuisine in a hands-on class

Don samurai attire and learn swordmanship in Kyoto

Uncover the secrets of Tokyo in our Mystery Game
For more information email us: [email protected] or call: + 61 7 3186 8800
What, where, when and how...
Japan Solo - 12 Days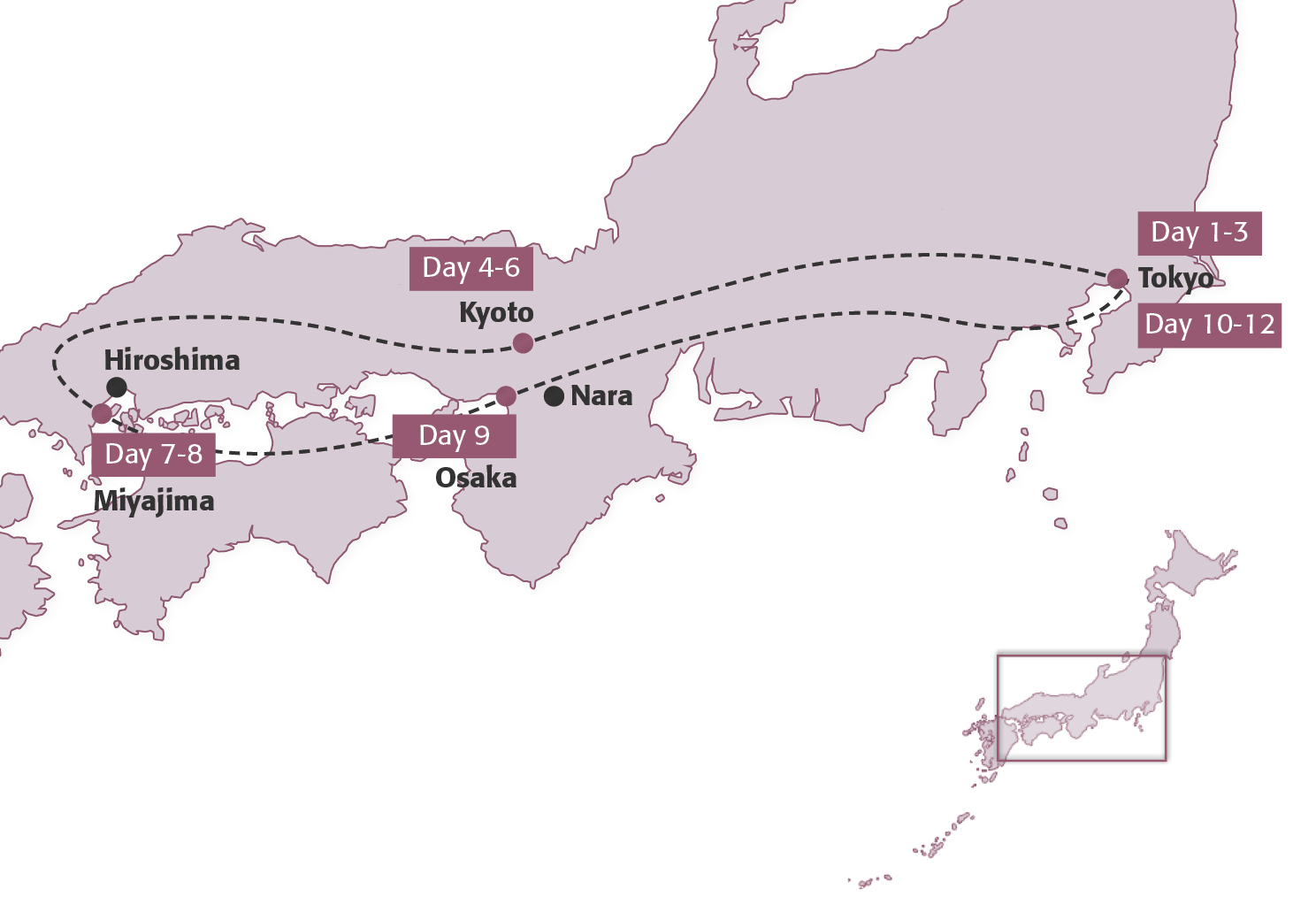 Destinations
Japan Solo - 12 Days - Day by Day
Japan Solo - 12 Days - Accommodation
Day 1-3

Explore the capital by solving the clues in our Tokyo Mystery Game, then meet other travellers in a hands-on cookery class.

Welcome to Tokyo, the world's most exciting capital city. Your base will be the historic district of Asakusa where streets of antique shops, ceramics and vintage kimono lead to Senso-ji, the oldest temple in Tokyo. On your first full day we'll give you all the clues you need to tackle our Tokyo Mystery Game which will lead you across the city on public transport to famous districts and shrines as well as some interesting backstreets and areas you might not find yourself.
On day two we'll arrange for you to join a group lesson at a popular cookery school. Your teacher, a born-and-bred Tokyoite, will reveal the secrets of Japanese cuisine.

Overnight: Richmond Asakusa

Day 4-6

Travel on to Kyoto the cultural heart of Japan. Glimpse a geisha if you're lucky on an evening guided tour of Gion.

Next stop is Kyoto, home of Japan's very best cuisine, gardens and geisha. Kyoto was once the capital of Japan for more than 1,000 years and the seat of the emperor. Consequently this is the most culturally rich city in Asia with more shrines and temples than you can shake a stick at!
To help you escape the crowds and discover some of Kyoto's most scenic spots, we've set up two tours for you. The first is a group walking tour in the early evening around Gion, Kyoto's premier geisha district. If you're lucky you may catch a glimpse of a geisha or maiko (apprentice) on her way to a teahouse appointment.
On your second day in Kyoto, you'll have the services of a private local guide for the morning who can explain the city's intricate culture and long history. This evening things get a little more light-hearted – joining other travellers, you'll don samurai attire to learn the principles of sword dancing. Follow the choreography to master a samurai sword dance!
Your final day in Kyoto is free for you to further explore independently. Or you might like to take advantage of the included Japan Rail Pass and make a day trip to Nara, home of the great Buddha statue at Todai-ji Temple.

Overnight: OMO5 Kyoto Sanjo

Day 7-8

Visit Hiroshima's Peace Memorial Park en-route to the sacred shrine island of Miyajima.

Another trip on the bullet train will whisk you from Kyoto to Hiroshima in two hours. Here a detour into Hiroshima city centre is well worth the time to pay your respects at the Peace Memorial Park and to explore the moving Peace Museum.
After that, hop on a short ferry ride to reach Miyajima. A sacred shrine island, once upon a time only Shinto priests were allowed to step foot on the island after passing through the giant red gate in the sea. Today everyone is welcome on the island, and while most people just visit as a day trip, you'll be spending two nights in a traditional Japanese inn.
On your second day in Miyajima you could hire a bike to explore, or hike to the top of Mount Misen to take in the views of the Seto Inland Sea. We'll also arrange for you to join a group tea ceremony in an elegant teahouse.

Overnight: Watanabe Inn

Day 9

A day of contrasts as you swap Miyajima Island for neon-spangled Osaka.

A ferry and then the bullet train again as you start to close the circle by returning east. Tonight you'll stay in the heart of Osaka, a city known for its down-to-earth atmosphere and a plethora of appetising street food.
The best way to learn about Osaka's unique food culture is by joining a group street food tour, where you can kuidaore (eat till you drop) in the company of new friends.
It's time for another unique accommodation – a modern take on the capsule hotel and a fun, affordable option in the centre of the city.

Overnight: Nine Hours Capsule Hotel Shin-Osaka

Day 10-12

Your trip comes full circle as you return to the capital. Take the elevator to the top of the Skytree – the world's tallest tower at 634m.

It's back to the capital and a chance to see anything you may have missed at the start of the trip. Tokyo has fantastic museum and art galleries, wonderful restaurants and gorgeous traditional gardens. Your Info-Pack will have plenty of sightseeing ideas and recommendations.
We've thrown in a ticket to the top of the Skytree; the perfect way to round off your trip with an unrivalled view of this mega-metropolis.
On your final morning you'll take a shuttle bus will pick you up from your hotel for a shared transfer back to the airport.

Overnight: The B Ikebukuro
View all days
Day 1-3

Explore the capital by solving the clues in our Tokyo Mystery Game, then meet other travellers in a hands-on cookery class.

Welcome to Tokyo, the world's most exciting capital city. Your base will be the historic district of Asakusa where streets of antique shops, ceramics and vintage kimono lead to Senso-ji, the oldest temple in Tokyo. On your first full day we'll give you all the clues you need to tackle our Tokyo Mystery Game which will lead you across the city on public transport to famous districts and shrines as well as some interesting backstreets and areas you might not find yourself.
On day two we'll arrange for you to join a group lesson at a popular cookery school. Your teacher, a born-and-bred Tokyoite, will reveal the secrets of Japanese cuisine.

Overnight: Richmond Asakusa

Day 4-6

Travel on to Kyoto the cultural heart of Japan. Glimpse a geisha if you're lucky on an evening guided tour of Gion.

Next stop is Kyoto, home of Japan's very best cuisine, gardens and geisha. Kyoto was once the capital of Japan for more than 1,000 years and the seat of the emperor. Consequently this is the most culturally rich city in Asia with more shrines and temples than you can shake a stick at!
To help you escape the crowds and discover some of Kyoto's most scenic spots, we've set up two tours for you. The first is a group walking tour in the early evening around Gion, Kyoto's premier geisha district. If you're lucky you may catch a glimpse of a geisha or maiko (apprentice) on her way to a teahouse appointment.
On your second day in Kyoto, you'll have the services of a private local guide for the morning who can explain the city's intricate culture and long history. This evening things get a little more light-hearted – joining other travellers, you'll don samurai attire to learn the principles of sword dancing. Follow the choreography to master a samurai sword dance!
Your final day in Kyoto is free for you to further explore independently. Or you might like to take advantage of the included Japan Rail Pass and make a day trip to Nara, home of the great Buddha statue at Todai-ji Temple.

Overnight: OMO5 Kyoto Sanjo

Day 7-8

Visit Hiroshima's Peace Memorial Park en-route to the sacred shrine island of Miyajima.

Another trip on the bullet train will whisk you from Kyoto to Hiroshima in two hours. Here a detour into Hiroshima city centre is well worth the time to pay your respects at the Peace Memorial Park and to explore the moving Peace Museum.
After that, hop on a short ferry ride to reach Miyajima. A sacred shrine island, once upon a time only Shinto priests were allowed to step foot on the island after passing through the giant red gate in the sea. Today everyone is welcome on the island, and while most people just visit as a day trip, you'll be spending two nights in a traditional Japanese inn.
On your second day in Miyajima you could hire a bike to explore, or hike to the top of Mount Misen to take in the views of the Seto Inland Sea. We'll also arrange for you to join a group tea ceremony in an elegant teahouse.

Overnight: Watanabe Inn

Day 9

A day of contrasts as you swap Miyajima Island for neon-spangled Osaka.

A ferry and then the bullet train again as you start to close the circle by returning east. Tonight you'll stay in the heart of Osaka, a city known for its down-to-earth atmosphere and a plethora of appetising street food.
The best way to learn about Osaka's unique food culture is by joining a group street food tour, where you can kuidaore (eat till you drop) in the company of new friends.
It's time for another unique accommodation – a modern take on the capsule hotel and a fun, affordable option in the centre of the city.

Overnight: Nine Hours Capsule Hotel Shin-Osaka

Day 10-12

Your trip comes full circle as you return to the capital. Take the elevator to the top of the Skytree – the world's tallest tower at 634m.

It's back to the capital and a chance to see anything you may have missed at the start of the trip. Tokyo has fantastic museum and art galleries, wonderful restaurants and gorgeous traditional gardens. Your Info-Pack will have plenty of sightseeing ideas and recommendations.
We've thrown in a ticket to the top of the Skytree; the perfect way to round off your trip with an unrivalled view of this mega-metropolis.
On your final morning you'll take a shuttle bus will pick you up from your hotel for a shared transfer back to the airport.

Overnight: The B Ikebukuro
Close all days
Other trips you may like
Tokyo
Kanazawa
Shirakawago
Takayama
Matsumoto
Tsumago
Kyoto
Tokyo

A classic 14-night adventure introducing the traditional side of Japan, from Japanese-style inns to time-honoured cuisine and ancient temples.

14 nights: from AU$6289 pp (twin share) Read more >

This deluxe week-long trip introduces the best of Japan: five-star accommodation, superb food, exclusive cultural experiences and iconic locations.

9 nights: from AU$13965 pp (twin share) Read more >

Tokyo
Fukuoka
Yufuin
Kirishima National Park
Kagoshima
Hiroshima
Kyoto
Tokyo

Mix traditional elegance and modern style, vast cities and sweeping countryside on this luxurious rail journey through Japan.

13 nights: from AU$26638 pp (twin share) Read more >