Self-Guided Adventure
Mountains & Culture Family Activity Holiday
12 Nights: from AU$17024 (per family)
Trip Code: MCAH
Get stuck in to Japanese culture with this hands-on family activity holiday, taking in the must-see cities of Tokyo, Kyoto and Osaka as well as the beautiful scenery of the Japanese Alps. Read more >
The trip kicks off among the bright neon lights of Tokyo with a private half-day city tour a visit to the fabulous Studio Ghibli Museum, home to Hayao Miyazaki's imaginative and heart-warming animations.
From here the Japanese Alps beckon, and you'll follow in the footsteps of the ninja as you visit Matsumoto's "Black Crow" castle, one of the best original samurai castles in Japan. The next morning you'll make your own lunch at a soba noodle-making class, before taking a spectacular bus ride across the mountains to Takayama.
As well as exploring Takayama's historic buildings, markets and craft shops, you'll venture out into the Hida countryside for a guided bike ride past farms and rice paddies. The accommodation in Takayama is an experience in itself: a traditional ryokan inn where the whole family will sleep on futon mattresses on the tatami mat floor. A Japanese-style dinner consisting of many little dishes will be included on the first night at the ryokan, so if there is anything you don't like there will be plenty to enjoy!
In Kyoto, Japan's ancient capital, there are wonderful temples, shrines and gardens to explore during a morning with a private guide. We recommend following the endless tunnels of red shrine gates at Fushimi Inari Shrine for fantastic views across the city and a chance for everyone to stretch their legs! We've also included a taiko drumming lesson. Half dance, half music - taiko is a great way to make some noise.
Finally, you'll spend two nights in Osaka, where you can experience a lesson in tatedo (that's wooden sword fighting to you and me), which offers you the chance to become a ninja stuntman for the afternoon.
Meals: Everyone has their own food likes and dislikes. As you'll have the freedom of being in self-catering accommodation in Tokyo and Kyoto, it means you get to choose what to have for breakfast. Your Info-Pack will have plenty of ideas of where to go, and we're sure you'll enjoy discovering neighbourhood cafes and bakeries serving up fresh panda-shaped pastries for the kids! There will be loads of suggestions for lunch and dinner too.
Pricing: We know that families come in all shapes and sizes. This itinerary has been priced based on a family of four, made up of two adults, one teenager, and one child aged 6-11. Speak to us and we can adjust everything to suit your family's situation and interests.
What's included
12 nights' accommodation

Five nights' breakfast and one evening meal

Manaca transport card with 2,500 yen credit for city transport

Seven-day Japan Rail Pass

All transport between destinations in Japan

Tickets to the Studio Ghibli Museum in Tokyo

Soba noodle-making lesson in Matsumoto

Hida Satoyama rural cycling trip in the Takayama countryside

Taiko drumming lesson in Kyoto
Tatedo sword fighting lesson in Osaka

Four-hour private guide service in Tokyo and Kyoto

Pocket WiFi device

Your personalised InsideJapan Tours Info-Pack
What's NOT included:
International flights

Any extra local transport (buses, subways, taxis) unless covered by the included passes

Any entrance fees (including those for temples, shrines and museums) unless otherwise specified

Baggage handling and luggage forwarding
Trip Highlights
Explore Tokyo & Kyoto with a private guide

Try your hand at making soba noodles

Cycle in the Hida countryside

Join a tatedo sword-fighting class
Stay in a traditional ryokan

Visit the Studio Ghibli Museum

Experience taiko drumming

Live like locals in your own machiya townhouse in Kyoto
For more information email us: [email protected] or call: + 61 7 3186 8800
What, where, when and how...
Mountains & Culture Family Activity Holiday - 13 Days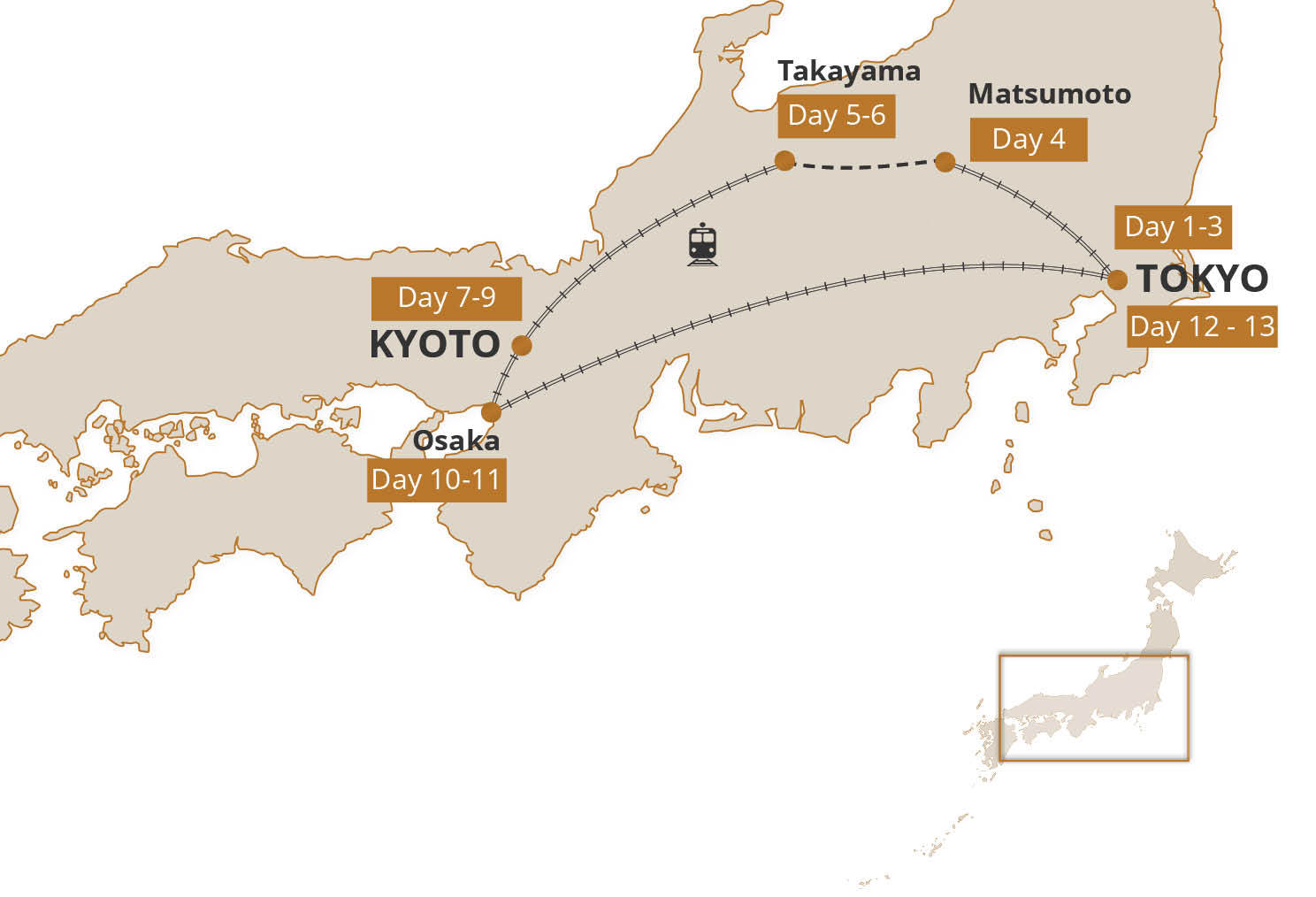 Destinations
Mountains & Culture Family Activity Holiday - 13 Days - Day by Day
Mountains & Culture Family Activity Holiday - 13 Days - Accommodation
Mountains & Culture Family Activity Holiday - 13 Days - Experiences
Day 1-3

Welcome to Tokyo!

On your first full day in the capital you will have the services of an expert private guide for a half-day tour of the city. We can prepare a sightseeing itinerary for you in advance, or you can decide your plan with your guide on the day. We highly recommend exploring the nearby Asakusa district which offers an interesting contrast of new and old Japan, and the towering Skytree offers some incredible views of the city. A great way to have some family fun is to visit 100 yen shops where children can spend a bit of pocket money on things from snacks to snickers. After all - everything is so cheap!
With another full day in Tokyo, we have included tickets to the fabulous Studio Ghibli Museum. This is a fantastic chance to delve into the mysterious fantasy world of Hayao Miyazaki's animated films. Younger kids will love playing on the cat bus from My Neighbour Totoro, and don't miss the cinema showing world-exclusive original animated shorts.

Overnight: Mimaru Apartment Hotel

Day 4

Climb to to the top of Matsumoto's impressive original "Black Crow" samurai castle.

Swap the bright lights of Tokyo for the mountains of the Japanese Alps today as you catch a direct limited express train to Matsumoto - a journey of two-and-a-half hours. Matsumoto is home to own of Japan's few remaining original samurai castles, the "Black Crow," where you can climb up the steep staircases inside and imagine life in the time of ninja!

Overnight: Marunouchi Hotel

Day 5-6

Spend two nights in the beautiful alpine craft town of Takayama.

Before leaving Matsumoto, you'll learn how to make the region's speciality dish: soba noodles. Under the expert supervision a chef from a local soba shop, the whole family can try their hand at making the buckwheat dough before kneading and chopping it into thin noodle strips. Of course, the fruit of your labour will be a hearty bowl of soba noodles for lunch.
In the afternoon your journey will continue with a scenic bus ride across the mountains to the traditional town of Takayama. For the next two nights you'll stay in a traditional ryokan, sleeping on futon mattresses on tatami mat flooring. A Japanese-style dinner will be included tonight.
After a restful night at your ryokan, your next day in Takayama will be spent cycling through the beautiful Hida countryside outside the town. A 20-minute train ride will take you to meet your cycle guide, who will take you on a gentle, three-and-a-half hour ride through the surrounding farmland, passing rice paddies, streams and forests and meeting a few friendly locals on the way.

Overnight: Yamakyu

Day 7-9

Today you'll take a limited express train to Nagoya before hopping aboard the world famous Shinkansen bullet train to Kyoto; an experience in itself!

Here you'll be staying like a local in a traditional machiya townhouse. You'll have full run of the two-storey property, and it makes the perfect base for exploring the city.
On your first full day in Kyoto you will once again be accompanied by an expert local guide for a half-day city tour, encompassing some of Kyoto's famous sights and hidden gems. The guide can take any special interests you may have into account to tailor an itinerary especially for you.
The afternoon will be free for you to spend at leisure and your Info-Pack will be full of sightseeing ideas. You may like to visit Toei Eiga Mura, a film set theme park where samurai action films are made. You can dress up as a geisha or samurai here!
On your next day in Kyoto you will be joining a taiko drumming class. Please wear loose, comfortable clothing as you're sure to work up a sweat beating these huge traditional drums/ The teachers will guide you through some basic rhythms and movements so that by the end of the class your family will have a little performance piece. Make sure you can record films on your camera to show off to your family and friends back home.

Overnight: Machiya Residence

Day 10-11

From Kyoto it's a quick hop on the Shinkansen bullet train to your next destination, Osaka.

Osaka is home to Japan's movie industry, including a school dedicated to the art of stage fighting - where you'll be having a private tatedo lesson today! Dressed as samurai and using bamboo swords, the instructor will show you stylised movements to create your own ninja sword sequence. Bushido or "the way of the samurai" is as much about respect, dignity and mental training as it is fighting, and this philosophy will certainly be choreographed into your lesson.


Overnight: Hotel Intergate Osaka Umeda

Day 12-13

Today your Japanese family adventure finally comes full circle as your return to the capital.

You'll have one last journey on the bullet train, whisking you from Osaka to Tokyo in just under three hours. Tonight you'll stay in an apartment hotel in Tokyo's neon-spangled Shinjuku district.
Sadly your time in Japan must come to an end, and on your final morning you'll take a shared shuttle bus to the airport in time to catch your flight home.

Overnight: Mimaru Apartment Hotel
View all days
Day 1-3

Welcome to Tokyo!

On your first full day in the capital you will have the services of an expert private guide for a half-day tour of the city. We can prepare a sightseeing itinerary for you in advance, or you can decide your plan with your guide on the day. We highly recommend exploring the nearby Asakusa district which offers an interesting contrast of new and old Japan, and the towering Skytree offers some incredible views of the city. A great way to have some family fun is to visit 100 yen shops where children can spend a bit of pocket money on things from snacks to snickers. After all - everything is so cheap!
With another full day in Tokyo, we have included tickets to the fabulous Studio Ghibli Museum. This is a fantastic chance to delve into the mysterious fantasy world of Hayao Miyazaki's animated films. Younger kids will love playing on the cat bus from My Neighbour Totoro, and don't miss the cinema showing world-exclusive original animated shorts.

Overnight: Mimaru Apartment Hotel

Day 4

Climb to to the top of Matsumoto's impressive original "Black Crow" samurai castle.

Swap the bright lights of Tokyo for the mountains of the Japanese Alps today as you catch a direct limited express train to Matsumoto - a journey of two-and-a-half hours. Matsumoto is home to own of Japan's few remaining original samurai castles, the "Black Crow," where you can climb up the steep staircases inside and imagine life in the time of ninja!

Overnight: Marunouchi Hotel

Day 5-6

Spend two nights in the beautiful alpine craft town of Takayama.

Before leaving Matsumoto, you'll learn how to make the region's speciality dish: soba noodles. Under the expert supervision a chef from a local soba shop, the whole family can try their hand at making the buckwheat dough before kneading and chopping it into thin noodle strips. Of course, the fruit of your labour will be a hearty bowl of soba noodles for lunch.
In the afternoon your journey will continue with a scenic bus ride across the mountains to the traditional town of Takayama. For the next two nights you'll stay in a traditional ryokan, sleeping on futon mattresses on tatami mat flooring. A Japanese-style dinner will be included tonight.
After a restful night at your ryokan, your next day in Takayama will be spent cycling through the beautiful Hida countryside outside the town. A 20-minute train ride will take you to meet your cycle guide, who will take you on a gentle, three-and-a-half hour ride through the surrounding farmland, passing rice paddies, streams and forests and meeting a few friendly locals on the way.

Overnight: Yamakyu

Day 7-9

Today you'll take a limited express train to Nagoya before hopping aboard the world famous Shinkansen bullet train to Kyoto; an experience in itself!

Here you'll be staying like a local in a traditional machiya townhouse. You'll have full run of the two-storey property, and it makes the perfect base for exploring the city.
On your first full day in Kyoto you will once again be accompanied by an expert local guide for a half-day city tour, encompassing some of Kyoto's famous sights and hidden gems. The guide can take any special interests you may have into account to tailor an itinerary especially for you.
The afternoon will be free for you to spend at leisure and your Info-Pack will be full of sightseeing ideas. You may like to visit Toei Eiga Mura, a film set theme park where samurai action films are made. You can dress up as a geisha or samurai here!
On your next day in Kyoto you will be joining a taiko drumming class. Please wear loose, comfortable clothing as you're sure to work up a sweat beating these huge traditional drums/ The teachers will guide you through some basic rhythms and movements so that by the end of the class your family will have a little performance piece. Make sure you can record films on your camera to show off to your family and friends back home.

Overnight: Machiya Residence

Day 10-11

From Kyoto it's a quick hop on the Shinkansen bullet train to your next destination, Osaka.

Osaka is home to Japan's movie industry, including a school dedicated to the art of stage fighting - where you'll be having a private tatedo lesson today! Dressed as samurai and using bamboo swords, the instructor will show you stylised movements to create your own ninja sword sequence. Bushido or "the way of the samurai" is as much about respect, dignity and mental training as it is fighting, and this philosophy will certainly be choreographed into your lesson.


Overnight: Hotel Intergate Osaka Umeda

Day 12-13

Today your Japanese family adventure finally comes full circle as your return to the capital.

You'll have one last journey on the bullet train, whisking you from Osaka to Tokyo in just under three hours. Tonight you'll stay in an apartment hotel in Tokyo's neon-spangled Shinjuku district.
Sadly your time in Japan must come to an end, and on your final morning you'll take a shared shuttle bus to the airport in time to catch your flight home.

Overnight: Mimaru Apartment Hotel
Close all days
Other trips you may like
Tokyo
Kawaguchiko
Matsumoto
Kyoto
Matsue
Naoshima
Tokyo

This deluxe itinerary introduces the best of Japan's arts scene, with five-star accommodation, exclusive experiences and top-class cuisine included.

14 nights: from AU$20311 pp (twin share) Read more >

Tokyo
Kawaguchiko
Matsumoto
Kyoto
Matsue
Naoshima
Tokyo

A superior 14-night itinerary for those who want to discover Japan's exciting arts scene in comfort and style.

14 nights: from AU$9120 pp (twin share) Read more >

Tokyo
Kyoto
Hiroshima
Miyajima
Osaka
Tokyo

Travelling by yourself to Japan? Look no further than our Japan Solo itinerary to take all the guesswork and stress out of your holiday planning.

11 nights: from AU$5225 pp Read more >