Self-Guided Adventure
Kumano Kodo Five-Night Module (Advanced Hiking)
5 Nights: from AU$2603 per person (twin share)
Trip Code: KK002
A challenging five-night walking module introducing the ancient trails of the Kumano Kodo pilgrimage network. Difficult and rewarding walking courses take you through one of Japan's most beautiful rural areas, with stays at traditional Japanese inns included along the way. Read more >
The pilgrimage routes that criss-cross the mountainous interior of the Kii Peninsula have been trodden by pilgrims of diverse social and religious backgrounds for over one thousand years. This ancient network of trails is known as the Kumano Kodo, and it links the three great shrines of Hongu Taisha, Nachi Taisha and Hayatama Taisha - known collectively as the Kumano Sanzan.
Emanating from Kumano Hongu Taisha in the heart of the Kii Mountain Range, the Kumano Kodo pilgrimage routes spread across the peninsula as far afield as Mount Koya, Yoshino, Omine, and even the sacred shrines of Ise in Mie Prefecture.
This itinerary packs in some of the more challenging sections of the Kumano Kodo, taking you from Kii-Tanabe to Kii-Katsuura, stopping at the ridge-top settlement of Takahara, the tiny villages of Nonaka and Koguchi, and the famous onsen town of Yunomine. Along the way you'll also visit two of the three great shrines: Hongu Taisha and Nachi Taisha.
The Kii Peninsula is one of Japan's most ancient and mystical regions, with great swathes of untouched forest and some of the country's most important temples and shrines. This is a fantastic chance to get in some really challenging hikes in a beautiful setting steeped in religious history.
What's included
Five nights Japanese-style accommodation (two nights fully en suite, one night en suite toilet only, two nights shared bathing facilities)

Breakfast every morning, four lunches and dinner every evening

All train travel between destinations

Kumano Kodo orientation and guidebook

Same-day luggage forwarding service between all destinations on the Kumano Kodo

Two hour guided hike from Takijiri-Oji to Takahara

Pocket WiFi device

Personalised InsideJapan Info-Pack
What's NOT included:
Lunch in Kii-Tanabe on day one

Local transport between destinations, including any buses

Any entrance fees, including those for temples, shrines and onsen
Trip Highlights
Hike with an expert guide from Takijiri-Oji to Takahara

Enjoy a kaiseki dinner cooked by a top-class chef

Soak in Japan's only UNESCO World Heritage hot spring bath

Visit Nachi-no-Otaki, the largest waterfall in Japan
Stay above the clouds at the "village in the mist"

Stay in traditional Japanese-style accommodation

Admire two of the Kumano Kodo's three great shrines
For more information email us: [email protected] or call: + 61 7 3186 8800
What, where, when and how...
Kumano Kodo Five-Night Module (Advanced Hiking) - 6 Days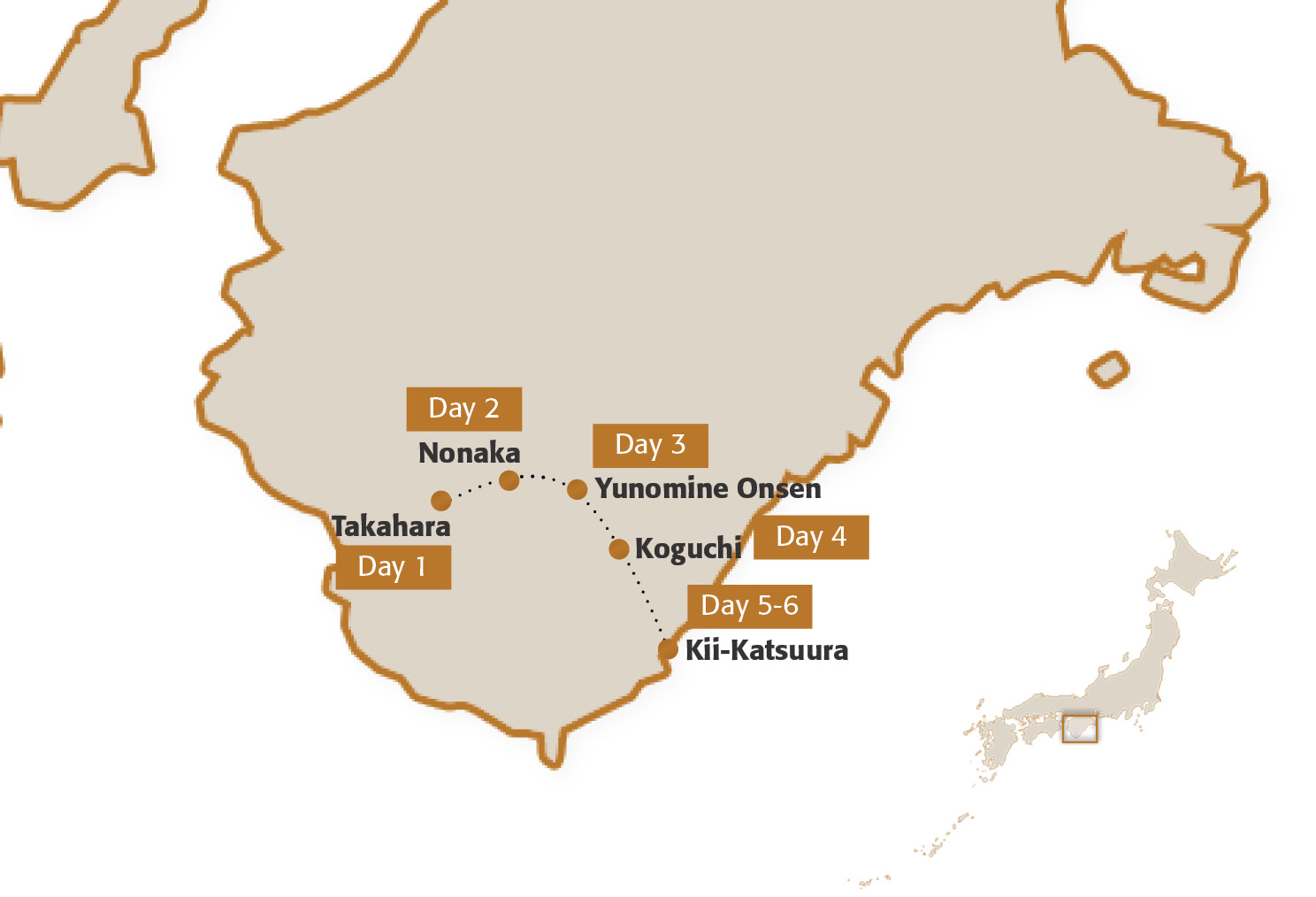 Kumano Kodo Five-Night Module (Advanced Hiking) - 6 Days - Day by Day
Kumano Kodo Five-Night Module (Advanced Hiking) - 6 Days - Accommodation
Kumano Kodo Five-Night Module (Advanced Hiking) - 6 Days - Experiences
Day 1

After a short orientation and lunch in the coastal city of Kii-Tanabe, today you'll hop on a bus to Takijiri-Oji, a tiny village at the trailhead of one of the Kumano Kodo pilgrimage routes.

Here you'll commence your two-hour guided walk to Takahara, a route containing some steep climbs and suffused with local legend that your expert guide will be able to explain.

Tonight you will be staying in a wonderful lodge overlooking the ridge-top village of Takahara and the Hatenashi Mountain Range. Takahara is known locally as Kiri-no-Sato, or "village in the mist," thanks to the sea of clouds that regularly collect in the valley below.

The highlight of your stay here will be the fabulous dinner included at your accommodation, made with only local ingredients. You'll also be provided with a packed lunch to take with you on your hike tomorrow.

Overnight: Kiri-no-Sato Takahara Lodge

Day 2

Today you will be hiking 14km from Takahara to Nonaka, a pretty hamlet built on tiered terraces perched on the side of a mountain.

The hike should take around six to seven hours and will take you past a number of points of interest, including the remains of the Uwada-jaya Teahouse (the highest part of this trail at 690 m above sea level), the Three-Fold Moon Viewing area, the Gyuba-doji statue depicting one of the first abdicated emperors to travel the Kumano Kodo, and the giant Nonaka-no-Ipposugi cedar trees of Tsugizakura-oji Shrine.

Today's walk will be fairly challenging with some uphill sections, high passes and a cobblestone staircase - but you'll be rewarded with beautiful views over the valleys and dinner cooked by a top class chef at your minshuku inn tonight. Another packed lunch will be provided for your hike tomorrow.

Overnight: Minshuku Tsugizakura

Day 3

If yesterday left you feeling tired you needn't worry, as there are several bus options that can significantly cut down your walking time today as you make your way from Nonaka to Hongu Taisha at the very heart of the Kumano Kodo.

If you opt for the full-day hike you'll be tackling 21 km of tricky terrain, encompassing sections of paved road and unpaved forest trail.

After visiting the shrine you'll catch a bus on to Yunomine Onsen, a town with over 1,800 years of history and the only operational UNESCO World Heritage registered onsen in the country. This is a very special place and bound to be a highlight of your trip.

After soaking your weary limbs in the hot spring, retire to your minshuku inn for another delicious kaiseki dinner and a well-earned rest.

Overnight: Yunomineso

Day 4

After breakfast, collect your included lunch box and take the short bus ride from Yunomine to Ukegawa before commencing the long trek to Koguchi.

Today's walk will take around five-and-a-half hours, with some gentle ups and downs and some lovely ridge-walking sections. You'll also pass the remains of the Sakura-jaya Teahouse and have the chance to stop at some wonderful lookout points.

Your accommodation tonight will be at another minshuku inn in the tiny village of Koguchi, where you'll enjoy a dinner made from local produce. You'll also be given a packed lunch to take with you when you set off tomorrow.

Overnight: Shizen-no-Ie

Day 5-6

On day five you will walk from Koguchi to Kumano Nachi Taisha, another of the three great shrines.

Behind the temple's majestic red pagoda Japan's largest waterfall (133 m high and 13 m wide) crashes into the river below, making for an extraordinary and beautiful sight.

After exploring Nachi you'll hop aboard a bus for the short ride to Kii-Katsuura on the eastern coast of the peninsula. Tonight you'll be staying at a modern hotel with Japanese-style rooms.

A delicious seafood dinner will be included but the highlight of your stay here will undoubtedly be the large outdoor hot spring baths overlooking the bay!

On day six, if you don't mind an early start, you might like to take advantage of your morning in Kii-Katsuura to visit the city's outstanding fish market – much smaller than the famous Tsukiji Market in Tokyo but equally fascinating!

After checking out of your hotel today you'll catch a limited express train for the four-hour journey to Osaka, Kyoto - depending on how you have chosen to plan the rest of your trip.

Overnight: Katsuura Gyoen
View all days
Day 1

After a short orientation and lunch in the coastal city of Kii-Tanabe, today you'll hop on a bus to Takijiri-Oji, a tiny village at the trailhead of one of the Kumano Kodo pilgrimage routes.

Here you'll commence your two-hour guided walk to Takahara, a route containing some steep climbs and suffused with local legend that your expert guide will be able to explain.

Tonight you will be staying in a wonderful lodge overlooking the ridge-top village of Takahara and the Hatenashi Mountain Range. Takahara is known locally as Kiri-no-Sato, or "village in the mist," thanks to the sea of clouds that regularly collect in the valley below.

The highlight of your stay here will be the fabulous dinner included at your accommodation, made with only local ingredients. You'll also be provided with a packed lunch to take with you on your hike tomorrow.

Overnight: Kiri-no-Sato Takahara Lodge

Day 2

Today you will be hiking 14km from Takahara to Nonaka, a pretty hamlet built on tiered terraces perched on the side of a mountain.

The hike should take around six to seven hours and will take you past a number of points of interest, including the remains of the Uwada-jaya Teahouse (the highest part of this trail at 690 m above sea level), the Three-Fold Moon Viewing area, the Gyuba-doji statue depicting one of the first abdicated emperors to travel the Kumano Kodo, and the giant Nonaka-no-Ipposugi cedar trees of Tsugizakura-oji Shrine.

Today's walk will be fairly challenging with some uphill sections, high passes and a cobblestone staircase - but you'll be rewarded with beautiful views over the valleys and dinner cooked by a top class chef at your minshuku inn tonight. Another packed lunch will be provided for your hike tomorrow.

Overnight: Minshuku Tsugizakura

Day 3

If yesterday left you feeling tired you needn't worry, as there are several bus options that can significantly cut down your walking time today as you make your way from Nonaka to Hongu Taisha at the very heart of the Kumano Kodo.

If you opt for the full-day hike you'll be tackling 21 km of tricky terrain, encompassing sections of paved road and unpaved forest trail.

After visiting the shrine you'll catch a bus on to Yunomine Onsen, a town with over 1,800 years of history and the only operational UNESCO World Heritage registered onsen in the country. This is a very special place and bound to be a highlight of your trip.

After soaking your weary limbs in the hot spring, retire to your minshuku inn for another delicious kaiseki dinner and a well-earned rest.

Overnight: Yunomineso

Day 4

After breakfast, collect your included lunch box and take the short bus ride from Yunomine to Ukegawa before commencing the long trek to Koguchi.

Today's walk will take around five-and-a-half hours, with some gentle ups and downs and some lovely ridge-walking sections. You'll also pass the remains of the Sakura-jaya Teahouse and have the chance to stop at some wonderful lookout points.

Your accommodation tonight will be at another minshuku inn in the tiny village of Koguchi, where you'll enjoy a dinner made from local produce. You'll also be given a packed lunch to take with you when you set off tomorrow.

Overnight: Shizen-no-Ie

Day 5-6

On day five you will walk from Koguchi to Kumano Nachi Taisha, another of the three great shrines.

Behind the temple's majestic red pagoda Japan's largest waterfall (133 m high and 13 m wide) crashes into the river below, making for an extraordinary and beautiful sight.

After exploring Nachi you'll hop aboard a bus for the short ride to Kii-Katsuura on the eastern coast of the peninsula. Tonight you'll be staying at a modern hotel with Japanese-style rooms.

A delicious seafood dinner will be included but the highlight of your stay here will undoubtedly be the large outdoor hot spring baths overlooking the bay!

On day six, if you don't mind an early start, you might like to take advantage of your morning in Kii-Katsuura to visit the city's outstanding fish market – much smaller than the famous Tsukiji Market in Tokyo but equally fascinating!

After checking out of your hotel today you'll catch a limited express train for the four-hour journey to Osaka, Kyoto - depending on how you have chosen to plan the rest of your trip.

Overnight: Katsuura Gyoen
Close all days
Other trips you may like
Tokyo
Hakone
Kyoto
Hiroshima
Osaka
Takayama
Tokyo

An essential two-week itinerary featuring some of Japan's classic sights, including Tokyo, Kyoto and Mount Fuji.

14 nights: from AU$3705 pp (twin share) Read more >

Tokyo
Kyoto
Hiroshima
Miyajima
Osaka
Tokyo

Travelling by yourself to Japan? Look no further than our Japan Solo itinerary to take all the guesswork and stress out of your holiday planning.

11 nights: from AU$5225 pp Read more >

This superior 9 night itinerary introduces the best of Japan's iconic sights - from the skyscrapers of Tokyo to the ancient temples of Kyoto.

9 nights: from AU$6916 pp (twin share) Read more >