Self-Guided Adventure
Kumano Kodo Three-Night Module (Advanced Hiking)
3 Nights: from AU$1330 per person (twin share)
Trip Code: KK001
This short but challenging hiking module, which introduces you to the ancient pilgrimage trails of the Kumano Kodo, can be added to just about any Self-Guided Adventure that visits Kyoto. Get in touch with one of our travel consultants to start planning your perfect trip! Read more >
The Kumano Kodo is a collection of ancient pilgrimage routes tracing their way through the verdant forests of the Kii Mountain Range. These routes connect the three grand shrines known as the Kumano Sanzan - Hongu Taisha, Nachi Taisha, and Hayatama Taisha - and have been in use continuously from roughly the 10th century until the present day.
Originating at Hongu Taisha at the centre of the Kumano Kodo, the region's various pilgrimage trails lead onwards to the other three shrines as well as to sacred Mount Koya, the spiritual home of Shingon Buddhism; Yoshino and Omine in Nara Prefecture; Kii Tanabe on the coast and even as far as Ise, Shintoism's most sacred site.
This advanced walking module traverses the Kii Peninsula from the small city of Kii-Tanabe to Kii-Katsuura in the east. You'll be attacking some of the more challenging sections of the Kumano Kodo trail network, including some great ridge-walking sections, amazing views from local observation points, and an impressive stone staircase on Mount Nachi.
Along the way you will not only have plenty of opportunities to admire the sacred temples and lush forests with which the area is blessed, but also to soak in a UNESCO World Heritage onsen at Yunomine, stay in traditional Japanese-style ryokan and minshuku inns, sample delicious kaiseki cuisine, and wonder at Japan's tallest waterfall at Kumano Nachi Taisha Shrine.
This is an ancient and atmospheric area of Japan with great religious and historical importance and outstanding natural beauty.
What's included
Three nights' Japanese-style accommodation

Breakfast every day, three evening meals and two lunches

Kumano Kodo orientation and guidebook

All train travel between destinations

Same-day luggage forwarding service between destinations on the Kumano Kodo

Pocket WiFi device

Personalised InsideJapan Info-Pack
What's NOT included:
Lunch after your arrival in Kii-Tanabe

Local transport at destinations, including all buses

Any entrance fees, including those for temples, shrines and onsen
Trip Highlights
Soak in a UNESCO World Heritage hot spring at Yunomine Onsen

Enjoy three included kaiseki meals

Admire the tallest waterfall in Japan
Marvel at two of the Kumano Kodo's three great shrines

Stay in traditional Japanese-style ryokan and minshuku inns
For more information email us: [email protected] or call: + 61 7 3186 8800
What, where, when and how...
Kumano Kodo Three-Night Module (Advanced Hiking) - 4 Days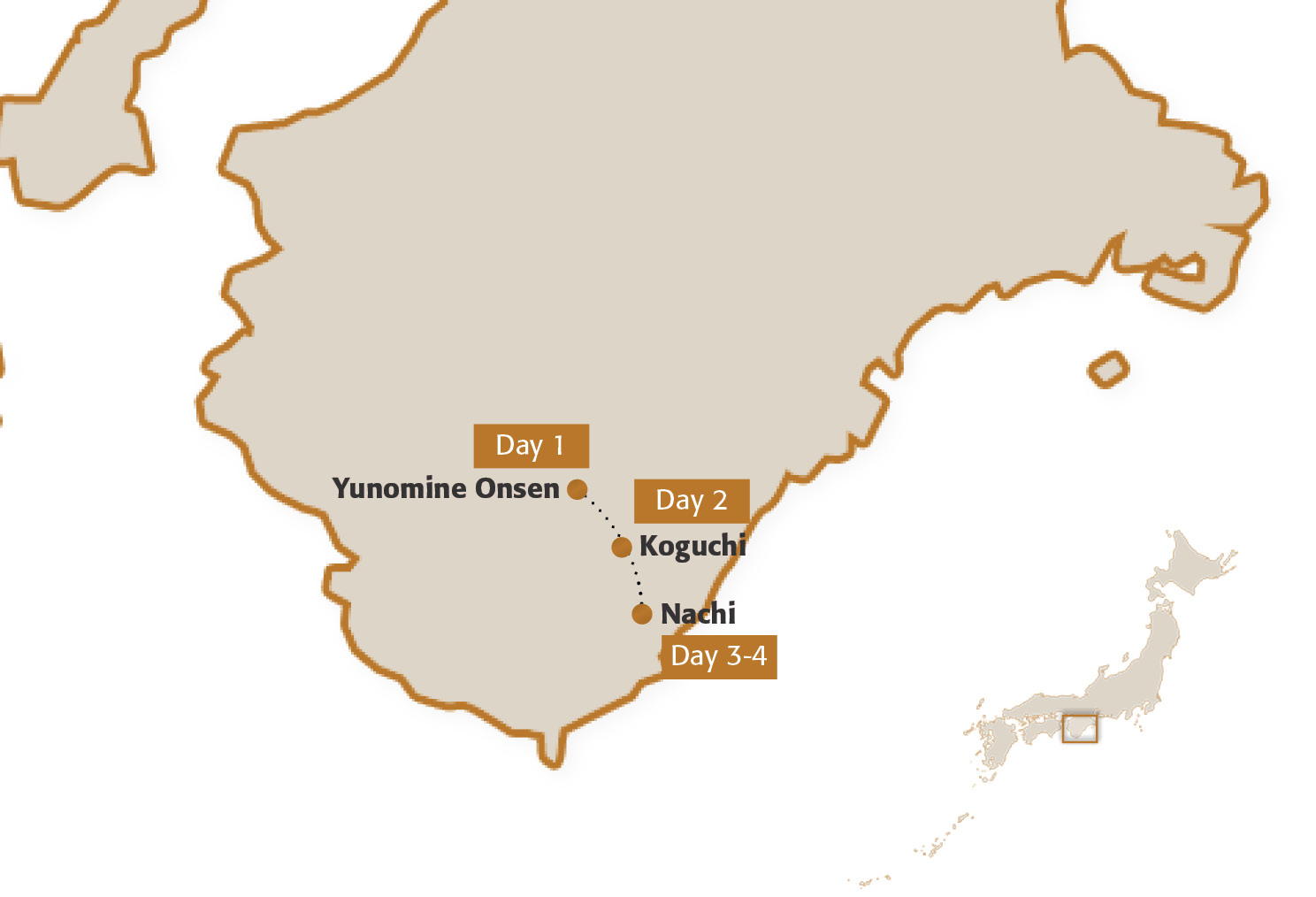 Destinations
Kumano Kodo Three-Night Module (Advanced Hiking) - 4 Days - Day by Day
Kumano Kodo Three-Night Module (Advanced Hiking) - 4 Days - Accommodation

Kumano Kodo Three-Night Module (Advanced Hiking) - 4 Days - Experiences
Day 1

From Kyoto you will make your way by train to the coastal city of Kii-Tanabe, the access point for the Kumano Kodo area.

After a short orientation, grab a delicious seafood lunch in the Ajikoji district near the station before catching the bus to Yunomine Onsen. Yunomine is one of the oldest spa towns in Japan and boasts the only operational UNESCO World Heritage onsen bath in the country, so make the most of this opportunity for a soak!

This afternoon you can commence your exploration of the area by walking the 3.5 km (2.2 mi) to Kumano Hongu Taisha, one of the Kumano Kodo's three great shrines and the point at which all the pilgrimage trails originate.

This evening you will return to Yunomine (either by bus or on foot) and enjoy a delicious kaiseki spread at your ryokan.

Overnight: Adumaya Ryokan

Day 2

Today you will take the bus from Yunomine to Ukegawa and from there make the long hike south to Koguchi, a journey that should take roughly five-and-a-half hours and encompass some lovely stretches of ridge-walking with fantastic views of the area.

Most of the trail is relatively gentle in terms of incline, and you'll pass the ruins of the Sakura-jaya Teahouse along the way. We will provide you with details of all the bus routes in the Kumano Kodo area in case you should wish to skip some sections of your hike, and a lunchbox will be provided by your ryokan in Yunomine.

Koguchi, your destination for this evening, is a tiny little mountain village commonly used as a stop-off point between Kumano Hongu Taisha and Kumano Nachi Taisha. You'll be staying at a beautifully renovated junior high school that has been converted into a Japanese-style minshuku inn. Dinner will be included as part of your stay.

Overnight: Shizen-no-Ie

Day 3-4

On day three you will walk from Koguchi to Kumano Nachi Taisha, another of the three great shrines and the end point of one of the region's main pilgrimage routes.

This handsome red temple and its pagoda stand against the dramatic backdrop of Japan's tallest waterfall, Nachi-no-Otaki, which is 133 m (436 ft) tall and 13 m (43 ft) wide. This waterfall has been worshipped since ancient times and is still used for ascetic training by monks of the Shugendo sect of Buddhism.

For lunch today you will have a bento lunchbox provided by your accommodation in Koguchi.

Tonight you will be staying in a minshuku inn on Mount Nachi with a tranquil, religious atmosphere and wonderful views of the great waterfall. Dinner will once again be included in your stay.

On day four you will take a short bus ride from Nachi to Kii-Katsuura, the point at which the Kumano Kodo reaches the Pacific Ocean. From here it is a four-hour train ride to Osaka.

Overnight: Mitaki Sanso
View all days
Day 1

From Kyoto you will make your way by train to the coastal city of Kii-Tanabe, the access point for the Kumano Kodo area.

After a short orientation, grab a delicious seafood lunch in the Ajikoji district near the station before catching the bus to Yunomine Onsen. Yunomine is one of the oldest spa towns in Japan and boasts the only operational UNESCO World Heritage onsen bath in the country, so make the most of this opportunity for a soak!

This afternoon you can commence your exploration of the area by walking the 3.5 km (2.2 mi) to Kumano Hongu Taisha, one of the Kumano Kodo's three great shrines and the point at which all the pilgrimage trails originate.

This evening you will return to Yunomine (either by bus or on foot) and enjoy a delicious kaiseki spread at your ryokan.

Overnight: Adumaya Ryokan

Day 2

Today you will take the bus from Yunomine to Ukegawa and from there make the long hike south to Koguchi, a journey that should take roughly five-and-a-half hours and encompass some lovely stretches of ridge-walking with fantastic views of the area.

Most of the trail is relatively gentle in terms of incline, and you'll pass the ruins of the Sakura-jaya Teahouse along the way. We will provide you with details of all the bus routes in the Kumano Kodo area in case you should wish to skip some sections of your hike, and a lunchbox will be provided by your ryokan in Yunomine.

Koguchi, your destination for this evening, is a tiny little mountain village commonly used as a stop-off point between Kumano Hongu Taisha and Kumano Nachi Taisha. You'll be staying at a beautifully renovated junior high school that has been converted into a Japanese-style minshuku inn. Dinner will be included as part of your stay.

Overnight: Shizen-no-Ie

Day 3-4

On day three you will walk from Koguchi to Kumano Nachi Taisha, another of the three great shrines and the end point of one of the region's main pilgrimage routes.

This handsome red temple and its pagoda stand against the dramatic backdrop of Japan's tallest waterfall, Nachi-no-Otaki, which is 133 m (436 ft) tall and 13 m (43 ft) wide. This waterfall has been worshipped since ancient times and is still used for ascetic training by monks of the Shugendo sect of Buddhism.

For lunch today you will have a bento lunchbox provided by your accommodation in Koguchi.

Tonight you will be staying in a minshuku inn on Mount Nachi with a tranquil, religious atmosphere and wonderful views of the great waterfall. Dinner will once again be included in your stay.

On day four you will take a short bus ride from Nachi to Kii-Katsuura, the point at which the Kumano Kodo reaches the Pacific Ocean. From here it is a four-hour train ride to Osaka.

Overnight: Mitaki Sanso
Close all days
Other trips you may like
Tokyo
Mount Fuji
Kyoto
Nara
Osaka
Tokyo

Welcome to one of the most wheelchair-friendly countries in the world. Explore Tokyo, Kyoto, Osaka and more on this exciting 10-night adventure.

10 nights: from AU$7942 pp (call us to discuss to requirements) Read more >

Tokyo
Kawaguchiko
Matsumoto
Kyoto
Matsue
Naoshima
Tokyo

A superior 14-night itinerary for those who want to discover Japan's exciting arts scene in comfort and style.

14 nights: from AU$9120 pp (twin share) Read more >

Iiyama
Togarinozawa Onsen

Feel a sense of achievement as you complete all six days and 70km of the Shin-Etsu Trail.

6 nights: from AU$2755 pp (twin share) Read more >