Self-Guided Adventure
Diving Subtropical Japan
13 Nights: from AU$6764 per person (twin share)
Trip Code: DSJ
The Diving Subtropical Japan itinerary features the best dives available in Japan's southern Okinawan Islands, ranging from the beautiful corals of the Kerama Islands to the truly mystifying Iseki stones at Yonaguni. Read more >
Okinawa not only offers some of the world's most unique underwater experiences, but also a wealth of culture and charm quite unlike anywhere else, and when complemented by a visit to buzzing Tokyo we are confident that this itinerary will not disappoint.
Your Japanese adventure will begin in Tokyo, the archetypal modern metropolis, sprawling across the horizon as far as the eye can see. Tokyo is not just neon lights and skyscrapers, however. For those who look, there are pockets of history to be found in the traditional Asakusa district, tea ceremonies in the serene Hamarikyu gardens, quirky youth culture on the streets of Harajuku and much more to be found just beneath the surface of this world-famous urban giant.
After an action-packed stay in Tokyo you'll swap the concrete jungle for the white, sandy beaches and palm trees of the Okinawan archipelago - geographically and culturally miles away from life on mainland Japan. Okinawa is home to a variety of dialects, subtropical terrain and rare wildlife, and a unique culture influenced by a long history of trade with mainland Asia. You'll begin your stay on the small coral island of Akajima in the Kerama Islands, where the surrounding waters provide some of the best diving conditions in the world in terms of visibility and marine life.
Having acclimatised to the relaxed pace of island life, you will then venture further south to the Yaeyama Islands, which are actually geographically closer to Taiwan than to the rest of Okinawa. You'll be staying on Ishigaki Island, which arguably boasts the finest beaches in Japan and, as a popular destination for Japanese tourists, some lively nightlife.
When not diving amongst the giant manta and diverse corals of Ishigaki, you will have the opportunity to make a short trip to one of the other Yaeyama Islands. Iriomote offers dense forests, mangroves and waterfalls, whilst neighbouring Taketomi has some beautifully preserved Ryukyu villages.
In terms of diving, the best has been saved until last! Your final destination will be Yonaguni Island, the westernmost point of Japan. Here, you will bear witness to the diving world's best-kept secret: the mysterious Yonaguni stones. Whether you believe that they are the remains of an undiscovered, ancient civilisation or just a strange natural phenomenon - it certainly makes for an impressive dive site, especially if you're lucky enough to be joined by schooling hammerhead sharks.
Akajima, Ishigaki and Yonaguni present some thrilling dives, whether you are a beginner or a diving aficionado. Please be advised that you will need a PADI license or other internationally recognised diving qualification to take part in the dives included on this trip.
What's included
13 nights accommodation

Breakfast every day and seven evening meals

Arrival and departure airport transfers

Domestic flights (Tokyo to Naha, Naha to Ishigaki, Ishigaki to Yonaguni, Yonaguni to Tokyo)

15 dives including the services of an English-speaking Dive Master, tanks, BCD, regulator, weights, fins, masks and drinks

Return ferry tickets from Naha to Akajima

Manaca transport card with 2,500 yen credit for local transport in Tokyo

Eight hours private guide service in Tokyo

Pocket WiFi device

Your personalised InsideJapan Info-Pack
What's NOT included:
International flights

Local transport (buses, subways, taxis) at any destination unless otherwise specified

Any entrance fees unless otherwise specified

Baggage handling – you will be expected to carry your own bags for the duration of the trip

Insurance – some of the dive companies do not offer full Dive Accident Insurance for non-Japanese residents. You must therefore take out your own insurance for diving activities
Trip Highlights
Explore the sights of Tokyo with a private guide

Marvel at the giant manta rays near Ishigaki Island

Discover the intriguing "lost city" under the waves at Yonaguni
Dive in the pristine waters of the Kerama Islands

Take a day trip to Iriomote Island's dense jungle and mangroves

See over 300 types of coral at Yonehara Arch
For more information email us: [email protected] or call: + 61 7 3186 8800
What, where, when and how...
Diving Subtropical Japan - 14 Days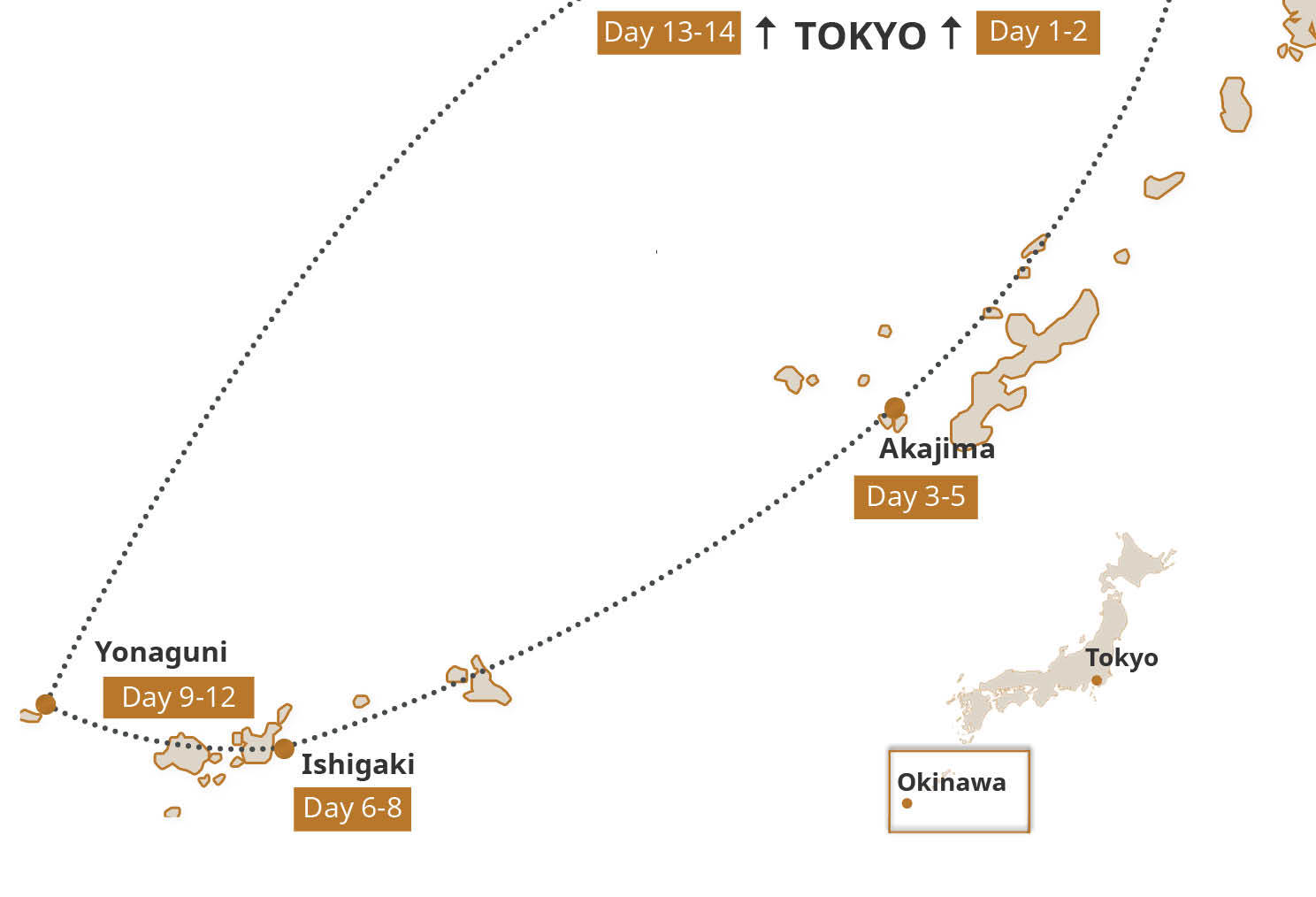 Destinations
Diving Subtropical Japan - 14 Days - Day by Day
Diving Subtropical Japan - 14 Days - Accommodation
Diving Subtropical Japan - 14 Days - Experiences
Day 1-2

Relax in Hamarikyu gardens, discover historical Asakusa and be amazed by the crazy fashions of Harajuku as you explore Tokyo with a private guide.

Your Japanese adventure will begin amongst the skyscrapers of the sleek Shiodome district in Tokyo, where you'll be staying for the first night of your trip. For a leisurely introduction to the metropolis we recommend visiting the well-kempt Hamarikyu gardens near your hotel before exploring the neighbouring district of Yurakucho in the evening. This is a favourite stop-off point for Japanese businessmen on their way home from work and is home to plenty of izakaya (Japanese-style pubs) and open-air yakitori restaurants serving chicken skewers.
On your second day you will have the services of a professional guide for eight hours to help you explore the city, making full use of the capital's vast public transportation network. The itinerary for the day is completely flexible and your guide will be able to make suggestions, but if you have any specific requests or interests please do let us know in advance. For some inspiration, you might consider a boat cruise along the Sumida River to the historical Asakusa district; go people-watching in the trendy Harajuku district; or even pay a visit to a cat café.

Overnight: Villa Fontaine Shiodome

Day 3-5

Enjoy the white beaches and primeval forests of Akajima and dive in the crystalline waters of the Kerama Islands.

On day three you will make your way to nearby Haneda Airport for a three-hour flight to Naha, the capital of Okinawa. From Naha, you will take a short ferry ride to Akajima in the Kerama Islands, where you will be based for the next stage of your trip. Your accommodation will be located a short walk from both the port and the island's white, sandy beaches and you'll be free to spend the afternoon as you wish. Perhaps you'd like to use this time to do some snorkelling, or to explore the primeval forests further inland before tucking in to dinner at your accommodation.
On your second day in Akajima we have scheduled three dives with local, English-speaking Dive Masters. The waters around the Kerama Islands are calm and clear, with visibility often exceeding 30 metres, meaning that diving conditions are perfect for both beginners and experts.
The islands boast around 70 dive sites, so whilst beginners can explore the reasonably shallow, coral-rich sites – the more advanced can make the most of superb drift diving opportunities and explore the nearby caves and pinnacles. Look out for colourful nudibranchs, reef sharks and turtles, which can be spotted all year round. Finally, after enjoying dinner at your accommodation, why not end your day with a relaxing soak in the rooftop jacuzzi as the sun sets?
On your final day on Akajima you'll have two more exciting dives, including the opportunity to participate in night diving, before another delicious meal at your accommodation. After this we recommend treating yourself to a drink in a local izakaya to experience the laid-back pace of island life.

Overnight: Marine House Seasir

Day 6-8

Swim with Manta rays in the waters of Ishigaki, paddle through mangroves on Iriomote, or catch a ride on a water buffalo cart on the tiny island of Taketomi.

This morning you'll catch the ferry back to Naha and make the one-hour flight south to Ishigaki Island. You will be staying in the Nagura Cottages between Kabira Bay and Yonehara beach, where you'll find fantastic snorkelling opportunities and some of Japan's most beautiful beaches. In the evening, you may choose to relax at your cottage, visit a local restaurant, or patronise one of the many traditional izakaya pubs in Ishigaki city. We recommend trying the famous Ishigaki beef and beer!
Following your day of relaxation we have scheduled two dives around the island. Ishigaki's most famous dive site is Manta Point - but there are also some great, lesser-known sites. These include Yonehara, with over 300 types of coral and a colourful selection of marine life, and Yama Valley – a drop-off with a vast array of lionfish, stonefish, sea snakes and stingrays. A PADI license or other internationally recognised diving qualification is required to take part in the dive today.
Your final full day on Ishigaki will be free, leaving you time to arrange more diving, explore one of the nearby islands, or just relax on the beach. Ishigaki is the gateway to the Yaeyama Islands, so you can easily make a day trip to nearby Iriomote or Taketomi.
Iriomote is the second-largest and least developed island in the Okinawa chain, covered in dense, untouched jungle filled with rare wildlife such as the endemic Iriomote cat. We highly recommend spending a day kayaking through the mangroves to the impressive 60-metre waterfall here. Taketomi, by contrast, is one of the smallest islands and is home to a beautifully preserved Ryukyu village with characteristic red-tiled buildings. Here you can take a ride on a cart pulled by water buffalo!

Overnight: Nagura Village Cottages

Day 9-12

Pay a visit to Okinawa's remotest island and discover the mystery of the Yonaguni Iseki stones.

Next it's time to say goodbye to Ishigaki and take the 30-minute flight to rugged Yonaguni, where you'll find a very different atmosphere to the other subtropical islands you have visited. Due to its extreme isolation, Yonaguni has no resort-style hotels and the only tourists you're likely to see are other divers. This will be an opportunity to witness truly remote island life, but your main priority will be diving! Over the next three days you will discover one of the most intriguing underwater locations that the world of diving has to offer, with dinner included every night.
Three dives have been scheduled for each of the next two days in Yonaguni, during which time you will exploring the Yonaguni Iseki stones. "Iseki" means "ruins" in Japanese, and this naming reflects the ambiguous nature of these underwater rock formations, which appear to include huge corridors, walls, columns and steps. Although many insist that the stones are simply an unusual natural phenomenon, some believe them to be part of a manmade construction predating the Egyptian pyramids. If this theory were found to be true, the Iseki stones would be the oldest manmade monument on Earth! Whichever theory you subscribe to, you will no doubt be enthralled by this vast and amazing structure.
Your final day of diving will consist of two more boat dives around Yonaguni. You may continue exploring the Iseki stones or you can take advantage of the strong currents around the island for some excellent drift diving away from the stones. Beautiful coral, an abundance of subtropical marine life, and schooling hammerhead sharks from November to June provide some breathtaking scenes for your last dives in Japan.

Overnight: Irifune Honkan

Day 13-14

Say farewell in style with a visit to Shinjuku and Tokyo's famous Golden Gai district.

From Yonaguni you will fly back to Ishigaki and catch a connecting flight to Tokyo, landing in the late afternoon. You will be staying in Shinjuku – the beating heart of Tokyo – where you will find yourself in the thick of things as soon as you step out of your hotel. For your final night we recommend heading to the Golden Gai quarter, where over 200 tiny bars are crammed into just a few narrow backstreets. The perfect place to toast a memorable diving trip!
Finally it's time to say goodbye to Japan, and on your final morning you will transfer from your hotel to Narita Airport by limousine bus. The journey provides some great vistas as the bus speeds its way out of the city on the elevated expressway.

Overnight: Sunroute Plaza Shinjuku
View all days
Day 1-2

Relax in Hamarikyu gardens, discover historical Asakusa and be amazed by the crazy fashions of Harajuku as you explore Tokyo with a private guide.

Your Japanese adventure will begin amongst the skyscrapers of the sleek Shiodome district in Tokyo, where you'll be staying for the first night of your trip. For a leisurely introduction to the metropolis we recommend visiting the well-kempt Hamarikyu gardens near your hotel before exploring the neighbouring district of Yurakucho in the evening. This is a favourite stop-off point for Japanese businessmen on their way home from work and is home to plenty of izakaya (Japanese-style pubs) and open-air yakitori restaurants serving chicken skewers.
On your second day you will have the services of a professional guide for eight hours to help you explore the city, making full use of the capital's vast public transportation network. The itinerary for the day is completely flexible and your guide will be able to make suggestions, but if you have any specific requests or interests please do let us know in advance. For some inspiration, you might consider a boat cruise along the Sumida River to the historical Asakusa district; go people-watching in the trendy Harajuku district; or even pay a visit to a cat café.

Overnight: Villa Fontaine Shiodome

Day 3-5

Enjoy the white beaches and primeval forests of Akajima and dive in the crystalline waters of the Kerama Islands.

On day three you will make your way to nearby Haneda Airport for a three-hour flight to Naha, the capital of Okinawa. From Naha, you will take a short ferry ride to Akajima in the Kerama Islands, where you will be based for the next stage of your trip. Your accommodation will be located a short walk from both the port and the island's white, sandy beaches and you'll be free to spend the afternoon as you wish. Perhaps you'd like to use this time to do some snorkelling, or to explore the primeval forests further inland before tucking in to dinner at your accommodation.
On your second day in Akajima we have scheduled three dives with local, English-speaking Dive Masters. The waters around the Kerama Islands are calm and clear, with visibility often exceeding 30 metres, meaning that diving conditions are perfect for both beginners and experts.
The islands boast around 70 dive sites, so whilst beginners can explore the reasonably shallow, coral-rich sites – the more advanced can make the most of superb drift diving opportunities and explore the nearby caves and pinnacles. Look out for colourful nudibranchs, reef sharks and turtles, which can be spotted all year round. Finally, after enjoying dinner at your accommodation, why not end your day with a relaxing soak in the rooftop jacuzzi as the sun sets?
On your final day on Akajima you'll have two more exciting dives, including the opportunity to participate in night diving, before another delicious meal at your accommodation. After this we recommend treating yourself to a drink in a local izakaya to experience the laid-back pace of island life.

Overnight: Marine House Seasir

Day 6-8

Swim with Manta rays in the waters of Ishigaki, paddle through mangroves on Iriomote, or catch a ride on a water buffalo cart on the tiny island of Taketomi.

This morning you'll catch the ferry back to Naha and make the one-hour flight south to Ishigaki Island. You will be staying in the Nagura Cottages between Kabira Bay and Yonehara beach, where you'll find fantastic snorkelling opportunities and some of Japan's most beautiful beaches. In the evening, you may choose to relax at your cottage, visit a local restaurant, or patronise one of the many traditional izakaya pubs in Ishigaki city. We recommend trying the famous Ishigaki beef and beer!
Following your day of relaxation we have scheduled two dives around the island. Ishigaki's most famous dive site is Manta Point - but there are also some great, lesser-known sites. These include Yonehara, with over 300 types of coral and a colourful selection of marine life, and Yama Valley – a drop-off with a vast array of lionfish, stonefish, sea snakes and stingrays. A PADI license or other internationally recognised diving qualification is required to take part in the dive today.
Your final full day on Ishigaki will be free, leaving you time to arrange more diving, explore one of the nearby islands, or just relax on the beach. Ishigaki is the gateway to the Yaeyama Islands, so you can easily make a day trip to nearby Iriomote or Taketomi.
Iriomote is the second-largest and least developed island in the Okinawa chain, covered in dense, untouched jungle filled with rare wildlife such as the endemic Iriomote cat. We highly recommend spending a day kayaking through the mangroves to the impressive 60-metre waterfall here. Taketomi, by contrast, is one of the smallest islands and is home to a beautifully preserved Ryukyu village with characteristic red-tiled buildings. Here you can take a ride on a cart pulled by water buffalo!

Overnight: Nagura Village Cottages

Day 9-12

Pay a visit to Okinawa's remotest island and discover the mystery of the Yonaguni Iseki stones.

Next it's time to say goodbye to Ishigaki and take the 30-minute flight to rugged Yonaguni, where you'll find a very different atmosphere to the other subtropical islands you have visited. Due to its extreme isolation, Yonaguni has no resort-style hotels and the only tourists you're likely to see are other divers. This will be an opportunity to witness truly remote island life, but your main priority will be diving! Over the next three days you will discover one of the most intriguing underwater locations that the world of diving has to offer, with dinner included every night.
Three dives have been scheduled for each of the next two days in Yonaguni, during which time you will exploring the Yonaguni Iseki stones. "Iseki" means "ruins" in Japanese, and this naming reflects the ambiguous nature of these underwater rock formations, which appear to include huge corridors, walls, columns and steps. Although many insist that the stones are simply an unusual natural phenomenon, some believe them to be part of a manmade construction predating the Egyptian pyramids. If this theory were found to be true, the Iseki stones would be the oldest manmade monument on Earth! Whichever theory you subscribe to, you will no doubt be enthralled by this vast and amazing structure.
Your final day of diving will consist of two more boat dives around Yonaguni. You may continue exploring the Iseki stones or you can take advantage of the strong currents around the island for some excellent drift diving away from the stones. Beautiful coral, an abundance of subtropical marine life, and schooling hammerhead sharks from November to June provide some breathtaking scenes for your last dives in Japan.

Overnight: Irifune Honkan

Day 13-14

Say farewell in style with a visit to Shinjuku and Tokyo's famous Golden Gai district.

From Yonaguni you will fly back to Ishigaki and catch a connecting flight to Tokyo, landing in the late afternoon. You will be staying in Shinjuku – the beating heart of Tokyo – where you will find yourself in the thick of things as soon as you step out of your hotel. For your final night we recommend heading to the Golden Gai quarter, where over 200 tiny bars are crammed into just a few narrow backstreets. The perfect place to toast a memorable diving trip!
Finally it's time to say goodbye to Japan, and on your final morning you will transfer from your hotel to Narita Airport by limousine bus. The journey provides some great vistas as the bus speeds its way out of the city on the elevated expressway.

Overnight: Sunroute Plaza Shinjuku
Close all days
Other trips you may like
Fukuoka
Nagasaki
Unzen
Kumamoto
Kurokawa Onsen
Kagoshima
Yakushima
Fukuoka

Discover the vibrant cities and impressive landscapes of Kyushu on this superior journey from Unzen's hot springs to the forests of Yakushima.

14 nights: from AU$9063 pp (twin share) Read more >

Tokyo
Matsumoto
Takayama
Kyoto
Osaka
Tokyo

The whole family can get stuck in to Japanese culture with this hands-on activity holiday.

12 nights: from AU$14611 (per family) Read more >

Tokyo
Nikko
Kyoto
Mount Koya
Himeji
Hiroshima
Kanazawa
Shirakawago
Tokyo

With a wide range of incredible World Heritage Sites, Japan is the perfect destination for this classic 17-night cultural and historical adventure.

17 nights: from AU$5757 pp (twin share) Read more >