Ishinomaki
Ishinomaki was one of the worst affected towns following the Great North Eastern Earthquake of 11th March 2011. The coastal area of the city was completely destroyed; only the shell of the elementary school was left standing.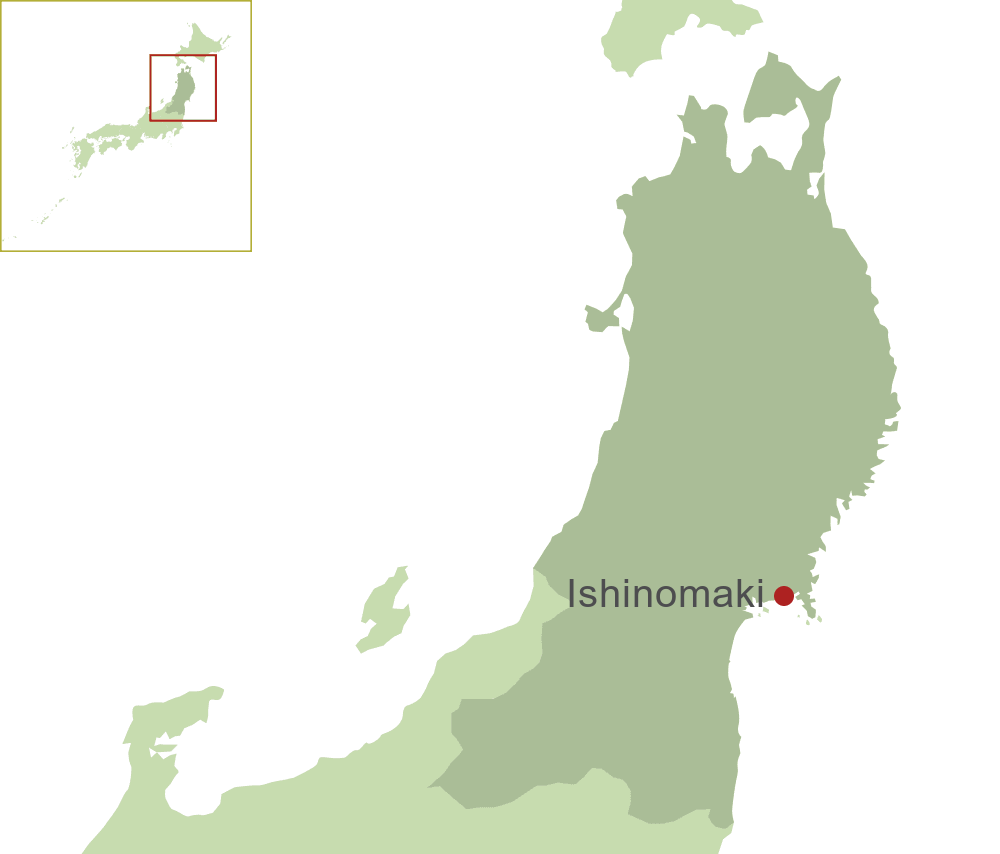 "The Tohoku Tsunami unleashed its wrath on sleepy Ishinomaki. In some areas the port town was completely flattened. But today the stoic locals are putting their all into rebuilding their shattered lives, and it's just inspirational to see."
You'd be forgiven for not having heard of Ishinomaki before the 2011 Tohoku Tsunami struck. This was just an unassuming, industrial fishing port with a manga museum and pleasant beach, but little reason for tourists to visit. Tragically however, Ishinomaki was one of the most seriously affected cities in the tsunami disaster. As 10 metre high waves swept up to 3 miles inland, 70% of buildings in the Ayukawa area were destroyed. In the Kadonowaki district the town was completely levelled; no houses, no offices, no trees, no gardens, no washing lines, no cars, no convenience stores, no shops and of course, no people. A word regularly heard in news reports from Ishinomaki was 'kaimetsu': total annihilation.
Okawa elementary school was completely destroyed killing 70 of 108 students and nine of 13 teachers. By June 2011, from a population of 150,000, over 3,000 Ishinomaki citizens had been confirmed dead while another 2,770 were still missing. Approximately 29,000 city residents lost their homes. The earthquake lowered the city by up to 1.2 metres leaving it subject to daily flooding at high tide. The beach at Kadonowaki no longer exists and the manga museum remains closed.
Today the situation in Ishinomaki is improving? slowly. While the Japanese were extremely efficient, clearing roads within days of the tsunami, those still living in sheltered accommodation are struggling to move back home. Many houses in Ishinomaki are damaged but salvageable, but due to exorbitant costs from builders, the little money provided by the government is not enough for ordinary townsfolk to make the necessary repairs.
Fortunately the charity It's Not Just Mud (INJM) are there to fill the gap. INJM provide volunteers to help with the big Ishinomaki clean-up; shovelling mud, repairing houses, cleaning parks and much more. InsideJapan Tours are proud to be supporting INJM in Ishinomaki. Click for more information on It's Not Just Mud.
To read more about It's Not Just Mud or make a donation, please visit our Just Giving page here: Link Coming Soon
This is a great interview with It's Not Just Mud founder Jamie El-Banna in the Japan Times:
www.japantimes.co.jp/text/fl20120303a1.html
Please click here for blog posts from InsideJapan Tours director Alastair Donnelly who visited Ishinomaki in September 2011.
http://insidejapanblog.com/2011/09/29/6-months-on-part-3-kadonowaki-elementary-school/
You can also read about our tour leader Tom Orsman's week volunteering in Ishinomaki, removing mud and debris from family homes.
http://insidejapanblog.com/2011/06/13/sludge-shoveling-in-ishinomaki/
Weather in Ishinomaki
The Climate Guide for Ishinomaki, Japan is perfect for planning your holiday. Monthly weather averages give the best indication of what the weather is usually like for every month of the year including figures for temperature, rainfall and sunshine.
Jan
Feb
Mar
Apr
May
Jun
Jul
Aug
Sep
Oct
Nov
Dec
Max Daytime Temperature (°C)
5
5
8
15
20
23
26
28
24
19
13
8
Min Night-time Temperature (°C)
-3
-3
0
5
10
15
19
20
16
10
4
0
Hours of Sunshine (Daily)
5
5
6
6
7
5
5
6
4
5
5
5
Hours of Daylight (Daily)
10
11
12
13
14
15
14
14
12
11
10
10
Heat and Humidity Discomfort
None
None
None
None
None
None
Low
Moderate
None
None
None
None
Days with some Rainfall
22
20
21
17
17
19
20
19
19
18
18
20
Monthly Rainfall (mm)
75
84
97
120
114
150
159
184
191
135
109
80
UV Index (Maximum)
2
3
4
6
8
9
10
9
7
5
3
2
Featured trips including Ishinomaki
Tokyo
Nikko
Hiraizumi
Naruko Onsen
Ishinomaki
Sendai
Niigata
Sado Island
Tokyo

Discover the beautiful yet little-visited region of Tohoku, home to rugged national parks, historic cities, and enchanting hot spring towns.

14 nights: AU$9120 Read more >