Self-Guided Adventure
Japan Arts Trail
14 Nights: from US$13897 per person (twin share)
Trip Code: JARTD
Discover world-class museums and galleries all across Japan, from city skyscrapers to rural towns where art has brought a new and unique vibrancy to otherwise forgotten places. This trip will allow you to visit Japan's classic sights as well as some real artistic treasures. Read more >
With this itinerary you will travel from Tokyo to Kyoto via Mount Fuji before returning to the capital by way of Naoshima "Art Island" in the Seto Inland Sea. Exploring some of the best museums and art exhibitions both large and small, you will see Japan through the eyes of its artists whilst discovering the country and culture that have shaped their works.
Three nights in the capital will introduce you to the diverse nature of the Japanese art world before you travel on to Kawaguchiko, a lake at the foothills of Mount Fuji. Here you can enjoy views of the iconic mountain from your hotel, and learn about the exquisite kimono art by textile artist Itchiku Kubota.
Matsumoto is home to two excellent art galleries: one focusing on the traditional ukiyo-e woodblock prints which immortalize scenes of Mount Fuji among others, and one focusing on modern art, complete with sculpture by Yayoi Kusama.
No arts trip is complete with a stay in Kyoto, the cultural heart of Japan. Learn about the local artisans, explore hidden temples, and see the ancient sights immortalized in Japanese art.
In Matsue you'll appreciate the collection of modern Japanese art at the Adachi Museum, also home to one of the country's best landscape gardens, before taking a sunset cruise across Lake Shinji and exploring one of Japan's best-preserved medieval castles.
Setouchi Art Triennale: every three years, the islands around the Seto Inland Sea ("Setouchi" in Japanese) host an internationally famous art festival. It takes place during the spring, summer, and autumn for a few weeks at a time and Naoshima is just one of the many islands involved. The next festival will take place in 2022. It does get crowded so accommodation can be difficult to secure last-minute; be sure to get in touch with us early if you'd like to visit during the art festival!
What's included
14 nights' accommodation (three nights Japanese-style)

Breakfast each morning, five evening meals and two lunches

Airport transfers by private car

First class (green) train travel between destinations

Taxis between train stations (and hotels in some destinations)

Manaca transport card with 2,500 yen credit for city transport

Eight-hour private guide and driver service in Tokyo and Kyoto, including lunch and entrance fees

Half-day private guide and driver service in Matsumoto

Afternoon tea with a maiko (apprentice geisha) in Kyoto

Tickets to the Chichu Art Museum on Naoshima

Pocket WiFi device

Your personalised InsideJapan Info-Pack
What's NOT included:
International flights

Local transport (taxis, subways, buses) unless otherwise specified

Entrance fees unless otherwise specified

Baggage handling and luggage forwarding
Trip Highlights
Hop across the Inland Sea to explore Naoshima art island

Admire unspoiled views of Mout Fuji from your hotel

Experience the very best in Japanese hospitality
Discover Tokyo's world-class galleries

Meet an apprentice geisha in Kyoto

Visit the award-winning Adachi Museum and gardens
For more information email us: [email protected] or call: 303 952 0379
What, where, when and how...
Japan Arts Trail - 15 Days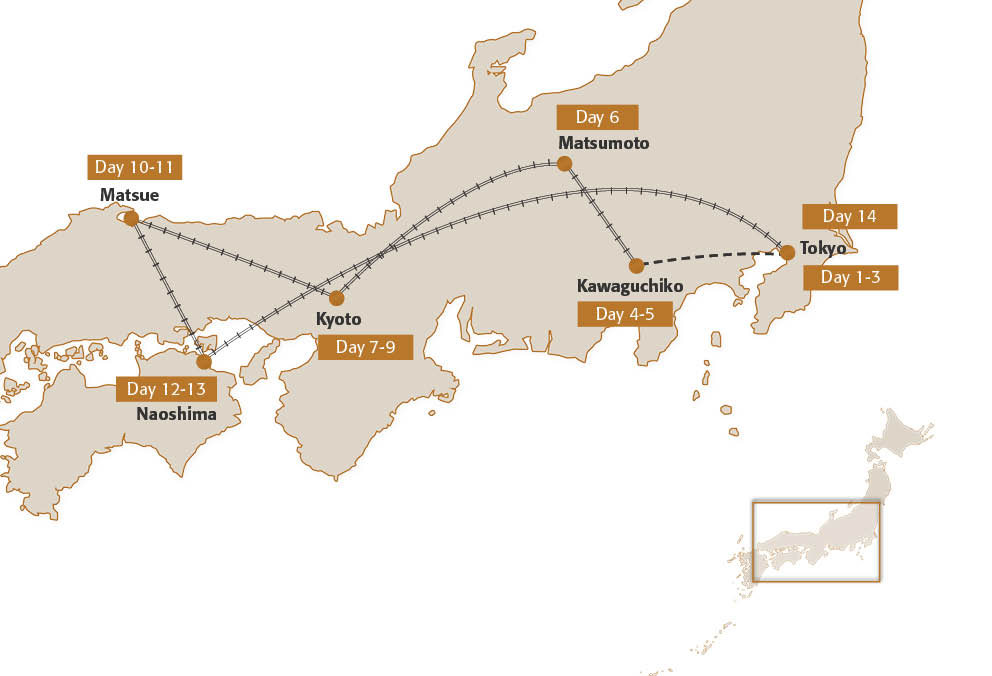 Japan Arts Trail - 15 Days - Day by Day
Japan Arts Trail - 15 Days - Accommodation
Day 1-3

Take an art tour of your striking hotel, try a tea ceremony in Hamarikyu Gardens and discover the diversity of Tokyo's arts scene in Japan's inimitable capital city.

Upon arrival at the airport you will be taken by private car to your hotel, located in the stylish district of Meguro.

Spend the rest of today getting acquainted with the city – stroll through the Imperial Palace gardens or take in a traditional kabuki performance at the Kabuki-za theatre in Ginza. Alternatively, you might like to take a tour of the exceptional artwork of your hotel; visit the ever-changing modern art exhibitions at Roppongi's Mori Tower; or the extensive ukiyo-e woodblock print collection at the National Museum in Ueno Park.

On your first full day in Tokyo, you will have a private guide and driver at your disposal to help you make the most of your time in this extraordinary city. Today you will have the chance to get a personal insight into both the classic sights and some of the lesser-known gems of the city at a pace that suits you. Whether you choose to discover the historical district of Asakusa, lose yourself amongst the bright lights of Shinjuku, or try a tea ceremony next to the lake at Hamarikyu Gardens – today, Tokyo is your oyster.

With a second full day in Tokyo there are endless options just waiting to be discovered. Travel through the art of the twentieth century at the Museum of Contemporary Art, peruse Ginza's fabulous photography museums and make a trip to the Tokyo Station Gallery to experience some of the best of the capital's arts scene.

For those who need a break from the city, a day trip to the giant stone Buddha in sleepy Kamakura, hiking at Mount Takao or a visit to Nikko's ornate shrine complex are also great possibilities.

Overnight: Hotel Gajoen Tokyo

Day 4-5

Soak up the views of iconic Mount Fuji.

Today you'll travel west by private car to Lake Kawaguchiko at the base of Mount Fuji. We are firm believers that Kawaguchiko offers the best views of Mount Fuji, and you'll get to enjoy them directly from your hotel, the Hoshinoya.

In addition to enjoying the natural scenery, we recommend spending a few hours at the Itchiku Kubota museum, our favourite art museum in the area. Itchiku Kubota was a textile artist who was famous for his exquisite artwork made from silk kimono.

Breakfast and dinner will be included both days at your accommodation. The Hoshinoya is the perfectly relaxed counterpart to the impressive Hotel Gajoen in Tokyo and has a fantastic outdoor restaurant area called the Cloud Terrace, where you can enjoy seasonal ingredients in a memorable alfresco dining experience. Additional experiences are available, such as early morning canoeing, so let us know if you'd like to tailor your stay.

Overnight: Hoshinoya Fuji

Day 6

Marvel at the striking Black Crow Castle and visit the Ukiyo-e Museum of Matsumoto.

From Kawaguchiko another private car will take you in comfort north to Matsumoto, a city famous for its 'the black crow castle' which is undoubtedly one of the most impressive original castles in Japan. Matsumoto has two excellent art museums: if you'd like to see more of the traditional ukiyo-e woodblock prints, you can visit the Ukiyo-e Museum which houses over 100,000 prints, although only a carefully curate selection is on display at any time. If you preer modern art we're sure you will enjoy a visit to the Matsumoto City Museum of Art, which has a Yayoi Kusama sculpture just outside.

Although there are some good quality hotels in the city centre, we recommend heading just outside to the KAI, a beautiful ryokan-hotel hybrid where you can experience the best of Japanese hospitality and kaiseki cuisine with the modern comforts of beds and your own hot spring bath on the balcony.

Overnight: Kai Matsumoto

Day 7-9

Spend a few days getting to know Japan's ancient capital through the eyes of the locals as you take a tour of the city and enjoy an exclusive private audience with a trainee geisha.

Today you will travel by train west to Kyoto – the cultural heart of Japan. Arriving at the gigantic architectural masterpiece that is Kyoto station, you would be forgiven for thinking that this is just another modern Japanese city – but a short walk away from your hotel you will find yourself in a different world.

This afternoon you will join a guide for a private tour of the Gion district, close to your hotel. Our guide is the granddaughter of a geisha and can give you a intimate insight into their beautifully mysterious world.

On your second day in Kyoto, you will have a private guide and driver at your disposal to help you maximise your time and see both the classic sights and the lesser-known areas of the city.

You will have the opportunity to marvel at Kinkaku-ji's Golden Pavilion, to visit the Nishijin textile district and to test out an ancient burglar alarm at Nijo Castle! Your guide will take you to sample some of the best local cuisine for lunch and will be on hand all day to help give you a personal insight into the cultural life of this amazing city. In the afternoon you will be granted a private audience with a maiko (an apprentice geisha). This is truly a rare and unmissable opportunity to gain an insight into an ancient and secretive profession.

Armed with your personalised Info-Pack, you will have another full day to explore Kyoto on day nine of your trip. We suggest a visit to Nishiki Market to discover the wide selection of foods on offer, a ramble through the thousands of vermillion torii gates at Fushimi Inari shrine, a wander in the bamboo groves of Arashiyama, and a boat trip along the peaceful Hozugawa River.

Let us know if you would like us to arrange any experiences for you today, or if you fancy a day trip to somewhere further afield – the ancient capital of Nara, the laid-back city of Osaka, or perhaps Hiroshima.

Rather than a standard luxury hotel, we have chosen a more secluded hotel close to Gion. Every room here is unique, and it combines exceptional hospitality with the traditional elegance of a ryokan inn, without losing any of the comfort: think sumptuous beds set on tatami mat flooring, next to sliding paper screen doors. The meals at Sowaka are exceptional so speak to us if you'd like assistance with making a dinner reservation.

Overnight: Sowaka

Day 10-11

Relax in one of Japan's most lovely traditional ryokan inns at Tamatsukuri Onsen before taking a trip to Matsue, Japan's "City of Water".

Another journey on the bullet train will take you to Okayama, where you will catch a limited express train to Matsue. A charming city lying between two lakes on the Japan Sea Coast, Matsue is home to an impressive samurai castle and is known as Japan's "City of Water".

A private car will meet you at Matsue Station and take you to your deluxe ryokan inn in Tamatsukuri, a sacred hot spring town with the nickname "hot waters of God". Here you will relax in the cypress-lined hot spring baths before tasting some of the very best in local cuisine tonight.

After your night in Tamatsukuri, your private car will pick you up and take you the short distance back to Matsue for some sightseeing, including a visit to Japan's most sacred Shinto shrine: Izumo Taisha.

No stay in Matsue would be complete without heading to the Adachi Museum, home to an impressive collection of 1,300 modern Japanese paintings by master painters of the modern era. Despite this vast collection, the Adachi Museum's most famous attraction is its exquisite Japanese garden.

Your driver will drop you back at your accommodation in time for another exquisite dinner tonight.

Overnight: Minamikan

Day 12-13

Stay overnight at Benesse House, Naoshima's flagship museum and hotel, as you explore this fascinating art island.

No arts trail would be complete without a stay on Naoshima – known as "Art Island" for its pioneering approach to art and numerous innovative exhibitions. From Matsue, you will take a train to Okayama where a private car will take you on to Uno Port. It's then a short ferry journey to the island where you will stay at Benesse House, an architecturally diverse string of buildings designed by Tadao Ando that collectively make up an art gallery and hotel. Explore the works of the likes of Jasper Jones, David Hockney and Andy Warhol here at the island's flagship museum.

After a night at Benesse House you will have a full day to explore the art exhibitions and galleries all over the island. Discover unusual outdoor installations – including Yayoi Kusama's yellow pumpkin – and walk to the Chichu Museum where Monet's Water Lilies and works by James Turrell await.

You might also like to rent a bicycle and cycle around the coast to the Art House Projects sprinkled through the streets of Honmura village. There are small exhibitions around every corner and full details of today's options will be included in your Info-Pack.

Overnight: Benesse House

Day 14-15

Return to Tokyo for some last-minute sightseeing before a final night with sweeping views over the Imperial Palace.

Your trip will come full circle as you return to the capital today. You will retrace your steps to Okayama by ferry and car and from there whizz along the eastern seaboard to the capital. A private car will take you to your hotel close to the Imperial Palace, where you can spend your last afternoon doing some last-minute shopping, squeeze in a couple more galleries and dine under the train tracks of Shinbashi Station.

On the morning of your final day in Japan you will be taken by private car from your hotel to the airport in time for your departure flight. Have a safe journey home.

Overnight: Palace Tokyo
View all days
Day 1-3

Take an art tour of your striking hotel, try a tea ceremony in Hamarikyu Gardens and discover the diversity of Tokyo's arts scene in Japan's inimitable capital city.

Upon arrival at the airport you will be taken by private car to your hotel, located in the stylish district of Meguro.

Spend the rest of today getting acquainted with the city – stroll through the Imperial Palace gardens or take in a traditional kabuki performance at the Kabuki-za theatre in Ginza. Alternatively, you might like to take a tour of the exceptional artwork of your hotel; visit the ever-changing modern art exhibitions at Roppongi's Mori Tower; or the extensive ukiyo-e woodblock print collection at the National Museum in Ueno Park.

On your first full day in Tokyo, you will have a private guide and driver at your disposal to help you make the most of your time in this extraordinary city. Today you will have the chance to get a personal insight into both the classic sights and some of the lesser-known gems of the city at a pace that suits you. Whether you choose to discover the historical district of Asakusa, lose yourself amongst the bright lights of Shinjuku, or try a tea ceremony next to the lake at Hamarikyu Gardens – today, Tokyo is your oyster.

With a second full day in Tokyo there are endless options just waiting to be discovered. Travel through the art of the twentieth century at the Museum of Contemporary Art, peruse Ginza's fabulous photography museums and make a trip to the Tokyo Station Gallery to experience some of the best of the capital's arts scene.

For those who need a break from the city, a day trip to the giant stone Buddha in sleepy Kamakura, hiking at Mount Takao or a visit to Nikko's ornate shrine complex are also great possibilities.

Overnight: Hotel Gajoen Tokyo

Day 4-5

Soak up the views of iconic Mount Fuji.

Today you'll travel west by private car to Lake Kawaguchiko at the base of Mount Fuji. We are firm believers that Kawaguchiko offers the best views of Mount Fuji, and you'll get to enjoy them directly from your hotel, the Hoshinoya.

In addition to enjoying the natural scenery, we recommend spending a few hours at the Itchiku Kubota museum, our favourite art museum in the area. Itchiku Kubota was a textile artist who was famous for his exquisite artwork made from silk kimono.

Breakfast and dinner will be included both days at your accommodation. The Hoshinoya is the perfectly relaxed counterpart to the impressive Hotel Gajoen in Tokyo and has a fantastic outdoor restaurant area called the Cloud Terrace, where you can enjoy seasonal ingredients in a memorable alfresco dining experience. Additional experiences are available, such as early morning canoeing, so let us know if you'd like to tailor your stay.

Overnight: Hoshinoya Fuji

Day 6

Marvel at the striking Black Crow Castle and visit the Ukiyo-e Museum of Matsumoto.

From Kawaguchiko another private car will take you in comfort north to Matsumoto, a city famous for its 'the black crow castle' which is undoubtedly one of the most impressive original castles in Japan. Matsumoto has two excellent art museums: if you'd like to see more of the traditional ukiyo-e woodblock prints, you can visit the Ukiyo-e Museum which houses over 100,000 prints, although only a carefully curate selection is on display at any time. If you preer modern art we're sure you will enjoy a visit to the Matsumoto City Museum of Art, which has a Yayoi Kusama sculpture just outside.

Although there are some good quality hotels in the city centre, we recommend heading just outside to the KAI, a beautiful ryokan-hotel hybrid where you can experience the best of Japanese hospitality and kaiseki cuisine with the modern comforts of beds and your own hot spring bath on the balcony.

Overnight: Kai Matsumoto

Day 7-9

Spend a few days getting to know Japan's ancient capital through the eyes of the locals as you take a tour of the city and enjoy an exclusive private audience with a trainee geisha.

Today you will travel by train west to Kyoto – the cultural heart of Japan. Arriving at the gigantic architectural masterpiece that is Kyoto station, you would be forgiven for thinking that this is just another modern Japanese city – but a short walk away from your hotel you will find yourself in a different world.

This afternoon you will join a guide for a private tour of the Gion district, close to your hotel. Our guide is the granddaughter of a geisha and can give you a intimate insight into their beautifully mysterious world.

On your second day in Kyoto, you will have a private guide and driver at your disposal to help you maximise your time and see both the classic sights and the lesser-known areas of the city.

You will have the opportunity to marvel at Kinkaku-ji's Golden Pavilion, to visit the Nishijin textile district and to test out an ancient burglar alarm at Nijo Castle! Your guide will take you to sample some of the best local cuisine for lunch and will be on hand all day to help give you a personal insight into the cultural life of this amazing city. In the afternoon you will be granted a private audience with a maiko (an apprentice geisha). This is truly a rare and unmissable opportunity to gain an insight into an ancient and secretive profession.

Armed with your personalised Info-Pack, you will have another full day to explore Kyoto on day nine of your trip. We suggest a visit to Nishiki Market to discover the wide selection of foods on offer, a ramble through the thousands of vermillion torii gates at Fushimi Inari shrine, a wander in the bamboo groves of Arashiyama, and a boat trip along the peaceful Hozugawa River.

Let us know if you would like us to arrange any experiences for you today, or if you fancy a day trip to somewhere further afield – the ancient capital of Nara, the laid-back city of Osaka, or perhaps Hiroshima.

Rather than a standard luxury hotel, we have chosen a more secluded hotel close to Gion. Every room here is unique, and it combines exceptional hospitality with the traditional elegance of a ryokan inn, without losing any of the comfort: think sumptuous beds set on tatami mat flooring, next to sliding paper screen doors. The meals at Sowaka are exceptional so speak to us if you'd like assistance with making a dinner reservation.

Overnight: Sowaka

Day 10-11

Relax in one of Japan's most lovely traditional ryokan inns at Tamatsukuri Onsen before taking a trip to Matsue, Japan's "City of Water".

Another journey on the bullet train will take you to Okayama, where you will catch a limited express train to Matsue. A charming city lying between two lakes on the Japan Sea Coast, Matsue is home to an impressive samurai castle and is known as Japan's "City of Water".

A private car will meet you at Matsue Station and take you to your deluxe ryokan inn in Tamatsukuri, a sacred hot spring town with the nickname "hot waters of God". Here you will relax in the cypress-lined hot spring baths before tasting some of the very best in local cuisine tonight.

After your night in Tamatsukuri, your private car will pick you up and take you the short distance back to Matsue for some sightseeing, including a visit to Japan's most sacred Shinto shrine: Izumo Taisha.

No stay in Matsue would be complete without heading to the Adachi Museum, home to an impressive collection of 1,300 modern Japanese paintings by master painters of the modern era. Despite this vast collection, the Adachi Museum's most famous attraction is its exquisite Japanese garden.

Your driver will drop you back at your accommodation in time for another exquisite dinner tonight.

Overnight: Minamikan

Day 12-13

Stay overnight at Benesse House, Naoshima's flagship museum and hotel, as you explore this fascinating art island.

No arts trail would be complete without a stay on Naoshima – known as "Art Island" for its pioneering approach to art and numerous innovative exhibitions. From Matsue, you will take a train to Okayama where a private car will take you on to Uno Port. It's then a short ferry journey to the island where you will stay at Benesse House, an architecturally diverse string of buildings designed by Tadao Ando that collectively make up an art gallery and hotel. Explore the works of the likes of Jasper Jones, David Hockney and Andy Warhol here at the island's flagship museum.

After a night at Benesse House you will have a full day to explore the art exhibitions and galleries all over the island. Discover unusual outdoor installations – including Yayoi Kusama's yellow pumpkin – and walk to the Chichu Museum where Monet's Water Lilies and works by James Turrell await.

You might also like to rent a bicycle and cycle around the coast to the Art House Projects sprinkled through the streets of Honmura village. There are small exhibitions around every corner and full details of today's options will be included in your Info-Pack.

Overnight: Benesse House

Day 14-15

Return to Tokyo for some last-minute sightseeing before a final night with sweeping views over the Imperial Palace.

Your trip will come full circle as you return to the capital today. You will retrace your steps to Okayama by ferry and car and from there whizz along the eastern seaboard to the capital. A private car will take you to your hotel close to the Imperial Palace, where you can spend your last afternoon doing some last-minute shopping, squeeze in a couple more galleries and dine under the train tracks of Shinbashi Station.

On the morning of your final day in Japan you will be taken by private car from your hotel to the airport in time for your departure flight. Have a safe journey home.

Overnight: Palace Tokyo
Close all days
Other trips you may like
Tokyo
Kanazawa
Shirakawago
Takayama
Matsumoto
Tsumago
Kyoto
Tokyo

A budget 14-night adventure taking you into the heart of old Japan, with traditional accommodation and visits to the historic cities of Tokyo & Kyoto.

14 nights: from US$2782 pp (twin share) Read more >

Tokyo
Hakone
Kyoto
Kinosaki Onsen
Osaka

Japan's hot spring bathing culture and scenic countryside make it a wonderfully romantic setting for a honeymoon.

11 nights: from US$6149 pp (twin share) Read more >

Kyoto
Miyajima
Matsuyama
Kotohira
Iya Valley
Takamatsu
Osaka

Explore the rural heartlands of Japan whilst helping to sustain unique aspects of Japanese culture and tradition on this classic two-week trip.

13 nights: from US$3822 pp (twin share) Read more >