Self-Guided Adventure
Skiing on a Snowshoe String
7 Nights: from AU$2660 per person (twin share)
Trip Code: SSSE
Spend four nights at a very friendly lodge in Hakuba, one of Japan's best ski resorts, sandwiched by nights in Tokyo with time for cultural sightseeing in the country's capital. Read more >
The itinerary starts and finishes in Tokyo's Shinjuku district, the capital's high-rise, neon-spangled business and entertainment hub. You'll stay in an excellent tourist hotel close to Shinjuku Station, just a stone's throw from a dazzling array of department stores, restaurants, karaoke bars, pachinko parlours and even the odd cat café.
You'll then take a direct train from Tokyo up to Hakuba, high in the Japanese Alps. Hakuba is actually seven ski resorts in one: Happo One, Hakuba 47, Goryu, Iwatake, Tsugaike, Sanosaka and Highland Minegatta. We've included an all-valley lift pass that covers all the areas, so whatever your ability you definitely won't run out of slopes to explore!
You will be staying at a fantastic lodge just a short walk from the main Happo gondola, as well as plenty of restaurants, bars and all-important onsen hot springs in the centre of Hakuba. If you don't fancy eating out or are on a tight budget, the lodge has a kitchen that guests are free to use. The best thing about the lodge are the staff, who speak excellent English, love their winter sports and will provide a wealth of useful advice and information to help you get the most from your stay.
Like all our Self-Guided Adventures, this package is completely flexible - so if you'd like us to add equipment hire, skiing or snowboarding lessons, or perhaps a day trip to see the famous snow monkeys of Yudanaka Onsen, please let your travel consultant know.
What's included
Seven nights accommodation

Airport transfers

Breakfast every day

Five-day JR East Flexi Pass, which covers all transport between destinations and airports

Hakuba all-valley ski lift pass

Your personalised InsideJapan Info-Pack
What's NOT included:
International flights

Local transport (buses, subways, taxis) at any destination unless otherwise specified

Any entrance fees including those for shrines, temples and museums

Baggage handling or luggage forwarding

Ski equipment hire
Trip Highlights
Ski or snowboard in Hakuba

Stay amongst the bright lights of Tokyo's Shinjuku district
Enjoy Japanese après ski and hot spring baths

Spend a free day sightseeing in Tokyo
For more information email us: [email protected] or call: + 61 7 3186 8800
What, where, when and how...
Skiing on a Snowshoe String - 8 Days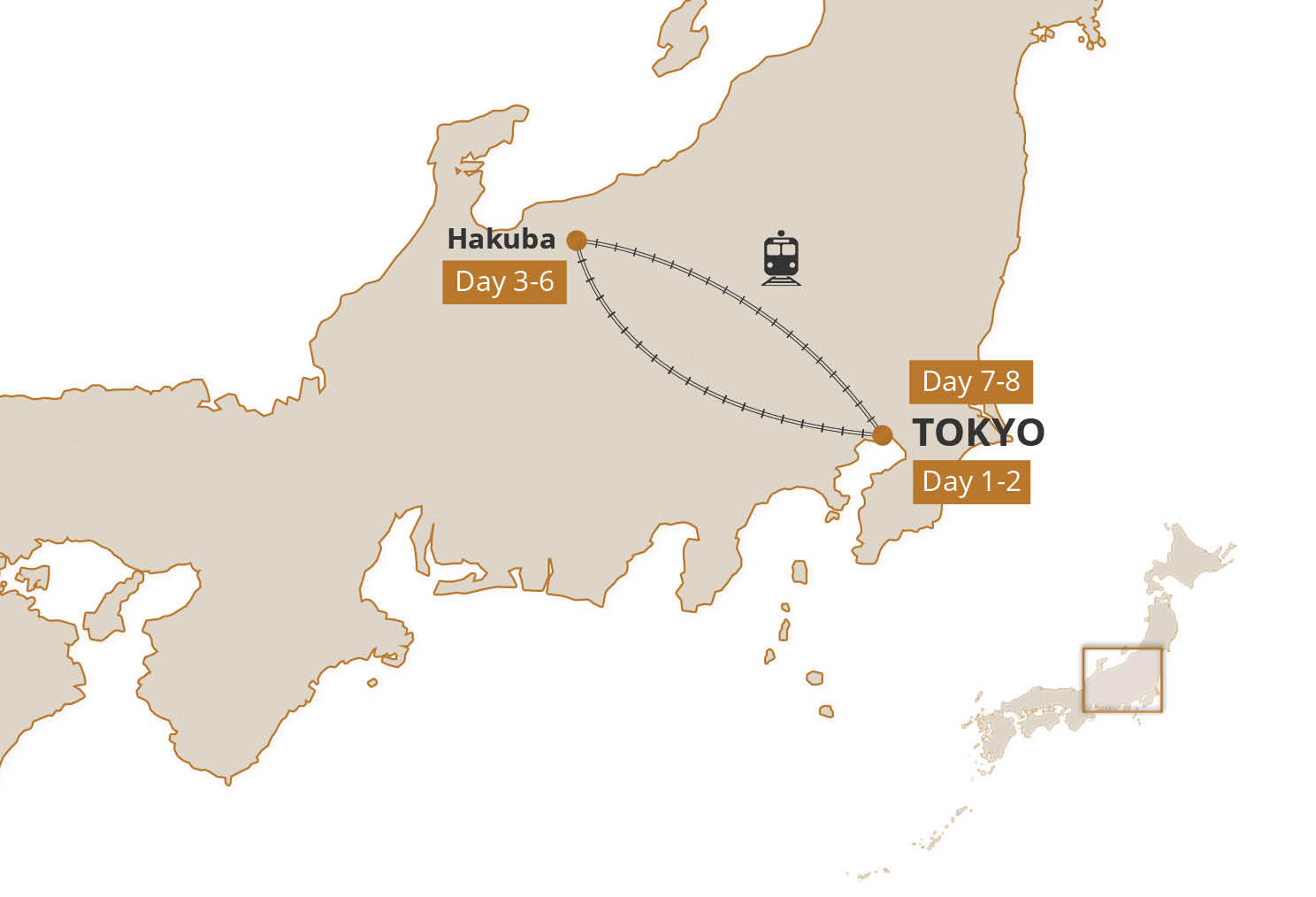 Destinations
Skiing on a Snowshoe String - 8 Days - Day by Day
Skiing on a Snowshoe String - 8 Days - Accommodation

Skiing on a Snowshoe String - 8 Days - Experiences
Day 1-2

Explore Tokyo, Japan's exciting capital city.

Welcome to Japan! On arrival you will catch the Narita Express from the airport to Shinjuku, where you'll we staying in one of the city's most vibrant business and entertainment districts. There are literally thousands of great bars and restaurants on your doorstep here, so you will have no trouble finding a great place to spend your first evening in Japan.
Today you will have a free day to explore the capital and we will provide plenty of sightseeing advice and information in your InsideJapan Info-Pack. Shinjuku is a great base for your explorations, with excellent transport links to all the major sightseeing areas. Take a visit to the traditional Asakusa quarter with its busy markets and red-pillared temple, explore towering arcade palaces and gadget shops of Akihabara "electric town" or go people-spotting in the outlandish fashion district of Harajuku.

Overnight: Hotel MONday Asakusa

Day 3-6

Hit the slopes in Hakuba - one of the country's finest ski resorts.

To get to Hakuba you'll take the 7.30am limited express train direct from Tokyo's Shinjuku Station. The train takes just under four hours, which means you'll have this afternoon to get out on the slopes followed by three full days for skiing or snowboarding. Your accommodation is just five minutes from the main Happo gondola, but your lift passes cover all seven resorts within Hakuba so you'll hardly have to ski the same piste twice!
Skiers still outnumber snowboarders in Japan, but only just! Snowboarding enjoys huge popularity, and the number of resorts welcoming snowboarders and providing special snowboarding facilities such as half pipes continues to increase. Many resorts also welcome other types of snow sports, such as snow bikes and snow scooters.
We haven't added ski equipment hire as it's cheap and very easy to arrange on arrival. You can do this through your accommodation or at a rental store in downtown Hakuba, where most of the staff speak good English. However if you would like us to book this for you in advance, please let us know!

Overnight: Morino Lodge

Day 7-8

Return to Tokyo for a final night of fun before you head home.

Today you'll retrace your steps to Tokyo's Shinjuku district. A chance for a big final night out in typical Japanese style! We recommend dining at an izakaya (Japanese-style pub) before testing your vocal cords at one of the district's towering karaoke establishments.
Sadly your time in Japan must come to an end. On your final morning you can use the included JR East Flexi Pass to take a train from Shinjuku direct to Narita Airport in time for your flight home.

Overnight: Sunroute Plaza Shinjuku
View all days
Day 1-2

Explore Tokyo, Japan's exciting capital city.

Welcome to Japan! On arrival you will catch the Narita Express from the airport to Shinjuku, where you'll we staying in one of the city's most vibrant business and entertainment districts. There are literally thousands of great bars and restaurants on your doorstep here, so you will have no trouble finding a great place to spend your first evening in Japan.
Today you will have a free day to explore the capital and we will provide plenty of sightseeing advice and information in your InsideJapan Info-Pack. Shinjuku is a great base for your explorations, with excellent transport links to all the major sightseeing areas. Take a visit to the traditional Asakusa quarter with its busy markets and red-pillared temple, explore towering arcade palaces and gadget shops of Akihabara "electric town" or go people-spotting in the outlandish fashion district of Harajuku.

Overnight: Hotel MONday Asakusa

Day 3-6

Hit the slopes in Hakuba - one of the country's finest ski resorts.

To get to Hakuba you'll take the 7.30am limited express train direct from Tokyo's Shinjuku Station. The train takes just under four hours, which means you'll have this afternoon to get out on the slopes followed by three full days for skiing or snowboarding. Your accommodation is just five minutes from the main Happo gondola, but your lift passes cover all seven resorts within Hakuba so you'll hardly have to ski the same piste twice!
Skiers still outnumber snowboarders in Japan, but only just! Snowboarding enjoys huge popularity, and the number of resorts welcoming snowboarders and providing special snowboarding facilities such as half pipes continues to increase. Many resorts also welcome other types of snow sports, such as snow bikes and snow scooters.
We haven't added ski equipment hire as it's cheap and very easy to arrange on arrival. You can do this through your accommodation or at a rental store in downtown Hakuba, where most of the staff speak good English. However if you would like us to book this for you in advance, please let us know!

Overnight: Morino Lodge

Day 7-8

Return to Tokyo for a final night of fun before you head home.

Today you'll retrace your steps to Tokyo's Shinjuku district. A chance for a big final night out in typical Japanese style! We recommend dining at an izakaya (Japanese-style pub) before testing your vocal cords at one of the district's towering karaoke establishments.
Sadly your time in Japan must come to an end. On your final morning you can use the included JR East Flexi Pass to take a train from Shinjuku direct to Narita Airport in time for your flight home.

Overnight: Sunroute Plaza Shinjuku
Close all days
Other Skiing & Winter Sports trips you may like
Tokyo
Niseko
Sapporo
Kyoto
Yudanaka
Tokyo

Mix culture with snow sports on this deluxe trip, taking in several exciting destinations across Honshu and Hokkaido.

15 nights: Read more >

Tokyo
Hakone
Kyoto
Hakuba
Nagano
Tokyo

Japan is a first class winter sports destination with a twist. Why not combine skiing or snowboarding with a taste of the unique Japanese culture?

13 nights: from AU$5833 pp (twin share) Read more >

An amazing week at perhaps Japan's top winter sports resort. Fantastic snow conditions and a vibrant international atmosphere.

8 nights: from AU$3458 pp (twin share) Read more >