Self-Guided Adventure
Traditional Japan
14 Nights: from AU$6289 per person (twin share)
Trip Code: TJC
Enjoy mountain scenery, tranquil gardens, ancient history and authentic family-run minshuku inns as you tour the traditional districts and ancient historical sites of Japan. Read more >
Beginning with a stay in Tokyo's historical Asakusa district, your trip will take you west on the futuristic bullet train to Kanazawa. Here former geisha establishments and teahouses line roads lit by old-fashioned street lamps, and you'll have the chance to wander the atmospheric streets of the beautifully preserved samurai quarter.
Stays in the rural villages of Shirakawago and Tsumago offer lovely walks and scenic views, with accommodation in traditional, family-run minshuku inns. Shirakawa-go is a designated UNESCO World Heritage Site, famous for its steeply thatched gassho-zukuri farmhouses said to resemble the hands of monks pressed together in prayer.
The village of Tsumago, meanwhile, was once an important link on the ancient Nakasendo Highway, a trading route linking Kyoto with Edo (modern day Tokyo). Today Tsumago is a meticulously preserved post town and the ideal starting point from which to walk to the neighbouring hamlet of Magome - a lovely, leisurely trail that allows visitors to walk in the footsteps of the samurai.
Cap off your trip through the Japanese Alps with a stay in Japan's cultural centre and former capital: Kyoto. Here you will have the chance to explore the backstreets with your private local guide and experience a tea ceremony in a traditional machiya townhouse, in between visiting some of Japan's finest temples, shrines and gardens.
What's included
Accommodation for 14 nights (four nights Japanese style)

Breakfast each morning, three evening meals and two lunches

Airport transfers

Manaca transport card with 2,500 yen credit for local transport

Transport between destinations unless otherwise specified

Seven-day Japan Rail Pass

Eight-hour private guide service in Tokyo and Kyoto

Evening Geisha walk in Kyoto

Insider night food tour in Tokyo

Guided craft tour of Takayama

Soba noodle-making class
Traditional machiya townhouse visit

Pocket WiFi device

Your personalised InsideJapan Info-Pack
What's NOT included:
International flights

Local transport (buses, subways, taxis) unless otherwise specified

Taxi transfer between Nagiso and Tsumago (approx 2,000 yen per taxi each way)

Any entrance fees unless otherwise specified

Baggage handling and luggage forwarding
Trip Highlights
Visit a machiya townhouse in Kyoto

See Matsumoto's "Black Crow" castle

Tour Tokyo and Kyoto with a private guide
Try your hand at soba noodle-making

Walk the Nakasendo Highway

Stay in a traditional thatched cottage in Shirakawago
For more information email us: [email protected] or call: + 61 7 3186 8800
What, where, when and how...
Traditional Japan - 15 Days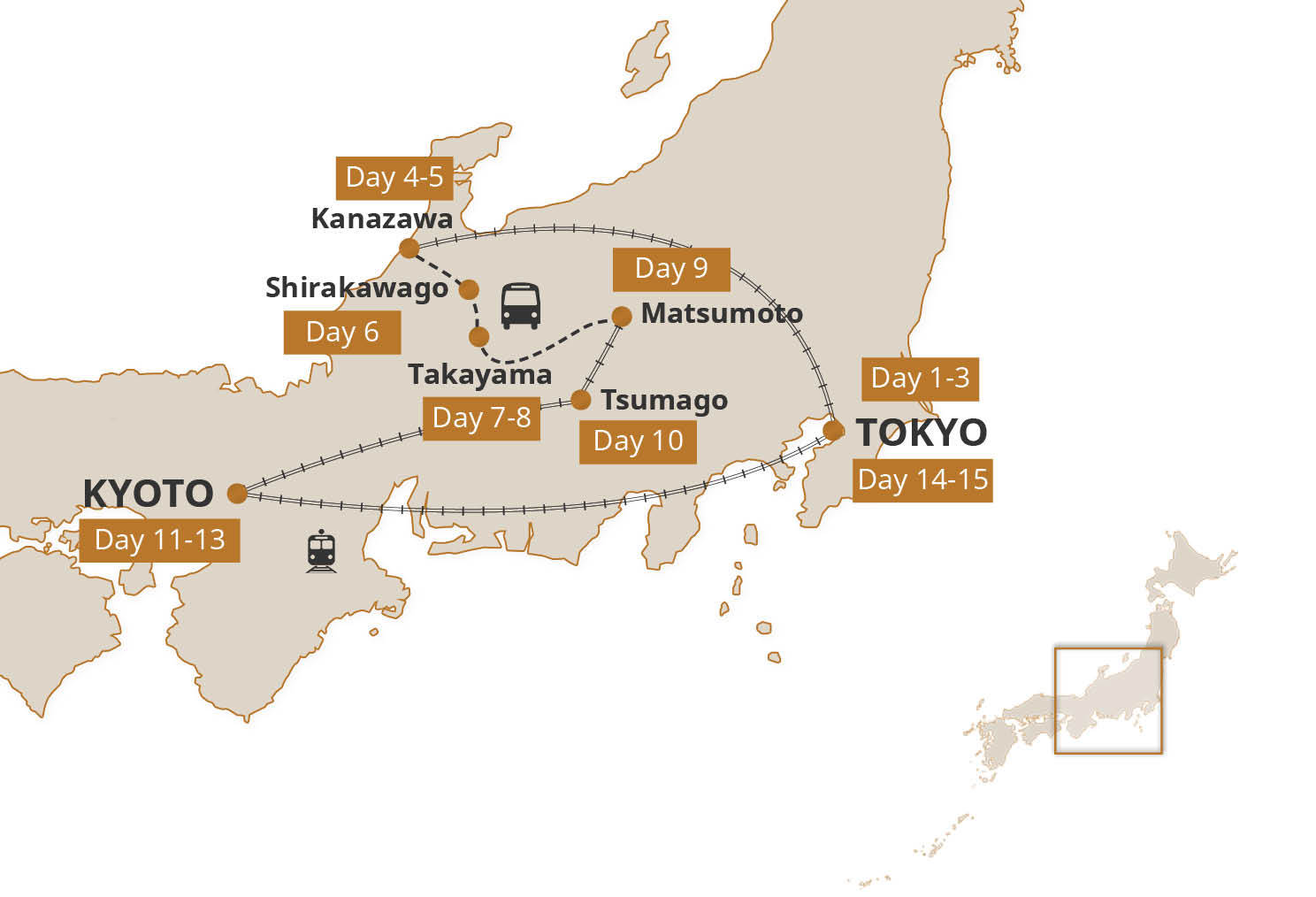 Traditional Japan - 15 Days - Day by Day
Traditional Japan - 15 Days - Accommodation
Day 1-3

Start your adventures in Asakusa, Tokyo's most traditional district and home to the city's oldest temple: Senso-ji.

You will begin your journey with a stay in Asakusa, Tokyo's most traditional district and home to the city's oldest temple: Senso-ji. This area has resisted modernisation and the development of high-rise buildings that you will see in most areas of Tokyo and we recommend spending the rest of your first day exploring the shops and restaurants here. Just across the Sumida River, you might also like to take the lift 634 m up to the top of the Skytree for spectacular views of the city and even Mount Fuji on a clear day.
On your first full day in the city you will have the services of a professional guide to help you discover Tokyo's most famous sights as well as some of its hidden gems. The itinerary will be completely flexible to accommodate any special interests or preferences that you might have, and the guide will have plenty of suggestions as to how best to spend your day.
After an action-packed day of guiding you'll have another free day in Tokyo to either continue exploring the city's attractions or to venture further afield on a day trip. We highly recommend getting up early for a trip to Tsukiji Fish Market and a breakfast of some of the freshest sushi in the world. If you opt instead for a day trip out of the city, we suggest a visit to the great stone Buddha in sleepy Kamakura or a day of hiking at stunning Mount Takao.

Overnight: Gracery Asakusa Hotel

Day 4-5

Relive history as you wander the geisha districts and old samurai quarter of Kanazawa.

Your adventures will begin in earnest today as you head west to Kanazawa on the world-famous Shinkansen bullet train. The journey will take around four hours and you will arrive in Kanazawa in time to spend a few hours exploring the preserved geisha districts and samurai quarter of the old town. Your Info-Pack will be full of suggestions for sightseeing and restaurant recommendations for tonight.
On day five of your itinerary you'll have a full day in Kanazawa to visit Kenrokuen, justly celebrated as one of Japan's three most beautiful gardens, and the castle ruins nearby. The intriguing 21st Century Art Museum is one of the most popular art galleries in Japan and has a wide range of works by acclaimed domestic and international contemporary artists. Kanazawa's "Ninja" temple, full of traps and secret doors, is also a popular option – let us know if you would like us to arrange a visit for you!

Overnight: Hotel Intergate Kanazawa

Day 6

Spend the night in a gassho-zukuri "praying hands" farmhouse in the mountain village of Shirakawago, one of Japan's most beautiful rural settlements.

From Kanazawa you will take the bus through scenic countryside to Shirakawago, registered as a UNESCO World Heritage site thanks to its gassho-zukuri farmhouses – some of which are more than 250 years old. Most visitors only stay in the village for a couple of hours but you will be spending the night at one of these distinctive thatched farmhouses, where a delicious home-cooked dinner will be included.

Overnight: Gassho Minshuku Ootaya

Day 7-8

Explore the alpine town of Takayama, famous for the high quality of its craftsmen and for its beautifully preserved old town district.

Your next alpine destination will be Takayama, celebrated for its craftsmen and for the many old shops, teahouses and merchant homes that still survive in the old town district today.
This afternoon you will join a walking tour which explores the unique crafts culture in Takayama, an excellent way to familiarise yourself with the area and learn about what makes the town special. You will be staying at a family-run ryokan inn tonight where you'll enjoy a sumptuous kaiseki dinner featuring plenty of local specialities, or meibutsu. Your next day will be free for you to explore Takayama and the surrounding area. The lively morning markets by the river are an excellent place to find local produce, flowers and crafts, whilst the Sukyo Mahikari World Shrine (complete with giant fish tank) makes for a fascinating afternoon visit!
For dinner, meat lovers should try hida beef, a delicious local specialty. Sake is the local drink of choice and micro-breweries abound, so pop in for a tasting before you leave!

Overnight: Tanabe Ryokan

Day 9

Explore Matsumoto's "Black Crow" castle, one of the finest original castles in Japan and a designated National Treasure.

Today you will travel by bus over the crest of the Japan Alps to Matsumoto, famous for its "Black Crow" castle. This is one of the best-preserved original castles in Japan and a designated National Treasure.
Besides visiting the castle there are some fascinating museums in the town, most of which celebrate famous artists and authors from the area. Amongst Matsumoto's celebrated figures are such illustrious names as Yayoi Kusama and Shin'ichi Suzuki of the famous Suzuki violin technique. Be sure to try the local specialities of soba noodles and, if you're feeling brave, basashi (raw horse) tonight!

Overnight: Richmond Matsumoto

Day 10

Retrace the steps of the samurai as you walk the Nakasendo Highway between the post towns of Tsumago and Magome.

From Matsumoto you will travel south by train to reach Tsumago, a small village that was once a post town on the Nakasendo Highway trade route. Here the local residents have collaborated to meticulously preserve the town's Edo Period atmosphere, maintaining the historical buildings, banning motorised vehicles during the daytime and even making sure that no telegraph wires mar the village's traditional ambience.
Today you can either take a bus to your small family-run minshuku inn in the nearby town of Magome or follow in the footsteps of the samurai as you make the pleasant, eight-kilometre walk between the two towns. Dinner at your inn is included tonight.

Overnight: Daikichi Minshuku

Day 11-13

Explore the wealth of ancient temples and shrines and take a tour of a lovingly preserved machiya townhouse in Kyoto, Japan's Imperial capital for over a millennium.

Today you will leave the Alps and take a train to Kyoto, formerly the capital of Japan for over a millennium and still the country's undisputed cultural centre.
This fantastic city is jam-packed with temples, shrines and gardens – a staggering 17 of which are registered UNESCO World Heritage Sites. This afternoon we suggest visiting Kiyomizu-dera Temple and exploring the surrounding shops before heading to the Gion district to try to spot a geisha scurrying between appointments.
On your second day in Kyoto you will have the services of a private guide for a full day tour of the city. Your guide will be well equipped to take you to any places you are particularly interested in and will have plenty of suggestions to add. Perhaps you might like to explore the eclectic Nishiki food market, walk along the Philosopher's Path to Ginkaku-ji Temple or try out the "nightingale" floorboards at Nijo Castle.
On your next day in Kyoto you'll be taking a tour of one of the city's beautifully preserved machiya townhouses, a small pocket of traditional life within a modern city. Located in Kyoto's Nishijin textile district, this machiya was built as a textiles shop with living quarters and boasts three storehouses, six small gardens, a tea ceremony room and an annex where Noh performances were once held.
During your tour you will be shown how to dress in traditional kimono before being instructed in the time-honoured techniques of the tea ceremony. Afterwards, a bento lunch served on authentic Meiji Period dining ware is included. The rest of the day will be free for you to explore Kyoto using your Info-Pack as a guide.

Overnight: Mitsui Garden Kawaramachi Jokyoji

Day 14-15

Round off your trip with a stay in Tokyo's hyper-modern Shinjuku district, the perfect contrast to your traditional Japanese adventure.

Returning to Tokyo by bullet train today, you will have a final opportunity to explore the many diverse districts that this metropolis has to offer. You will be staying in Shinjuku, Tokyo's entertainment and business centre, surrounded by neon-spangled skyscrapers and a plethora of top-notch restaurants and bars.
Sadly your time in Japan must come to an end, and on your final morning you will travel to the airport in plenty of time for your departure flight. Have a safe journey home.

Overnight: JR Kyushu Blossom Shinjuku
View all days
Day 1-3

Start your adventures in Asakusa, Tokyo's most traditional district and home to the city's oldest temple: Senso-ji.

You will begin your journey with a stay in Asakusa, Tokyo's most traditional district and home to the city's oldest temple: Senso-ji. This area has resisted modernisation and the development of high-rise buildings that you will see in most areas of Tokyo and we recommend spending the rest of your first day exploring the shops and restaurants here. Just across the Sumida River, you might also like to take the lift 634 m up to the top of the Skytree for spectacular views of the city and even Mount Fuji on a clear day.
On your first full day in the city you will have the services of a professional guide to help you discover Tokyo's most famous sights as well as some of its hidden gems. The itinerary will be completely flexible to accommodate any special interests or preferences that you might have, and the guide will have plenty of suggestions as to how best to spend your day.
After an action-packed day of guiding you'll have another free day in Tokyo to either continue exploring the city's attractions or to venture further afield on a day trip. We highly recommend getting up early for a trip to Tsukiji Fish Market and a breakfast of some of the freshest sushi in the world. If you opt instead for a day trip out of the city, we suggest a visit to the great stone Buddha in sleepy Kamakura or a day of hiking at stunning Mount Takao.

Overnight: Gracery Asakusa Hotel

Day 4-5

Relive history as you wander the geisha districts and old samurai quarter of Kanazawa.

Your adventures will begin in earnest today as you head west to Kanazawa on the world-famous Shinkansen bullet train. The journey will take around four hours and you will arrive in Kanazawa in time to spend a few hours exploring the preserved geisha districts and samurai quarter of the old town. Your Info-Pack will be full of suggestions for sightseeing and restaurant recommendations for tonight.
On day five of your itinerary you'll have a full day in Kanazawa to visit Kenrokuen, justly celebrated as one of Japan's three most beautiful gardens, and the castle ruins nearby. The intriguing 21st Century Art Museum is one of the most popular art galleries in Japan and has a wide range of works by acclaimed domestic and international contemporary artists. Kanazawa's "Ninja" temple, full of traps and secret doors, is also a popular option – let us know if you would like us to arrange a visit for you!

Overnight: Hotel Intergate Kanazawa

Day 6

Spend the night in a gassho-zukuri "praying hands" farmhouse in the mountain village of Shirakawago, one of Japan's most beautiful rural settlements.

From Kanazawa you will take the bus through scenic countryside to Shirakawago, registered as a UNESCO World Heritage site thanks to its gassho-zukuri farmhouses – some of which are more than 250 years old. Most visitors only stay in the village for a couple of hours but you will be spending the night at one of these distinctive thatched farmhouses, where a delicious home-cooked dinner will be included.

Overnight: Gassho Minshuku Ootaya

Day 7-8

Explore the alpine town of Takayama, famous for the high quality of its craftsmen and for its beautifully preserved old town district.

Your next alpine destination will be Takayama, celebrated for its craftsmen and for the many old shops, teahouses and merchant homes that still survive in the old town district today.
This afternoon you will join a walking tour which explores the unique crafts culture in Takayama, an excellent way to familiarise yourself with the area and learn about what makes the town special. You will be staying at a family-run ryokan inn tonight where you'll enjoy a sumptuous kaiseki dinner featuring plenty of local specialities, or meibutsu. Your next day will be free for you to explore Takayama and the surrounding area. The lively morning markets by the river are an excellent place to find local produce, flowers and crafts, whilst the Sukyo Mahikari World Shrine (complete with giant fish tank) makes for a fascinating afternoon visit!
For dinner, meat lovers should try hida beef, a delicious local specialty. Sake is the local drink of choice and micro-breweries abound, so pop in for a tasting before you leave!

Overnight: Tanabe Ryokan

Day 9

Explore Matsumoto's "Black Crow" castle, one of the finest original castles in Japan and a designated National Treasure.

Today you will travel by bus over the crest of the Japan Alps to Matsumoto, famous for its "Black Crow" castle. This is one of the best-preserved original castles in Japan and a designated National Treasure.
Besides visiting the castle there are some fascinating museums in the town, most of which celebrate famous artists and authors from the area. Amongst Matsumoto's celebrated figures are such illustrious names as Yayoi Kusama and Shin'ichi Suzuki of the famous Suzuki violin technique. Be sure to try the local specialities of soba noodles and, if you're feeling brave, basashi (raw horse) tonight!

Overnight: Richmond Matsumoto

Day 10

Retrace the steps of the samurai as you walk the Nakasendo Highway between the post towns of Tsumago and Magome.

From Matsumoto you will travel south by train to reach Tsumago, a small village that was once a post town on the Nakasendo Highway trade route. Here the local residents have collaborated to meticulously preserve the town's Edo Period atmosphere, maintaining the historical buildings, banning motorised vehicles during the daytime and even making sure that no telegraph wires mar the village's traditional ambience.
Today you can either take a bus to your small family-run minshuku inn in the nearby town of Magome or follow in the footsteps of the samurai as you make the pleasant, eight-kilometre walk between the two towns. Dinner at your inn is included tonight.

Overnight: Daikichi Minshuku

Day 11-13

Explore the wealth of ancient temples and shrines and take a tour of a lovingly preserved machiya townhouse in Kyoto, Japan's Imperial capital for over a millennium.

Today you will leave the Alps and take a train to Kyoto, formerly the capital of Japan for over a millennium and still the country's undisputed cultural centre.
This fantastic city is jam-packed with temples, shrines and gardens – a staggering 17 of which are registered UNESCO World Heritage Sites. This afternoon we suggest visiting Kiyomizu-dera Temple and exploring the surrounding shops before heading to the Gion district to try to spot a geisha scurrying between appointments.
On your second day in Kyoto you will have the services of a private guide for a full day tour of the city. Your guide will be well equipped to take you to any places you are particularly interested in and will have plenty of suggestions to add. Perhaps you might like to explore the eclectic Nishiki food market, walk along the Philosopher's Path to Ginkaku-ji Temple or try out the "nightingale" floorboards at Nijo Castle.
On your next day in Kyoto you'll be taking a tour of one of the city's beautifully preserved machiya townhouses, a small pocket of traditional life within a modern city. Located in Kyoto's Nishijin textile district, this machiya was built as a textiles shop with living quarters and boasts three storehouses, six small gardens, a tea ceremony room and an annex where Noh performances were once held.
During your tour you will be shown how to dress in traditional kimono before being instructed in the time-honoured techniques of the tea ceremony. Afterwards, a bento lunch served on authentic Meiji Period dining ware is included. The rest of the day will be free for you to explore Kyoto using your Info-Pack as a guide.

Overnight: Mitsui Garden Kawaramachi Jokyoji

Day 14-15

Round off your trip with a stay in Tokyo's hyper-modern Shinjuku district, the perfect contrast to your traditional Japanese adventure.

Returning to Tokyo by bullet train today, you will have a final opportunity to explore the many diverse districts that this metropolis has to offer. You will be staying in Shinjuku, Tokyo's entertainment and business centre, surrounded by neon-spangled skyscrapers and a plethora of top-notch restaurants and bars.
Sadly your time in Japan must come to an end, and on your final morning you will travel to the airport in plenty of time for your departure flight. Have a safe journey home.

Overnight: JR Kyushu Blossom Shinjuku
Close all days
Other trips you may like
Tokyo
Mount Fuji
Kyoto
Nara
Osaka
Tokyo

Welcome to one of the most wheelchair-friendly countries in the world. Explore Tokyo, Kyoto, Osaka and more on this exciting 10-night adventure.

10 nights: from AU$7942 pp (call us to discuss to requirements) Read more >

Kakunodate
Mount Haguro
Ginzan Onsen
Sendai
Tokyo

Discover the highlights of rural Tohoku in this week-long add-on itinerary - samurai towns, hot spring villages, and sacred mountains.

7 nights: from AU$3230 pp (twin share) Read more >

Tokyo
Hakone
Kyoto
Kinosaki Onsen
Osaka

Japan's hot spring bathing culture and scenic countryside make it a wonderfully romantic setting for a honeymoon.

11 nights: from AU$8987 pp (twin share) Read more >