Narita Airport
Narita International Airport (Narita kokusai kuukou) almost didn't get built but is now Japan's main passageway for international passengers and a major port for world trade.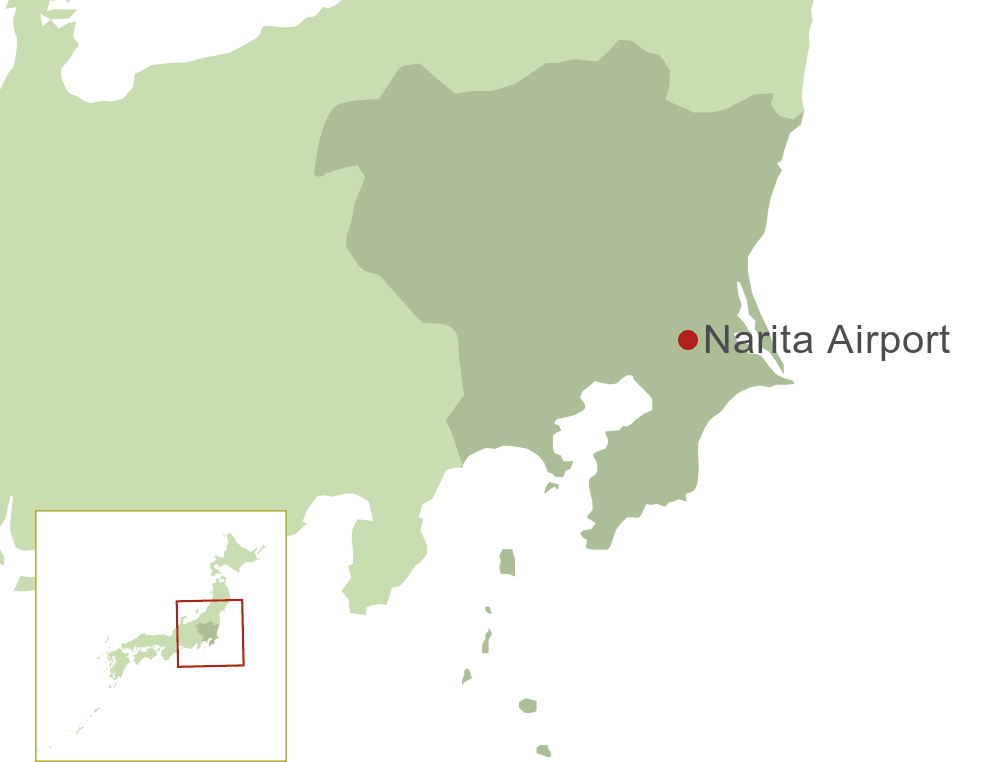 Located 57km east of central Tokyo in rural Chiba prefecture, the airport covers over 11 square kilometres of land and Terminal 1 is the 16th largest building in the world (by floor space). The airport sees on average 33 million passengers passing through its two terminals each year.

In the early 1960's Tokyo's original international airport, Haneda airport, was struggling with the demand put on Tokyo as an international gateway but, due to a lack of flat land in the city after rapid postwar growth, expansion of this airport was not thought possible. In 1962 the government proposed a new international airport to be built on farmland in Chiba, leaving Haneda to deal with only domestic traffic (which remained the case until 2013 when Haneda was thrown open again to international arrivals and departures).

It was a long road before these controversial proposals actually became the airport which most international visitors of Japan use today. There was huge opposition against the plans from local farmers, residents and the rest of Japan, who were evidently not willing to give up without a fight. The first terminal was completed in 1972 but the runway was not completed until 1978, when the airport was officially opened. Construction on the second terminal and runway started in 1986 and were not completed until 1996.

Now the airport is one of Asia's busiest hubs with excellent transport connections into the centre of Tokyo. Whether travelling by car, bus or train, the gradual transformation from fields to suburbs to metropolis is truly mesmerising and an experience in itself.

There are plans to improve the airport and its services to keep it competitive with other Asian airports. Some of these plans include extending the second runway and a new express train which when opened will make the journey into Tokyo take only 36 minutes!

Weather in Narita Airport
The Climate Guide for Narita Airport, Japan is perfect for planning your holiday. Monthly weather averages give the best indication of what the weather is usually like for every month of the year including figures for temperature, rainfall and sunshine.
Jan
Feb
Mar
Apr
May
Jun
Jul
Aug
Sep
Oct
Nov
Dec
Max Daytime Temperature (°C)
9
10
12
17
21
24
27
29
26
21
16
12
Min Night-time Temperature (°C)
0
0
3
9
13
17
21
22
19
13
8
2
Hours of Sunshine (Daily)
6
5
5
5
6
4
5
6
4
4
5
5
Hours of Daylight (Daily)
10
11
12
13
14
14
14
13
12
11
10
10
Heat and Humidity Discomfort
None
None
None
None
None
None
Moderate
High
Low
None
None
None
Days with some Rainfall
10
12
17
16
15
19
18
15
19
16
13
10
Monthly Rainfall (mm)
47
67
111
116
104
145
121
118
198
162
90
44
UV Index (Maximum)
2
3
5
7
9
10
10
10
8
5
3
2