Big Savings
If you are planning on using the 'Bullet' Trains a lot during your visit to Japan then you are sure to make some big savings. The map below shows a typical 14 day itinerary and gives an idea of the money to be saved by purchasing a 14 day Japan Rail Pass.
For 7 day rail passes, if you plan on making a return trip from Tokyo to Kyoto + one other journey, then the rail pass offers good value for money.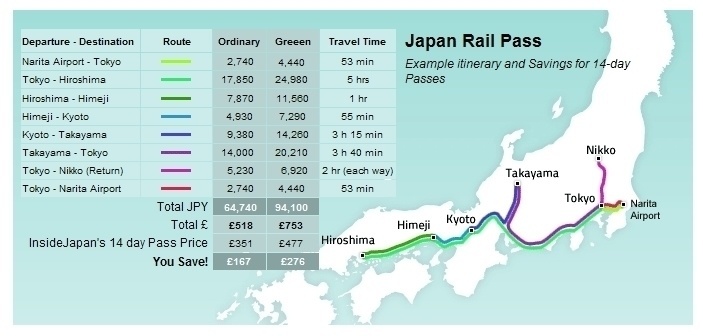 The above savings are based on an exchange rate of £1 = 125 JPY.
For more information email us: info-usa@insidejapantours.com or call: 303 952 0379
Tokyo
Hakone
Kyoto
Tokyo*

This deluxe week-long trip introduces the best of Japan: five-star accommodation, superb food, exclusive cultural experiences and iconic locations.


9 nights: US$9184 Read more >

Tokyo
Tsumago
Kamikochi
Matsumoto
Kyoto
Hakone
Tokyo*

A challenging and rewarding hiking tour, introducing some of Japan's most impressive mountains and stunning natural scenery.


13 nights: US$3360 Read more >

Fukuoka
Nagasaki
Unzen
Kumamoto
Kurokawa Onsen
Kagoshima
Yakushima
Fukuoka*

Discover the vibrant cities and impressive landscapes of Kyushu on this superior journey from Unzen's hot springs to the forests of Yakushima.


14 nights: US$5056 Read more >