Self Guided Adventure
Tohoku Five-night Group Tour Add-On
5 Nights: from US$611 per person (twin share)
Trip Code: TGTADDE
Take a step into Japan's hidden past as you explore the northern Tohoku region, an area often overlooked by travellers lured west to Tokyo and Kyoto. This trip is an ideal add-on to one of our Small Group Tours, allowing you to see more of Japan, and delay your return to work by a precious few days! Read more >
Japan has a wealth of sights, destinations and attractions, far more than can fit into just one trip. This itinerary has been designed as an extension to one of our Small Group Tours. It gives you a chance to extend your time in Japan, visit the often overlooked Northern Tohoku region, and delve a little deeper into Japan's cultural side.

After bidding farewell to your new friends from the tour you will head north on the bullet train to Nikko, home to a collection of some of Japan's most ornate temples and shrines, set in stunning woodland surroundings. You will have two nights here, allowing you to also explore the Nikko National Park, Lake Chuzenji and its attractive waterfalls.

From Nikko you will head further north into the Tohoku region. You will have a two-night stay in the lively city of Sendai, with a variety of day trip options, enabling you to tailor your visit to suit your own tastes. Love Japanese history? Head north to Hiraizumi, once home to one of Japan's most powerful political clans. Fancy some coastal scenery? Take a boat trip around the many islands that dot Matsushima Bay. Like hidden gems? Gaze out across scenic countryside from the top of Yamadera, a temple complex that hugs the side of a scared cliff.
In between your sightseeing you can explore Sendai's shops, restaurants, nightlife. The Tohoku region bore the brunt of the tragic earthquake and tsunami of March 2011, and by exploring this part of Japan you will directly contributing to the continued recovery of the region.

A final night back in Tokyo brings your trip to an end, and you can travel home safe in the knowledge that you went that little bit further, discovered more of Japan, and really got beneath the surface.

This is a self-guided extension, and although your tour leader will not travel with you, we will provide you with all the instructions and support you will need to explore by yourselves. Your time on the tour will have helped you build confidence and help from English-speaking in our Japan office will only be a phone call away if needed!

What's included
Five nights' accommodation

Breakfast every day

Japan Rail Pass extension to cover all rail transport between destinations

Airport transfer at the end of your trip

Your personalised InsideJapan Info-Pack
What's NOT included:
International flights

Local transport (buses, subways, taxis) at any destination unless otherwise specified

Any entrance fees including those for shrines, temples and museums

Baggage handling - you will be expected to carry your own bags for the duration of the trip
Trip Highlights
Bask in the glory of Nikko's shrines and temples

Explore Tohoku with day trips to Yamadera Temple or Matsushima Bay

Meet the locals and contribute to the continued recovery of the Tohoku region
Visit Nikko National Park's lakes and waterfalls

Immerse yourself in the life of Tohoku's biggest city
For more information email us: [email protected] or call: 303 952 0379
What, where, when and how...
Tohoku Five-night Group Tour Add-On - 6 Days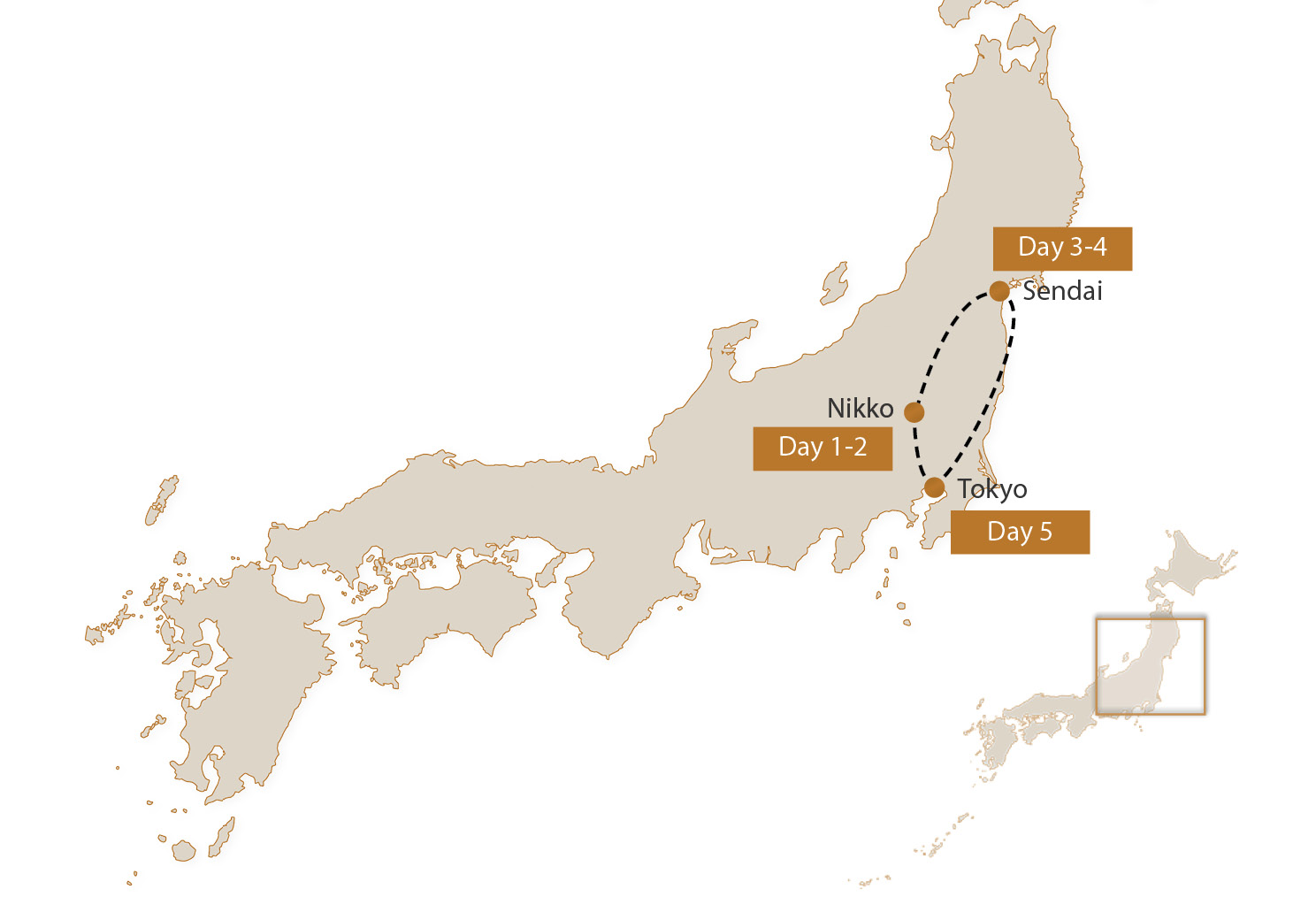 Destinations
Tohoku Five-night Group Tour Add-On - 6 Days - Day by Day
Tohoku Five-night Group Tour Add-On - 6 Days - Accommodation

Tohoku Five-night Group Tour Add-On - 6 Days - Experiences
Day 1-2

Discover Nikko's treasure trove of ornate temples and shrines then marvel at the scenery around Lake Chuzenji.

A 90-minute ride on the bullet train and a short hop on a local train brings you to the town of Nikko, the first stop as you explore Tohoku. Spend your first day admiring the splendour of Nikko's religious architecture, built in honour of Japan's most famous Shogun, Tokugawa Ieyasu. The lavishly decorated buildings are in contrast to many of Japan's more understated temples and shrines, with the atmospheric woodland setting adding to the sense of wonder. On your second day we recommend heading west to Lake Chuzenji, to enjoy the mountain scenery and views of the impressive Kegon Falls. If you need to relax after all that sightseeing, the Nikko region is dotted with hot spring resorts, for a soothing hot bath.

Overnight: Annex Turtle

Day 3-4

Base yourself among the bright lights and creature comforts of Sendai city, as you explore the Tohoku region as a series of rural day trips.

After two nights in the rural setting of Nikko you will speed north to Sendai, Tohoku's largest city and economic centre. Your two-night stay here allows you to take your pick of a variety of day-trip options, so you can shape your time here to reflect your interests. Head to the coast to take a boat cruise around the tiny islands of Matsushima Bay, or take the bullet train north to Hiraizumi, home to temples from a bygone dynasty and boat trips down a scenic gorge. You could also head inland from Sendai to climb the hundreds of stone steps that lead pilgrims up to the summit of Yamadera, a mountainside temple complex.

Tohoku is of course also the region of Japan that suffered in the 2011 earthquake and tsunami. Ask us about the chance to explore some of the coastline that suffered, and get a sense of how the region is recovering.

Overnight: Dormy Inn Sendai Ekimae

Day 5-6

A final night back in Tokyo to round off a wonderful trip.

Before you head home, spend a final day and night back in the centre of the action in Tokyo. Contrast the quiet rural scenery of Tohoku with the buzz of Tokyo, pick up some last-minute souvenirs and grab a last plate of the freshest sushi, then enjoy your final night in Japan before you head home in the morning.

Overnight: Ibis Tokyo Shinjuku
View all days
Day 1-2

Discover Nikko's treasure trove of ornate temples and shrines then marvel at the scenery around Lake Chuzenji.

A 90-minute ride on the bullet train and a short hop on a local train brings you to the town of Nikko, the first stop as you explore Tohoku. Spend your first day admiring the splendour of Nikko's religious architecture, built in honour of Japan's most famous Shogun, Tokugawa Ieyasu. The lavishly decorated buildings are in contrast to many of Japan's more understated temples and shrines, with the atmospheric woodland setting adding to the sense of wonder. On your second day we recommend heading west to Lake Chuzenji, to enjoy the mountain scenery and views of the impressive Kegon Falls. If you need to relax after all that sightseeing, the Nikko region is dotted with hot spring resorts, for a soothing hot bath.

Overnight: Annex Turtle

Day 3-4

Base yourself among the bright lights and creature comforts of Sendai city, as you explore the Tohoku region as a series of rural day trips.

After two nights in the rural setting of Nikko you will speed north to Sendai, Tohoku's largest city and economic centre. Your two-night stay here allows you to take your pick of a variety of day-trip options, so you can shape your time here to reflect your interests. Head to the coast to take a boat cruise around the tiny islands of Matsushima Bay, or take the bullet train north to Hiraizumi, home to temples from a bygone dynasty and boat trips down a scenic gorge. You could also head inland from Sendai to climb the hundreds of stone steps that lead pilgrims up to the summit of Yamadera, a mountainside temple complex.

Tohoku is of course also the region of Japan that suffered in the 2011 earthquake and tsunami. Ask us about the chance to explore some of the coastline that suffered, and get a sense of how the region is recovering.

Overnight: Dormy Inn Sendai Ekimae

Day 5-6

A final night back in Tokyo to round off a wonderful trip.

Before you head home, spend a final day and night back in the centre of the action in Tokyo. Contrast the quiet rural scenery of Tohoku with the buzz of Tokyo, pick up some last-minute souvenirs and grab a last plate of the freshest sushi, then enjoy your final night in Japan before you head home in the morning.

Overnight: Ibis Tokyo Shinjuku
Close all days
Other trips you may like
The constant bad economic news has been getting everyone a bit down, so we've created this bargain seven-night Japanese getaway to beat the blues!

7 nights: from US$1274 pp (twin share) Read more >

Tokyo
Matsumoto
Takayama
Kanazawa
Kyoto
Mount Koya
Osaka

A superior 13-night gastronomic adventure introducing you to the best of Japan's food culture, from the Alps to Osaka.

13 nights: from US$5590 pp (twin share) Read more >

From ultra-modern Tokyo to the ancient capital of Kyoto via the hot springs of Hakone, this is a classic first-timer's trip to Japan.

9 nights: from US$2327 pp (twin share) Read more >