Self Guided Adventure
Tohoku Five-Night Group Tour Add-On
5 Nights: from US$962 per person (twin share)
Trip Code: TGTADDC
Don't go home too soon! Step back into Japan's feudal past as you discover the wonderful, oft-overlooked Tohoku region. This self-guided add-on makes the perfect extension to any of our Small Group Tours. Read more >
Our Small Group Tours have been tweaked, tested and tweaked again over the years to give you the very best introduction to Japan in the time allotted - but sometimes it's just not enough. If you'd like to extend your stay in Japan and discover a region that's rarely ever visited by foreign tourists, our Tohoku five-night add-on could be just the ticket.
After waving goodbye to your tour group in Tokyo, you'll zip north on the train to Nikko - famous as the final resting place of Japan's greatest Shogun. In addition to the beautifully ornate architecture of the Nikko temple complex, take the time to explore the surrounding national park with its forests, lakes and thundering waterfalls.

Two nights in Sendai will introduce you to a livelier side of Tohoku, and offer plenty of opportunities for day trips. Take a boat trip out to the islands of Matsushima Bay (officially one of Japan's "top three views"), visit Hiraizumi to see a temple built into a cliffside, or climb into the mountains to visit Yamadera - with stunning views across the surrounding countryside.

A final night back in Tokyo brings your trip to an end, and you can travel home knowing you went that little bit further and really got beneath the surface.

You won't be accompanied by a tour leader on this self-guided extension, but rest assured that we'll provide you with all the instructions and support you need - and our Japan office is just a phone call away if you should need anything.

What's included
Five nights' accommodation

Breakfast every day

Japan Rail Pass extension to cover all rail transport between destinations

Airport transfer at the end of your trip

Your personalised InsideJapan Info-Pack
What's NOT included:
International flights

Local transport (buses, subways, taxis) at any destination unless otherwise specified

Any entrance fees including those for shrines, temples and museums

Baggage handling - you will be expected to carry your own bags for the duration of the trip
Trip Highlights
Bask in the glory of Nikko's shrines and temples

Explore Tohoku with day trips to Yamadera Temple or Matsushima Bay

Meet the locals and contribute to the continued recovery of the Tohoku region
Visit Nikko National Park's lakes and waterfalls

Immerse yourself in the nightlife of Sendai city
For more information email us: [email protected] or call: 303 952 0379
What, where, when and how...
Tohoku Five-Night Group Tour Add-On - 6 Days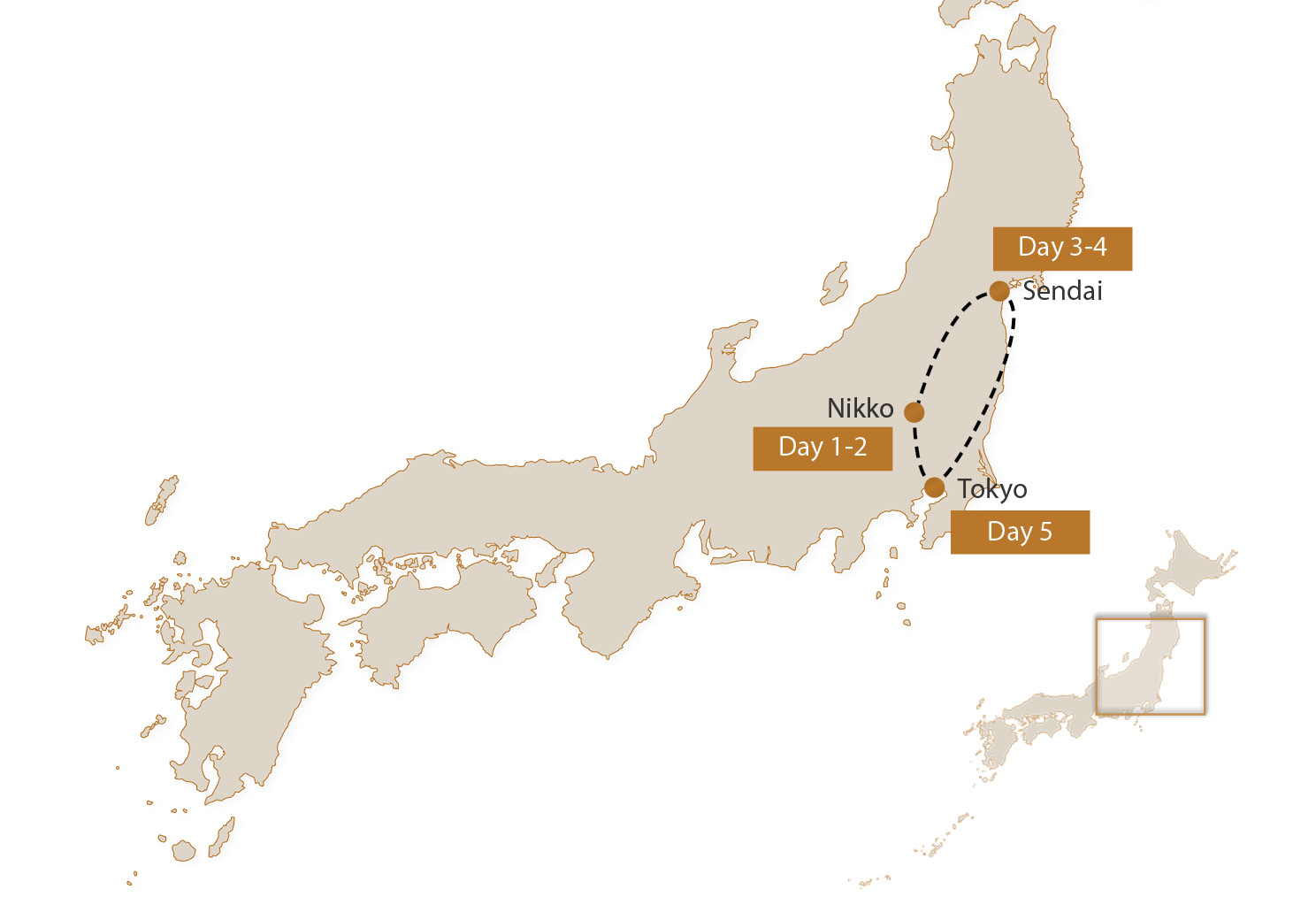 Destinations
Tohoku Five-Night Group Tour Add-On - 6 Days - Day by Day
Tohoku Five-Night Group Tour Add-On - 6 Days - Accommodation

Tohoku Five-Night Group Tour Add-On - 6 Days - Experiences
Day 1-2

Explore beautiful Nikko, a national park famous for its World Heritage temples and beautiful natural setting.

Leaving the bright lights of Tokyo behind, today you'll take the train to Nikko – the beginning of your journey into northern Honshu. Nikko is home to a complex of temples and shrines built in honour of Tokugawa Ieyasu, the founder of Japan's greatest Shogunate. These dazzlingly ornate constructions are unlike any architecture you'll have seen on your trip so far – with their elaborate carvings, brightly painted colours and ostentatious gold trimming, they're completely at odds with the pared-down aesthetic typical of Japanese Buddhism.

After visiting the temples, be sure to make time to explore the rest of the national park. With great Chuzenji Lake, several impressive waterfalls, some wonderful woodland walks and plenty of hot springs to soak away the aches and pains of the day, this is a true gem of a place to discover.

Overnight: Nikko Station Classic (OLD)

Day 3-4

Move northwards to Sendai city: gateway to the deep north.

Sendai is the largest city in Tohoku, and the perfect base for your exploration of the north. Depending on your interests, there are plenty of day-trip options open to you: visit the ancient town of Hiraizumi to see Tohoku's very own Golden Pavilion; cruise between the countless islands of Matsushima Bay, or appreciate the view from the mountaintop temple of Yamadera.

Sendai was the city closest to the epicentre of the great 2011 earthquake, and the coastal areas here were devastated by the ensuing tsunami. Though few physical signs of the disaster remain, we can arrange a visit to some of the areas worst affected for a fascinating insight into what happened and how the region has begun to recover.

Overnight: Richmond Hotel Premier Sendai

Day 5-6

Return to Tokyo for a final night in Japan's effervescent capital city.

By this time you'll be fairly well-acquainted with Tokyo – but no amount of time is ever enough to explore this most exciting, perplexing and stimulating capital. Now is your chance to fit in that last-minute souvenir shopping, visit the gallery you missed out on earlier in your trip, or splash out on a final-night meal in one of the city's fanciest restaurants. Or, in true Japanese style, you might just want to sing the night away at karaoke. Whatever you choose to do, Tokyo will have plenty to ensure that your last night in Japan goes off with a bang.

Unfortunately on day six it's time to say goodbye to Japan at last, and you'll transfer to the airport for your flight home.

Overnight: Sunroute Plaza Shinjuku
View all days
Day 1-2

Explore beautiful Nikko, a national park famous for its World Heritage temples and beautiful natural setting.

Leaving the bright lights of Tokyo behind, today you'll take the train to Nikko – the beginning of your journey into northern Honshu. Nikko is home to a complex of temples and shrines built in honour of Tokugawa Ieyasu, the founder of Japan's greatest Shogunate. These dazzlingly ornate constructions are unlike any architecture you'll have seen on your trip so far – with their elaborate carvings, brightly painted colours and ostentatious gold trimming, they're completely at odds with the pared-down aesthetic typical of Japanese Buddhism.

After visiting the temples, be sure to make time to explore the rest of the national park. With great Chuzenji Lake, several impressive waterfalls, some wonderful woodland walks and plenty of hot springs to soak away the aches and pains of the day, this is a true gem of a place to discover.

Overnight: Nikko Station Classic (OLD)

Day 3-4

Move northwards to Sendai city: gateway to the deep north.

Sendai is the largest city in Tohoku, and the perfect base for your exploration of the north. Depending on your interests, there are plenty of day-trip options open to you: visit the ancient town of Hiraizumi to see Tohoku's very own Golden Pavilion; cruise between the countless islands of Matsushima Bay, or appreciate the view from the mountaintop temple of Yamadera.

Sendai was the city closest to the epicentre of the great 2011 earthquake, and the coastal areas here were devastated by the ensuing tsunami. Though few physical signs of the disaster remain, we can arrange a visit to some of the areas worst affected for a fascinating insight into what happened and how the region has begun to recover.

Overnight: Richmond Hotel Premier Sendai

Day 5-6

Return to Tokyo for a final night in Japan's effervescent capital city.

By this time you'll be fairly well-acquainted with Tokyo – but no amount of time is ever enough to explore this most exciting, perplexing and stimulating capital. Now is your chance to fit in that last-minute souvenir shopping, visit the gallery you missed out on earlier in your trip, or splash out on a final-night meal in one of the city's fanciest restaurants. Or, in true Japanese style, you might just want to sing the night away at karaoke. Whatever you choose to do, Tokyo will have plenty to ensure that your last night in Japan goes off with a bang.

Unfortunately on day six it's time to say goodbye to Japan at last, and you'll transfer to the airport for your flight home.

Overnight: Sunroute Plaza Shinjuku
Close all days
Other trips you may like
Takahara
Nonaka
Yunomine Onsen
Kii-Katsuura

This intermediate walking module offers five days exploring part of the Kumano Kodo, one of the most beautiful and mystical corners of Japan.

4 nights: from US$1157 pp (twin share) Read more >

Tokyo
Kyoto
Hiroshima
Miyajima
Osaka
Tokyo

Travelling by yourself to Japan? Look no further than our Japan Solo itinerary to take all the guesswork and stress out of your holiday planning.

11 nights: from US$2847 pp Read more >

Japan has a huge range of amazing theme parks and this twelve-night itinerary ticks off the very best.

12 nights: from US$10764 (per family) Read more >